If you've ever spent hours in the middle of the night trying to locate a noisy house cricket, you understand that the struggle to get rid of these pests is real. Unfortunately, it becomes a standoff since they stop chirping every time you think that you find their location. Find out how to repel crickets using simple methods and tips for keeping them away from your home.
If you think that one cricket in your home is bad, imagine having a camel cricket infestation. Like other insects, crickets seek shelter, and they are drawn to warm, moist environments like the crawl space under your house or inviting areas inside your home.
Adult crickets live for over six weeks, and a female cricket lays up to 100 eggs per day. A couple of crickets quickly leads to a large cricket population in little to no time. Cricket noise from one pest is annoying, let alone several. It's essential to take the proper pest control steps before you end up with a cricket problem.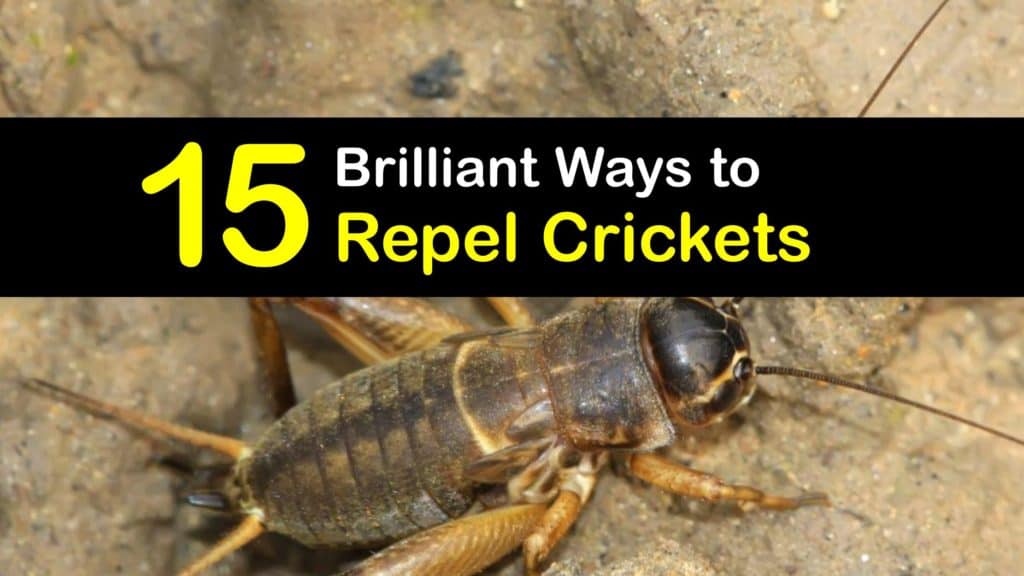 Ways to Get Rid of Crickets Around Your Home
Did you know there are seven different types of crickets that get inside the home and 20 species in North America? Learn the differences between these crickets and their life cycle to help you pick a suitable cricket control method.
Discover ways to repel these insects from inside and around your house and prevent crickets from becoming an infestation.
Is There More Than One Type of Cricket?
There are a variety of crickets, and they have different habits and destructive behaviors – understanding their differences is helpful for pest control. Learn about some of the more common crickets you encounter around your home and how to tell them apart.
Field crickets are all black, one to two inches in length, and they live in tall grass, piles of lawn debris, and in the ground. They are mostly harmless and usually eat plant matter and animal waste.
However, large numbers may consume ornamental and vegetable plants. According to the National Pest Management Association, the field cricket is one of the most common types to head indoors during the fall.
The house cricket is another species, and this type is a loud chirper. It is less than an inch in size, yellowish-brown, and its antennae are almost longer than its body. The male cricket rubs its legs together to make noise that attracts females.
Spider crickets, also called the camel cricket, spider cricket, or cave cricket, are an inch or more long and light tan to brown. They do not have wings and are omnivorous. They eat everything from plant matter and fungus to other insects and love hanging out in dark, damp areas.
Jerusalem crickets are types of camel crickets often mistaken for a spider. They have a bizarre appearance with a humped back and alternating black and tan color bands. It is a wingless species that is slow-moving. It hides under rocks, and it is not a true cricket.
Signs That You Have a Cricket Infestation
While chirping is evidence that you have a cricket problem, not all crickets make these annoying sounds. Here are other things to look for to help you determine if you have a cricket infestation at home.
Cricket Infestation Signs
The most obvious indication that you have a cricket problem is their presence. As the temperatures outside drop, they seek shelter in warm and moist structures.
Another sign is the chirping sound the males make when they rub their front wings together. Since they are nocturnal, the noises usually occur at night. Some of these pests may chew on fabrics, like the edges on your clothing or furniture upholstery, and this destruction may mean you have an infestation.
Why are Crickets a Problem?
While crickets do not bite and are not poisonous like some other insects, there are many reasons these bugs are a problem, especially if you have an infestation. Find out why crickets are pests, and a cricket infestation is something to avoid.
One of the main reasons renters and homeowners find crickets a problem is the noise they create at night. Unlike grasshoppers, male crickets use their front wings to create a chirping sound to attract female crickets. Now, imagine that you have an infestation of crickets all chirping at once.
Another problem with crickets is destruction. Some types of crickets are drawn to cotton, silk, and wool, and these pests munch on the fabrics in your home and other household items like paper, plants, and pet food.
They also eat young plants in the garden, and while the damage is mild compared to other insects, a large population of crickets causes a lot of destruction.
Best Way to Repel Crickets with Boric Acid
The best way to repel crickets naturally is with boric acid. This naturally occurring product is available at your local grocery store in the laundry aisle, and it effectively kills crickets by poisoning them and affecting their metabolism.
Boric Acid Cricket Treatment
Sprinkle boric acid in places where you suspect crickets are hanging out or where you've heard chirping as the best way to kill spider crickets and other varieties. Apply it in the basement, under sinks, in cabinets, behind furniture, and in dark and damp areas.
Spread the powder around your house's perimeter to keep the pests from entering. It also serves as an excellent homemade slug repellent for sidewalks and landscaping.
Natural Ways to Repel Crickets with Diatomaceous Earth
There are many natural ways to repel crickets, and diatomaceous earth is top on our list. This powder is easy to apply, safe to use around children and pets, and kills various insects, including crickets.
Consider wearing a face mask to prevent inhaling the powder as you spread it, and sprinkle the DE in areas where you suspect cricket activity.
No matter what type of crickets you have, the best way to kill mole crickets and other species is to apply it to cracks and crevices, under and behind furniture, and other hiding spots. If you prefer natural ways to get rid of camel crickets, sprinkling DE is the way to go.
The crickets suffer damage to their exoskeletons after traveling over the powder, which leads to dehydration and death.
How to Repel Crickets by Sealing Your Home
Although you can make a homemade spider killer with vinegar that will also work on crickets, sealing your home is the simplest way to keep crickets away and deter other bugs from accessing the shelter they seek. There are many areas of the house where crickets sneak inside. Know what to look for and how to seal these areas to keep your space bug-free.
Stroll around the outside of your house, check the walls and foundation for cracks, and use caulk to fill small gaps and foam for wider ones, whether you are using this method as the best way to get rid of mole crickets or another variety. Inspect the windows and doors and use caulk or weatherstripping to prevent crickets from having convenient access to your home.
Vacuuming to Get Rid of House Crickets
Another way to keep crickets from becoming a household problem is to keep a tidy home. Cricket eggs are tiny, and regularly vacuuming the floors and carpeting prevents a couple of crickets from turning into an infestation.
Start by sliding your furniture away from the walls and vacuuming along the crevices and corners. The best and easiest way to get rid of crickets in the house is to clean all sections of the floor and carpet to ensure no cricket eggs are left behind. Finish by emptying the vacuum canister or removing the vacuum bag, placing it in a trash bag, and taking it to the outside dumpster.
Make a Homemade Cricket Sticky Trap
There are many commercial insect traps on the market. However, homemade sticky traps are one of our favorite natural ways to repel crickets. They are easy to make, and each glue trap can capture several crickets for quick disposal.
Pour equal portions of corn syrup and water into a small pot and cook it on medium heat until it forms a thick and sticky paste.
Use a butter knife to spread the substance on one side of a five-by-seven-inch piece of cardboard and set the trap in the area where you suspect cricket activity. Make as many traps as you wish to trap spider crickets or other varieties that find their way inside.
Growing Plants to Deter Crickets from Your Yard
To keep these pests off your property, try planting cricket-repellent plants. Various herbs and flowers deter insects like mosquitoes, spiders, and even crickets, and they are perfect for growing around the perimeter of your yard and home.
Plant nitrogen-fixing plants like peas, beans, and legumes to keep crickets out of your garden. The plants draw nitrogen from the air, store it in their root system and deter crickets from the area. In addition, sweet potatoes, cilantro, garlic, and clover are good choices for repelling these pests.
Create a Natural Cricket Repellent
For home remedies to repel crickets, this natural cricket repellent is a good option. You only need water and two ingredients, and you probably have them in your kitchen right now.
Pour two cups of hot water into a spray bottle, add a few drops of dish soap and a teaspoon of hot chili powder. Shake the container well, and spray the soapy water over the area that you want to deter crickets. If applying it around a garden, avoid getting the solution on plant leaves.
Using Peppermint Oil to Deter Crickets
The best way to repel crickets or a natural way to repel chiggers if you don't want to use harsh chemicals is to use essential oils. While we enjoy the fragrance that lavender, lemongrass, and other essential oils emit, crickets hate the smell of peppermint oil and avoid areas where you apply it.
Pour water into a glass bottle sprayer and add about 20 drops of peppermint essential oil. Using a glass container is vital since the oils break down plastic. Close the bottle, shake it well to combine the oil and water, and spray it over areas where you notice cricket activity. Keep ants out of your garden naturally, too. Most insects don't like the smell of peppermint.
Getting Rid of Crickets with a Chemical Bait
If you prefer to use a commercial form of insect control, chemical baits are convenient for eliminating crickets and other household pests quickly and effectively. The crickets are drawn to the bait, which leads to death after they consume it.
Cricket Baiting
There are many types of cricket bait products on the market, and they all have their own directions for use. Follow the instructions for your brand. Typically, you spread the granules around the perimeter of your home, and the crickets eat them and die.
Letting Natural Predators Keep the Cricket Population Down
If you'd rather let nature take care of pest control, many predators help keep the cricket population in check. Here are some natural cricket enemies and how to draw them to your yard.
If you have pets that travel outdoors, you're a step ahead in the game. Cats and dogs happily search out insects and help you eliminate the problem.
Birds are another natural predator for these insects, and they're great at keeping the cricket population down. Consider placing bird feeders around your home to invite them to your yard.
What Attracts Crickets to Your Home?
We're all aware that flying insects are attracted to outdoor lights, but what draws crickets to the area? Discover what these pests look for when seeking creature comforts and why they find your home and yard inviting.
There are three main reasons crickets are attracted to your home and yard – shelter, food, and light. Your basement or cellar provides them with protection, the lawn and garden offer them food, and some cricket species are drawn to light sources.
Ways to Prevent Crickets from Becoming a Problem
While bug spray effectively eliminates a cricket, it's better to prevent the pest from becoming a nuisance in the first place. Follow these tips to help you keep your yard and home safe from a cricket infestation.
Maintain your yard by mowing the lawn regularly and removing debris like grass clippings, leaf litter, and weeds. Keep wood piles away from the sides of your house. Check your home's foundation for cracks and seal them with caulk, and apply weatherstripping around doors and windows.
Reduce moisture by fixing any leaking pipes or faucets and using a dehumidifier in damp areas like the basement. Create a protective barrier around your property with an insecticidal spray.
While all crickets are a problem if they get inside your home, male crickets are the worst since they're the noisy ones. Luckily, there are many ways to get rid of these pests and prevention steps you can take to keep crickets from becoming a nuisance.
Now that you know how to repel crickets using simple forms of pest control, why not share our cricket repelling guide with your family and friends on Facebook and Pinterest to help them with their cricket problem?