Most pet owners are eager to discover how to repel fleas. Fleas are undoubtedly one of the worst parts of being a pet parent. These troublesome bugs strike unexpectedly, and in a matter of days, you may go from having an itchy pet to having a severe flea problem in your house.
Fleas pose many health risks to people and animals, from the potential diseases they carry to their itchy, painful bites and the possibility of flea allergy dermatitis. Knowing the best way to repel fleas gives pet owners a chance to deter fleas and ticks from visiting their homes and yard and helps to halt a dreaded infestation before it gets started.
Whether you favor natural ways to repel fleas and are conscious of the safety of the compounds used around your family and pets, or if you are searching for a low-cost alternative to repel fleas, a solution exists.
The Best Way to Repel Fleas from Your Home and Pets
You're not alone if you've ever wondered how to repel fleas. Many natural ways to repel fleas are efficient and use available household items.
Whether you prefer to pick up a product from the pet store or make your own remedy to avoid using toxic chemicals, exploring home remedies to repel fleas means you can keep your pet and home protected against these annoying and sometimes dangerous insects.
Natural Ways to Repel Fleas – Lemon Flea and Tick Spray
Lemon flea spray smells pleasant and poses no harm to pets or people as it contains safe and non-toxic ingredients. Make a natural flea and tick spray for your home with lemon as a straightforward solution that acts as a strong deterrent.
Place the cut lemons in a saucepan with water and boil, then let the solution soak overnight. How many lemons you use depends on the quantity of flea spray required. This spray works wonders in keeping mosquitoes away, too.
Citrus essential oils might harm your pets, so never use them in place of lemons. Although you shouldn't use it close to the eyes, apply this natural flea and tick spray topically to your pet's coat to repel fleas and ticks.
Home Remedies to Repel Fleas – Apple Cider Vinegar
Apple cider vinegar is a well-known and much-admired natural remedy with many applications. Thanks to its unique ability to balance your pet's pH levels, apple cider vinegar makes them less appealing to fleas, so they're unlikely to gather the annoying bugs and carry them into your home.
Many pet owners apply a small amount of apple cider vinegar behind the ears or add a tiny measure to drinking water to act as a flea deterrent. As every pet reacts differently, check with your veterinarian before making significant changes to your pet's routine or treating them with apple cider vinegar.
Neem oil is another strong smelling deterrent that keeps fleas out of your house. You can control a flea infestation with Neem oil on your pets by using it the same way as the apple cider vinegar method discussed above.
Natural Garlic Yard Spray Prevents Flea Infestation
Most fleas in your home find their way there from the yard. Tall grass and shady areas harbor fleas, and if your pets play outdoors, they unintentionally carry these pesky insects inside. Treating your yard with a simple flea repellent made with garlic reduces the flea population outside, so your pet is less likely to be targeted.
Chop the heads of garlic into small pieces and add them to the water on the stove. Heat the entire mixture, take it off the stove shortly after it reaches boiling point, and let it stand overnight to marinate.
Employing a sieve, remove the garlic cloves from the liquid. Once you have your flea spray, liberally treat your yard and the area surrounding your home's foundation to get rid of bugs. Though this garlic spray is effective, it carries a strong scent, making it best used outdoors.
Soapy Water Traps Kill Fleas
Avoid an itchy flea bite by eliminating fleas with a soapy water trap. Construct a simple soapy water flea trap by mixing hot water and liquid dish soap in a basin or on a plate. As fleas are generally nocturnal, leave bowls of soap and water out overnight while shining a lamp on them to draw in the fleas.
Since soapy water has a high viscosity, insects are drawn to it, so they jump in and become caught. The lower surface tension generated by the soap prevents the fleas from swimming away or climbing out once they leap into the water. Dish soap makes an excellent homemade flea shampoo for dogs and cats to keep them pest free.
Home Management Supports Pest Control for Flea Infestations
It's simple to prevent flea bites for you and your pet and achieve disease control by enacting some household practices to make your space uninviting to fleas.
An adult female flea produces hundreds of eggs in a short period. Routine cleaning ensures fleas and eggs in carpets, furniture, and bedding are destroyed before they hatch and create a heavy infestation.
Vacuuming often collects fleas, flea dirt, and eggs from your home. Be sure to discard the dustbag or contents of the dustpan in a sealed bag to prevent reinfestation.
Steam cleaning your carpets and furniture ensures fleas and eggs are destroyed by heat, while laundering pet bedding does the same. Keeping your yard flea free and your grass mowed ensures your pets don't pick up fleas outdoors and carry them inside.
How to Repel Fleas with Insect Growth Regulator
Insect Growth Regulators (IGRs) are gaining popularity as a method to address fleas. Though they are slow to act, IGRs have a long-lasting effect and may keep fleas away from your house for several months.
IGRs work by ensuring flea larvae cannot develop into adult fleas, so they eventually perish. The solution is safe for humans and pets as it is virtually non-toxic. Spray an IGR on carpets, furniture, around the yard, and anywhere with flea activity.
It's advisable to test the IGR on a small area of the solution to check for damage before making a widespread application. Do not put insect growth regulators directly on your pet.
Commercial Solutions for Your Flea Problem
If you're short on free time or prefer not to use homemade or natural remedies for flea control or to prevent fleas, the best flea products for you may be commercial items. Every pet store sells premade flea sprays and flea shampoo to treat your cat or dogs coat, as well as treatments for pet bedding and areas of flea activity around your home.
Several types of chemical spot flea treatment to destroy flea eggs, flea larvae, and adult fleas are available for dog and cat fleas. A flea comb is also helpful for removing the adult flea, along with any immature fleas and flea feces from your pet's coat.
A flea collar is a valuable tool in preventing flea infestations in the future, or pick up a tick collar if you're working on tick control.
Fleas and ticks threaten disease control and leave painful, itchy bites on your animals and your family. Fleas reproduce quickly, and a single flea may become a full-blown infestation in a short time.
Learning to repel fleas from your home using natural remedies deters fleas from targeting your pet and lowers the chances of an invasion. Regular flea treatments with sprays, shampoo, or chemical drops, in addition to home management and regular cleaning, reduce the likelihood of flea bites and frustrating itching for your pet.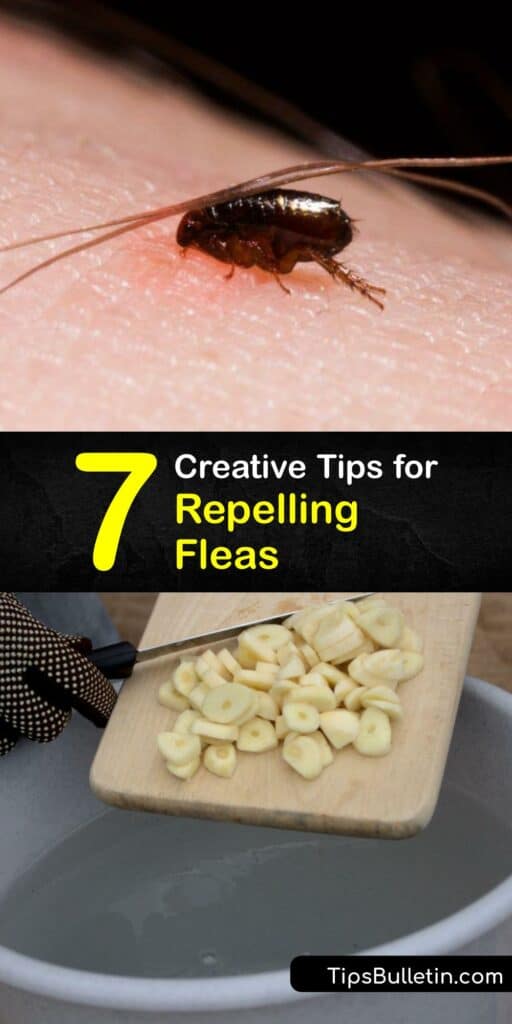 If you loved this article on how to repel fleas, please share this brilliant information on the best way to repel fleas with your friends and family on Pinterest and Facebook.