Having skunks hanging around your yard, quite literally, stinks! These small critters may look cute and fluffy, but they dig up garden beds and leave an unpleasant odor lingering around your home. If you suspect these pests are hanging around, it's time to figure out how to repel skunks from your yard.
There are at least a dozen natural ways to repel skunks so that you don't harm them and rectify the situation without violence. Finding the best way to repel skunks takes a little bit of patience. Home remedies to repel skunks are amazing, but what works on some pests doesn't mean it works on others.
Try out a handful of these ways to deter skunks from your yard and see what works best around your home. Pay close attention to when skunk activity is highest, and note what seems most efficient. Once you find one technique that works, stay consistent to ensure they don't return.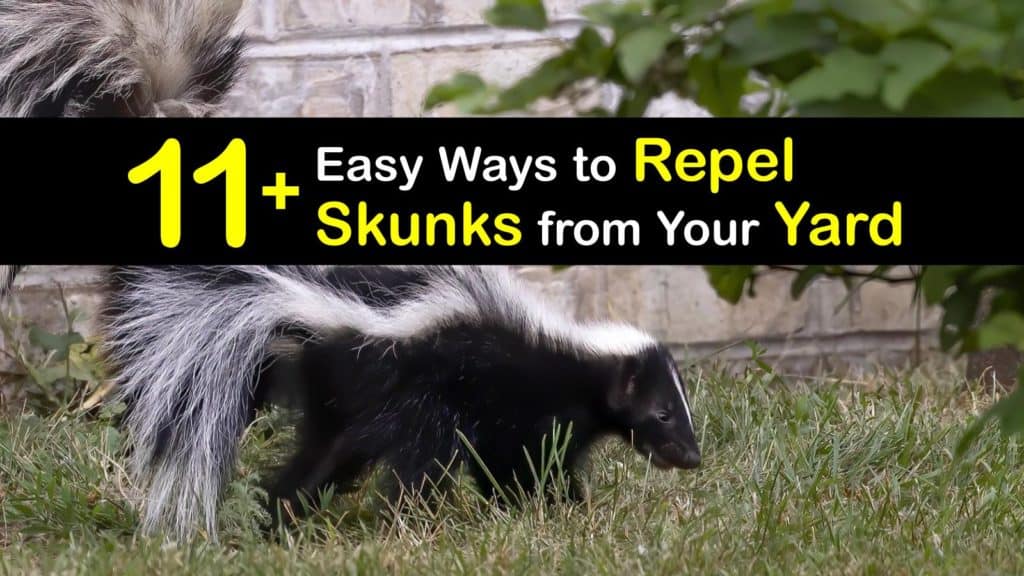 What Makes Skunks Stink?
Skunks are small, black and white pests. They are nocturnal animals and usually only come out at night to dig up grubs and larvae and snack in gardens.
Although skunks aren't aggressive animals, they still cause a lot of damage to the plants in our garden and leave holes throughout the beds.
It is nice that they eat insects that harm our plants, like beetles and hornworms, but they are still a nuisance that most gardeners don't enjoy dealing with.
One of the worst things about skunks is the infamous skunk smell from their spray. Skunk spray shoots as far as 12 feet in all directions. If you're within reach, this is an odor that is extremely hard to get rid of.
Two pouches are located under their tail, and the skunks only spray when they feel threatened. If a skunk lifts its tail, run in the opposite direction to avoid getting covered in the foul liquid.
How to Repel Skunks from Your Yard
A strong smell might be the first sign that a skunk is lingering around, but there are other things to look out for. Skunks leave holes in lawns and flower beds as they look for grubs.
They are most prominent in the spring. If you have corn stalks that are toppled over, that is also a sign that there are skunks near your home. Try a natural skunk repellent before calling wildlife control to take care of the problem.
Natural Ways to Repel Skunks
As ironic as it sounds, skunks don't like strong odors. and these smells will stop skunks from digging in your yard. Some of the most natural home remedies and skunk deterrents use strong-smelling products to deter them.
For one of the natural ways to get rid of skunks, add one part castor oil, one park dishwashing detergent, and three parts water into a spray bottle and shake it thoroughly, so everything combines well.
Spray the solution around your home, garden, and yard to create a barrier and deter skunks from entering, as well as creating an effective homemade raccoon deterrent spray.
Try planting a few plants that repel skunks to keep them away. Great examples are holly and Oregon grape.
The Easiest Way to Repel Skunks from Your Yard
Skunks and raccoons are nocturnal animals that hate bright lights. One of the easiest ways to immediately deter these pests from entering your property and keeping skunks away is to set up motion sensor floodlights.
When an animal or other moving object walks in front of the lights, they instantly turn on and send the critters on their way.
Use Citrus to Deter Skunks from Your Yard
When learning how to get rid of skunks and other pests, one of the most common solutions involves using citrus peels. Repel chipmunks naturally, and a variety of other unwanted critters with lemons.
Citrus has a powerful smell and deters wild animals from coming too close to your home. Spread citrus peels, like lemon peels, around the barrier of your yard, or make a spray using citrus juice and water for a nice-smelling and natural skunk repellent for yard and lawn areas.
Taking Care of a Skunk Problem Naturally
What's more successful at keeping skunks out of the area than predators? Natural predators to skunks are coyotes, dogs, and even cats.
Predator urine is available for purchase at most garden centers and only takes a few minutes to spray around the border of your yard.
If you have a house cat, take a few clumps of urine from their litter box and place the clusters around your garden beds to deter them from entering with the musky urine smell.
If you don't have access to predator urine, mothballs are another musky product that works well.
Creating Homemade Skunk Repellent
When learning how to repel skunks from your yard, you now know that pungent smells and spicy ingredients are other natural deterrents. One of our favorite skunk repellents involves various components to make a strong smell that pests won't come close to.
To get rid of skunks and keep cats off your backyard, fill a large pot with tap water and add two sliced jalapenos, one sliced onion, and one tablespoon of cayenne pepper. Bring the spicy mixture to a boil and then immediately turn the heat off and allow it to cool.
Pour the skunk deterrent into a garden sprayer. Walk around your house and yard while spraying the mixture to create a secure perimeter.
This spicy deterrent spray will also work as a homemade pigeon repellent to keep these pesky birds off your patio or roof.
Remove Food Sources
If a skunk is hanging around your home, they probably have reliable food sources to come back to. Get rid of pet food, including both dog and cat food, as well as low-hanging bird feeders.
Bring your garbage can inside if possible. Ensure all trash cans have secure lids, so the skunks can't get into the trash.
Clean Around your Property
Some natural ways to repel skunks is to clean up debris piled around your yard. Piles of brush, rocks, and wood are all places where skunks take shelter.
These piles also provide homes for smaller rodents that act as yet another food source for skunks. If a rodent problem attracts more skunks than you'd like, make a call to animal control.
A Quick Way to Repel Skunks from Your Yard
If you have a sprinkler, it is an excellent tool for keeping skunks out of your yard. Leave a regular sprinkler running overnight in areas where you are suspicious of skunk activity. There are also motion activated sprinklers if you prefer to save on your water bill.
Setting Up Skunk Traps
If only one or two skunks hang around, setting up traps is one of the most humane ways to get rid of them. Havahart traps lure the skunks into a wire cage with food. Once the skunk enters the trap, the door closes behind them.
From there, it's easy to throw a dark blanket over the cage and let it sit, so the skunk relaxes. Moving the skunk to a far away field becomes a bit trickier because you want to avoid getting sprayed.
Always be extremely gentle if trapping skunks, and make sure to release them at least a few miles from your home to a safe spot where they won't get hit by moving traffic.
Liquid and Granular Repellents
Commercial skunk repellents are available for purchase at most home-improvement stores. These repellents are made from all-natural ingredients that don't harm the skunks. Instead, the smell, taste, and feel of the sprays and granules deter them.
Calling Animal Control
Wildlife control is always a safe option if you have a problem with skunks or with any other pests. These are trained animal professionals who know how to be efficient and keep skunks away for good. They offer lots of advice at a reasonable price.
What to Do if Sprayed by a Skunk
When dealing with skunks, there is always a chance that you're going to get sprayed. Although it's not too common, it isn't impossible.
Getting rid of the odor of skunk spray is challenging but not unmanageable. Taking a tomato juice bath is a standard solution, but there is one that works even better.
This is one of the best home remedies for skunk smell on you or your pet.
Use a large plastic bucket to mix all three ingredients. Avoid putting the solution near your eyes or mouth. Rub the solution over the person, pet, or clothing article that was sprayed.
Allow the liquid to sit for five minutes before rinsing thoroughly with clean water. Repeat this cleaning process as often as necessary, and don't forget to shower frequently until there is no more hint of odor.
Skunks may look cute at first with their white stripes and fluffy tails, but these critters stink more than most.
Finding the best way to repel skunks from your yard is a big task, but it is easier with this list of strategies for repelling skunks. Protect your yard and garden beds from hungry skunks with these natural ways to repel skunks.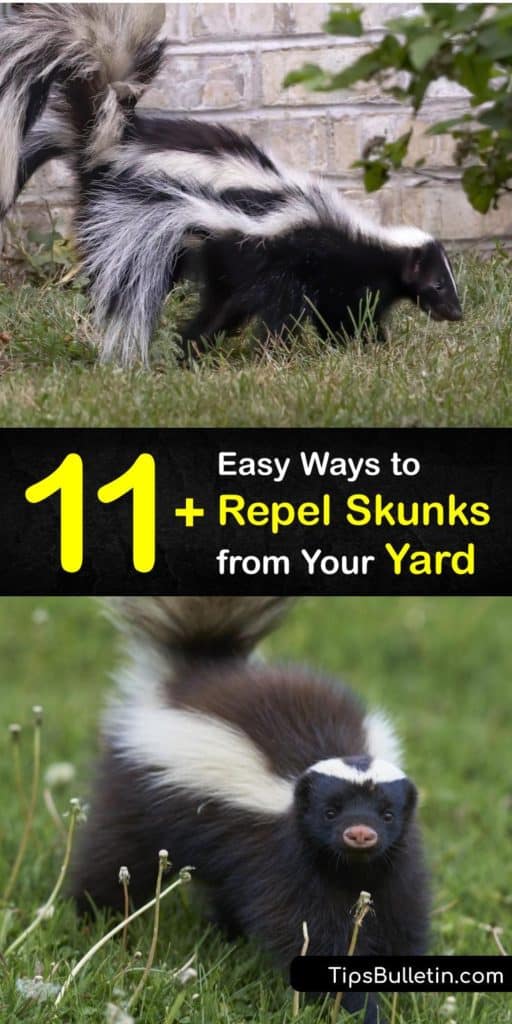 If you found that learning how to repel skunks from your yard helped protect your plants from being dug up, share these tips for repelling skunks on Facebook and Pinterest.