Squirrels baffle the imagination with their clever antics and ability to move from tree to tree, like small furry ninjas of the forest. However, just like chipmunks, these animals cause havoc in the yard and home and need pest control to keep them in line. We'll show you how to repel squirrels from around your home using simple and easy solutions.
Squirrels are intriguing with their high-wire acrobats, tree branch leaping, and quirky behavior. However, these puffy-tailed critters have some destructive habits that drive homeowners crazy.
While searching out a place to nest, they often chew through structures. They also like to dig holes in lawns, flower beds, and vegetable gardens to bury their stockpile of acorns.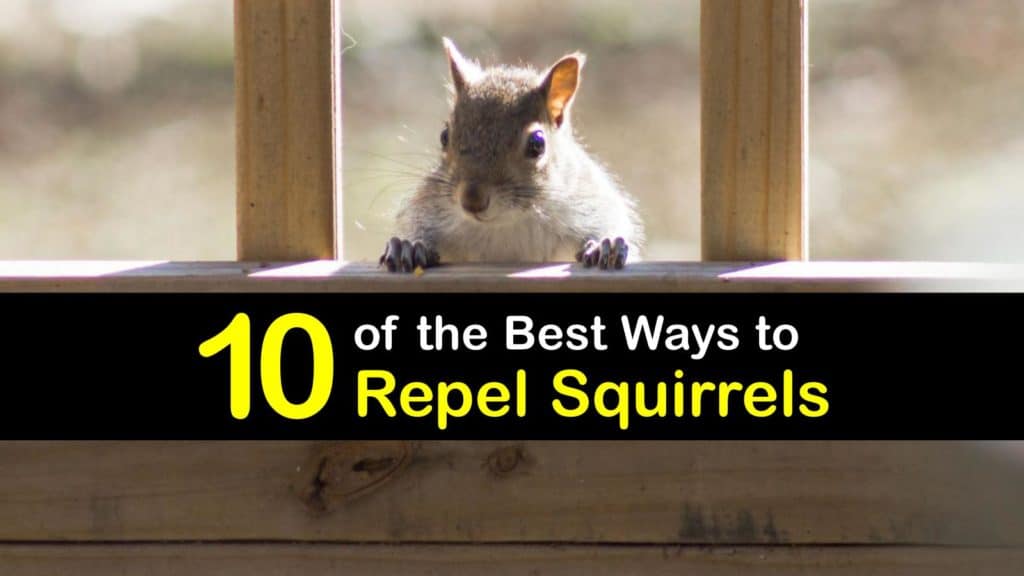 Ways to Repel Squirrels from Your Yard
While it's tempting to allow these furry rodents around for entertainment, doing so often causes more harm than you realize, especially if you have more squirrels hanging around than you first thought. Fortunately, there are many humane and safe ways to keep squirrels at bay.
Squirrels are furry and cute while going about their daily lives, but squirrel damage is not. Here are several techniques to get rid of squirrels in your yard to keep your lawn and structures safe from squirrel destruction.
Why Squirrels are a Yard Pest
If you've never had a squirrel problem, you probably wonder what the big deal is about letting them scurry and scamper through the yard. Unfortunately, these small animals have certain habits that cause more havoc than realized.
Squirrel Behavior
There are three species of squirrel, and all of them are considered a pest. They have a terrible habit of chewing through things best left alone, such as telephone and electrical cables, siding, and other structures.
Oftentimes, they make their way inside your attic for a warm and safe nesting place. These critters also cause chaos in your yard by digging in the garden, making a mess of trash cans, and eating all of the sunflower seeds and other birdseed in your backyard feeders, leaving little to nothing for the birds.
While damage from one squirrel goes relatively unnoticed, a family of squirrels, or a scurry, is very destructive.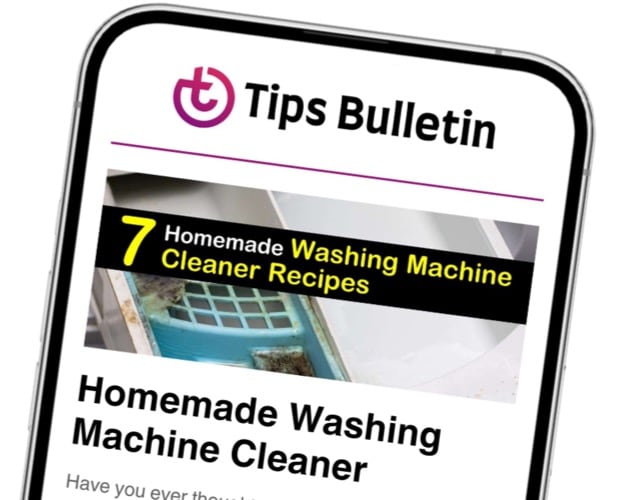 Finally, an email that Transforms Your Home.
Get the latest home and garden tips from our experts, delivered straight to your inbox.
Best Way to Repel Squirrels with Squirrel-Proof Bird Feeders
Squirrels are notorious for being thieves when it comes to bird feeders. Not only do they eat all of the birdseed, but they seem to defeat all odds to claim the feeder as their own. The best way to repel squirrels from a bird feeder is to make it squirrel-proof.
There are many commercial squirrel-proof feeders, but there are a few things to try with your existing feeder to make it difficult for squirrels to feast on the seeds.
Try mixing safflower seeds with your bird food. Squirrels hate the bitter taste, while the birds are not bothered. If your feeder is perched on top of a pole, smear olive oil around the base, making the climb more difficult.
Squirrels cannot jump more than seven feet from a tree, five feet from the ground, and avoid dropping more than nine feet off a feeder. Keep these numbers in mind when situating a bird feeder.
Natural Ways to Repel Squirrels with Peppermint
Peppermint is the most common solution for keeping away everything from spiders to mice and is also true for squirrels. If you're searching for natural ways to repel squirrels, peppermint essential oil integrated into a natural squirrel deterrent is one of the most reliable.
Soak a bunch of balls of cotton with peppermint essential oil and place them strategically around your home to repel squirrels.
To keep squirrels from digging up plants and showing up in the yard, set the soaked cotton near bird feeders, trash cans, around your gardens, and any other area where you notice squirrel activity and replace them as needed.
How to Repel Squirrels with Vinegar
There are many uses for vinegar around the home, from pickling to cleaning. This liquid is also a great repellent for keeping pests away. Try making home remedies to repel squirrels and get rid of chipmunks naturally with apple cider vinegar.
Fill a bottle sprayer with apple cider vinegar and spray the liquid around the base of your bird feeders and any other area where you want to keep squirrels away or as a natural rabbit deterrent. It's also a great homemade pigeon repellent spray.
Be careful while misting the vinegar around plants since it damages the leaves. If you have a dilemma with these pests getting into your attic, consider spraying the vinegar around all entryways to the area.
How to Stop Squirrels from Eating Bird Food
Squirrels hate the scent of hot peppers, and the best way to repel squirrels from around your bird feeders is to repel them using a good dose of pepper flakes. The smell of peppers convinces the furry fiends to find a more hospitable place to feast.
After each rainfall, sprinkle a decent layer of pepper flakes around the bottom of your bird feeders. Hot peppers are also useful for keeping squirrels out of your garden.
Shake some pepper powder onto your plants' leaves to keep squirrels from digging in your yard and disturbing garden beds.
Deterring Squirrels with Garlic and Vinegar
Garlic does more than keep mythical creatures away. It's also one of the many natural ways to repel squirrels, especially when combined with white vinegar. You can also use garlic and vinegar to make your own mole repellent to keep all types of rodents out of your yard. This deterrent spray is easy to make and a safe alternative to commercial repellents.
Dice a garlic clove into pieces and add it to a cup of water and vinegar in a jar. Let the garlic liquid sit for a couple of days to allow the ingredients to combine, and then strain it into a bottle sprayer.
Spritz the repellent on stakes around your garden, fences, garbage cans, bird feeders, and all other areas where these sneaky animals cause problems. Avoid spraying the liquid directly on your favorite plants to prevent harming them.
Making Hot Pepper Spray to Keep Squirrels Out of Your Garden
We often associate pepper spray with personal safety, but making a batch of hot pepper spray for squirrels is another way to deter them from hanging out around your home.
Pour water into a bottle sprayer, add several drops of Tabasco sauce or any other hot sauce that contains capsaicin, and a squirt of dish soap.
Shake the container well to combine, and spray the repellent around the perimeter of your gardens. This spray also keeps squirrels out of the attic, garage, shed, and other structures.
Using Mothballs to Keep Squirrels Out of the Yard
There are more uses for mothballs than keeping moths out of your clothing. Squirrels hate the scent of these stinky balls more than we do and avoid areas wherever they smell them and seek out better places to call home.
Mothball Squirrel Deterrent
Place mothballs around your favorite plants, at the base of a bird feeder, around your attic or basement, and other squirrel hot spots to keep them out. Replace them every couple of weeks or so as their smell begins to fade.
How to Catch a Stubborn Squirrel with a Live Trap
If a squirrel finds its way inside your home attic, garage, or other structure, it's time to use a squirrel trap to capture them safely. A live trap made of peanut butter and aspirin that repels squirrels is a humane way to remove squirrels from your home and transport them to another location.
Begin by smearing peanut butter on nuts to create the perfect bait for catching a squirrel. Follow your live trap instructions and place it in an area where you suspect the squirrel is coming and going, such as an opening in the exterior.
Set up the bait and check on the trap at least twice a day until you catch the squirrel. It's vital to check it regularly to prevent the trapped animal from suffering.
Transport the caged squirrel to a wooded area away from your home and release it during good weather. Do not relocate a squirrel during the winter since there is a high risk of starvation. Instead, contact animal removal services.
Ways to Prevent Squirrels in Your Yard
While using a repellent is an effective way to keep out squirrels, there are additional methods to prevent them from returning once they regain courage. Using preventative measures is an ideal way to keep squirrels in check and your home pest-free.
Squirrels are attracted to their favorite food sources, so a clean yard works wonders at keeping them out of your space. Rake scattered birdseed and fallen nuts and fruits regularly, avoid feeding your pets outdoors, and keep your trash cans secured shut with lids.
Squirrels hate certain types of plants, and growing them around your gardens is another great way to keep them out. Consider planting daffodils, allium, lily of the valley, peppermint, and hyacinths with a layer of mulch in strategic areas around your home.
If you want something a bit more permanent, try placing chicken wire around your vegetable garden to deter them.
Set up a motion sensor sprinkler system on your lawn. Each time the squirrels make their way across your grass, they trigger the sprinklers, which startles them into fleeing.
Squirrels are everywhere, from the countryside to the city, and their main goal is to seek a food source.
Unfortunately, this means that these critters often take over your backyard and even try to nest in your home. Luckily, there are many simple solutions for keeping squirrels away from your outdoor space safely.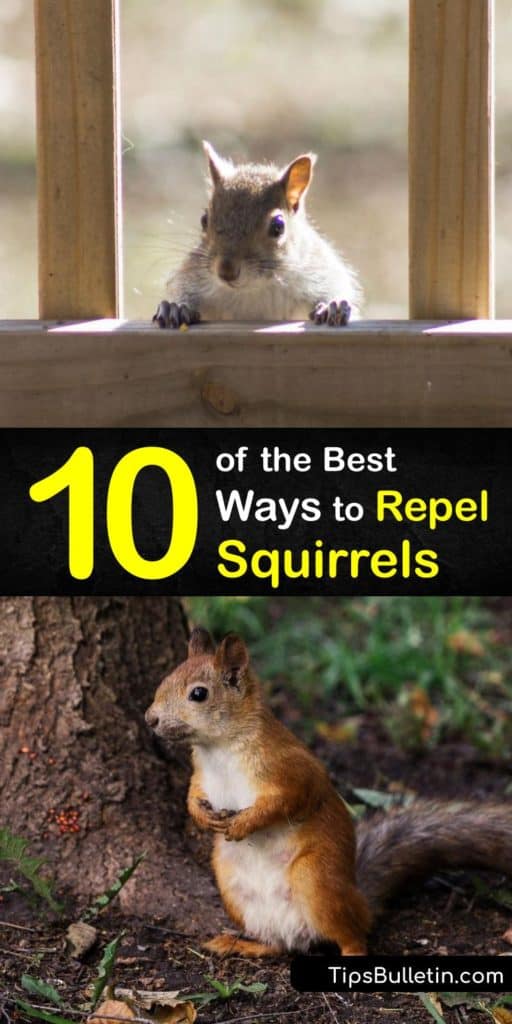 Now that you know how to repel squirrels to keep your flowers, veggies, and home free of squirrels, why not share our squirrel deterrent solutions with your family and friends on Pinterest and Facebook?