Nothing ends a summer-time picnic faster than having a wasp or two dive-bombing you while enjoying your outdoor lunch, especially if you have an allergic reaction to bees. Luckily, there are a few steps to take beforehand that keep wasps away so you won't have to vacate your outdoor activities. We'll show you how to repel wasps using a variety of solutions.
During the summer months, sweet foods and other food sources attract wasps, so enjoying a fruit salad while sitting out on the patio is sure to draw their attention. This time of the year is also when these pests become aggressive.
Fortunately, there are ways of planning to prevent confrontations between you and paper wasps, yellow jackets, and other types of wasps. Keeping the area around your home clear of materials that attract bees is an excellent first step. Preparing a wasp deterrent or wasp repellent keeps them at bay.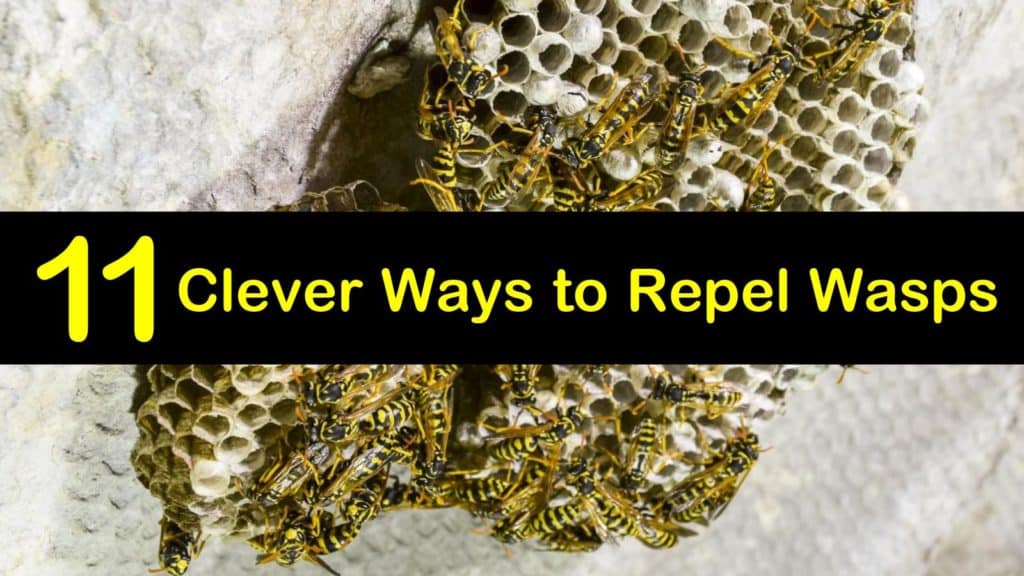 Deter Wasps
The worst thing to do when confronting a wasp is to swat at it. This action only angers the bee and results in wasp stings. There are several methods of wasp control that are effective at deterring bees from your yard, and many that kill them on contact.
How to Repel Wasps with Home Improvement
Bees need a home and food source nearby to become a nuisance. One of the most efficient ways to deter wasps is to create an environment that isn't attractive to them by eliminating areas where they make new nests.
Walk the perimeter of the house and note any crevices or cracks in the foundation and siding. Use caulk to seal open spaces around holes where power lines or cable cords enter the home. Replace screens that have tears or rips and caulk around window sills and any other area where wasps get in the home or build nests.
Make sure to place lids on garbage cans at all times. Bees are attracted to the leftover food items in the trash and keep coming back to the same location once they find a viable food source. Keep a compost pile well away from your home and clean up cluttered areas of the yard.
Repel Wasps Naturally using Plants
While some flowers and plants attract bees to the yard, there are many types of plants that wasps cannot stand and that they will avoid. These plants are a great way to repel hornets and wasps naturally without having to fill the area with nasty insecticides.
Wasp Repelling Plants
There are two categories of plants that are useful for repelling wasps. The first type is edible and grows in your vegetable garden. These include cucumbers, basil, and mint. Bees do not like the bitterness of the cukes and hate the scent that basil and mint give off. You can also repel chiggers with mint plants.
The other group of bee repelling plants are ornamental. These plants that help get rid of hornets naturally include geranium flowers, marigolds, pennyroyal, pitcher plants, citronella, eucalyptus, and wormwood.
Plant these in the yard to repel bees and add visual appeal to your space. You may want to plant them around your outdoor areas like the front porch and patio so you won't have to worry about the pests when you are outside.
Use Wasp Decoy Nests as a Deterrent
Use fake nests to deter wasps from building nests around your home. Wasps are incredibly territorial and refuse to build a new wasp nest within 20 feet of an existing nest.
Wasp Decoy
Place a fake wasp nest decoy in key locations around your home. Hang them from porch roofs on each side of the house, in a tree at the edge of your yard, or other ideal spots where wasps see the nest.
The worker wasps search out a new place to build a nest and start a colony, and when they see existing nests hanging around your home and yard, they pass the area up and look for a better location.
Take Preventative Measures to Keep Wasps Away
It is easy to forget about wasps and bees while outside until it is too late. Once wasps realize that you have sweet treats for them to enjoy, they are relentless in their pursuit of food. Fortunately, it's easy to get rid of underground bees and precent them this by taking quick precautionary measures.
While you are enjoying a picnic or having a cookout, make sure to cover food until you are ready to eat it. Put away food items and place the garbage into a closed container as soon as you finish eating.
Wasps and bees instinctively see dark colors as threatening, so choosing the right color clothing is essential to prevent an altercation with bees. Wear tan, cream, gray, or white clothing while outdoors and avoid dark shades and red.
The scent of fabric softener repels wasps, so place dryer sheets around the edges of the picnic or patio table and other locations nearby.
Make a Wasp Trap to Eliminate Bees
If you already have wasps in the area, the best way to deter them from your location to another is with a wasp trap. These handy gadgets are easy to make and attract wasps with ease.
One of the most effective home remedies to kill hornets is simple to make. Cut a plastic two-liter bottle in half and set the top part aside. Pour an inch or two of a sweet liquid into the bottom portion.
Any type of liquid works, from soda or fruit juice to sugar water. Turn the top portion of the plastic bottle upside down and set it into the bottom part like a funnel.
Set the trap in an area of the yard that is away from people. The wasps are attracted to the sweet liquid, fly into the bottle, and get trapped.
Use a Natural Soapy Water Spray to Eliminate Wasps
Sometimes a situation arises when wasps make their presence known and refuse to leave you alone. When this happens, it's good to have a natural spray handy to repel yellow jackets, wasps, and other bees.
To make this simple wasp repellent spray, pour dish soap into a bottle sprayer and fill it with water. Shake the container gently to mix well without creating too many suds.
Make sure to label the bottle for future use. Keep the wasp spray handy when you are outside and spray the solution directly onto the bees as soon as you notice them or in an area where you don't want to be bothered by the stinging insects.
Make a Wasp Spray with an Essential Oil Blend
Essential oils are great at deterring many types of insects, including wasps. Bees are particularly disgusted with clove, geranium, and lemongrass oils, and this natural spray is effective at driving bees away.
For this way to repel yellow jackets and other stinging pests, pour water into a bottle sprayer and add several drops of each of the essential oils and a squirt of dish soap. Shake the bottle well to mix thoroughly and label for future use.
Make sure to use a glass bottle since the oils break down plastic over time. Set the nozzle to stream to hit the target accurately, and spray the solution on any wasps, hornets, or bees that make an unwelcome visit.
This spray is also ideal for spraying on a wasp's nest if you wear protective clothing and take the right precautions to get out of the way after spraying.
Using Peppermint Oil to Deter Wasps
Peppermint essential oil not only smells good, but it's what repels bees the most. The good thing about this natural wasp repellent is that it does not harm beneficial honeybees.
Combine the water and peppermint oil in a glass bottle sprayer and shake well to mix. Label the container for safety purposes and future uses. Spray the solution directly onto the wasps as soon as you see them. The spray also works well as a means of pest control for many other pesky insects.
Kill Wasps with White Vinegar
Vinegar is an all-purpose tool in the home, and it also useful at deterring bees. The combination of vinegar and soap dissolves the protective coating on the bees, which prevents them from flying and eventually kills them.
Combine the vinegar and water in a bottle sprayer and add a squirt of liquid dish detergent. Shake the bottle to mix and label it for future use.
Keep the container handy while outdoors and spray the solution directly onto any bees that are being a nuisance. This simple mixture for how to kill wasps contains ingredients you already have on hand and are not toxic to you or your pets.
Repelling Wasps with WD-40
There are times when you encounter a wasp or two and do not have a commercial or homemade wasp repellent. Believe it or not, WD-40 is an excellent stand-by for traditional insect deterrents.
WD-40 Wasp Repellent
Spray WD-40 around the window sill, eaves, deck railings, crevices, and any area that wasps like to build nests. The bees do not like the smell of WD-40 and detour around regions that carry the scent. Keep the spray away from candles, tiki torches, or other flammables.
Deter Wasps by Removing their Nest
If you have a serious wasp problem, then planting bee repellent plants and using natural sprays aren't enough. Unfortunately, this means that it's time to locate the nest and find a great method for wasp nest removal from the ground. If you have a bee allergy, then calling a professional to remove the nest is your only option. Otherwise, remove the nest yourself using the right precautions.
Before attempting to kill the wasps and nest, make sure you wear protective clothing such as long socks, pants, long sleeve shirt, gloves, and hat. Wasps mark you with pheromones after they sting you, which attracts more bees to attack. Use insecticide spray with a long reach so that you do not have to stand close to the nest.
If possible, remove wasp nests in early spring before they become a problem. Plan an escape route before spraying the nest. Position yourself as far from the nest as possible and spray the solution over the entire surface until it is saturated or until you see angry wasps emerge.
Let the wasp nest sit overnight and check for activity the following day. If you spot activity, repeat the process. Otherwise, it's safe to remove the old nests.
Enjoying the outdoors on a beautiful summer afternoon is something we all look forward to, except when wasps decide to break up the party. The good news is that there are many ways to prevent an angry confrontation between you and these pesky insects. Being prepared for wasps ahead of time means that you and your family enjoy a day outdoors without fear of being stung by angry bees.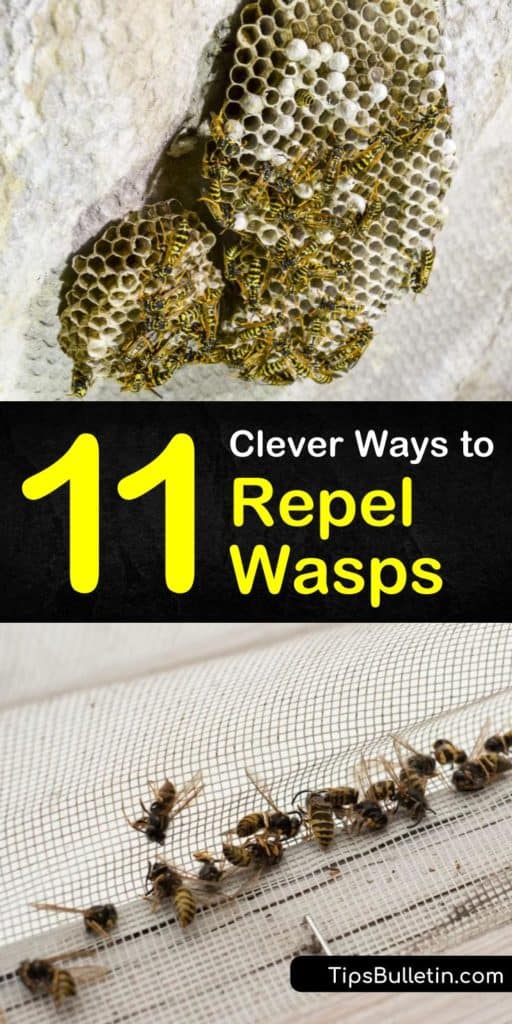 Now that you know how to repel wasps using simple solutions and natural repelling ingredients, why not share our wasp deterrent recipes and tips with your family and friends on Pinterest and Facebook?