There are many advantages to purchasing cast iron cookware. These skillets and dutch ovens are excellent when it comes to cooking food evenly due to their superior heat retention, and they also use natural ingredients to create a non-stick surface. The most significant confusion when it comes to owning one of these is how to season a cast iron pan.
Many people freeze at the thought of needing to use additional maintenance on a pan they might otherwise toss into their cabinets and never think about again until the next use. Most cast iron skillets are already pre-seasoned when you get them, but the seasoning process is an ongoing thing. And eventually, you will need to re-season your pan.
Seasoning cast iron in the oven is simple, and cleaning it is just as easy. In many cases, cleaning a cast iron skillet is even easier than cleaning a regular pot or pan. These skillets last much longer than ordinary cookware and can work in both the oven and on the stove.
With so many great benefits to cast iron pans, why wouldn't you take the extra time to clean and maintain it? The most crucial step is learning the right techniques and using them at the correct times. This article will put you in the right direction and get you started on seasoning a cast iron skillet.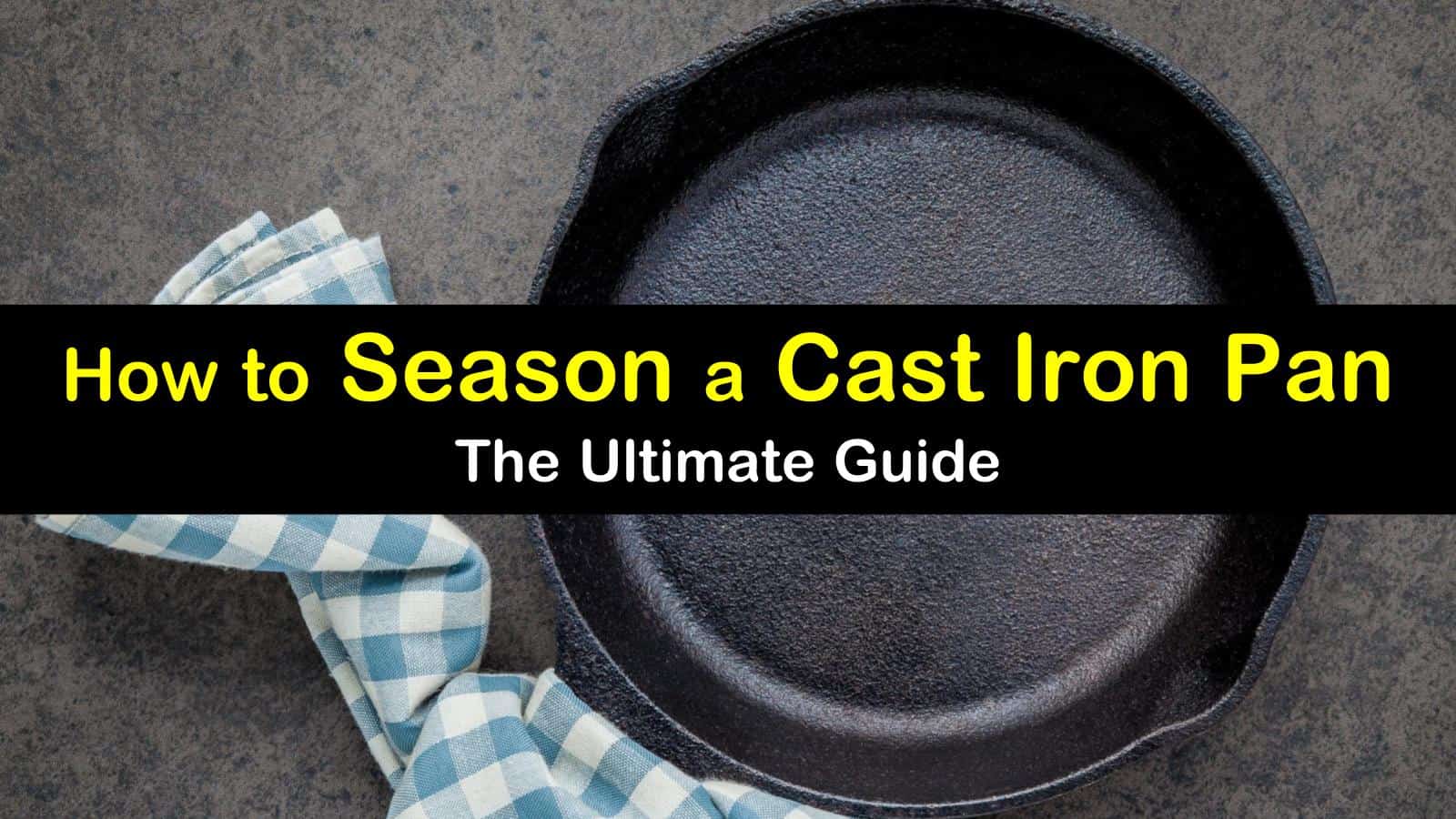 The Best Ways for Seasoning a Cast Iron Pan
Some of these tips will also work for cleaning and seasoning other types of cast iron items, too. For example, after you clean an iron grill after cooking something that is messy like barbeque, some of the seasoning may come off during the cleaning process. Season the grill afterward so that you are ready for your next grilling session.
You can also use these remedies for seasoning after cleaning a waffle maker. No one enjoys getting bits of waffle batter out from the tiny crevices in this device, but it's important if you want to use the machine later. Clean and season it so it's ready for next time.
What does seasoning a cast iron skillet mean?
If you are new to owning a cast iron skillet, you may be curious to know what all this talk about "seasoning" means. You won't be dousing your new cast iron skillet in some freshly ground pepper, salt, or Old Bay Seasoning.
Instead, you are adding a protective layer of oil over the surface of the pan. Seasoning happens when you first purchase your cast iron pan, then subsequent times after repeated uses.
Why is seasoning a cast iron skillet necessary?
Seasoning a cast iron pan has less to do with flavor than it does with ease of use and protecting your cookware. When seasoning cast iron, you add a protective non-stick coating, like Teflon, over the base of the pan.
The advantage of this non-stick coating is that it is made with different types of cooking oil and is both natural and chemical-free. Another reason seasoning a cast iron pan is essential is to prevent the pan from rusting.
Cast iron rust prevention is simple and only needs to be done periodically to ensure that you have a safe surface on which to cook your favorite foods. When heated without being seasoned, the iron will rust, and who wants to cook with that?
How often should I season a cast iron pan?
Seasoning a cast iron skillet is an ongoing process. You first season cast iron the moment you bring it home from the store, or at least before the first use. When you do this, you need to season it multiple times.
The number varies from household to household, but the minimum is two times, with numbers reaching as much as four times. The next time you need to season your skillet is after so many uses. The recommended amount of time between seasonings is usually between three and four applications.
The best rule of thumb is to look at the cookware. If it seems as though the glossy look of the pan has started to wear off, then it's probably time to re-season it. If you cook with acidic foods, like tomato sauce or vinegar, this might also strip off the seasoning, meaning it'll need to be redone.
Also, if you end up making a burnt-on catastrophe in your skillet, which has happened to all of us at least once, it may require a harsh scrubbing. If this deep cleaning removes the seasoning, then reapply it afterward.
How should I clean my cast iron cookware to prevent removing any seasoning?
Now that you have successfully added seasoning your pan, it's time to add the cookware to your monthly cleaning checklist. Cleaning your cookware is relatively simple and requires minimal effort on your part, especially if you follow these cleaning tips for your cast iron pan.
The non-stick surface of your skillet makes it easier to clean and reduces the incidences of stuck-on foods. For the most part, all you will need to clean your cast iron skillet is a little bit of hot water.
When cleaning cast iron, do not soak the pan or run it through the dishwasher. Avoid using any harsh abrasive materials like steel wool to clean it. Instead, use a scrubber with soft bristles or a damp cloth.
For stuck-on food, add some sea salt to the pan to gently scrub away food particles. You don't want to risk using acidic cleaners or anything that will scratch the surface of your pan. This may wear down the seasoning or may cause the surface of the pan to flake away and rust.
How to Season a Cast Iron Pan in 4 Mind-Numbingly Simple Steps
All cast iron cookware should be seasoned before the first use, with regular re-seasoning afterward. This four-step method will work in both cases. The first part of the seasoning process is to clean your pan.
1. Clean the Cast Iron Pan Thoroughly before Seasoning Cast Iron in the Oven
Whether you're bringing it home from the store or reasoning the pan, deep clean it using warm water and, this time, use soap. Afterward, dry the pan completely using a paper towel and get rid of any soapy water that remains on the skillet.
The seasoning will not hold if the pan isn't dried all the way. To ensure you have removed all every last drop of moisture from the pan, place it on the stovetop and warm it up on low heat.
This should evaporate any extra drops of water. Let the pan cool. After it is safe to touch, remove it from the cooking surface, and begin seasoning.
2. Season Your Cast Iron Pan using Cooking Oil
The most challenging part of the seasoning process is determining what cooking oil to use on your cast iron pan. In the past, people have used ingredients like lard and flaxseed oil to season their pans. However, many home cooks have started to move away from using saturated fats like lard in favor of healthier alternatives like canola or vegetable oil.
Similarly with flaxseed oil, many find this method frustrating, since flaxseed has a propensity for flaking off too easily after seasoning. Soybean oil can also work, but the most common is vegetable oil.
To season your pan, start by adding a thin layer of the cooking oil into the pan. Spread the oil over the cast iron cookware using paper towels in circular motions. Continue until the oil is evenly distributed across the pan's surface and has plenty of time to absorb into the iron.
Next, use a second clean paper towel and sop up excess oil so that the pan looks dry. Repeat this process on the bottom side of the pan before placing it face-down in the oven.
3. Heat the Cast Iron Skillet in the Oven
When seasoning cast iron in the oven, set the temperature to 450°F and let it bake for 30 minutes to an hour. For those cooks who are leery of setting their stoves at a high level, you can also season your pan by heating the oven to 350°F and leaving it for an hour and a half.
If you can, however, it's better to use the higher heat. To prep your oven for the seasoning process, lay down a sheet of aluminum at the bottom to soak up any drops of oil.
When the oven reaches high heat, it may cause a little bit of smoke to form. As an added precaution, open a window or two to increase the ventilation within the house and ease any smoke smells that may arise.
To prevent an abundance of smoke, use an oil like canola or grapeseed oil, both of which have a high smoke point. When you are ready to place the skillet inside the oven, put it on the middle rack. If you are heating the oven to 450°, you may want to start by easing the skillet into the rising heat levels.
Do this by first placing the skillet in the oven at 300°. Because the oil will heat up and begin to melt during this process, it's a good idea to remove the pan with tongs and an oven mitt after approximately 10 minutes and smooth out the freshly-melted oil one last time before letting it cook.
This ensures your cast iron pan has a smooth finish. And, it never hurts to take the added precaution.
After the oven has reached the full 450° temperature, do not open the oven again. Let it sit for the full 30 minutes to one hour. Once the time is up, leave the pan in the oven for an additional hour without the heat on.
After the skillet cools, take it out of the oven and go over it with a paper towel once more. This will soak up any leftover oils.
4. Repeat the Process as Often as Needed
As mentioned before, seasoning a cast iron skillet is not a one-time process. You will need to go through all the steps at least once more the first time you season it.
Some recommendations are to alternate the position of the pan every time you season it. For example, the first time, leave the pan facing down, and for the second time have it facing upward. The result should be a pan with a beautiful, glossy finish.
There are also some techniques you can use to make the seasoning last longer on your pan. One way is to preheat the pan before adding food to it since the pans take a little extra time to heat up than other skillets. You can also use cooking spray or oil when using the pan.
Even though the pan has an excellent non-stick finish which allows you to cook without added fats, this will replenish the oils on the cast iron. Frying, sauteing, and searing food in the pan are also great ways to keep the oils on the pan lasting longer.
Try This Tasty Recipe in Your Cast Iron Skillet
Now that you've spent valuable time and effort seasoning your pan, you want to use it for something delicious. I'm sure all this talk of sauteing and searing a tasty meal has already caused your mouth to water.
Christen your newly seasoned cast iron skillet with this spicy Cajun dish. It takes about 35 minutes and makes 3-4 servings.
Preheat your skillet while you prepare the food. Sprinkle some of your favorite spicy seasonings over the chicken. Tony's seasoning is recommended but completely optional. Thinly slice the onion for sauteing.
Add butter to the skillet when it starts to heat up and toss in the onions. Mix in whatever remains of the seasoning, along with the peppercorns and garlic powder. Stir until the onions are a nice caramel brown.
After the onions are ready, add the chicken and brown it on both sides. Mix in the water before lowering the heat, and let it simmer for approximately 20 minutes. Check on it periodically, and make sure the chicken is cooked through before removing from heat.
Onions are served over the chicken and usually paired with Cajun rice. All that's left to do now is enjoy your food!
Now you know everything from seasoning your pan to cleaning it, and you even have a headstart on what to put in it. Whether you are pan searing a mouth-watering steak, frying up some tasty chicken, or making your world-famous cornbread, you can't go wrong with your new, freshly-seasoned cast iron pan.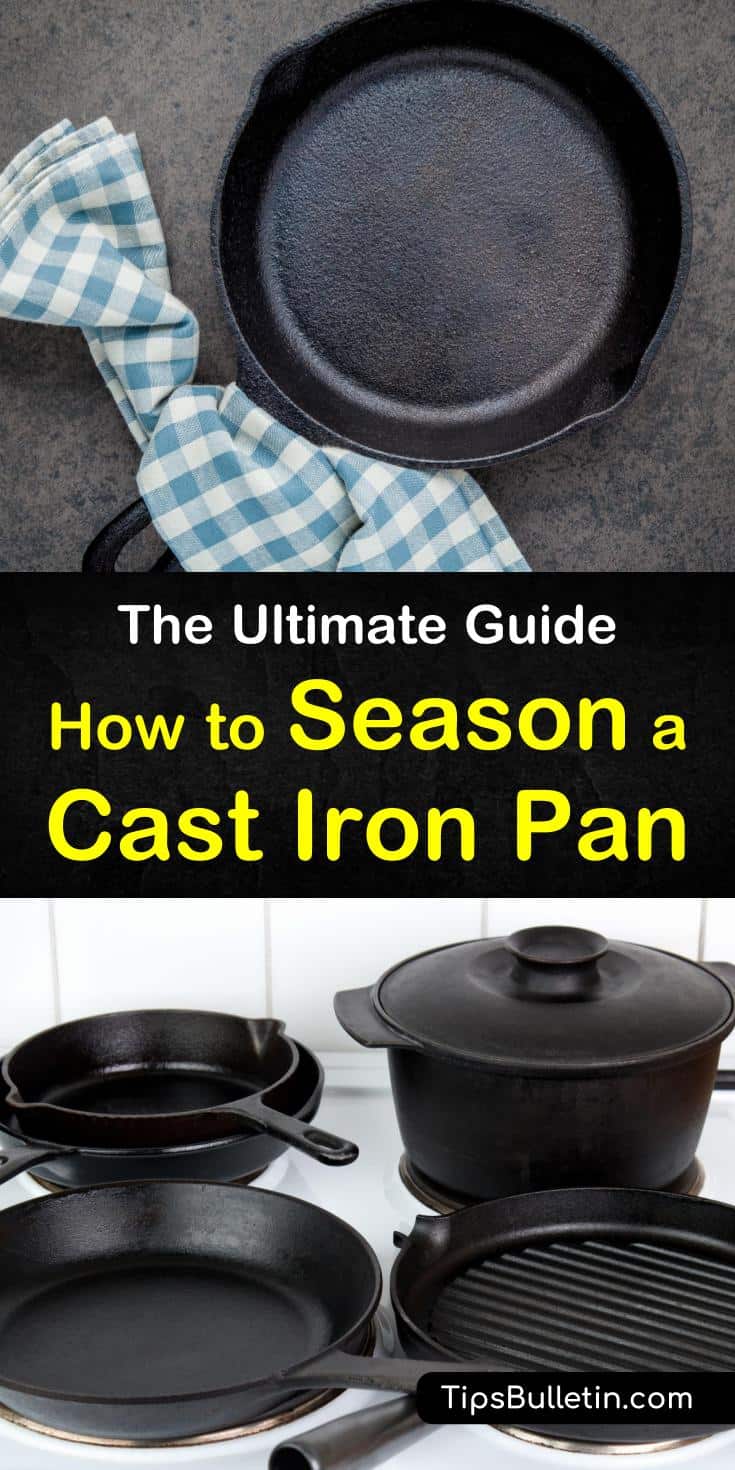 We hope you just loved these tips for seasoning a cast-iron skillet. Don't forget to share how to season a cast iron pan with other at home cooks on Pinterest and Facebook.