When it comes to the carpet in our cars, there's never an easy way to keep it from collecting dirt and grime. Rather than go to a professional detailer once a month to clean your car, there are many simple cleaning solutions and recipes you can use to remove debris, stains, and even give your vehicle a fresh, clean scent. In this article, you'll learn how to shampoo car carpet efficiently and adequately.
All it takes is one trip across the lawn, or even the parking lot, to track sandy particles, leaves, and all manner of debris onto your car floor. And if you have kids or pets, forget about keeping that carpeting clean for extended periods.
What's good news for you is that many of these homemade car carpet shampoo recipes are easy to use and provide your carpets with all the tender love and care they deserve. If you're ready to discover how to shampoo car seats and carpets with these DIY cleaning products, then this step-by-step guide will show you how.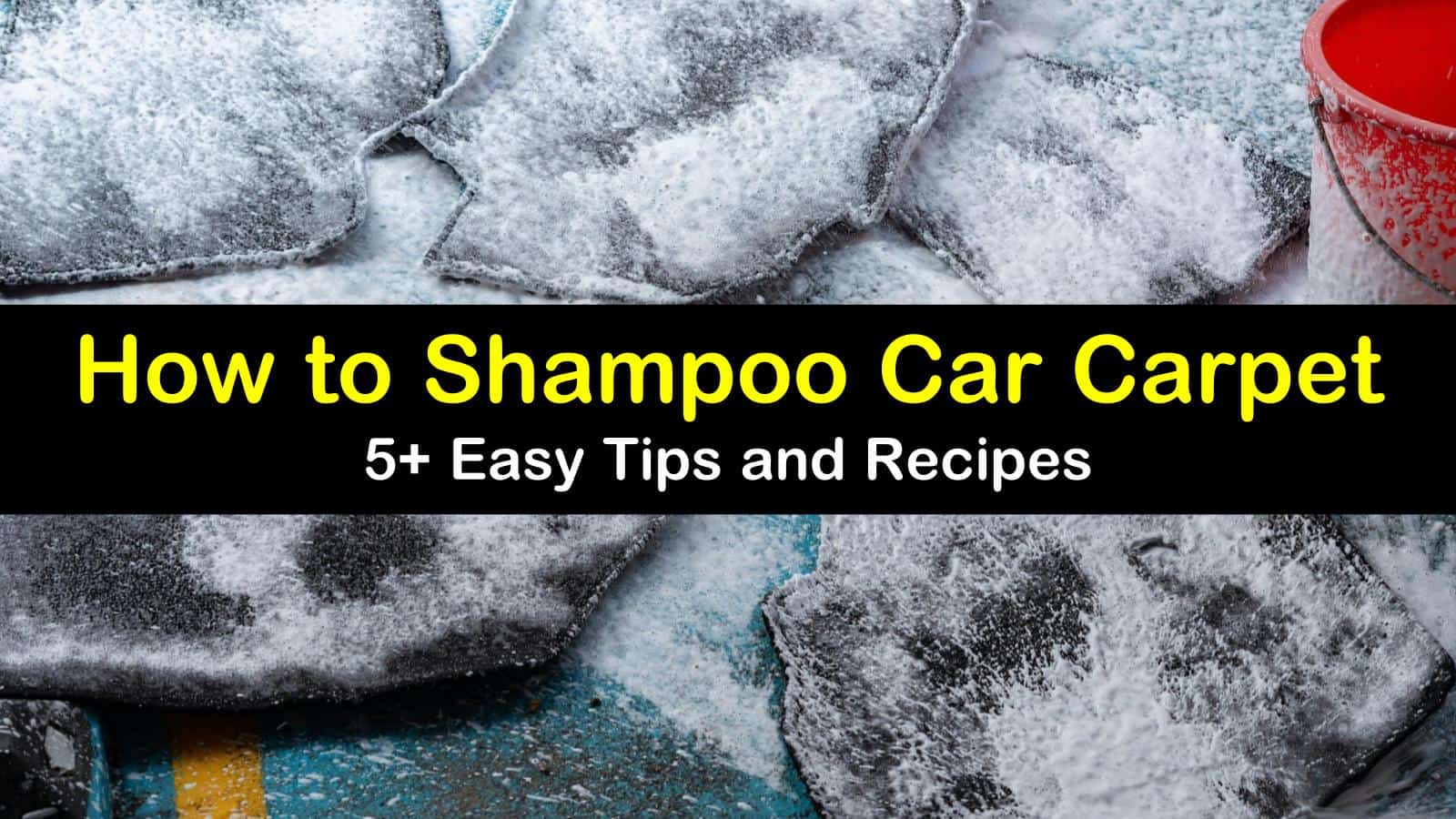 The Best Homemade Car Carpet Shampoo Recipes and Tips
Before you embark on your carpet cleaning journey, ensure you have the essential tools required for cleaning your car. There are a few supplies that every car care toolkit should have readily available, though not every supply is necessary during each cleaning. Here are the best items to keep on hand.
Note that these solutions can also be used as a fabric cleaner for car seats, too, unless they are leather or microfiber. Rather than just cleaning the carpet, take care of the whole car interior at the same time.
When cleaning your carpets, it's important to note the type of fabric you're cleaning. If you have leather seats or upholstery, use a commercial leather cleaner specifically designed for that material. One example comes from the brand Meguiar, which has cleaning products for all car fabric types, as well as a leather conditioner.
Vacuum and Clear Away Debris
No matter the material you're working with, the best way to clean car carpet starts with a good vacuuming of the car upholstery and interior first to remove all large debris and dirt, making it easier for you to scrub the cleaning solution into the fabric without rubbing more gunk into the carpet.
This step includes vacuuming the seats and under them, as dirt often moves from the car seats down to the floor quickly. Make sure you get in all the small creases and crevices.
The less debris left behind, the better. Even if you plan on using a powerful detailer tool like an extractor carpet cleaner, to shampoo your carpet, vacuuming should still be your number one priority before car washing.
Remove Stains from Carpet with Vinegar
A wonderful all purpose cleaner that effortlessly removes most stains is vinegar. This cleaning solution works in several different variations and is even safe to use on the leather interior when it's diluted. When mixed with baking soda, this fantastic cleaning agent transforms into a stain remover that also freshens the smell of your car interior.
To remove coffee stains from car carpet, or another type of unsightly blemish, use this simple but effective recipe. These two ingredients form a thick paste that you can easily scrub into your car stain with the bristles of a soft toothbrush.
Once you've thoroughly scrubbed the stained area clean, let the paste air dry on the fabric. Use a vacuum to suck up the powdery particles left behind after drying, then repeat as necessary.
How to Shampoo Car Carpet with Pet Stains
Not every carpet stain is going to come clean easily. Sometimes, you need an enzyme carpet cleaner to remove organic stains caused by sweat, vomit, or urine.
The following shampoo recipe takes time to create, so if you need to use it immediately, start with a commercial enzyme cleaner found in stores. Otherwise, this fantastic formula is also the perfect car carpet shampoo to add to your steam cleaner.
When using this carpet and upholstery cleaner, select a bottle or container that's large enough to hold all the ingredients. You'll also need to store it for an extended timeframe, so it needs to be sealable, as well. Begin by adding the brown sugar to the container along with the citrus peels.
Pour in the water, then seal the container. Shake up the mixture thoroughly before loosening the cap and leaving it partially open to allow any expanding gases within the box to escape and prevent a mini-explosion of citrus in your pantry.
Let the combo sit for three months before using it. When ready to use for shampooing, add it to a carpet cleaner machine for the best results.
Homemade Car Carpet Shampoo with Borax
Another essential car detailing element you can use to clean car floors is Borax. This homemade carpet shampoo lifts stains, washes your vehicle, and also leaves behind a heavenly scent. To try one of the best car cleaning recipes out there, follow the instructions below.
To melt the grated soap, use boiling hot water. Mix the ingredients until adequately blended. Scrub the carpet shampoo into the floor using a stiff brush and working in circular motions. Finish by rinsing the solution from the car with a damp cloth and letting it air dry.
This solution is also ideal for cleaning car seat straps. A toothbrush is an excellent applicator tool. Be sure to get both sides of the straps!
How to Shampoo Car Seats and Floors with Soda
One essential item to use on your car interior is club soda. The carbonation in club soda works perfectly to lift grease stains, which are common occurrences in vehicles that house everything from oily components to greasy foods. By using this recipe, you'll be well on your way to a clean carpet.
Spray the formula lightly over the carpet and upholstery, paying particular attention to any stains first. Using a soft microfiber cloth or brush, scrub the surface of the carpet to work the cleaning product into the fabric. Once you've completed your interior car wash, rinse the fabric with a dampened cloth and let it dry.
To remove blood stains from carpets in the car or at home, if this recipe doesn't work, you can try using a small amount of hydrogen peroxide instead of club soda. Peroxide is highly effective at eliminating protein stains like blood.
Freshen Up Carpet with Deodorizers
One of the most challenging things to ignore is when a horrible smell seeps into your car's carpet. Not only can that smell be distracting during rush hour traffic, but it's also equally embarrassing whenever you need to drive others around.
One way to remove odors from carpets is by using baking soda blended with a cocktail of essential oils. The baking soda also removes mildew smells from wet floors, whether caused by rain or a trip to the beach.
Combine the drops of essential oils in a canister with the baking soda, sifting the powder around to work the oil throughout the mixture. If you have a large Parmesan shaker, this is an excellent way to blend the ingredients, as well as provide you with an easy way to pour them onto the carpet.
Sprinkle a layer of the formula over the carpet and car mats separately to cover every inch of the floor. Let the powder soak in and sit for several hours or overnight. In the morning, vacuum up the remaining powder and enjoy the fresh, clean scent.
Now that you know the best homemade car carpet shampoo recipes available, it's time to put all that information to good use. Rather than taking your vehicle into the dealership for an expensive auto detailing, give your car's interior the love it deserves with these easy car care tips! And don't forget the car seats and floor mats.
If you enjoyed reading our fantastic and simple-to-follow car cleaning guides, then please remember to share how to shampoo car carpet with your friends and family on Facebook and Pinterest.