Remember how your new dress shoes had a mirror shine when you first pulled them out of the shoebox? Unfortunately, the brilliance only lasts so long, as they collect dirt and scuffs. Learn how to shine shoes using basic and advanced shoe shining methods and restore your shoe's good looks.
Not only do leather shoes look stylish, but they make a good impression. Nothing looks sharper than tying the perfect outfit together with a slick pair of smooth leather shoes. On the other hand, dull and drab-looking shoes may leave you with less impressive results.
As good-looking as leather and suede shoes are, they require regular shoe care to keep them looking their best. Unlike fabric or canvas shoes, leather is a natural material that requires special attention to prevent damage to the shoe surface. Luckily, shining shoes is easy at home, whether you want a straightforward shine, spit shine, or fire shine.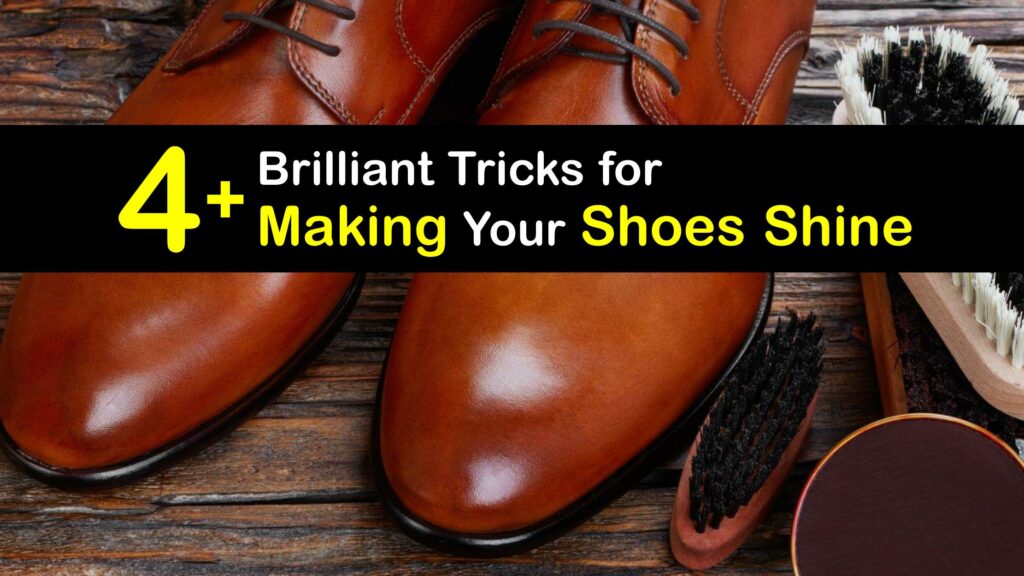 Ways to Shine Shoes
You don't need to take your shoes to a professional shoe shiner to restore their original appearance. There are several ways to shine shoes and make them look new again, even if you follow a homemade shoe polish recipe. Find tips for maintaining leather shoes to keep them in tip-top shape.
Cleaning Shoes Before Shining
It's vital to clean your shoes before shining, whether you desire a quick way to shine shoes or an advanced method. Clean your shoes to remove everyday dirt, dust, and debris.
Spread out newspaper on the table and remove the shoelaces from each shoe. The best at home shoe cleaner doesn't require expensive products or tools. Clean the entire shoe with a shoe brush and clean soft cloth; don't forget to clean dirt from all the crevices. This step is essential for an effective leather boot cleaner since debris on the shoes or boots may scratch the leather as you polish it.
Quick Way to Shine Shoes
For a straightforward shoe shine if you don't have the time for fancy shoe shining, follow this quick way to shine shoes with a simple polish and shine.
Gather your cream polish, wax polish, or paste polish, and other polishing supplies and set them within reach of your shoes. Apply an even layer of shoe polish to the shoe with a polishing brush, and rub it with a circular motion to work it into every section of the shoe. An extra layer may be necessary on the heel and toe areas, which get the most wear.
Let the shoes dry for about 15 minutes, and brush the leather vigorously with a horsehair brush. Use short and even strokes to heat the leather and remove excess polish. Shine and polish the shoes with a buffing cloth or soft cloth using a side-to-side motion.
How to Make Shoes Shine
Discover how to make shoes shine by spit-shining them. A spit shine leaves your shoes with a very high gloss, and it's not much more challenging to perform than a basic shine. While in the past, saliva was the lubricant for shining shoes, it's easy to do with water.
Apply shoe polish with a polishing brush and let it dry for 15 minutes. Dunk a cotton pad or ball into water to get it wet but not dripping, and buff the dry polish on each shoe with small, circular motions. Begin at the toe, work to the heel, and let the shoes dry.
Dunk fresh cotton into the water, wring it out, and use it to apply a second coat of shoe polish to the leather. Repeat this final step, adding additional layers of polish until you achieve the desired results. Give the shoes a final buffing with a cotton chamois.
How to Shine Shoes With Melted Polish
The best way to shine shoes to provide a superior finish is by fire or burn shining. The process entails igniting the shoe polish with a lighter to melt it, leaving your boots shining like mirrors. Learn how to make shoes shine by fire shining them.
Begin by stripping your shoes of previous coats of polish by applying a few drops of rubbing alcohol to the leather and working it into the surface with a cotton ball or cloth. Open the can of polish and use a lighter to ignite it. Allow it to burn for a couple of seconds, and close the lid to extinguish the flame.
Wear gloves to protect your hands, open the tin, and apply the melted polish to your shoes with a damp cloth. Use small, circular motions while working the polish into the leather in a smooth, even layer.
Continue to apply light layers of shoe polish until you get the desired shine when you shine boots at home. Run a hair dryer over the shoe without touching the leather until the polish melts slightly. Set the shoes aside to dry for about 20 minutes, apply one last layer of melted shoe polish, and finish by buffing the surface with a chamois or clean, soft cloth.
Maintain Your Shoe Shine
It takes time and effort to polish shoes, and the best way to help them keep their shine is to maintain them. Follow some shoe care tips to ensure your leather dress shoes and boots stand the test of time and keep their radiant appearance.
Clean your leather boots after each wear by wiping them with a soft cloth or applying a leather cleaner and conditioner. Polish them with shoe cream, wax, or polish every six wears to prevent them from drying and cracking. Always store shoes in a dust bag when not in use. Consider using a shoe tree to help them hold their shape and absorb moisture.
The appearance of your shoes can make or break an outfit, and there's a big difference between shiny leather shoes and scuffed, dull shoes. Fortunately, restoring your shoe's shine is not as difficult as you think, whether you want a regular shine or mirror shine.
We hope that you enjoyed reading how to shine shoes, and we'd love it if you'd share our shoe shining guide and shoe care tips with your family and friends who like shiny shoes on Pinterest and Facebook.