You've found it: the most fabulous t-shirt ever and the last one on the rack. The only problem is, it's two sizes too big. This isn't a problem, of course, if you know how to shrink a cotton shirt until you achieve that coveted, perfect size. So where to start, and does it apply to shirts that are only part cotton?
There are numerous ways to shrink cotton shirts, though it isn't as easy as it once was. This fashion dilemma arises from the security of preshrunk clothes, which seems like an advantage in any other circumstance than this one.
Luckily, there are still plenty of alternatives to choose from when it comes to doing what others strive not to and achieving that fabulous smaller look. Whether you are trying to make that store-find fit or celebrating dropping a few pounds, these t-shirt shrinking tips provide you with simple ways to accomplish the task and all the information you require to do it right.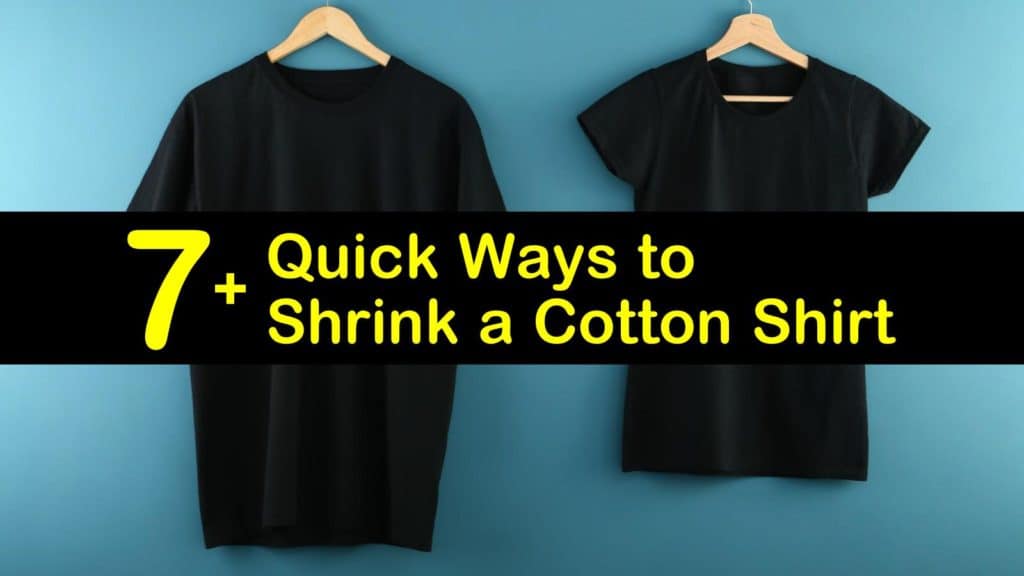 Quick Ways to Shrink Cotton Shirts
When shrinking a cotton shirt, keep your expectations realistic. Most garments only shrink down to about 20% less than the original size. So if you are trying to convert a double extra large to an extra small, it probably isn't going to happen.
It's important to know that you can shrink other fabrics in addition to cotton. Does polyester shrink? Yes, you can make polyester and rayon smaller but the procedures may be a little different. Knowing what kind of fabric you have at the start is helpful to know how to handle it.
Remove Stains from Old Cotton Garments
Before you attempt to shrink your tee, assess the condition of it first. If dealing with an older shirt, it may require a preliminary spot treatment of stains ahead of shrinking it down to size. To get grease out of your shirt, or other oily substances, use a paste recipe like the one below.
Add enough drops of dish soap to the baking soda to form a thick scrub. Using the toothbrush, work the solution into the cotton fibers to lift away as much of the stain as possible. Leave the mixture to soak into the stain for approximately ten minutes after scrubbing, then rinse with some warm water and a cloth.
Be sure you know how to wash whites separately from colored items, whether they are cotton or some other type of fabric. You don't want to have to worry about color bleeding in addition to stain removal and shrinking.
Shrinking a Cotton Shirt
There are two primary options for reducing the size of a shirt. Both involve introducing a certain amount of heat, which means excluding polyblends and other materials that are either resistant to shrinking or damage easily.
Fabrics like rayon and cashmere lose their texture when exposed to high heat, where denim and cotton shirts fare just fine.Start by running the shirt through the wash cycle with other similar items. To avoid shrinking a hoodie, only add garments that also could use a reduction in size or can handle the heat.
For your outfit to achieve the desired size, place the water temperature of the machine on a hot wash setting. Allow the garments to run their course, then either air dry or use the dryer depending on how far you intend for the shirt to shrink.
Prevent Color Bleeding with Vinegar
Not all shirts that require shrinking are going to be plain white tees. You may run into some favorite graphic tees that also need a shrink or two. In this case, it's better not to run a shirt with decals through hot water, since the heat might wear down the graphics.
Instead, run it in a lukewarm or cold water heat setting. If washing darker clothes in hot water, especially for the first time, it's likely for some color bleeding to occur. Because of this, only wash with similar colors or by itself. To lessen the effects of color loss, add in a cup of white vinegar during the wash cycle.
You may even be able to make your favorite baseball cap a little smaller if it has gotten stretched out. Can you put a baseball cap in the washing machine? Yes, you can, as long as you follow some guidelines.
How to Shrink a Cotton Shirt Without a Machine
If you don't plan on using a washing machine to shrink your t-shirt, then a large pot and boiling water also work. Though it is considered somewhat less effective than the alternative methods, it may take a few tries to get it right. Don't be concerned if you wind up repeating the process two or three times before you achieve the desired result.
To make clothing shrink to fit, first, bring your large pot of water to a boil, then remove from the heat and toss in the t-shirt. Let the shirt sit in the water for approximately ten minutes, or a little bit longer for larger shirts.
Withdraw the garment using a wooden spoon to avoid burning your hands. Wring out the clothing item to gauge how much smaller it is, then repeat until it reaches the correct size. Put it in the dryer and try it on.
Use a Gentle Hand Washing Detergent
After you've rinsed your cotton t-shirt in the boiling water, continue hand washing laundry items with a simple detergent. This formula doesn't call for anything fancy, though it should be gentle on skin contact. Brands like Woolite make specific products designed explicitly for hand-washing clothes.
Mix the ingredients, then submerge the laundry item until it is completely soaked. Swirl the shirt around in the basin for approximately two minutes, then rinse with clean water separately. To eliminate excess water, squeeze the clothing until a significant amount of moisture is gone.
Decide How Much to Shrink It
If you were going to make a piece of clothing from scratch, you would measure out the amount of cloth required for the task ahead of time. A similar preparation is required for shrinking a shirt when boiling since your intended effect is to accurately reduce the size without making it too small right off the bat.
As a result, the first thing you should do is determine how long the shirt has to soak in the water to reach the appropriate measurements. To shrink your shirt one to two sizes, feel free to toss it into the boiling pot of water as soon as you remove it from the heat.
If you only plan to shrink it down to about one size or half a shirt size, then wait about five minutes before adding the piece of clothing to the hot water. When attempting to decrease the size by only a small amount, half a size or less, wait around ten minutes before dunking it into the water.
Ways to Shrink Cotton Shirts in the Dryer
Whether you implement the washing machine or boiling water method, using a dryer to add to the shrinkage of your shirt helps you gain that extra size or two. Do not use this step if you only plan on reducing the size of your clothing by one size or less. Instead, let the shirt air dry when finished.
While many believe high heat from dryers is responsible for why cotton shrinks, it's actually the movement of the clothing against the sides of the machine. Because of this, placing your dryer at the hottest setting is not necessary. Instead, run the shirt at medium heat to attain the same effect.
Using the washing machine and the dryer are also a great way to shrink jeans that may be too big to wear. Turn them inside out to guard against fading the denim.
What to Do If Clothes Shrink Too Much
So what happens if you went a little too far with making your new shirt smaller and now have to unshrink it? Luckily, there is at least one option worth trying to restore some of your shirt's original size. You can easily unshrink a cotton shirt with a little effort and time.
Where shrinking your shirt required heat, unshrinking it requires distancing yourself from that avenue as much as possible.
First, fill a large bowl with enough water to fit your piece of clothing. Soak the item in warm water and add in one tablespoon of conditioner. Work the ingredients into the t-shirt then let it soak for approximately 30 minutes.
After the shirt has had enough time to absorb the oils from the conditioner, gently start to reshape the item by stretching it little by little. The shrinking process tightens up the fibers so that they are much more compact than before.
For this reason, restoring your clothing to its original size is quite possible with a little bit of patience. You don't want to ruin the structure of the fabric by tugging too hard, so work slowly until the item takes shape. In the future, run the article on colder rinse cycles to prevent it from shrinking back up too quickly.
How to Shrink a Preshrunk Shirt
When it comes to tackling the already preshrunk shirt, what can you do? Is it even possible to shrink something that's already been shrunk ahead of time? Absolutely! In this case, turning up the heat becomes an asset you can't live without, where before it was a mere aid to ensuring maximum shrinkage.
When tossing it into the washer, use the highest heat setting on the machine. Make sure to turn the shirt inside out to limit the amount of color fading and wash it alone to keep other outfits from shrinking.
Once it's completed the wash cycle, run it on the permanent press in the dryer. Repeating this process a time or two may still be necessary to reach the right size. However, keep in mind that excess washing damages the fibers over time.
With so many easy ways to shrink cotton shirts, you now have a full-proof plan for ensuring your new clothing item fits just right. Whether it's an online order gone wrong or a way to celebrate losing a few extra pounds, these tips for shrinking a cotton shirt are not only useful but super easy to execute.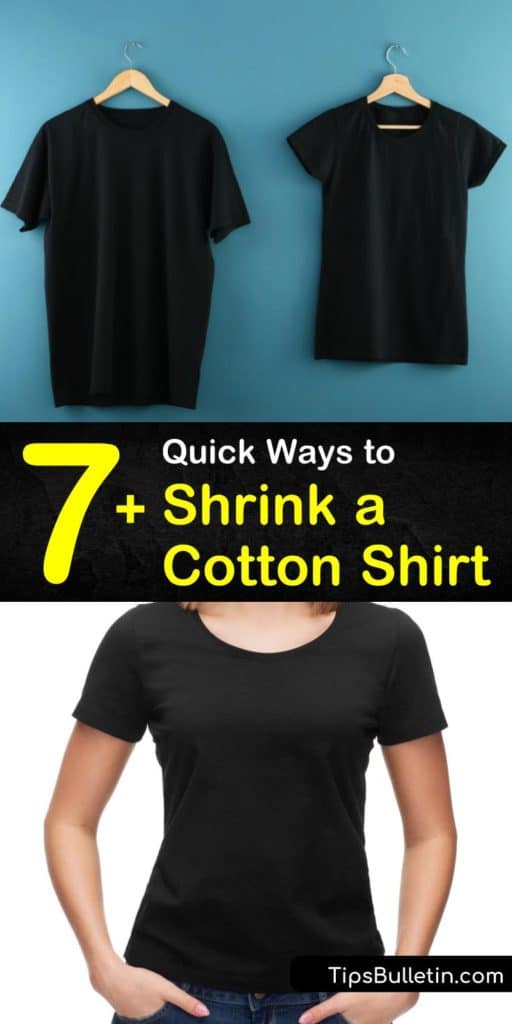 If you found these t-shirt cleaning tips easy to use and helpful, then please remember to share everything you now know about how to shrink a cotton shirt with friends and family on Facebook and Pinterest.