You bought yourself a brand new shirt that you love, except for one problem. Your custom t-shirt is not the right size. Learn how to shrink a shirt for the perfect fit by using a variety of shrinking processes.
Who doesn't love the perfect t-shirt? Graphic tees that show off your personality and mood are fun and comfortable to wear unless it is two sizes too big. Unless you plan on wearing your favorite new shirt as a nightshirt, you're going to have to figure out how to shrink it.
An organic cotton t-shirt or cotton blend shirt that is not preshrunk only shrinks about 20% from its original size. The good news is that cotton shirts are the easiest to shrink using the right shrinking process.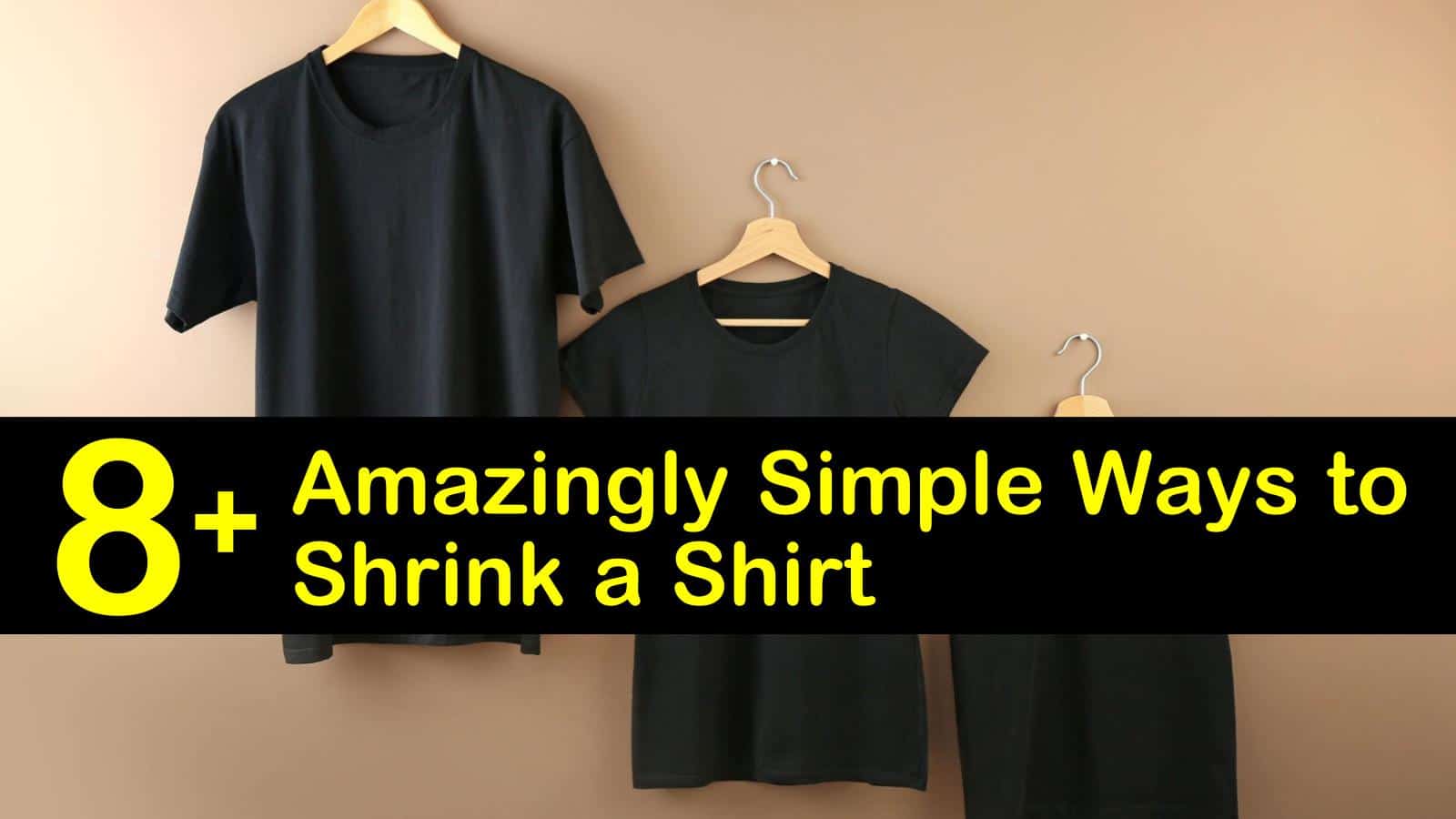 Shrinking Shirts
There are many simple ways to shrink clothes and cotton garments. Cotton shrinks if washed and dried improperly, so that's what we are going to show you how to do.
Shrink your new favorite cotton t-shirt by changing the way you wash and dry it. We'll also show you how to shrink cargo pants, polyester clothing, and wool shirts, as well as other pieces of clothing so that you can wear them with confidence.
If you're trying to shrink an older shirt, be sure to remove all stains first so they don't set in. Get oil out of clothing, eliminate coffee stains, or remove lipstick from a shirt and start the shrinking process with a nice clean garment. It will be ready to wear before you know it!
How to Shrink a Shirt in the Washer and Dryer
Dryer heat does not shrink clothing as we once thought. The cause of shrinkage is the tumbling action of the fabric hitting the side of the dryer. With that said, your new shirt still shrinks up to 20% in the washer and dryer. Here is how to shrink shirts by washing and drying.
Place the shirt into a top-loading washing machine and wash it with hot water. Front loading machines do not create as much agitation as top loaders, and the shirt needs this agitation to help it shrink.
Transfer the clothing to the dryer and set it to medium-heat. Rayon shrinks in the dryer due to the tumbling action, so high temperatures are not necessary.
Shrinking leather is also a possibility. Simply dampen your leather pants or vest with water and throw them in the dryer on low heat for a few minutes. Check to see if the item is small enough. Repeat as needed.
How to Shrink Shirts Made of Cotton
Manufactured shirts have the material stretched out to lessen the amount of fabric needed to make the final product. Shrinking shirts with warm water helps the fabric shrink back to its original state.
To shrink a cotton shirt, pour cold water into a large pot and bring it to a rapid boil before removing from the heat. To shrink your shirt roughly one quarter its size, place it into the hot water ten minutes after it has cooled. If you want to shrink your shirt up to one full size, put it into the pot of water five minutes after it is cooled.
For shrinking a shirt up to two sizes, put it into the water immediately. Allow the t-shirt to sit in hot water for approximately 20 minutes. Drain the water into a colander and use a pair of kitchen tongs to set the cloth aside until it is at a safe temperature to handle.
Wring all of the excess water from the material and lay it out to air dry. If you desire further shrinkage, place it into the dryer on a medium heat setting.
You may also be able to use this method as one of the ways to shrink a hat, as long as it is not a vintage item or if it does not contain cardboard.
Iron Shrinking a Cotton Shirt
The fastest way to shrink cotton back to its natural state is to apply high heat. Begin the shrinking process with hot water and finish by apply heat from an iron.
Fill a large pot with water and bring to a boil. Remove the pan from the heat and place the shirt into the hot water. For high shrinkage, put the material into the water right away. For mild shrinkage, allow the water to cool five to ten minutes before adding the shirt.
Let the shirt soak for 20 minutes before draining the water in a colander. Allow it to cool enough to handle safely before wringing excess water from the cloth. Lay the wet shirt onto an ironing board and cover with a clean cloth to prevent direct heat. Iron the cloth over the shirt until it is dry.
Shrinking a Polyester Shirt
Polyester is a durable material. Because of this, it is resistant to traditional means of shrinkage. While it takes some time and effort on your part, we'll show you how to shrink a cotton hoodie or a t-shirt made of polyester.
Turn your polyester shirt inside out before placing it into the washing machine to protect it from fading. Set the dials on your washer to the hottest water setting for both the wash and rinse cycles. Place the shirt into the dryer and set it to the longest, hottest heat setting.
Shrinking Polyester Shirts with an Iron
Polyester is a synthetic fiber that is derived from petroleum and is highly sensitive to heat. Using an iron on polyester is the most efficient way to cause significant shrinkage.
Turn the shirt inside out to prevent fading. Place the polyester into the washing machine and set both the wash and rinse cycles to high heat. As soon as the wash cycles complete, remove the material from the washer and lay it out flat on an ironing board while it's still inside out.
Lay a pressing cloth over the entire surface of the shirt. Set the clothes iron to a low or medium setting to prevent damaging the polyester material.
Do not use the steam setting since the cloth is already damp. Pass the hot iron over the shirt surface and continue ironing until it is dry.
How to Shrink a Rayon Shirt
Rayon is a manufactured fiber that mimics the texture and feel of silk, linen, cotton, and wool. This material is sensitive to heat and may warp if rapidly exposed to too much heat. With the right process and a little patience, this material shrinks significantly.
To shrink rayon so your favorite shirt fits you again, lay a large, damp towel on a clean surface and place the shirt on top of it. Roll the towel up around the shirt and let it sit while the cloth soaks up the water.
For slightly more dramatic shrinkage, fill a plastic wash container with warm water and soak the shirt for several minutes. Press the material gently to remove excess water without causing wrinkles and then hang the shirt outside with clothespins to air dry.
Follow the same process to shrink a nylon shirt overnight. If you don't feel comfortable leaving it that long, wait a few hours.
Shrink a Rayon Shirt in the Washer and Dryer
The easiest way to shrink a shirt made with rayon material is to wash and dry it using the right heat settings. This process causes the most shrinkage in a rayon shirt.
You can also use the washing machine and dryer for how to shrink a sweater that needs to get quite a bit smaller. Take the sweater out of the dryer frequently to check the size so that it doesn't shrink too much.
Place the shirt into the washer and set it to a warm or hot cycle. If the material is dirty, add your favorite laundry detergent, otherwise use plain water. Put the cleaned shirt into the clothes dryer on a gentle setting until it is dry.
Shrinking Cotton Fabric Shirts without Fading
Graphic t-shirts, jeans, and brightly colored cotton tend to bleed and fade when washed in warm water. Washing dark laundry without fading it is an important part of clothing care. Here are a couple of things to do to prevent this from happening while you shrink your new shirt.
Turn the shirt inside out to prevent fading and place it into the washing machine on the hot setting for both the wash and rinse cycles. Adding a cup of white vinegar to the washer also prevents color loss. Place the shirt into the dryer on the hottest setting and wait until it is dry.
Follow the same procedure for how to shrink leggings that are too big. Washing and drying inside out is best for all brightly-colored clothes.
How to Shrink a Wool Sweater
Fortunately, wool is a type of material that is very sensitive to heat and shrinks quickly when the right techniques are applied. Because it shrinks so fast, take caution when using heat to get it to the perfect size.
To shrink wool down a little, fill a spray bottle with warm water and spritz it lightly over the entire sweater. Place it into a dryer set on medium heat and check it periodically to make sure that it doesn't shrink too much.
If you have a wool sweater that is way too big and needs extra shrinkage, put it into the washing machine on the medium heat cycle. Place the wet sweater into the dryer on medium heat and run the cycle until it is dry.
It's easier to shrink your clothes then it is to unshrink them. The most convenient way is to wash your t-shirt and denim with the wash cycle set to the hottest setting and then dry it with the high heat setting in your dryer. Now you can slip into the new t-shirt that fits you just right.
We're glad that we could show you how to shrink a shirt for the perfect fit, and we'd love it if you'd share our shirt shrinking tips with your friends and family on Facebook and Pinterest.