It's become nearly impossible to leave the house and not see somebody wearing a pair of jeans. Blue jeans may have become irreplaceable in today's fashion world, but knowing how to shrink your jeans has become just as important.
Companies like Levi Strauss and Wrangler made jeans into the trendy essentials that they are today. Jeans morph to complement our bodies, leaving consumers coming back for more every year. But how do you properly care for a pair of jeans? And, how do you get your worn-out jeans back to their form-fitting shape? You must first know how to care for your denim clothing.
Jeans are sewn together from denim, a cotton textile that is threaded and dyed in different colors. Because of the make-up of a pair of cotton jeans, they tend to stretch and wear over time. Give them the proper care they deserve for the most use out of a pair of jeans.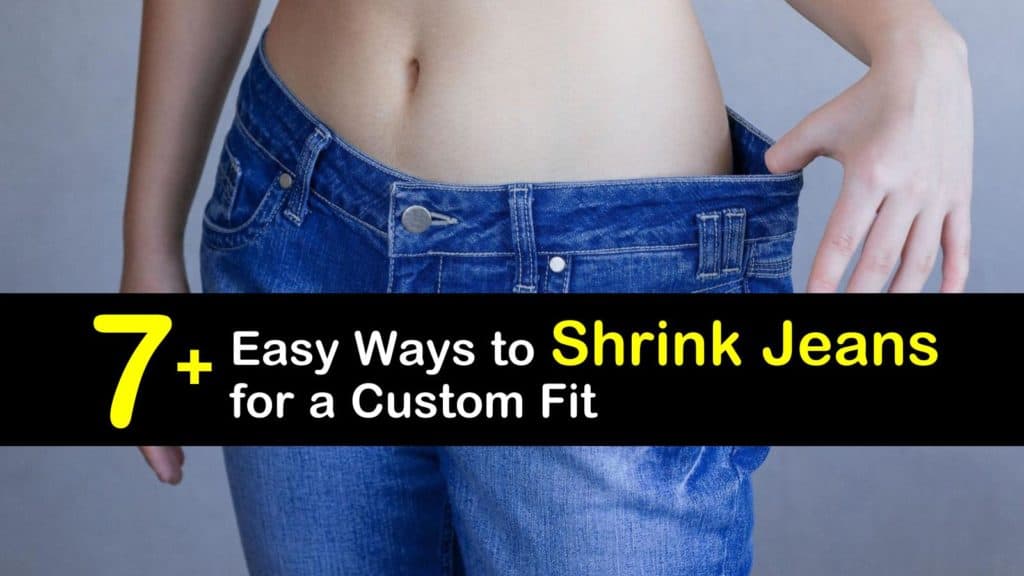 Caring for Denim
First and foremost, check the tag on all of your blue jeans. We often forget the importance of this small label, but it provides a lot of information on how to safely handle clothing. You may have thought your jeans were all denim but they may contain other fabrics like polyester or lycra.
Can polyester shrink along with the denim? Yes, you will still be able to make your jeans smaller.
Do you know how often to wash jeans? The answer may surprise you. It is not necessary to wash jeans after only one use. They require less cleaning than you think.
Guess how many times you can wear jeans before washing them. Five? Seven? Nope. Denim jeans only need to be washed about once every ten wearings.
If you have a small stain on them after a couple of days, use a damp cloth and soap to remove it. Avoiding the washing machine altogether helps sustain the denim's color and prolong the fabric from breaking down.
When you do decide it's time to wash ripped jeans, combine them with other similar styles. If you have several light washes, create a separate load for them.
If you have dark blue or black denim jeans, create a load for them as well. Sorting your jeans helps prevent any bleeding of colors from one pair of pants to another. Once you've sorted the jeans by color, flip them inside out to prevent excess fading. This is an excellent idea for washing darks of all types.
Don't forget to remove any items from your pockets to avoid ink or marker stains. Unless you're explicitly trying to shrink your jeans, wash denim with cold water. Cool water not only prevents your jeans from fading, but it saves energy and money as well.
Unfortunately, shrinking jeans is necessary to get that once perfect fit back. There are many ways to shrink leather pants and blue jeans that require no more work than your typical load of laundry.
Try one of these tips on shrinking jeans permanently, and you'll create a custom fit for all the denim in your closet.
Easy Ways to Shrink Blue Jeans
Shrinking jeans permanently is an achievable task with a little heat and water. Baggy old jeans return to feeling like a new pair from the store. Here are only some of the easiest ways to shrink blue jeans.
Washing Jeans with High Heat
Although you usually wouldn't wash your jeans in hot water, heat causes the fibers in the denim to contract. This is probably the easiest and best way to shrink clothes made from denim.
Turn your washing machine on the hottest setting and use the heavy-duty or permanent-press cycles. Add your laundry detergent along with fabric softener.
The softener helps the textile from becoming stiff while it shrinks. Immediately after washing, turn your dryer on its highest heat setting and let the jeans sit in the washer for up to ten minutes after the dryer has completed.
Repeat as necessary. The continuous heat makes the jeans shrink and gives the snug fit back that you've been looking for.
How to Shrink Jeans in a Targeted Area
Sometimes the inseam or waistband of your jeans is the only area that requires a little adjustment. Use this homemade spray to make jeans shrink in specific areas or on new seams.
In a spray bottle, mix three parts water with one part liquid fabric softener. Shake to combine. Spray the problem area until well soaked. Set your dryer to it's highest heat setting and dry thoroughly. Repeat until stretched to your liking.
You can also use this strategy for shrinking a hat. If you are not comfortable putting your hat in the dryer, you can set it outside on a hot day, out of direct sunlight.
Shrinking Jeans to Create a Custom Fit
If you'd like an old pair of skinny jeans to form to your body again, a hot bath with your jeans will show off every asset you have. It's best to do this the same day you plan to wear the pants. If that's not possible, a max of one to two days before you wear them is ideal.
Fill a tub with very hot water. Test the water on your hand to make sure it isn't too hot for your skin. Have enough water in the tub to cover your legs and waistband completely.
Get in the tub while wearing the jeans and wait until the water cools to room temperature. Sit outside in a sunny area until dry. If possible, sit on a plastic or metal chair. This technique creates a snug fit that feels like the jeans were meant for you alone.
Shrinking Jeans Permanently with Boiling Water
You've learned by now that both cold water and warm water won't make jeans shrink. The hotter the water is, the easier the textile contracts. Turn your unwashed jeans inside out to lessen the possibility of color loss.
Fill a large pot with water until three-quarters full and bring to a rolling boil. Use a pair of tongs to grab your jeans and dunk them in the boiling water until fully submerged.
Allow the water to boil with the pants for 20-30 minutes. Immediately remove the pants from the pot of water and dry them on your dryer's hottest setting until fully dry.
Shrinking Jeans at the Dry Cleaners
Traditionally, dry cleaners are where you take garments to avoid shrinking your clothes. However, many of these shops listen to your wishes and do their best to serve you.
Ask your cleaners if it's possible for them to make jeans shrink with the machinery they have. Some shops may not be able to do so, but it never hurts to ask if you require a little help.
How to Shrink Jeans without a Dryer
Some jean companies would argue that you should never put your jeans in a dryer. Materials like spandex and nylon shrinks in the dryer and often make up the fibers in denim. They claim that over-drying your jeans could cause damage to the spandex in your jeans that give them added stretch.
They also say that dryers accelerate the breaking down of the material from lint loss. If you feel strongly about not putting your denim in the dryer, there are strategies for knowing how to shrink a sweatshirt and jeans without a dryer.
Shrinking Jeans with an Iron
Throw an unwashed pair of jeans in the washing machine on the highest temperature. Air dry your jeans on until damp. Begin ironing the pants with moderate heat until completely dry.
Although this won't be as effective in shrinking jeans while using high-heat techniques, this is effective in making slight adjustments.
Conversely, you can also use the iron to stretch jeans that are a little tight. As you iron, pull on the areas that need to be a little bigger.
Seeking a Tailor to Fit Your Jeans Properly
Sometimes, no matter how much you try to shrink your jeans, there is simply too much material stopping you from getting the fit you desire. You may have bought a size that was too big or already stretched the jeans beyond fixing.
If this has happened to you, there is no shame in contacting a tailor. Hiring a tailor is likely one of the best ways to care for your denim jeans. Don't let having to pay for this service turn you off from tailoring. These professionals help to make clothes last longer.
Because they give you a custom fit for your body, you won't worry about shrinking your jeans again. If your jeans fit perfectly, there is no reason to succumb to the damage that hot water causes.
You'll wash your jeans far less often, allowing you to stop spending time, money, and energy on fixing jeans that never fit how they're supposed to.
Denim Products to Shrink Jeans
Giving your jeans and denim clothing the proper care is the best way to avoid having to shrink your jeans. There are many shrinking sprays, detergents, and fabric softeners explicitly designed for denim. Consider investing in some of these products to keep your denim in the best shape if you'd like to keep your favorite pair of jeans around for years to come.
Is there really a better feeling than trying on a new pair of jeans that hugs all the right places? Leggings and yoga pants have attempted to replace blue jeans, but denim is a fabric that we love too much to replace.
Don't feel too sad about a pair of jeans that have become a little baggy. With these techniques, there is no reason for your jeans to fit poorly ever again.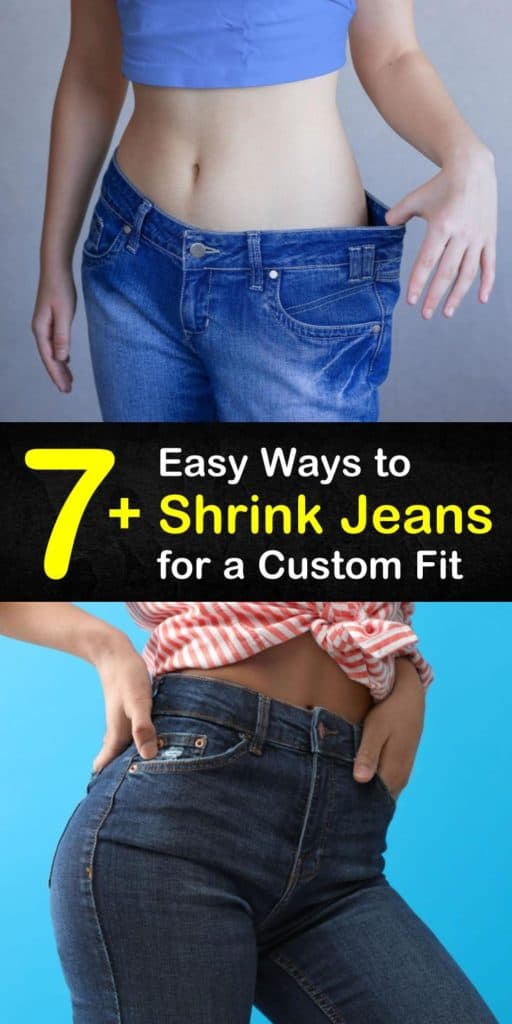 If you found our tips on how to shrink jeans beneficial, share our blue jean shrinking ideas on Facebook and Pinterest.