Whether you lose a ton of weight or not, over time, those pants that used to fit wonderfully begin to sag. Maintaining that snug fit may seem an impossible quest at times, especially since, after every wear, the materials stretch just a little more. Learning how to shrink pants properly and restore their form-fitting shape allows you to salvage your favorite pair of pants without impacting your wallet.
Even if the typical wear and stretch of pants isn't keeping you from the perfect fit, we've collected some of the simplest ways to shrink pants of all types.
We've all come across those jeans that are just half a size too small or half a size too big, without falling into the right size for you. If you are ready to learn how to shrink cotton pants by a half size or a whole size or more, look no further than these helpful shrinking tips.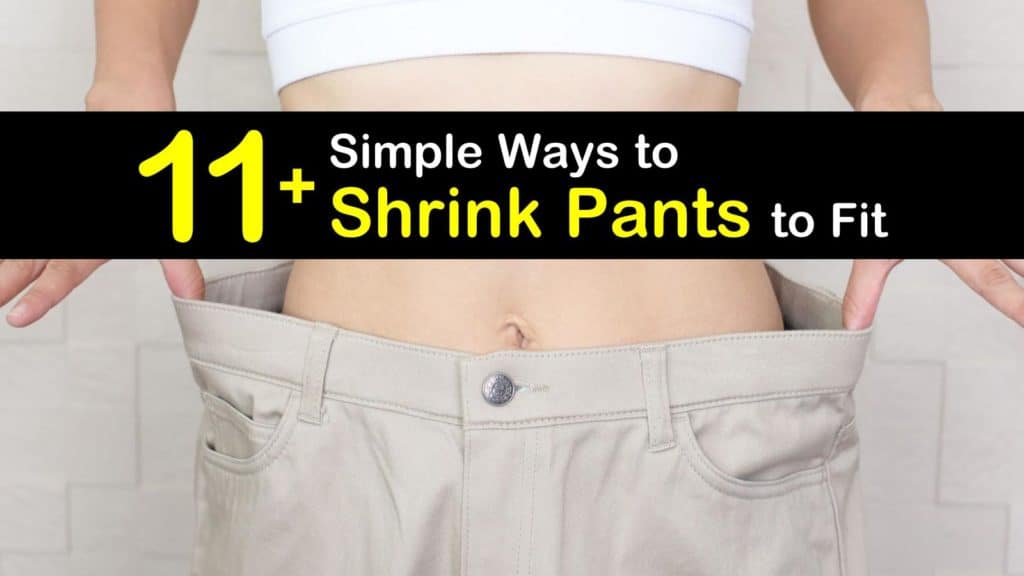 The Most Efficient Ways to Shrink Pants
Before you get started shrinking your clothes, it's better to make sure they are clean. Get grease out of pants and restore a nice fresh scent prior to tackling the shrinking process.
Tthere are a few items you should have on hand to prepare to shrink clothing. Depending on the avenue you take to shrink shoes and your clothes, all of the items listed below aren't necessary.
However, it's great to have these ready just in case you choose to try multiple methods before attaining the desired effect.
The key to shrinking your clothes focuses mainly on two concepts: adding moisture and adding heat. Oddly enough, these two things are also ways to unshrink pants and other clothing. You just use them in a different way.
Each method uses a unique clothes shrinking variation, which calls for shifting around the supplies listed above. You may use an iron in place of a dryer, or a pot of water instead of a washer.
Pinpoint the Type of Fabric
One of the first steps to take when deciding on the best strategy is to figure out what type of fabric you're dealing with in the first place.
Every kind of cloth shrinks at a different rate, with others shrinking significantly faster than others. For example, nylon shrinks much slower than a natural fabric like wool. Figuring this out ahead of time spares you from having to stretch the fabric back out afterward.
Cotton and wool are the easiest fabrics to shrink and often shrink up to several sizes at a time under the right circumstances. How much do jeans shrink? You can often reduce the size of denim jeans a whole size.
Washed jeans made from denim fade when exposed to higher heat, however, so turning your old jeans inside out before washing them spares them from unnecessary damage and color loss.
Does polyester fabric shrink? Polyester and spandex can get smaller but are much more difficult to shrink. However, when exposed to high heat settings for a significant amount of time, minor shrinkage is attainable.
Use Boiling Water to Shrink Pants
One way to shrink jeans and cotton pants is by placing them in a pot of boiling water. The moisture combined with the increased heat constricts the cotton fibers and shrinks them without additional steps necessary.
Simply start by pouring water into the pot and placing it on the stove. Bring the water to a rolling boil, then remove it from the heat.
Submerge baggy pants in water and let it soak for anywhere between 5-20 minutes, depending on how much they need to shrink. Remove them with a pair of tongs. They can either air dry or be tossed in the dryer.
Place Pants in the Dryer
A simple way to shrink pants of all kinds, as well as for shrinking a hoodie or sweater, is by placing them in the dryer. In some cases, the pants or other garments don't even have to be wet to shrink. The agitation from the sides of the dryer alone causes a moderate amount of shrinkage.
If you only plan on shrinking them a bit, place the dryer on a fluff cycle without heat. It may take a couple different tries for them to reach the right size. However, don't place them in the dryer long as this may have the opposite effect and ruin the pants.
Easy Ways to Shrink Pants with Cold Water
If drying them without heat doesn't work, try adding some water and a low heat setting. This works if you only want to shrink the pants a bit and run them through a cold wash.
Using the washer or soaking them by hand works either way. When it comes to running them through the dryer, use the lowest level of heat on the drying cycle.
Increase the heat as necessary. If you require a significant adjustment to shrink clothes, run them on a hot water cycle and the highest heat setting on your dryer.
Soak the Pants in Warm Water
Another alternative to washing them in the washing machine or the stove is to soak them in a tub of water. This process works best when you have plenty of time to leave them.
It's also one of the best ways to ensure an equal amount of shrinkage across the clothing article. When using this approach, fill the bin with warm water. Let it soak for approximately six hours or overnight if it makes the waiting easier.
Do not wring out the clothes to remove excess water, as this causes the fibers to weaken and stretch. Let them air dry when finished, instead. Do not wash bright colors with this process as it may cause the colors to fade.
Try Ironing to Limit Shrinking
If you're trying to shrink your favorite pair of skinny jeans without doing an all over tighten, sometimes the best option is to control what parts of the jeans get shrunk. One way to do this is by applying an iron to the parts of the pants that require shrinking.
Set the iron to its hottest setting for steam. Do not iron the pants directly. Instead, hover them about one half of an inch over the pants and slowly steam them. After ironing, let them dry on their own while sitting on a flat surface.
How to Shrink Pants Underwater
Another way to shrink cotton clothing is to wear the item in a hot bath. It may sound like a strange concept. However, the same method is just as effective when attempting to shrink a new pair of shoes.
The idea is to submerge the pants completely underwater while wearing them. Remain in the tub until the water cools.
Hop out of the tub and let the pants air dry outside in the sunlight. As they dry, the jeans form more closely to your body, creating a unique, snug fit to your shape.
Wash Your Cotton Jeans Less
For that pair of jeans that you love so much, sometimes less is more. Keeping the shape and snug feel of your pants doesn't always begin with shrinking but instead with preventing them from stretching out in the first place. Ask yourself: how often do you wash jeans, and is it vital?
One way to prevent your Levi jeans from stretching out is not to wash them as often. Limit how often you wash them, whether through use or frequency of cleaning and let them air dry over placing them in the dryer.
Use Shrinking-Specific Laundry Products
While there are plenty of options to work with in terms of shrinking the clothes, there are also a few preventative measures available to help clothes maintain their long-term shape. Add special detergents or a fabric softener designed to keep clothes looking amazing even longer.
Popular brands like Woolite offer products that fulfill this niche and also assist with the brightening colors. Follow the instructions labeled on the bottle for the best use, though a lower heat setting when cleaning is ideal.
How to Shrink Cotton Pants with a Wet Sheet
Instead of thoroughly soaking the pants, try dampening them with a wet sheet or towel. This approach works exceptionally well when attempting to shrink smaller areas and not the whole pant.
It also allows the pants to dry faster than if they were submerged in water. Start by wetting a sheet and placing it over the pants. Use a dry setting on your iron to smooth over the areas of the pants that required shrinking.
For stiff pants, add a little more water to the pants either with a sponge or spritzing them with a spray bottle. This strategy also yields terrific results for shrinking a cotton t-shirt.
Shrink Small Areas with a Hairdryer
Having control over what areas shrink and which ones don't is a major part of helping your pants attain a perfect fit. An additional way to control how certain parts of the cotton pants shrink is to use a hair dryer to control the shrinkage amount and rate.
The great part about this step is that it can be combined with almost any cleaning method discussed above, whether you are drying a pair of jeans you soaked in a tub, boiled on the stove, ran through the washer, or wet with a towel.
The hair dryer method provides a little extra control. Lay the jeans on a flat surface and evenly apply heat to areas to minimize.
Use a Tailor for Difficult Adjustments
Even the best DIY methods don't work for every occasion, especially when it comes to shedding several sizes, shrinking the waistband, or creating more form-fitting angles. You may have to call in reinforcements.
If this is the case, a professional tailor may be necessary. Beyond the need for sewing, tailors have special tools that make many of the same procedures listed above even easier and more effective than doing them yourself.
With these simple strategies for how to shrink cotton pants and jeans, you have twice as many reasons to celebrate shedding those extra pounds. Whether you plan on shrinking them by one size or two, you can't go wrong with these amazing techniques.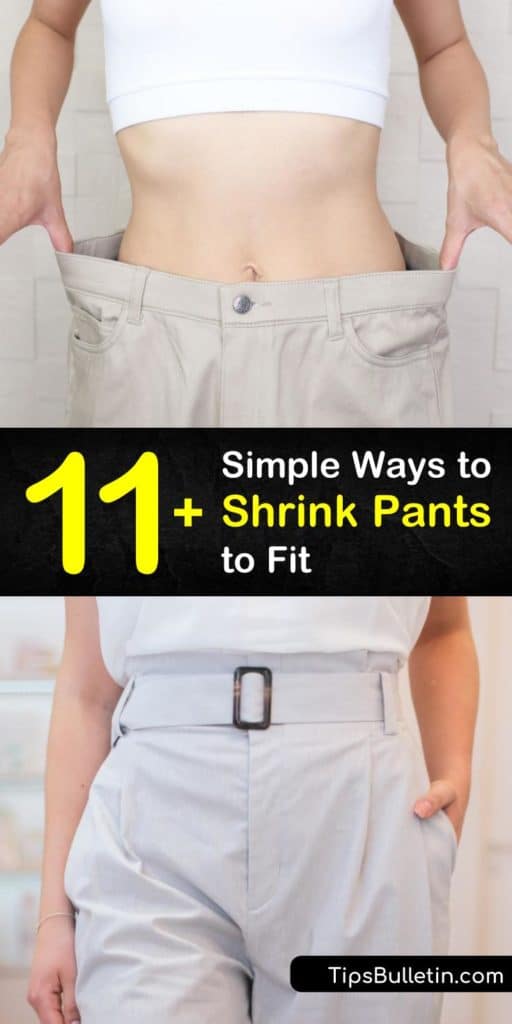 If you found our clothing shrinking tips helpful, then please remember to share how to shrink pants easily and effortlessly with friends and family on Facebook and Pinterest.