Rayon has been a popular fabric material for decades because of its softness, stretch, and gorgeous drape. It can also change in shape and size under certain conditions. It is essential to learn how to shrink rayon to get a different fit for your favorite rayon garment.
Rayon has a unique fiber structure that can mimic many different types of material. To shrink a particular article of clothing, it's essential first to check the care label.
You might be surprised to find that your favorite dress or denim jeans are made of rayon or a rayon blend. There are many different ways to change the fit of these clothes. Check out our suggestions and see which one is your favorite.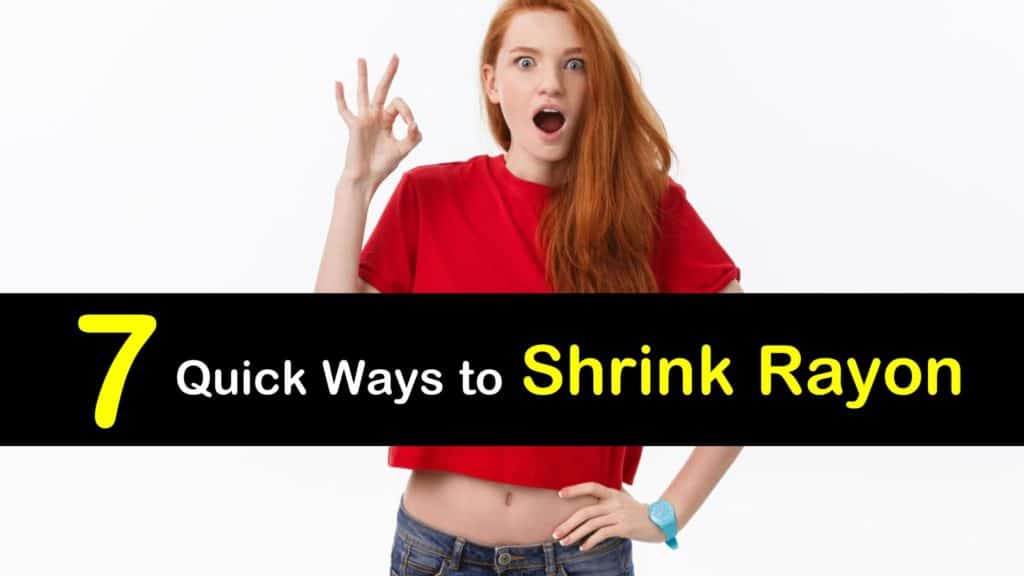 Ways to Shrink Rayon
This article teaches you how effortless it is to alter the size of this in-demand fabric. You can even learn how to shrink jeans that have already been washed and worn. Knowing how and why rayon shrinks are also useful if you are trying to avoid changing the fit of your rayon clothing.
Is it possible to unshrink clothes as well as to shrink them? Yes, it works both ways and some of the home remedies for altering clothing size are remarkably similar.
What is Rayon?
Rayon is a semi-synthetic fabric made mostly from cellulose fibers. These fibers are sourced from different kinds of wood, bamboo, and agricultural products.
These are then combined with chemicals that alter its texture and appearance to imitate a wide array of fabrics like cotton and linen. We usually categorize rayon variants as semi synthetic fibers and semi synthetic fabrics.
Viscose is the most popular type of rayon and is most likely already in your closet. It can be used in virtually all clothing pieces from shirts and skirts to denim and jackets. To shrink your favorite viscose fabric, the processes are the same as for other types of rayon.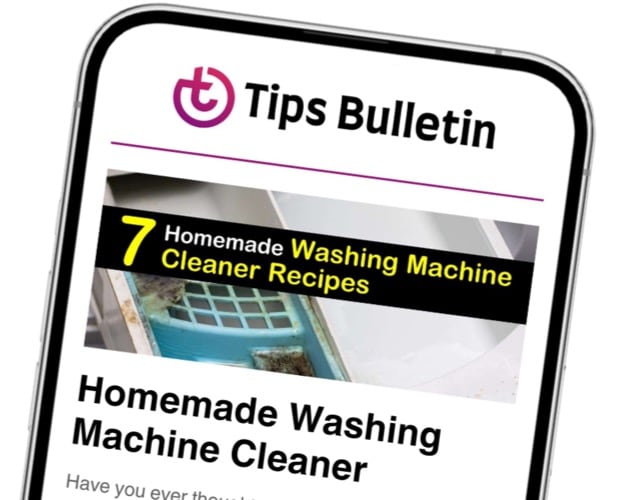 Finally, an email that Transforms Your Home.
Get the latest home and garden tips from our experts, delivered straight to your inbox.
Rayon is often labeled as "dry clean only" because its ability to absorb moisture can drastically change its size and shape. These fabrics shrink and unshrink noticeably in humid conditions, but sometimes the difference can be permanent due to damage to the regenerated cellulose fibers.
Shrinking Different Types of Rayon
Identifying rayon fabric is challenging because it can look and feel like many different materials. Rayon can mimic anything from cotton to silk. It is also often blended with cashmere, spandex, and denim.
Shrinking rayon blends is just as simple as shrinking pure rayon. Be careful with knit cashmere and wool sweaters. It's easy to shrink a sweater made of a rayon knit fabric than a woven fabric.
Cashmere and wool are already prone to shrinkage, but this is even more true for rayon blends. The extra space in the knit fabric allows for more moisture penetration and more shrinkage.
Prewashing Rayon
Virtually all fabrics shrink, and this is especially true of rayon and rayon blends. A gentle cold wash can get the initial shrinking out of the way.
For your garment's first wash, it is wise to run it through a gentle cold wash cycle as soon as possible. Use a mild detergent. You can decide to shrink it more after seeing the result.
How to Shrink Rayon by Soaking
Exposing rayon fibers to water can change the shape of the garment entirely. The simplest way to make rayon shrink is to wash it by hand. Hand washing the garment does not require any soap or detergent. Use your hands to clean the clothing gently.
To shrink a white shirt made from rayon, allow the clothing to soak for a few minutes after hand washing it. The fabric soaks up the water, and the fibers change shape. This procedure is ideal if you do not want to shrink your clothing drastically.
Handwashing is the gentlest way to wash rayon if you're going to preserve the fit of the garment aside from dry cleaning. Letting the clothing soak helps you shrink the clothing for a slightly smaller fit.
Air Drying Rayon Fabric
How you dry your rayon pieces can affect the shrinkage. The safest way to dry your rayon clothing is to air dry the fabric. Hang your wet rayon garment on a drying rack to get the most even drying.
Hanging the pieces on a clothesline can expose your clothes to extra heat from the sun, which further shrinks the rayon. Another option for air drying is to hang up the garment on a hanger in an open space.
Air drying also helps you avoid wrinkles. Wrinkling wet rayon causes the material to dry unevenly, which results in uneven shrinking.
Shrinking Rayon with Warm or Hot Water
Rayon is especially sensitive to warm and hot water. You can skip soaking your clothing and machine wash the pieces to speed up the process. Pop your rayon garments into the washing machine with a mild detergent.
How to shrink nylon and rayon begins by selecting a warm or hot gentle cycle. Using high heat shrinks the clothing faster. To avoid shrinking too much all at once, use multiple warm cycles.
After putting your garment through a gentle warm water cycle once, examine the piece. Run it through the cycle again to make it smaller. Continue until you reach your desired size.
Using a Dryer Machine
Does polyester shrink in the dryer? What about rayon and other fabrics? Using a dryer machine to dry rayon and other materials can be risky. The high heat of a dryer may lead to extreme shrinkage.
However, if severe shrinkage is your goal, using a dryer might be the best drying method. After getting your rayon clothing wet, select a gentle cycle on your dryer machine.
The hotter you make the cycle, the more the garment shrinks. The heat setting should be higher for clothing you want to shrink a lot.
Ways to Shrink Rayon with Towels
Handwashing rayon requires you to put some pressure on your garment, which can add extra damage to the cellulose fibers and make the piece shrink more.
Towels can help subtly change the fit of your rayon clothing by gently allowing the garment to soak in moisture. Lay your rayon garment onto a damp towel. Carefully roll the two together. Allow the roll to rest for a few minutes.
To make the change even smaller, use cold water since the rayon is sensitive to heat. After getting your rayon clothing wet from any shrinking process, you can also use a towel to remove moisture.
Place the damp clothing between two dry towels and gently press out the moisture. Do not wring out excess water. This stretches out the fabric and gives it wrinkles, which causes uneven drying.
Avoiding Shrinkage
Now you know how to shrink rayon and can see that using water and heat are the easiest ways to shrink rayon. To avoid shrinking your rayon garments, avoid these two things!
Read the care label of your garment carefully for detailed instructions on how to avoid altering the fit. Washing rayon with water is always a risk, so dry cleaning is the safest path to preserve the size of the clothing even if the label says machine washable.
If your favorite rayon dress or t-shirt is wrinkled, you can still iron it. Sometimes ironing rayon is a necessity. First, turn the piece inside out. Use the lowest setting with no steam to iron your garment. Iron carefully and slowly to avoid wrinkles.
Unshrinking Rayon
Accidental shrinkage happens all the time. To unshrink a rayon garment, use the following DIY recipe.
Combine the two ingredients and submerge your garment. Massage the soapy water into the clothing. Rinse with cold water and use the towel pressing method to remove moisture and gently stretch rayon fabric without distorting it.
Rayon's flexibility as a fabric allows you to change its shape in many ways. For a tighter fit for your favorite rayon dress, you can shrink it yourself in one afternoon with minimal effort.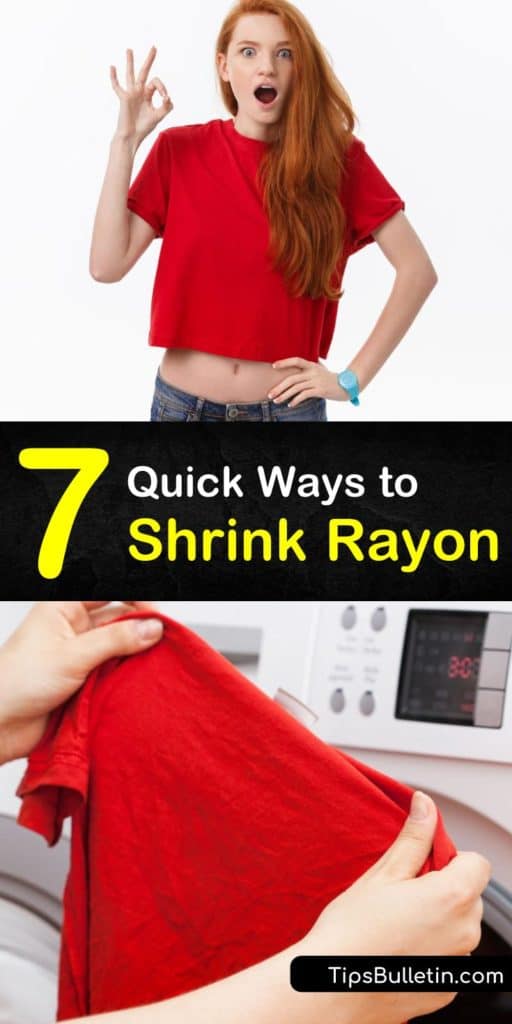 If you enjoyed learning how to shrink rayon, please share these easy tips for shrinking rayon with your friends on Facebook and Pinterest.