Stretch jeans are a trend that is starting to take over the denim market completely. From skinny jeans, bootcut jeans, mom jeans, and even Levi's, stretch jeans are all starting to come in a new, elastane fabric that people are falling in love with. Over time, most fabrics begin to wear out, which forces us to learn how to shrink a stretch jeans at home.
Shrinking stretch jeans doesn't always require a tailor. Although that is certainly an option, there are several DIY ways to shrink a stretch jeans that get the job done in half the time and without pulling money from your pockets.
We all have a pair of jeans we fell in love with that once formed perfectly to our body shape. The more we wear them, the more the fabric stretches and stops fitting perfectly in specific areas. If you've been desperate to shrink jeans at home, you've found the perfect list for returning that perfect fit.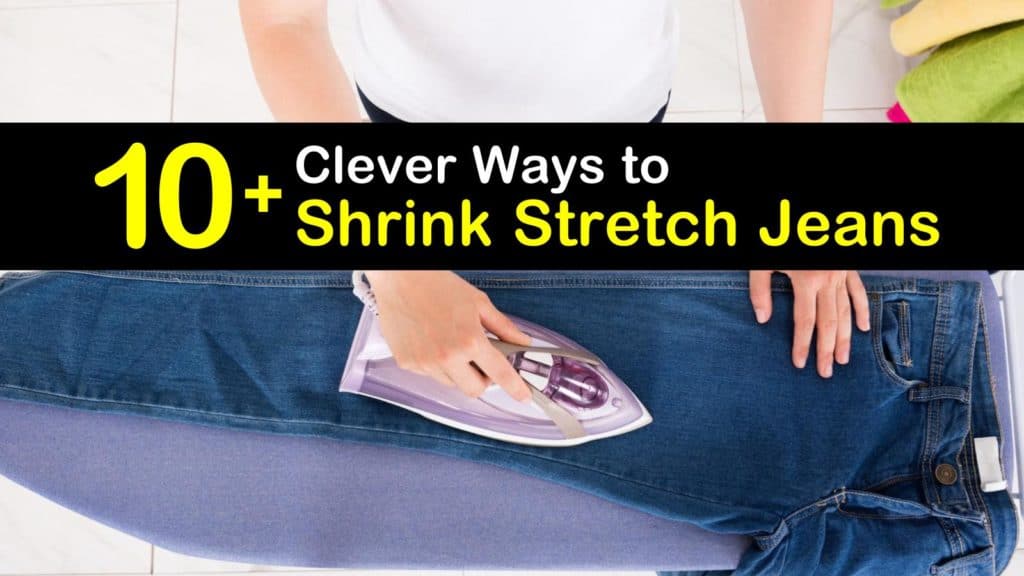 Stretch Jeans and How to Shrink Them
Stretch jeans are made from a high-quality fabric called raw denim and are combined with elastic. This new stretch denim is relatively new in the jean world compared to polyester and cotton jeans.
Do polyester clothes shrink like regular and stretch jeans? Yes, but you may not be able to reduce the size quite as much.
The stretch material in jeans and other clothing is commonly known as Spandex or Lycra. A new pair of jeans made from elastane is form-fitting and allows for room to grow. Like all fabrics, these fibers break down over time and don't hold their shape as well.
When your stretch jeans start to fit loosely, that's how you know it's time to take action to get that custom fit back. Not many people get taught how to shrink a stretch jeans at home.
We assume that they are past the point of no return and throw them out. What causes clothes to shrink? The most reliable way to shrink a stretch jeans is to combine heat, moisture, and agitation.
These three components cause the jeans' fibers to release tension and return to their original form. Shrinking stretch jeans isn't as hard as you may think, and there are a handful of tactics for you to try if you're keen on making your jeans shrink.
Ways to Shrink a Stretch Jeans
Don't get too frustrated if you try one of these methods on shrinking stretch jeans, and it doesn't work. Some techniques for shrinking pants work better than others, and it may take a few tries to get them back to the fit you're looking for.
How to Shrink a Stretch Jeans
Before doing anything major, the best way to keep your jeans in their original form is to give them proper care from the moment you bring them home to avoid a stretched pants waist. The better care you give them, the less likely you will take riskier methods to alter the fit.
Stretch jeans should always be washed and dried with care in mind. Check the tag on the inside of the waistband to ensure that you're treating the fabric correctly.
Some of the most practical care instructions include turning your jeans inside out before washing them, going as long as possible between each wash, using regular laundry detergent, using only warm water or cold water, and tumble drying them.
The more you're able to follow these general rules, the better shape your jeans will be in the future.
Shrinking Stretch Jeans with High Heat
Although washing your jeans on a high heat setting isn't recommended, this is one of the only ways to get the fabric to contract. To begin shrinking jeans, turn your washing machine onto its hottest setting.
Turn your stretch jeans inside out and wash them in hot water using the heavy-duty or permanent-press wash cycles. Add a small amount of your regular laundry detergent soap and your favorite fabric softener.
Fabric softener prevents the fibers from becoming overly stiff while they are in hot water. Let the jeans sit for at least ten minutes after washing before moving them to the dryer or rewashing them. Repeat this wash as often as necessary.
How to Shrink Jeans in the Dryer
Like washing jeans in hot water, turning your dryer on the highest heat setting is the best way to shrink jeans, whether they are stretchy or regular denim. When finished washing the jeans, put them in the dryer and run them on a regular cycle until they are completely dry.
Try the pants on to see if they fit tightly. If they are a little snug, do a few squats to stretch them back to the shape of your body. If they require more shrinking, wash and dry them once more.
Shrinking Targeted Areas on Stretch Jeans
It's quite common to find yourself in a situation where only one spot like the crotch or waistband has stretched itself out and requires shrinking. If this pertains to you, there is a quick solution that targets a single area.
Use this strategy if your jeans are too tight around waist or the thighs. Fill a clean spray bottle with three-parts water and one-part fabric softener. Shake the bottle so everything is well-combined.
Spray the targeted area until it is soaked and then dry the jeans in your dryer on the highest heat setting. Repeat this shrinking action several times until you have the fit you desire.
Bathe with the Jeans
It may feel silly to do but taking a hot bath with jeans on your body is one of the simplest ways to get a custom fit that directly forms to your physique.
The excess water in the bath helps the fabric cling to your waist and legs and allows them to dry in that exact shape. Fill a bathtub with the hottest water you can handle. While wearing the jeans, sit in the tub so that your legs and waist are completely covered.
Sit in the tub until the water cools to around room temperature. Get out of the tub and sit outside in a sunny area. Allow your pants to air dry completely before taking them off.
This method is best for same-day wear but works well if you plan to wear them the following day or two, so they don't get too baggy.
Shrinking Stretch Jeans in Boiling Water
It's likely clear to you now that the hotter the water, the more likely your jeans are going to shrink. Although this isn't the best for your denim, putting them in boiling water is one of the best ways to get your textiles to their desired fit.
Bring a large pot of water to a rolling boil. Turn your stretch jeans inside out and submerge them in the boiling water pot with a pair of tongs, being careful not to touch the water. Boil the pair of pants for a minimum of 30 minutes.
Use your tongs to remove the jeans from the pot, and be very cautious not to burn yourself or splash any water on your skin.
Immediately take the soaking wet jeans to your dryer and dry them on the hottest heat setting until they are thoroughly dry. Try the jeans on to check the fit and repeat the process once more if necessary.
Shrink Jeans with an Iron
Remember, heat is our friend when learning how to shrink a stretch jeans, and an iron is a perfect tool to use. Put your stretch jeans in the washing machine and wash them with hot water.
Dry them in the dryer with high heat until the jeans are damp but not completely dry. Remove the pants from the dryer and use your iron to dry the pants until fully dry. This tactic is ideal for pairs of pants that only require a few moderate adjustments.
Ask the Dry Cleaners
Dry cleaners are professionals when it comes to all fabrics. Although most of them are trained to stop your clothes from shrinking, they are there to serve you.
If you ask your local dry cleaner to shrink your jeans, you may find yourself in luck. Some shops may refuse to do so but asking never hurts anyone, and they may do a better job than if you were to do them at home.
Purchase Denim-Shrinking Products
If there's ever a need for something, someone out there has probably invented a solution for it.
There are several denim-shrinking sprays on the market that are available at your local superstore. There are sprays, soaps, and fabric softeners, all with the purpose of shrinking jeans.
Seek Out a Tailor
If you're really in love with a pair of stretch jeans and don't want to throw them out, hiring a tailor is one of the only ways to guarantee that you get them back to their original size.
Tailors can make jeans custom fit to your body so that your favorite pair of jeans is literally made for your body shape.
When All Else Fails, Buy a New Pair
You may not want to hear it, but sometimes jeans reach the point of no return. No matter how hard you try, some jeans won't shrink back to their original size.
If you've exhausted all your options, try shopping for the same exact pair of jeans that you're trying to shrink. If you can't find the jeans in stores or online, don't be afraid to try something new.
Fabric technology is always changing, and you may find another pair that you love even more.
We all know what it feels like to fall in love with a pair of jeans and wear them repeatedly until you can't wear them anymore.
Don't give up hope if you've recently discovered your stretch jeans don't fit the same. There are some safe shrinking methods to try at home before deciding to throw in the towel and purchase new ones.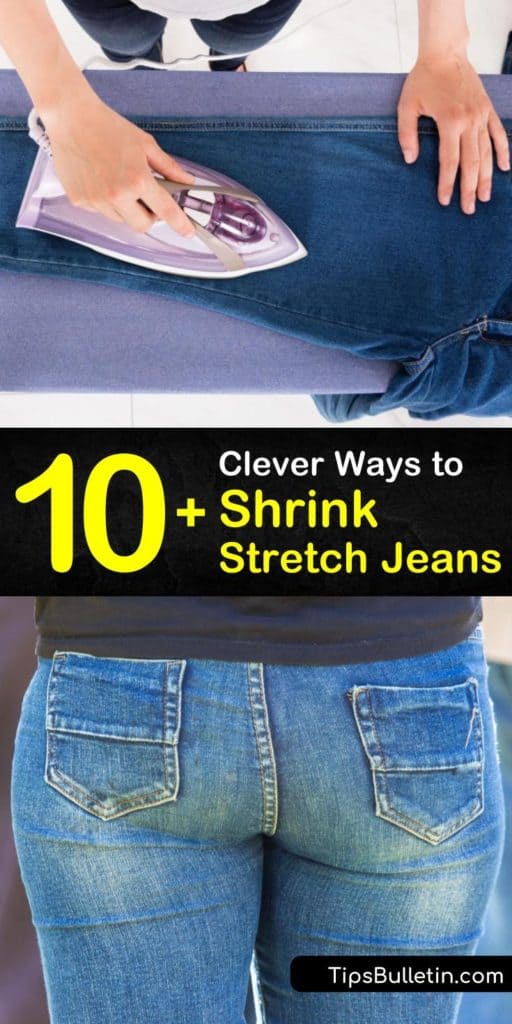 If you fit back into your favorite pair of pants from learning how to shrink a stretch jeans, share this article on ways to shrink a stretch jeans on Facebook and Pinterest.