Learn how to start a kitchen compost bin and say goodbye to food waste. A compost bin for the kitchen is convenient and straightforward option to fit under the sink or in a cabinet. Composting breaks down organic materials like fruit and vegetable scraps, coffee grounds, egg shells, paper products, and more to make nutritious organic compost for your garden.
Find a range of kitchen composters in stores and online, or make your own budget-friendly composter in a few easy steps. When you make organic compost from kitchen waste, a well-balanced system produces no odor, and a tight-fitting screened lid avoids issues with pests and insects.
Composting at home is a greener alternative to curbside recycling and offers a way to reuse otherwise non-recyclable items like shredded paper. Whether you produce a small amount of organic waste or a large volume, find new ways to start a compost bin in a kitchen and create a system suitable for your home.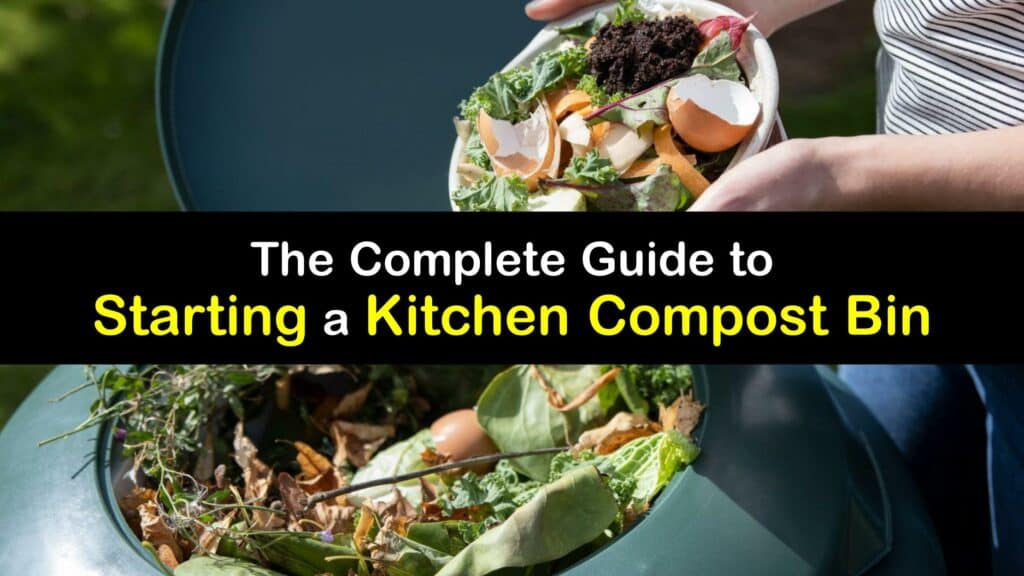 Start a Compost Bin for the Kitchen to Reduce Food Waste
Discover how to start a kitchen compost bin or a kitchen waste composting machine and put your food scraps to good use. Make or buy a compost bin for the kitchen based on the counter or floor space you have to allocate to composting and how much organic material you want to compost.
When you make organic compost from kitchen waste, whether you use a compost barrel, pile, or bin, you produce a valuable gardening product, help reduce waste, and live a greener lifestyle.
Be sure to think about where your kitchen compost bin should go. The best place to put a compost bin should ideally be somewhere near a window so that the odors can escape.
Can You Make Organic Compost from Kitchen Waste Indoors?
When we think of the composting process, most people imagine a large compost pile or an outdoor compost bin but you can compost your kitchen food waste indoors, too. Whether you live in a smaller apartment with no yard, struggle to move around, or produce a small amount of waste and want a compact solution, kitchen compost bins work fantastically.
Enjoy all the benefits of composting while taking up limited square footage by using an indoor composting method. When properly managed, indoor compost systems produce rich organic compost without releasing an unpleasant odor.
How to Start a Kitchen Compost Bin – Technique Selection
The most significant step in beginning your indoor composting journey is selecting a composting method. The way to compost in an apartment or other smaller area is to consider the size of each unit and your available space.
Other preferences like the time available and if you are comfortable with worms help narrow ideas to find the best system.
What Organic Material is Compostable?
Food scraps spring to mind when discussing composting, but much more kitchen waste is destined for compost bins. Meat and other animal-based products such as dairy are not suitable to compost, but putting banana peels in your compost bin is ideal. It's best to cut them in smaller pieces so they decompose faster.
Compost material is divided into two categories. Combine green matter like food scraps, green grass clippings, and fresh yard cuttings with brown material such as dead yard trimmings, shredded paper, and brown grass clippings in your indoor compost bin in a 1:3 ratio.
The resulting finished compost makes the perfect organic fertilizer to enrich your garden or houseplant soil or mixes with water to make compost tea for a liquid option. Finished compost looks like dirt, so you'll know when it's ready to be added to your garden.
DIY Compost Bin for Indoor Composting
Making your own compost bucket for kitchen scraps saves money and is a fun DIY project. Choose your kitchen compost container based on your preferences and sizing.
Drill half a dozen holes into the lid of your container and hot glue the mesh screen over these holes to prevent bugs from getting into your compost. Add a layer of dirt and shredded paper to the bottom of your bin, followed by kitchen scraps.
Chop your food waste into smaller pieces to help it decompose, and stir your container with a trowel about once a week for aeration. You will also need to learn the best ways to layer a compost bin. If an odor forms, add more brown material like shredded paper or dry leaves to rebalance the system.
Purchasing a Kitchen Compost Bin
Several indoor compost bins, such as the Bamboozle Food Compost Bin, are available. If purchasing is in your budget, choose from a plastic or stainless steel compost bin with added extras such as a charcoal filter to reduce odor.
Consider the size of your space and the different ways to compost indoors when deciding on a model. Another product to consider is a freezer compost bin which provides a convenient place to store small food scrap items until you build up enough to make it worth opening up your compost bin to add them.
A Compost Tumbler is Compact and Easy
A compost tumbler is an initial investment though it makes turning your compost easier and may expedite the composting process thanks to more aeration of the decomposing matter.
Compost tumblers are closed vessels usually on a stand for easy turning; they come in many varieties and sizes and can go under the kitchen sink or in a cabinet for convenience. Add organic material to the tumbler and turn it regularly for simple composting.
Worm Factory Kitchen Composter
The worst part about composting is waiting until you have finished compost. If you want to speed up your composting, worm composting or vermicomposting using redworms speeds decomposition and generates higher quality finished compost.
Worm bins come in several sizes and work quickly, with a pound of mature worms processing up to half a pound of organic waste every day. Worm bins are ideal for small spaces, though they require more care than other methods to keep the worms healthy.
Kitchen composting helps the environment, and with so many composting systems to choose from, it's effortless to find one to suit your requirements and kitchen decor. If you want to compost rice, coffee grounds, or shredded paper waste, start a kitchen composting bin to help the planet and enjoy homemade compost for gardening.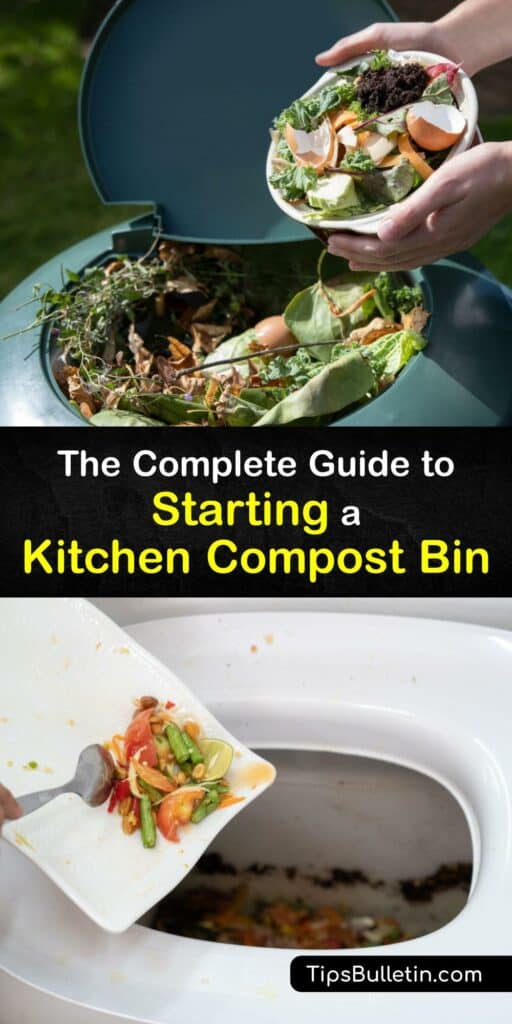 If you loved this article on how to start a kitchen compost bin, please share these brilliant ideas on creating a compost bin for the kitchen with your friends and family on Pinterest and Facebook.