While we don't always like to admit it, sometimes a basic vacuum cleaning isn't enough to leave our carpets looking fluffy and healthy. Calling in a professional carpet cleaning company is expensive, especially when doing the job on your own is almost as easy as vacuuming. Understanding how to steam clean carpet the right way and to use the best carpet cleaning solutions leaves your carpet looking wonderful without all the stress.
In addition to cleaning the carpets for aesthetic purposes, steam cleaning carpets also rids your home of unwanted dust mites, bacteria, and molds. These allergens often contribute to health concerns such as sneezing, itchy eyes and throat, and headaches.
As a result, regularly steam cleaning your carpet is crucial for maintaining a home that is also safe and allergen-free for its residents. To uncover the best way to steam clean carpet yourself, take a look at the following recipes and tips.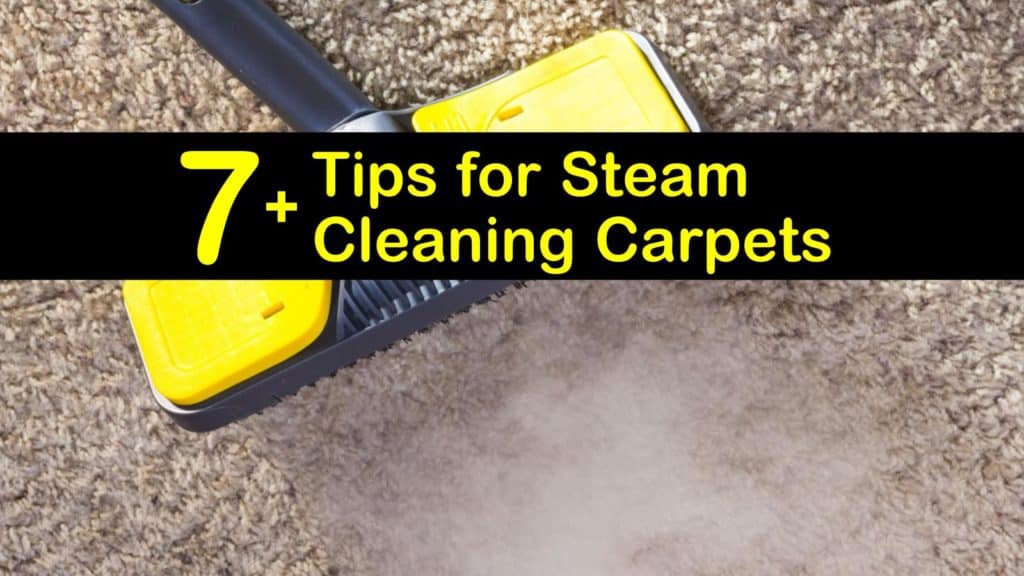 Fantastic Tips for Steam Cleaning Carpets
Many carpet manufacturers recommend deep cleaning at least once or twice a year, whether it comes from you or a carpet cleaning service.
In high traffic areas, you definitely want to lean more toward steam cleaning carpets twice a year to prevent dirt and grime from accumulating deep within the fibers. Otherwise, vacuum once a week in between those cleanings to keep your carpet clean, as well as to handle potential carpet beetle infestations that may develop.
Vacuum the Carpet First
Before you begin the steam cleaning process, the first step to take is vacuuming. This removes as many dirt and dust particles from your floor as possible before the actual heavy lifting takes place and is also an important step when dealing with a carpet beetle problem.
In an ideal situation, pass the vacuum cleaner along the entire surface area at least twice, first by running the vacuum along one direction, and the second in the opposite direction.The primary purpose of this step is to loosen up the carpet fibers.
By vacuuming your carpet thoroughly, you ensure dirt and grime do not circulate back into the carpeting during steam cleaning. It also makes it easier for the steam cleaner to seep further down into the carpet when the fibers loosen from one another and allow for deeper access.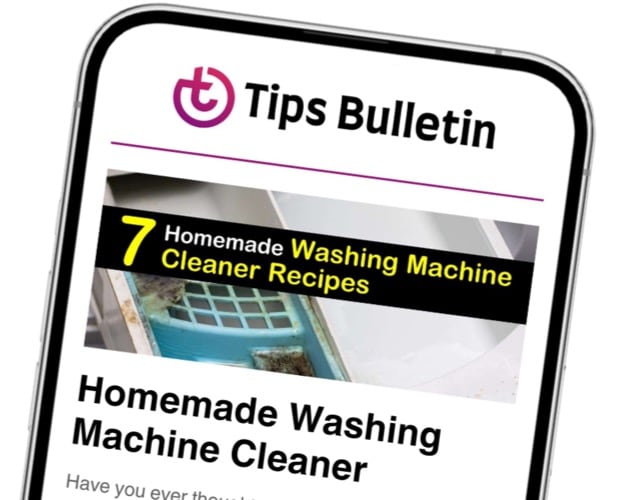 Finally, an email that Transforms Your Home.
Get the latest home and garden tips from our experts, delivered straight to your inbox.
How to Steam Clean Carpet
One of the drawbacks to using a steam cleaner is how expensive the products are. Rather than spending all your money on professional carpet cleaning products, use laundry detergent. You don't even have to use that much to get your money's worth out of the cleaning.
Depending on how large your carpet steam cleaner is, these dimensions may vary. However, you don't want to add more laundry detergent to the mix than is necessary. Too much detergent leads to a build-up or residue on the carpet, which may eventually lead to mold.
Avoid creating a mixture that is too foamy. Otherwise, the carpet may need a rinse after cleaning, which, as you might imagine, is more work than you want when steam cleaning.
Steam Cleaning Carpets with Vinegar
If your carpet has stains, treat those with a little bit of white vinegar. While using the cleaner as a spot treatment first is a great way to get coffee and tea stains out of carpet, adding it directly to the steam cleaning machine is just as effective.
Vinegar is a powerful antimicrobial that is safe to use on natural fibers in the carpet.
To use this cleaning technique, combine all of the ingredients in the water tank. If your cleaner has a separate compartment for the soap, then add the vinegar and dish soap in that area instead. Bring the steam cleaner to the appropriate temperature.
Usually, 212℉ is the recommended temperature, as this amount of heat kills common allergens like dust mites and bed bugs. Once the machine reaches the correct temperature, you are ready to treat your entire carpet.
Vinegar and steam work quite well to get cat urine out of the carpet, too. The vinegar counteracts the ammonia in the urine to eliminate both the stain and the unpleasant odor.
The Easy Way to Steam Clean Carpet Yourself
One key factor concerning steam cleaning that often gets overlooked is the fact that you don't always need to use a carpet cleaner. Similar to how a steam mop operates without chemicals, and still does a fantastic job on your floors, steam cleaning without added products provides a green alternative to treating your rugs and carpeting.
This technique also ensures that the floor is safe for pets and small children to walk on shortly after cleaning, and it's ideal to get rid of carpet beetles and other tiny bugs. Steam cleaning is often confused with methods like hot water extraction, which spray water and cleaning solution into the floor to trap dirt before soaking it back up.
However, steam cleaning uses the heat from the steam alone to eliminate allergens and disinfect the carpet. While this strategy uses green techniques, it is not as effective at removing dirt and grime as it is when combined with a cleaning solution.
DIY Steam Clean Carpet Recipe
The very best way to clean carpets at home is by using a blend of Borax and vinegar to clean stains. This cleaning method works best when applied directly to the surface first, rather than placing it in the steam cleaner itself. The mixture forms a thick paste that would clog the filter and tubes over time if used in the machine.
For getting grease out of carpet or other annoying and unsightly stains, start by mixing the supplies in a small bowl until the mixture reaches a pasty consistency.
Slather a layer of the paste over the stained area, then scrub gently, being sure to get deep down into the carpet fibers. After scrubbing, let the paste soak into the ground for several minutes before you begin steam cleaning.
Substitute the Borax with baking soda if necessary. Both leave your carpet smelling fresh and deodorized. This process works exceptionally well in small areas or on an area rug.
Remove Tough Stains with Peroxide Combo
Another example of a homemade carpet cleaning solution for steam cleaner involves using hydrogen peroxide and fabric softener to remove particularly challenging stains. This strategy works best in areas with an increased amount of foot traffic that sees more dirt and debris than other parts of the house.
Because hydrogen peroxide may bleach certain fabrics, it is best to use this on lighter-colored carpets only. Either way, test a small, hidden area before use.
To make this heavy traffic carpet cleaner, blend the ingredients in a large bowl. Add the soap last to prevent the mixture from getting too foamy and use distilled over tap water for a deeper clean.
Add the combination to your water tank when ready. Let your carpet dry overnight before walking on it again.
Enzyme Cleaner for Pet Messes
No matter how diligent of a pet parent you are, sometimes our furry friends have a little accident. It may be difficult to remove these stains and odors with regular cleaners unless you use an enzymatic cleaner to get the job done.
Enzyme cleaners break down the proteins in urine or vomit to dissolve them from our floor completely. When combined as a solution for carpet cleaning machines, the effects increase even more.
This homemade carpet shampoo for machine or hand cleaning works perfectly as a spot treatment, as well, and needs some time to ferment before use. Be sure you give yourself enough time between making the solution and using it.
When making this carpet steam cleaning formula, use a sealable container large enough to fit the citrus peels through the top. Add the ingredients, seal the cap, and shake well. After shaking, untwist the cap only slightly. Doing this allows for the gases emitted by the materials to leak out of the container.
Otherwise, the bottle housing all the items explode from the build-up of pressure. Place it somewhere safe where it won't be disturbed, and let it settle for three months before using it.
Use a Commercial Carpet Shampoo
When all else fails, the store-bought soaps you buy to steam clean carpet are not only effective but convenient. You don't have as much control over the types of chemicals placed inside the cleaner or your carpet.
However, you have the convenience of a cleaner ready and accessible to you without the additional prep time. When you steam clean carpet, especially with a commercial cleaner, one of the things we tend to overlook is the dampness. The drying time for most carpets after steaming lasts anywhere from six to ten hours.
That's a long time for chemicals to be on your carpet. As a result, avoid walking in these areas until the carpet is completely dry. That way, you do not absorb any of the chemicals from the cleaner onto your skin.
Hopefully, you now have your new favorite way to steam clean carpet yourself. No matter which recipe you use for steam cleaning carpets, alternate them throughout the year until you find one you like the most.
Carpet stains and mildew are a thing of the past, especially with these helpful tips on how to use your steam cleaner without involving a professional.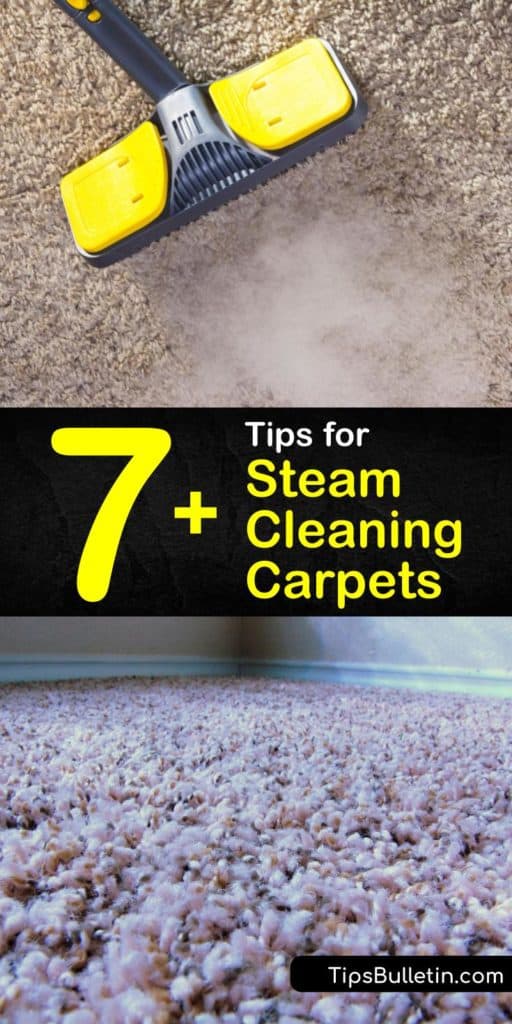 If you loved reading about these carpet cleaning tips, then don't forget to share your favorite strategy for how to steam clean carpet with all your friends and family on Facebook and Pinterest.