Bananas make the perfect portable snack and are bursting with health benefits, too, contributing to healthy heart function, blood pressure levels, digestion, and more. However, you often find yourself either eating slightly green bananas or rushing to use up the rest of the bananas before they go bad. In this article, we explain how to store bananas to enjoy this tasty fruit just the way you like it.
Start by choosing the ideal bunch of bananas at the grocery store. If you live on your own or don't eat many bananas, selecting firm, green ones makes your timeframe for consuming them less constrained.
On the other hand, if you live in a larger household or are a big banana eater, look out for peels that are already bright-yellow. Brown spots on the peel are fine and indicate that starches have transformed into sugars, giving the fruit a particularly sweet taste.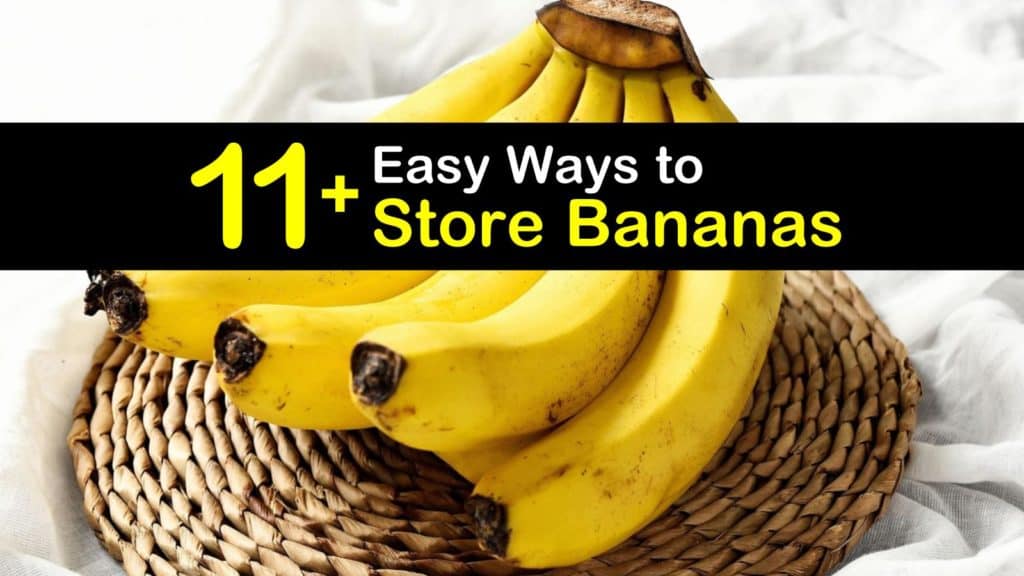 Storing Bananas to Keep Them Fresh
The banana is a tropical fruit that ripens off the plant in warm conditions. However, keep it out of direct sunlight to avoid overly rapid ripening.
Remove bananas from their plastic bag once you get home since the bag retains moisture, potentially causing rot.
Can You Eat Brown Bananas?
It's important to differentiate between overripe and rotten bananas. Although its peel may be brown or black, an overripe banana is still edible. It even boasts higher levels of vitamin C and antioxidants.
This type of banana is ideal for banana bread. Store fresh banana bread tightly in plastic wrap in the fridge or freezer until you are ready to eat it.
Keeping banana bread fresh in the freezer is simple and you have tasty bread whenever you want it.
Before putting bananas in the freezer, cut away any especially brown chunks, then freeze the rest of the banana or use it in baking or a smoothie. Bananas that have gone bad may have very mushy, brown flesh and start releasing liquid.
Mold is a sign that you must toss the fruit since it could cause an allergic reaction or respiratory issues or even contain dangerous toxins. Watch out, as well, for strange smells and a grayish or dull-yellow peel.
How to Store Bananas Successfully on the Counter
Store fresh bananas on the counter to allow them to ripen. Once they're ripe, separate each banana from the bunch and store them in a cool, dark, well-ventilated location to keep them fresh longer.
Bananas release ethylene gas from their stem, which causes them to ripen. Wrap each banana stem in plastic wrap or aluminum foil to prevent ethylene gas from escaping.
You can also store uncut watermelon on the table or counter for a few days before you need to slice it, although the fridge is another option. However, they usually take up a lot of room.
Where to Store Bananas to Make Them Ripen Quicker
It always seems like when you need a ripe banana, your bananas stay stubbornly green. Any bag is going to make bananas ripen more quickly.
The best way to store bananas to speed up their ripening is a paper bag. This trick is particularly effective if you add an apple or tomato.
Storing Bananas with Other Fruit to Speed Up or Slow Down Ripening
Avocados, apples, peaches, and tomatoes are examples of other fruits that release ethylene gas. Store bananas next to ripe fruit to make the bananas ripen faster.
If you want to slow down a banana's ripening, put it beside unripe fruit. This strategy has the added benefit of increasing the other fruit's ripening speed.
Put Bananas in a Fruit Bowl or Basket
These containers are not purely decorative. At least for bananas, they prevent the bruising that occurs from sitting directly on the counter.
Allow the bend of the bananas to follow the curve of the bowl. This method for storing bananas is best for unripe bananas or ripe ones that you intend to eat within a couple of days.
Hang Bananas on a Banana Tree
No, we don't mean a banana plant! A banana hanger is a nifty way to keep bananas fresh at room temperature. It hooks through the stems of a bunch of bananas to hold them above the counter.
This device allows the air to circulate each banana. Some banana trees attach to a fruit bowl, leaving the bananas dangling over other fruit. That arrangement, for better or for worse, encourages accelerated ripening among all the fruits.
The Best Way to Store Bananas on the Go
Have you ever seen those hard plastic cases for bananas? They're handy if you're a regular banana eater and make work or school lunches more fun.
Banana containers generally have ventilation holes and hold both straight and curved bananas. They stop the banana from getting squished and your bag from getting messy.
How to Store Bananas to Prevent Fruit Flies
After getting home from the store, rinse your bananas, then dry them well. This practice removes any fruit fly eggs that might be hiding on the fruit.
Stick your bananas in the microwave, oven, or toaster oven. Make sure to remove the fruit before turning on your appliance.
Store Bananas in the Fridge Once They're Ripe
Storing bananas in the fridge severely slows down or even halts the ripening process. Do not refrigerate green bananas since they might not resume ripening even after removing them from the refrigerator.
The fridge is the best way to store bananas with just the right ripeness level to maintain them in this state for several days. Store strawberries in the refrigerator in the same way.
Note that bananas give their scent and flavor to other foods if they sit in the fridge for any length of time, so ensure that other foods are covered properly. Banana peels continue to darken in the refrigerator, but the flesh should stay firm and edible.
The Best Way to Store Bananas that are Partially Eaten
Bananas turn brown within a few minutes if they're exposed to air. Leave as much of the peel in place as possible to prevent air from accessing the fruit's flesh.
The best way to keep a banana fresh after peeling is to wrap your unfinished banana in plastic wrap. If the peel is still attached, ensure that you cover the stem and sliced end, or place it in a sealed plastic container.
Put your banana in the fridge so you can finish it at a more convenient time. Expect it to last for two to three days in the refrigerator before going mushy.
How to Store Bananas to Stop Them from Going Brown
Put banana slices or mashed banana in a plastic bag or bowl in the fridge. To keep them fresh longer, drizzle them with one to two teaspoons of citrus juice, such as pineapple or lemon juice, or vinegar.
For a whole peeled banana, sprinkle or brush lemon juice along its entire length. If you like, dilute the citrus juice or vinegar. If the banana ends up tasting too much like vinegar, rinse it before eating it.
Freezing Whole Bananas
The freezer is the best way to store bananas that are overripe since it completely halts ripening, although the peel may still turn black. Thawed bananas are very mushy, so they're best suited for use in cooking.
Removing the peel from a frozen banana is extremely challenging, so it's easiest to peel bananas before popping them in the freezer. Bananas last for approximately two to three months in the freezer.
Place up to three whole or partially eaten bananas in a freezer bag or plastic container. To prevent the fruits from sticking together, you may flash freeze them first, or cover each banana with plastic wrap or aluminum foil.
Thaw frozen bananas in a container on the counter or in the fridge or defrost bananas in the microwave. There is no need to thaw bananas when adding them to a smoothie, though. Pop them right in the blender as is.
Storing Bananas in the Freezer for Baking
For freezing bananas for smoothies or baked goods like banana bread or muffins, spread out banana chunks on a baking sheet lined with wax paper or parchment paper.
Stick the tray in the freezer for 30 to 45 minutes until the banana pieces are frozen solid, then stick them in freezer bags. You may also freeze mashed bananas in plastic freezer bags. In either case, squish extra air out of the bag.
Label the freezer bag with the number of bananas or the cup measurement. It's helpful to fill each bag with the quantity of fruit needed for a specific recipe.
Simple Ways to Make Banana Ice Cream
Did you know that you can make ice cream from pure frozen banana? Place slightly thawed banana chunks in a food processor or high-speed blender. Pulse the banana pieces, occasionally scraping down the sides of the processor or blender.
The banana should turn gooey then transform to soft serve consistency. Blend the ice cream for a few more seconds to work air into it. Freeze your homemade ice cream in an airtight container until it's solid.
If you feel like treating yourself, add flavorings to the banana.
Pulse the three ingredients in a food processor or blender for about 15 to 20 seconds until they have a soft serve texture. Eat your ice cream right away, or store it in the freezer for one to two weeks.
The journey to savoring the perfect banana starts with choosing a suitable bunch at the store. Once home, store bananas out of their plastic bag and away from direct sunlight. Leave the fruits on the counter until they're ripe.
To make them ripen quicker, place your bananas in a paper bag or next to ripe ethylene gas-producing fruits, like avocados or apples. To slow down ripening, cover banana stems with plastic wrap.
Place ripe or partially eaten bananas in the fridge, potentially adding citrus juice or vinegar. Enjoy overripe bananas immediately in baking, or stick them in the freezer until you're ready to use them.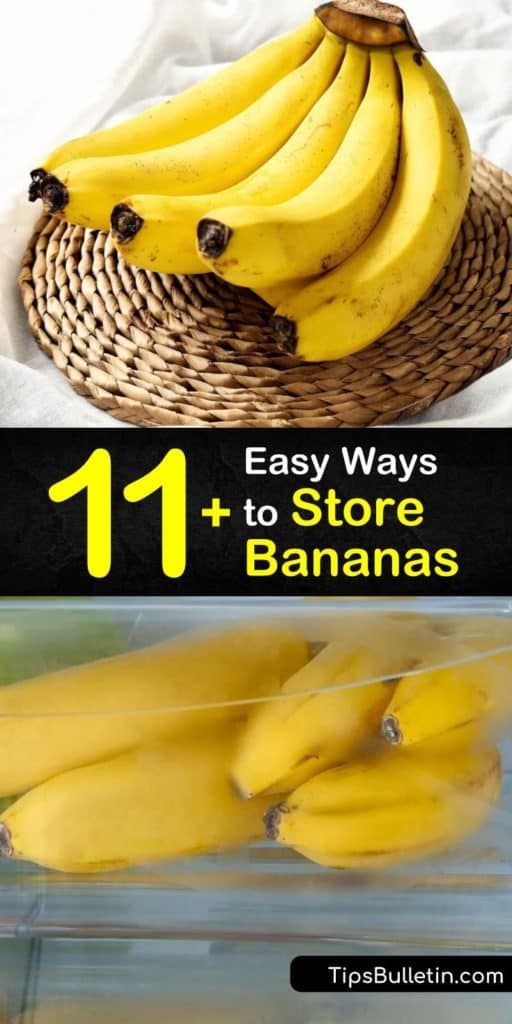 How to store bananas depends on how you intend to eat them, but follow these tips to set you on the path for success. If you found these banana tips helpful, please share these food storage tricks with your friends on Facebook and Pinterest.