Pasta sauce, pesto, and tomato-based dishes are simply not the same without fresh basil. Unfortunately, this mildly sweet, aromatic herb begins to wilt soon after clipping it from the plant. We'll show you how to store basil in various ways, from the kitchen counter and spice cabinet to the fridge and freezer.
Fresh herbs enlighten your dishes with flavor and aroma, from thyme, cilantro, and chives to oregano and basil. The best way to keep them fresh is to clip them right before preparation.
However, this isn't always possible, especially if they are store-bought. Having a bunch of basil on hand for adding to your evening meal is the way to go, whether it's from your garden or the grocery store.
While it's easy to store basil fresh if you plan to use it within a couple of days, there are other ways to keep this herb for long-term storage.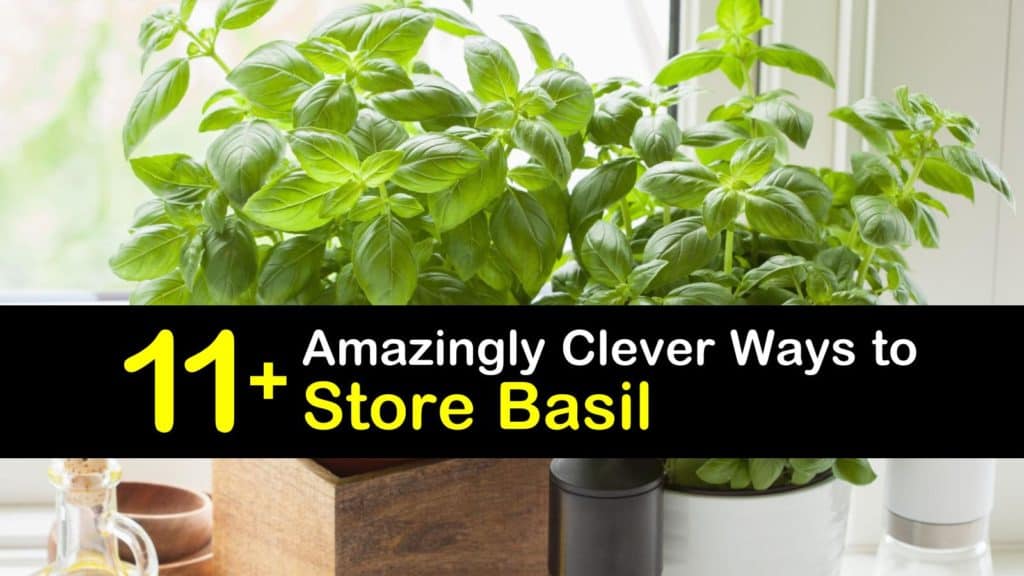 Storing and Preserving Fresh Basil
The fridge is the most obvious place to keep herbs fresh, but basil is easy to freeze, dry, and preserve using other methods, too. These techniques are convenient and keep your herbs at the ready for up to three years, depending on the type of storage.
Storing Potted Basil Indoors
There is nothing better than home-grown herbs, and one of the easiest ways to store fresh basil is on your windowsill. Keeping a potted plant in your kitchen means that you enjoy fresh basil whenever you desire.
Purchase a potted basil plant from your local store or start basil from seed. Fill a small pot with soil and sow the seeds a quarter-inch deep. Keep the dirt moist and watch as the plants emerge in one to two weeks.
Place the pot in a sunny window of your kitchen and water it twice a week as needed. Do you know when to harvest basil? It's important to know when to pick basil so you have the most flavorful herb. Basil is ready to begin harvesting in about a month. Potted basil lasts up to four months on the countertop.
Of course, you can also grow basil out in the yard, too. Keep an eye out for insects so they don't munch away on your plants. Make up an aphids bug spray for basil plants to keep on hand in case they become a problem.
Choosing Healthy and Tasty Basil for Storage
If you're a new gardener who is unsure when your fresh basil leaves are ready to harvest, or you're purchasing a bunch from the store, it's essential to know what to look for in a healthy plant for the longest storage.
Healthy Basil
If you grow your own basil, indoors or out, the plant is ready to begin harvesting once it has at least six leaf sets. Try picking the leaves in the morning when the essential oils are strongest, and gather them from the top down.
To choose healthy basil from the grocery store, look for bright green leaves without blemishes. Avoid bunches that have damaged stems or wilting, discolored leaves.
Best Way to Store Basil on the Counter
The countertop is the best way to store basil if you plan on using it in a meal within a week. Storing your herbs in water at room temperature keeps the stems firm and prevents wilting leaves.
Pour cool water into a glass jar until it is about half full. Clip one-inch off the stems' bottoms with a pair of shears or scissors and pluck off any low-growing leaves.
Place the basil bunch into the jar, making sure the stems submerge in the water and cover the top loosely with a produce bag. Do not store the jar in the fridge.
Instead, place it in an area of the kitchen away from direct sunlight. Change the water every couple of days or when it is cloudy.
Storing Basil Leaves in the Refrigerator
While storing basil on the kitchen counter is optimal, it's not necessary if you plan to use it quickly. The refrigerator is a great alternative and keeps your herbs fresh for up to 24-hours.
To keep cut basil fresh, pluck the leaves off the stems and rinse them under cold, running water. Spread them on a baking sheet or paper toweling and press more paper towels over them gently to pull away moisture.
Transfer the basil to a dry sheet of paper towel and roll the towel over them to form a loose bundle.
Place the roll of herbs into a Ziploc bag and press air out without crushing the leaves. Leave a small part of the bag unsealed to encourage air circulation and store it in the refrigerator.
How to Store Basil in the Freezer
If you have more fresh herbs than is possible to eat before they wilt, and are unsure where to store basil, consider blanching and freezing it. Basil leaves keep up to six months in the freezer and taste great added to your favorite cookbook recipes.
How to freeze basil starts with pouring cold water into a bowl, tossing in a bunch of ice cubes, and setting it aside. Boil a medium pot of water and place the basil leaves in the boiling water. Blanch them for only two seconds before pulling them quickly from the water with a pair of tongs.
Submerge the leaves in the ice bath for about two minutes to stop the cooking process. Spread the herbs on paper towels and pat them dry to remove surface moisture.
Lay the leaves in a single layer on wax paper, cover with another sheet, add more leaves, and repeat. Fold the paper into a section small enough to fit in a freezer bag and slide it in. Carefully press air out of the bag before sealing it, and place it in the freezer.
Storing Basil in Olive Oil
Basil and olive oil go hand in hand with many recipes, and covering the leaves with oil is another handy way to store basil in the fridge. This herb stays fresh for up to a couple of months stored in this manner. You can use the same method for storing fresh garlic cloves, too.
Place the basil leaves in a storage container and sprinkle them with just enough salt to cover them lightly. Fill it with olive oil, put the cover in place, and refrigerate. Use both the leaves and oil in recipes as needed.
Making and Storing Basil Cubes for Soups and Stews
Making basil ice cubes is simple, and each cube holds about half a cup of herbs. Adding a small amount of olive oil to the mixture helps them retain their green color during the freezing process.
Place the basil leaves into a blender and drizzle in enough olive oil to form a paste. Blend the mixture to the desired consistency, spoon it into each ice cube tray compartment, and freeze them.
Remove the frozen herb cubes from the tray and place them into freezer bags before setting them back in the freezer.
Make Basil Vinegar for Dressings and Marinade
Making basil vinegar is the perfect alternative for storage and is a useful substitute for any recipe that calls for plain vinegar, wine, or citrus juice. Herb vinegar lasts about six to eight months in a cool and dark area of the kitchen.
Spread the leaves on a cutting board and hit them with the flat side of a large knife to release their oils. Place the basil into a jar and fill it with white vinegar.
Secure the lid on the jar and keep it in a dark, cool place for about two weeks, swishing the liquid around every couple of days. Strain the basil-infused vinegar into a bottle and store it in the pantry.
How to Prepare and Freeze Pesto
A good pesto adds depth to everything from vinaigrette and vegetables to soup and pasta. Freezing a batch of pesto cubes is not only an ideal way to utilize fresh basil but a time-saver for your favorite recipes.
Place the basil, garlic, cheese, and olive oil into a blender or food processor and pulse it until the leaves are finely minced.
Spoon the pesto into ice cube tray compartments and freeze them for about four hours. Transfer the cubes to freezer bags, label them, and store them in the freezer.
Preserving Basil in Salt
It's common to preserve meats such as ham and bacon in salt, but this mineral works to keep herbs as well. It pulls out moisture from the leaves while maintaining the original taste.
Pour kosher salt into the bottom of a glass jar and place a layer of leaves over the salt. Alternate the salt and basil leaves until the jar is full, and store it in the refrigerator.
Crumble the dry basil leaves in recipes as needed. As a bonus, the salt absorbs the basil essence and is useful in cooking as well.
Drying and Storing Basil for the Spice Cabinet
Drying herbs is a simple task and a good remedy for using up fresh basil before it spoils. Keep in mind that drying makes them more potent than fresh, so less is required while cooking.
Spread the basil leaves in a single layer on each food dehydrator tray and follow the temperature instructions until the herbs are dry and crisp. If you do not have a dehydrator, air drying is another option.
Leave the stems on the basil and tie them together in small bunches. Place the bundle into a paper bag with holes and hang it in a cool and dark area until dry. Crush the dry basil into spice jars and store them in a kitchen cabinet.
You can substitute dried basil for fresh in your favorite recipes, too, which is handy when you don't have fresh leaves.
Using Frozen Basil to Make Lemonade
Basil lemonade sounds a bit unusual, but this frozen drink is refreshingly sweet and tart with a hint of mint and subtle peppery flavor. This recipe makes a pitcher-full of slushy goodness for those lazy summer afternoons.
Set a small pot on medium heat and add the sugar and water. Simmer the liquid for two to three minutes to dissolve the sugar, and pour it into a blender. Add the basil leaves, lemon juice, and ice to the blender and puree it until smooth.
Fresh herbs from the grocery store or garden liven just about any meal, but they lose color and texture after sitting on the kitchen counter too long.
Luckily, there are many ways to store basil to ensure it retains its tasty flavor, whether you opt for the fridge, freezer, or spice cabinet.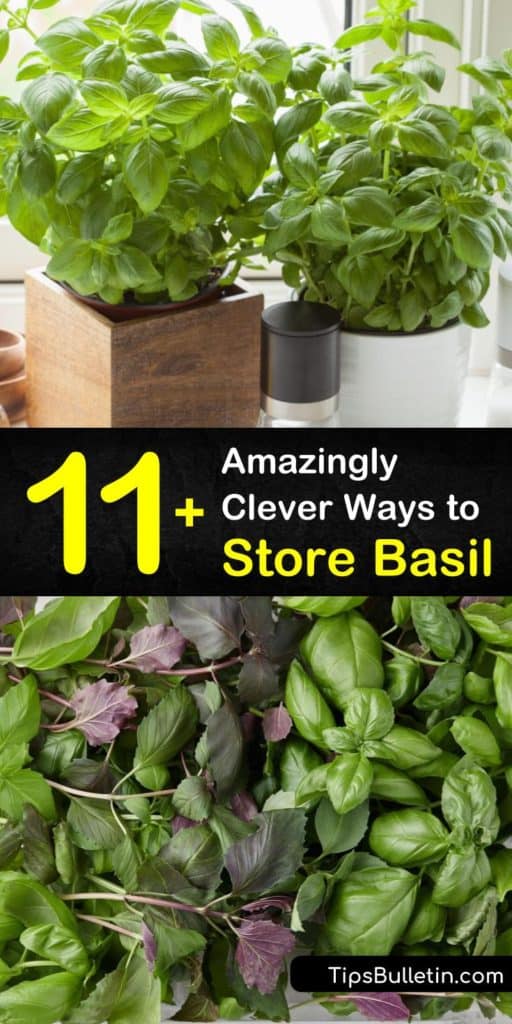 Now that you learned how to store basil using short and long term methods, why not share our basil storing tips with the herb-lovers in your circle of friends and family on Pinterest and Facebook?