If you're a home gardener and harvest your entire crop of cabbage due to weather conditions, you may have a food storage problem to consider. It's time to get creative with your storage methods to prevent your veggies from going bad. We'll show you how to store cabbage using a variety of means.
This cool-season crop is common in many gardens, and harvesting cabbage reaps countless rewards. This vegetable is enjoyable in many dishes, including coleslaw, stew, cabbage rolls, and many more. However, proper cabbage storage is essential to prevent it from going to waste.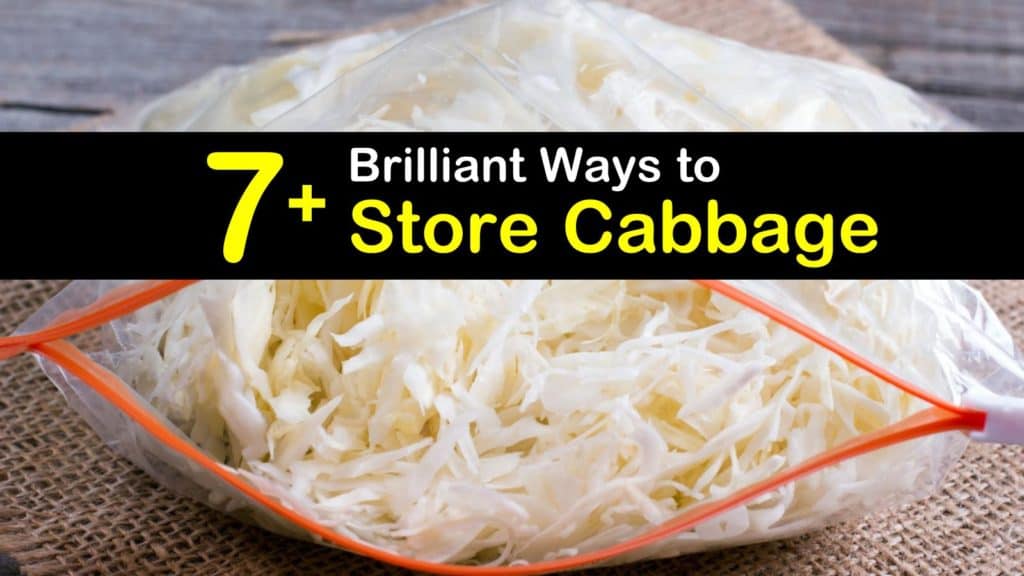 Selecting, Preparing, and Storing Cabbage
There are many different ways to store vegetables for later eating. Your later cooking method often determines how you preserve it now.
To store cabbage effectively, choose cabbage heads in good condition to ensure proper storage. The next step is to decide whether you desire short or long-term storage for your fresh cabbage. Finally, it's time to utilize all of your hard work with some savory cabbage recipes.
How to Select Cabbage for Storage
It's essential to choose your cabbages wisely before storing them to ensure that they have the most extended shelf life possible. Here are a few things to look for when picking healthy cabbage for storage.
Selecting Cabbage
When choosing a whole cabbage from your garden or the farmer's market, make sure it is brightly colored, whether they are green, red, or savoy cabbage. Red cabbage has a deep maroon color, while green cabbages are almost lime-green.
Healthy cabbages have clean, shiny outer leaves that are firm to the touch. Avoid soft or spongy cabbages. Choose cabbage with tight leaves that are crisp, and check for bruising or discoloration. Make sure that there are no loose and flimsy leaves on the outside of the cabbage.
Ways to Store Cabbage in the Refrigerator
One of the best ways to store cabbage is in the fridge. It's also the best way to store red peppers that are still whole. Refrigerating cabbage, or any vegetable, seems pretty straightforward, but there are a few steps to take before placing that head of cabbage or red pepper on the refrigerator shelf.
Refrigerating Whole Cabbage
It's best to leave the cabbages whole until you are ready to eat them. Cut cabbages lose vitamin C and also do not store as long in the fridge. Do not remove any of the outer leaves or wash the cabbage before storing it.
Place a whole cabbage head in a plastic bag and place it in the fridge in the crisper drawer with a high humidity setting. Cabbage lasts three to four weeks in the refrigerator.
Storing Cabbage After It is Cut
The shelf life of cabbage reduces significantly after cutting or slicing this vegetable. Storing cut cabbage requires a few extra steps to ensure it stays as fresh as possible until you are ready to make a quick cabbage dish such as stir fry.
Wrap the sections of cabbage in plastic wrap or place them into a plastic bag. Store the wrapped cabbage wedges in the crisper drawer of your refrigerator for two to three days and check them periodically for shriveling or discoloration.
Storing Cabbage in the Root Cellar
If you are fortunate enough to have a root cellar, then storing your cabbage in the cellar rather than the fridge is the way to go. This type of storage space is ideal because it has cool temperatures with high humidity.
Do not wash the cabbage or remove any of the outer leaves before storing it, just like for beet storage. Place the cabbage upside down on a shelf, making sure that there are several inches of space between each cabbage head.
If your shelves are full of other veggies such as Brussels sprouts, carrots, or potatoes, store them on the floor in a layer of straw or newspaper or hang the cabbage head-side-down with a string from the ceiling. Store carrots and other root veggies in the root cellar for optimum freshness.
How to Store Cabbage in the Freezer
Can cabbage be frozen? What about tomatoes? Can fresh mushrooms be frozen? Fortunately, the answer to these questions is yes.
Freezing is a great way to store cabbage long term, as well as other veggies, and frozen cabbage wedges are handy for tossing into your favorite soups or stews with zucchini and other fresh vegetables
Wash the cabbage thoroughly and remove any loose leaves, and then soak the heads in a large bowl of water for a few hours. Fill a large pot with water and bring it to a rapid boil.
Cut the cabbage into quarters, and place them into the boiling water to blanch them for three minutes. Move the vegetables to a large bowl of ice water.
After blanching and cooling the cabbage, pat the pieces dry and place them on a cookie sheet in a single layer. Flash freeze them in the freezer for 12 hours and then place the wedges in freezer bags.
Follow the same procedure to freeze fresh broccoli or green beans. You can even store green asparagus the same way. Frozen cabbage and other frozen produce usually last for several months.
Preserve Cabbage by Pickling
Storing Brusselss sprouts by fermentation or pickling cabbage is another great way to prolong the life of your veggies. The tangy flavor and bright color of pickled cabbage can't be beat, and they taste good with just about anything.
Cut the cabbage into thin shreds and set them into a bowl. Fill a pot with the water and bring it to a boil. Remove the hot pan from the stove and add the vinegar, sugar, and salt.
Divide the garlic, coriander, and peppercorns between the two jars and add the shredded cabbage. Pour the hot brine into the Mason jars until the veggies are covered, and secure them with lids. Refrigerate for two hours before enjoying them.
Making Soup from Leftover Cabbage
If you have leftover cabbage in the fridge that is running short of shelf life, consider making a batch of savory soup. This cabbage soup is not only tasty but is easy to store in the fridge or freezer for future meals.
Heat a Dutch oven or large cooker to medium heat and add the butter. Add the onions to the melted butter and cook until they are translucent. Place all of the vegetables into the pot and add enough water to cover them by one inch.
Bring it to a boil, add the seasonings, and reduce the heat to a simmer for two hours. Enjoy the soup right away or store it in an airtight container in the fridge or freezer.
Using Cabbage to Make Coleslaw
Are you wondering what to make with that leftover cabbage before it goes to waste? Well, coleslaw, of course! Coleslaw is a quick and easy cold salad that goes great with just about anything, from hamburgers to fried chicken.
Remove wilted outer cabbage leaves and discard them. Quarter each cabbage and cut out their cores. Shred both cabbages until you have eight cups of shredded cabbage.
Combine the mayonnaise, vinegar, buttermilk, and mustard in a large bowl and then add the shredded cabbage, carrots, and onion. Mix all of the ingredients thoroughly to coat the veggies evenly and salt and pepper to taste. Refrigerate for one to four hours before enjoying your tasty coleslaw.
Making Sauerkraut with Leftover Shredded Cabbage
There tends to be leftover cabbage after making coleslaw or some other savory cabbage dish. Instead of letting that shredded cabbage go to waste, consider making a small batch of quick sauerkraut to prolong its shelf life.
Combine all ingredients in a large or medium saucepan, cover, and cook over medium heat for 30 minutes or until the cabbage is tender. Stir occasionally and add a quarter cup of water if the bottom begins to brown. Allow the sauerkraut to cool, and then place it in an airtight container and store it in the refrigerator for up to two weeks.
It's easy to store cabbage, whether it's from your vegetable garden or the farmer's market, as long as you follow a few quick and easy tips. Store a whole head cabbage in the root cellar or refrigerator to prevent losing nutrients such as vitamin C, and use cut or shredded cabbage in savory dishes for short term storage.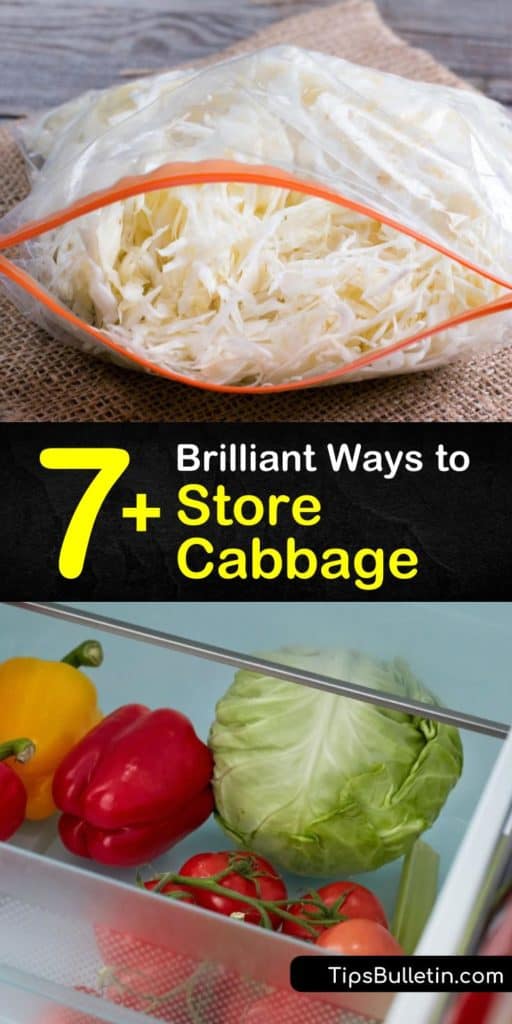 We hope you enjoyed reading how to store cabbage so that you enjoy your veggies all year-round, and we'd love it if you share our cabbage storage tips and recipes with your friends and family on Facebook and Pinterest.