You might not reside in an area where you have a cheesemonger on call, but understanding how to store cheese doesn't require you to seek professional help.
Could you imagine a world without cheese? Or worse, all of your favorite cheeses going bad because you don't know how to store them properly? Storing cheese plays a significant role in how long your food lasts.
Cheese is a food that is a lot more complicated than you'd think. It looks simple when sitting on a beautiful charcuterie board, yet the process it goes through to have such unique flavors deserves to be appreciated.
Finding the best way to store cheese should be a top priority for food storage and extending the shelf life. Some of the things you'll learn from this article are where to store cheese, the different types of cheeses, and how long they stay fresh.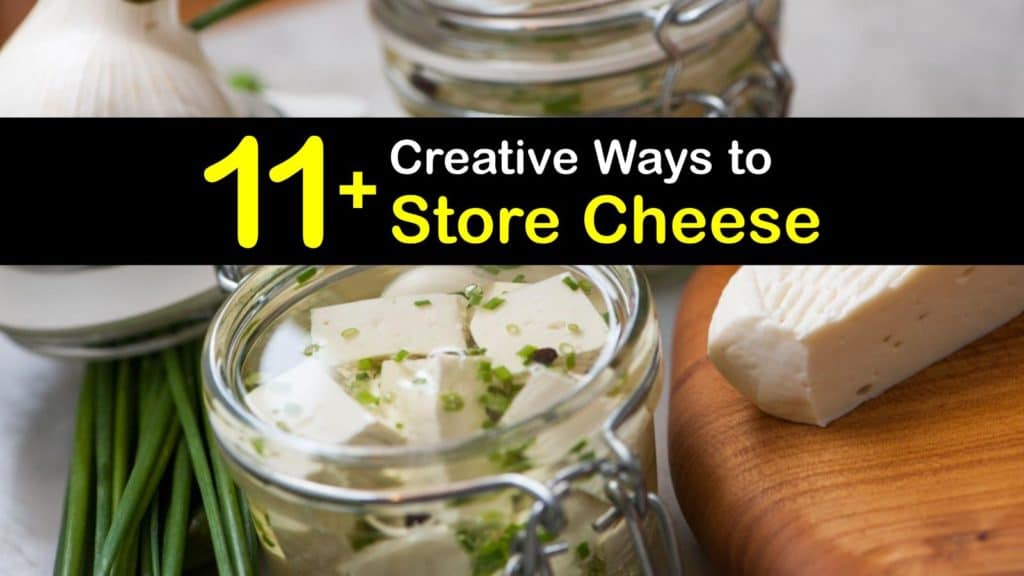 Different Types of Cheese
We know that not everybody loves cheese. Still, those who do have a deep appreciation for it tend not to be too picky about the kinds they eat.
One of the most significant lessons to understand when learning how to store cheese is that soft and hard cheeses are not always stored the same way.
The difference between soft cheeses and hard cheeses comes down to moisture content and cheese consistency. When searching for the best way to store cheese, keep the type of cheese in mind.
Hard cheeses lose moisture while they age. Some last several weeks when stored properly, and others could last a couple of years. Some are aged up to 40 years because it creates sharper flavor profiles.
Hard cheeses have a moisture content below 50 percent, while soft cheeses have a moisture content over 50 percent.
Some famous examples of hard cheeses include parmesan or Parmigiano-Reggiano cheese, gouda, and cheddar. What is feta cheese? Feta is an example of famous soft cheeses like camembert, ricotta, Brie, and mozzarella.
There are also semi-hard and semi-soft cheeses that lie somewhere between the two. These types of cheeses are similar to blue cheese or fromage.
How to Store Cheese
Knowing all your options helps you choose the best way to store cheese. When you store fresh cheese, your goal should be to keep it fresh for as long as possible. Many tricks extend the shelf life and make your fridge feel like your own personal deli.
There is a difference between unopened cheese and opened or cut cheese regarding storage. How long does cheese last after opening? It depends on the cheese. Read on to learn more.
The First Rule of Storing Cheese
Though it's easiest to store cheese in the fridge by keeping it in its original packaging after bringing it home from the grocery store, this is not the best way to keep it fresh.
Any cheesemaker or cheese shop worker will tell you that fresh cheeses should be moved into another container once you open the original packaging.
The Best Way to Store Cheese
Without a doubt, the ideal place for cheese storage is in the crisper or vegetable drawer of your refrigerator, whether you store a block of blue cheese or a container of ricotta. It is not safe to keep cheese out at room temperature for more than a couple of hours.
Once two hours pass, dangerous bacteria can grow and make you or your loved ones sick. Keep your cheese in the fridge whenever possible.
Avoiding Plastic Wrap
It makes sense that you'd think that plastic wrap is the best way to wrap your cheesy goods. Unfortunately, wrapped cheese can't breathe and suffocates instead.
Plastic hinders the flavor of the product, and the oils and fats inside start to soak up the taste of the plastic itself.
Using Cheese Paper
Cheese paper is ideal when you're wrapping your cheese. The paper is usually available at your closest grocery store. Cheese paper is porous and breathable while still protecting the food inside from exposure to the air and other lingering odors.
Buying Cheese Bags
There are a lot of cheese bags on the market that range from cheap to expensive. We find that high-quality cheese bags from brands like New York's Formaticum are perfect for long-term cheese storage. The bags are porous like cheese paper and designed with shelf life in mind.
How to Use Parchment Paper for Cheese Storage
Don't stress too much if you can't afford special cheese storage supplies. Parchment paper and wax paper are excellent substitutions for those products.
Using wax paper is one of the few times you can double-wrap a plastic bag around it. However, do not wrap the cheese too lightly or loosely.
Only partially seal the plastic bag once you place the waxed paper-wrapped cheese in it. A better option is to use aluminum foil in place of the plastic bag.
This is the best way to store Brie, whether it is opened or unopened. Check the wrapping periodically to ensure freshness.
Keeping the Rind Intact
Those who get their cheese-loving hands on a cheese wheel should not mess with the rind on the wheel. The skin is a protective layer, and harmful bacteria grow once you cut into it. Even after you cut it, keep the shell on as long as possible.
Changing the Wraps
With all of these how-to-store-cheese tips, don't forget to replace the wraps every few days. Some types of cheese tend to sweat and lock moisture onto the outside of the block.
Continue to keep the cheese fresh by replacing the paper or bag it is wrapped in every time you use it or every other day.
How to Brine Cheese
Soft cheese benefits from sitting in a brine that extends its shelf life, but brining isn't too common with hard cheeses.
Brining the cheese adds more salt to the overall flavor and discourages bacteria from growing on the cheese's surface. You can also customize the brine recipe to make it more flavorful with herbs, spices, and oils.
Pour the room temperature water into a large pan and thoroughly mix in the salt and basil. Bring the salty solution to a boil before removing it from high heat.
Allow the brining liquid to cool to 55°F before pouring it into a Tupperware container. Set your mozzarella in the cooled brine and place it in the refrigerator for storage.
Once you store the cheese for 24 hours, remove it from the brine and put it into a clean, dry airtight container with a small amount of salty water. Goat cheese expiration after brining is about only two weeks past the original expiration date.
Can You Freeze Cheese?
It is possible to freeze some cheeses, but it isn't always recommended. This is more true for types of cheese with high water content.
When you cook frozen veggies, have you noticed how much water comes out of them compared to fresh veggies? When you place a watery cheese in the freezer, ice crystals form inside the cheese. By the time you thaw it, you've significantly changed the texture and flavor.
There are recipes where the texture won't matter much, and the cheese is still edible, but it isn't the best option for every home cook. If you plan to freeze cheese, try to only do so with hard cheese like parmesan. The best way to store parmesan cheese for the long term is the freezer, whether it's in a block, shredded, or grated.
It's also fine to store mozzarella cheese in freezer if it is in an airtight container.
Using Oils to Keep Cheese Fresh
You might get rid of any sort of wrapping technique at all after discovering that oil is a perfect barrier for cheese. Rubbing a fair amount of olive, canola, or vegetable oil over the surface of the cheese prevents mold from growing.
Store oiled cheese in an airtight container inside the fridge. If there is any mold growth, it is likely on the oil and not the cheese itself.
However, we don't recommend eating soft cheese with mold growth. Hard cheeses allow you to cut the moldy parts off and eat what remains.
Cooking with Cheese
Cheese recipes don't have to be too intricate. Allow the cheese to speak for itself and savor its flavor. Consider making a two-ingredient, cheesy snack instead of a fatty meal that takes hours to cook.
Heat your kitchen's oven to 350°F and line a baking sheet with a single layer of parchment paper. Use a tablespoon and spread out small, even piles of parmesan across the parchment paper.
Flatten the cheese piles with your hand before sprinkling some dried basil over each one. Bake the cheese for five to seven minutes or until they look golden brown around the edges and are just starting to crisp.
Remove the hot parmesan crisps from the oven and allow them to cool before eating.
We don't know about you, but we certainly don't want to live in a world without cheese. Proper storage is the best way to get the most out of your groceries.
Cheese, in general, has a relatively good shelf life. Still, that doesn't mean that we shouldn't find ways to make it better.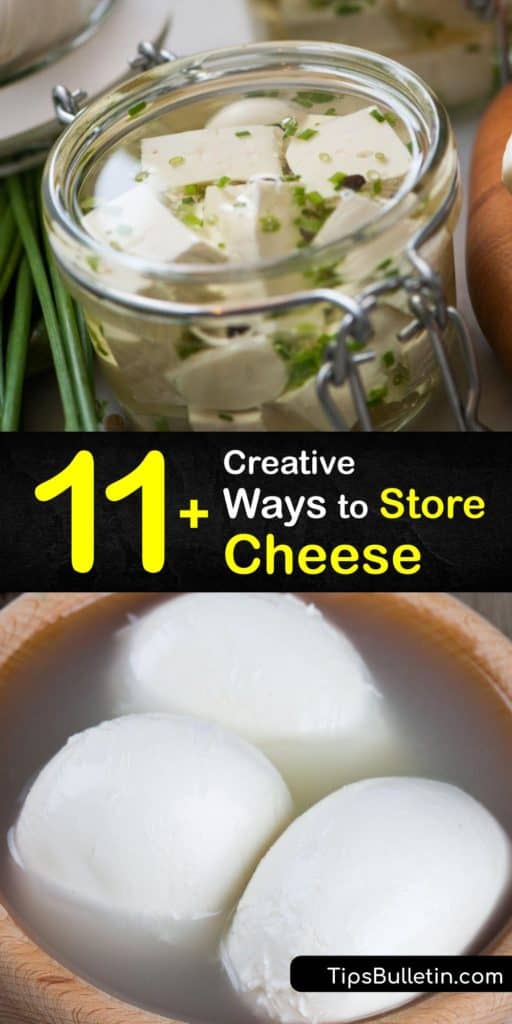 If this article perfectly explains how to store cheese, share these unique methods for storing cheese on Facebook and Pinterest.