Coconut milk is a popular alternative to cow's milk, known for its sweet flavor and health benefits, despite being high in calories and fats. Cooks commonly use it in Asian cuisine, including curries and soups, smoothies, and baked goods. If your recipe only requires a little of this liquid, you might wonder how to store coconut milk.
The best way to store coconut milk depends on the type of milk and on whether the package is open. Canned coconut milk tends to be thick and only suitable for cooking.
A carton of coconut milk may be shelf-stable or need to be refrigerated, when people often consume it as a beverage. Homemade coconut milk has a short shelf life. You may also come across coconut milk powder, which is evaporated coconut milk.
Coconut water, coconut cream, and cream of coconut are separate products. Coconut water comes from the center of immature coconuts.
Coconut cream has a higher fat content than coconut milk, while cream of coconut is a thick, sweet product often used in cocktails.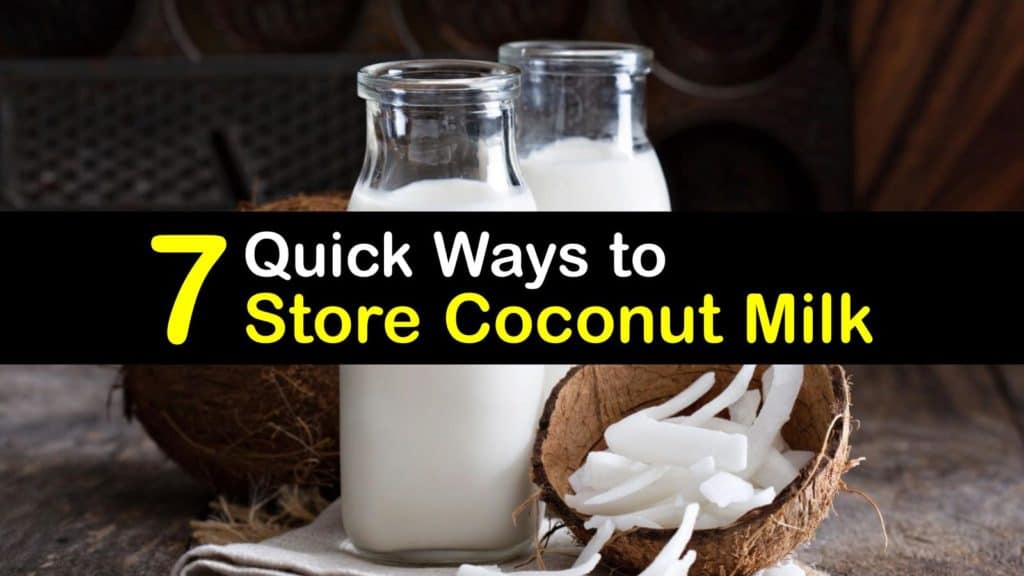 Tips for Storing Coconut Milk
While it's important to know how to preserve fresh cow milk, it's also essential to learn the best ways to store other types of milk, too.
Maybe you are making a Thai curry, smoothie, or soup. The coconut milk may be from a can, carton, or fresh coconut. Whatever the situation, you want to know to keep your coconut milk fresh.
Does Coconut Milk Go Bad?
Coconut milk does go bad, although the speed with which it spoils depends on the storage location and method. Does canned coconut milk go bad? A sealed can of coconut milk lasts for months longer than an open container.
It's generally safe to eat coconut milk for several weeks after its expiration date if it does not display signs of spoilage and the package is undamaged. Toss the can if it's leaking, rusting, dented, or misshapen.
Just like with coconut milk, you can tell if almond milk is bad by using your senses.
Coconut milk that's going bad loses its sweetness and may acquire an "off" taste. Canned coconut milk often starts to taste tinny and stale. It's not a problem if coconut milk separates and the fat rises to the top of the can. Simply shake or stir to combine.
How to Store Coconut Milk that's Unopened
Keep unopened coconut milk containers in a dark, cool spot that's not too humid, such as the pantry. Humidity encourages mold growth. You can even store coconut milk in the fridge before opening the container.
It's fine, however, to store sealed, shelf-stable coconut milk cartons outside the fridge. Soy milk shelf life is similar to coconut milk. Soy milk that is unopened lasts about the same as packages of coconut milk.
An unopened can of coconut milk lasts two to five years before going bad. Make sure that the milk seems safe before using it.
Storing Coconut Milk Cartons Once Open
Regardless of whether they were refrigerated when you bought them, keep opened cartons of coconut milk in the fridge, including coconut creamer for coffee.
Opened coconut milk containers start going bad at room temperature. Avoid storing them in the door of the fridge since that area is too warm.
Expect a carton of coconut milk to last for seven to ten days in the fridge. Thinner milk lasts about seven days, while thicker milk tends to stay fresh for closer to ten days.
Coconut milk from the refrigerated section at the grocery store may last longer since it often contains more preservatives.
How to Store Opened Cans of Coconut Milk
Having to deal with leftover coconut milk is a common issue, given that many recipes only require a partial can. Cover the top of the can with aluminum foil or plastic wrap, then place it in the fridge.
Keep the container away from strong-smelling foods like cheese and meat. Coconut milk takes on the flavor of surrounding foods.
As long as you refrigerate the can continuously—meaning that you leave it in the fridge the whole time—expect the coconut milk to stay safe for four to six days. You might need to stir or shake the container before using the coconut milk.
Storing Coconut Milk in an Airtight Container in the Fridge
Leaving it in the can is not the best way to store coconut milk once opened since it may develop a tinny flavor. Try transferring the liquid to a clean plastic container or glass jar.
Store fresh coconut milk made with a nut milk bag in an airtight container as well. Homemade coconut milk does not last long, especially if you make it from a whole coconut.
How to Store Coconut Milk Powder
Powdered coconut milk is a relatively new product convenient for camping trips due to its light weight. Vegans and others avoiding dairy milk should read the package carefully since some coconut milk powder brands contain a milk derivative.
Combine the powder with hot water according to the package directions. Add more water for thinner coconut milk and less water for thicker milk.
Reseal the packet, close it with a clip, and store it in an airtight container. Coconut milk powder keeps for several months.
Freezing: The Best Way to Store Coconut Milk Long-Term
Freeze coconut milk once opened to extend its shelf life to several months. Frozen coconut milk's quality gradually decreases, but it's often good for at least three months. Frozen milk is best for cooking or baking since it turns grainy and loses some of its flavor.
Pour the coconut milk into an airtight container, such as a plastic container or resealable bag. Leave a half-inch gap at the top since the liquid expands as it freezes.
To make your life easier when it's time to defrost, portion the coconut milk out into quantities that you might use for recipes. Label with the amount and date, and seal well before placing the containers in the freezer.
Freezing Coconut Milk in Cubes
Using an ice cube tray lets you access smaller amounts of frozen coconut milk. Try adding coconut milk cubes directly to smoothies or soup.
Pour leftover coconut milk into the holes in the tray, then stick the mold in the freezer. After the milk hardens, which should take several hours, transfer the cubes to a freezer bag. Return the bag to the freezer.
Thawing Frozen Coconut Milk
If you're storing coconut milk in the freezer, you need to know how to defrost it. Note that defrosting causes the proteins and fats in coconut milk to separate. Blend the thawed milk for 30 to 60 seconds with an immersion blender, or shake or whisk it vigorously.
If you think of it, remove the container of coconut milk from the freezer several days before you plan to use it. Frozen coconut milk can take four to five days to thaw in the fridge. The cubes defrost overnight.
If you're in a hurry, heat the coconut milk on defrost in the microwave for 15 seconds, then stir. Repeat the process if necessary. Ensure that the container is microwave-safe.
Alternatively, soak the container in lukewarm water on the counter or in the fridge until the milk thaws. Replace the water if it gets cold.
You now know the answers to all of your store-coconut-milk questions, like where to store coconut milk after you open the can and how to freeze coconut milk. The best way to store coconut milk is one question without an easy answer.
Keep the liquid in the fridge or freezer, or even try coconut milk powder to stop this delicious milk alternative from going bad. Learn how to store coconut milk in different situations to feel confident adding it to your sweet and savory recipes.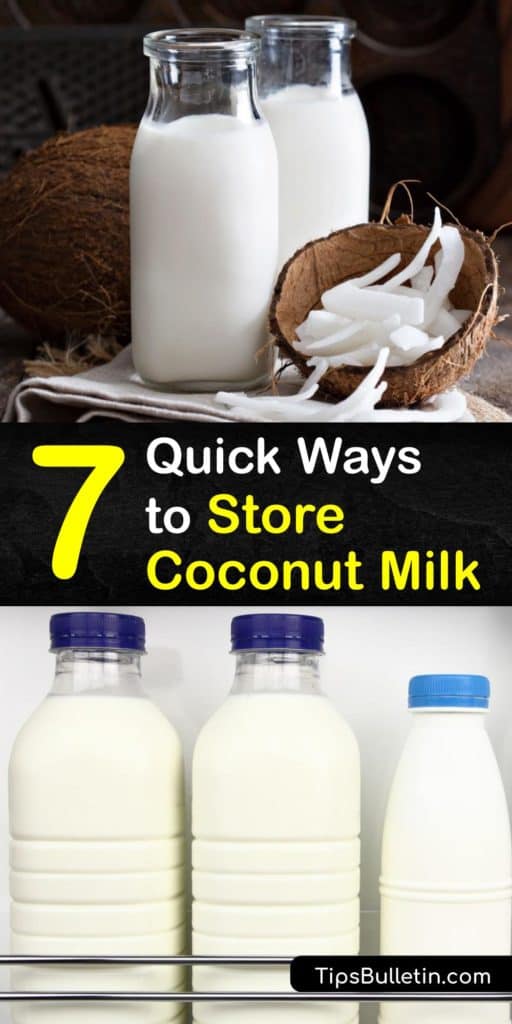 If you found these coconut milk tips helpful, please share this food storage information with your friends on Pinterest and Facebook.