Coffee beverages have taken the world by storm and are among the most popular drinks. As more people fall head over heels for the brewed beans, the best coffee comes from places that know how to store it properly. When choosing how to store coffee beans, there are various factors to take into account.
Roasting and storing coffee is now considered to be more like an art form. People are continually trying to figure out how to store ground coffee to make a mean cup of joe.
For many people, going out to Starbucks and other coffee shops daily is way too expensive.
When we find ourselves in this coffee dilemma, we have to turn into a barista and educate ourselves on the world of coffee, including whole bean coffee, ground coffee, espresso, specialty coffee, and our favorite type of latte.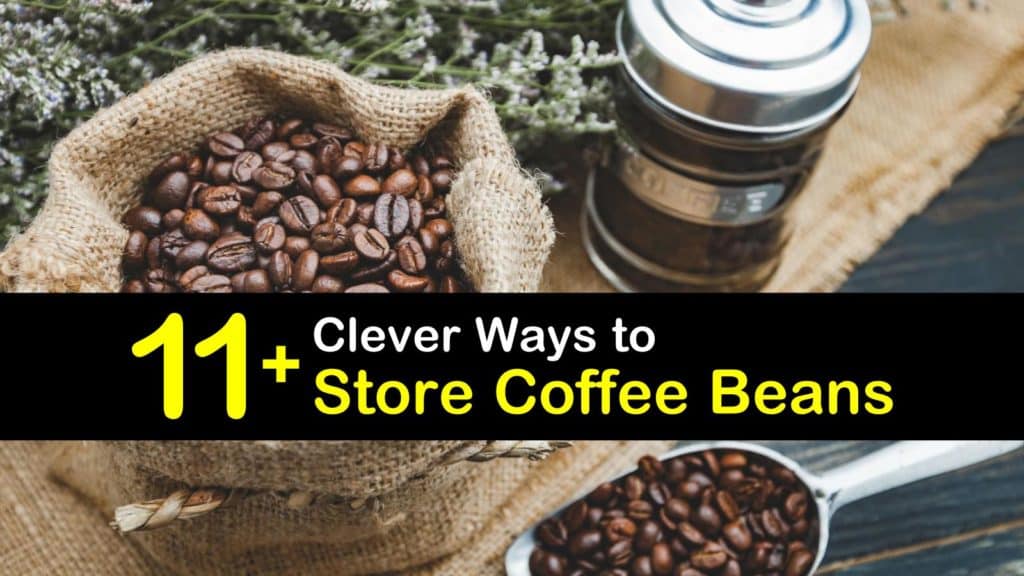 Finding Fresh Coffee
Coffee beans are recognizable by most people worldwide because that's the form we most often see them in. Not all people have the luxury of seeing what a coffee plant looks like.
Coffee trees are covered in waxy green leaves with small coffee cherries that grow along the branches and white flowers. The trees live up to 100 years and produce about ten pounds of coffee every year.
Coffee beans come from the seeds inside the fruit, and there is typically only a single bean found inside each piece of fruit.
Tremendous amounts of work go into the care and harvesting of coffee beans, so appreciating where your coffee comes from makes it taste all the more enjoyable. How long is coffee good for? Coffee beans slowly lose their freshness only after the roasting process happens.
Although roasted whole beans keep their flavor for about three weeks, they go stale due to oxidation and carbon dioxide releasing from the beans. After removing the beans from the roaster, coffee makers wait three days before they reach their best coffee flavor.
What about after you make your coffee? Can you freeze brewed coffee? Sure. Ice cube trays and the freezer work well to store freshly brewed coffee.
Tips for How to Store Coffee Beans
Keeping the flavor in your coffee supply is essential if you start making coffee at home. There is a reason that coffee is so much better from a shop than your house.
Making coffee taste delicious has as much to do with knowing how and where to store coffee as it does with the bean itself. If you're a homebrewer, check out this list of tips on storing coffee that make you feel like a professional barista.
Keeping Coffee Beans Whole
If you buy coffee, your best bet is to buy whole beans compared to the pre-ground store coffee. Once you break the beans, the coffee starts oxidizing at a much faster rate. Does ground coffee expire? While it doesn't spoil like other foods, ground coffee definitely has a time frame where it tastes better.
Buying a coffee grinder and grinding them just before you brew them is one of the easiest ways to make your coffee taste fresh.
Factors for Storing Coffee
Coffee has enemies that jeopardize the taste of the bean. According to the National Coffee Association, air, moisture, light, and heat all play a role in your coffee beans' flavor and there is no difference between espresso beans and coffee beans for storage purposes.
Coffee storage should always occur in a location where they aren't affected by these factors. Make sure to set them in a dry, dark place if keeping them at room temperature. The beverage tastes sweeter and brings back the life of your coffee.
Check the Roast Date
Coffee always requires a couple of days of rest after roasting so that some of the carbon dioxide gas created in the coffee roasters has time to sit. Always check the roast date on the original packaging of the coffee container or coffee bags.
How to Store Ground Coffee
When searching for the best way to store coffee, pay attention to what the coffee comes in. Thin paper bags expose the beans to more air, while an airtight container like a coffee canister or bags with a one-way valve keeps more air out.
If you purchase coffee from paper bags, the way to keep coffee fresh is to move it into airtight storage containers to extend its shelf life. One of our favorites is the Airscape coffee canister sold both in-stores and online.
Keep Old Beans
In an ideal world, we would all purchase freshly roasted beans in a small quantity so that we run out right before our scheduled trip to the store. Unfortunately, we all find ourselves in situations where we bought too much, and our beans go stale.
When this happens, save your beans for making a cold brew coffee until you run out. Old coffee works well for cold brew coffee and tastes just as good as freshly roasted beans.
Avoid the Freezer
The worst thing you could ever do to your coffee is to put it in the freezer. Just like how frozen veggies never taste quite the same as fresh ones, frozen and thawed coffee beans drastically alter the flavor of the coffee later.
Keeping them out of the freezer also prevents freezer burn and throwing away your entire coffee supply. On top of that, coffee may absorb other flavors and odors from the freezer.
It's best not to freeze coffee beans but if you already have some and want to use them right away, make sure to always thaw them before roasting.
Don't Store Coffee in the Fridge
When learning how to store coffee beans, another spot for you to avoid is the fridge. Although it's often advised to keep coffee away from heat, the refrigerator often isn't cold enough to make a huge difference compared to storing them at room temperature.
If anything, the coffee beans are exposed to too much moisture and make them spoil faster.
Of course, the fridge is one of the best ways to store brewed coffee until you are ready to drink it. You could also freeze the coffee in ice cube trays.
Safe Coffee Containers
Finding a coffee container is an essential purchase if you enjoy the taste of fresh coffee. Buy a container made from non-reactive materials. Ceramic and glass are excellent storage options but steer clear of transparent materials.
Although some people like to look at the beans, the light may impact the flavor. Above all else, make sure the container is airtight. Keeping air away from the beans is the most critical step for proper storage.
Roast Your Coffee Beans
If you like having the best of the best for your morning drink, roasting your own coffee beans is a skill that some people enjoy learning. Raw or green coffee beans maintain their flavor for about a year.
It's only after roasting that they go stale. Also, roasting beans at home allows you to experiment with flavors so you can create a cup that tastes exactly how you like it.
Preheat your oven to 450°F and place the colander in the fridge. Put a single layer of aluminum foil over a baking sheet and put the veggie steamer in the center of the sheet.
Spread the beans out across the center of the steamer's surface area so no beans overlap one another. Place the green coffee beans in the oven for three minutes.
Stir the beans and cook them again, stirring them every three minutes. After about ten minutes of roasting, listen for the beans to start to pop.
Once the popping sound slows, put the beans in the cold colander and move them around so the beans cool. Once the beans reach room temperature, place them in an airtight container or coffee canister. Wait two days before grinding any of the beans for a hot cup of coffee.
Keep Beans Away from Heat Sources
Heat is one of the enemies of coffee beans, and it's a smart choice to keep your coffee away from all heat sources.
The oven is an obvious conveyer of heat, but our kitchens are full of heat-producing electronics. It might seem silly, but coffee makers also produce heat and shouldn't get placed too closely to coffee beans.
The Best Spot for Coffee
One of the safest locations for ground coffee and whole coffee beans is in a dark cupboard in the kitchen.
Basement storage locations often have too much moisture, while the kitchen counter exposes them to too much light. Cabinets are at room temperature, free from light, and often away from the heat of the oven.
Don't Use Soap
If you're desperate for a coffee with extra flavor, try not to use soap when washing your coffee mugs.
Rinsing them in hot water is enough to remove the old coffee while still killing lingering bacteria. Putting soap in your mugs alters the flavor of your coffee if any traces are left behind.
After learning how to store ground coffee, we bet you're excited to try brewing coffee at home to save some money.
Coffee is a morning pick-me-up for adults everywhere around the world, and the sweet but bitter flavors are something that we can't get enough of. When storing coffee, do everything you can to ensure that you're getting the freshest cup of coffee possible.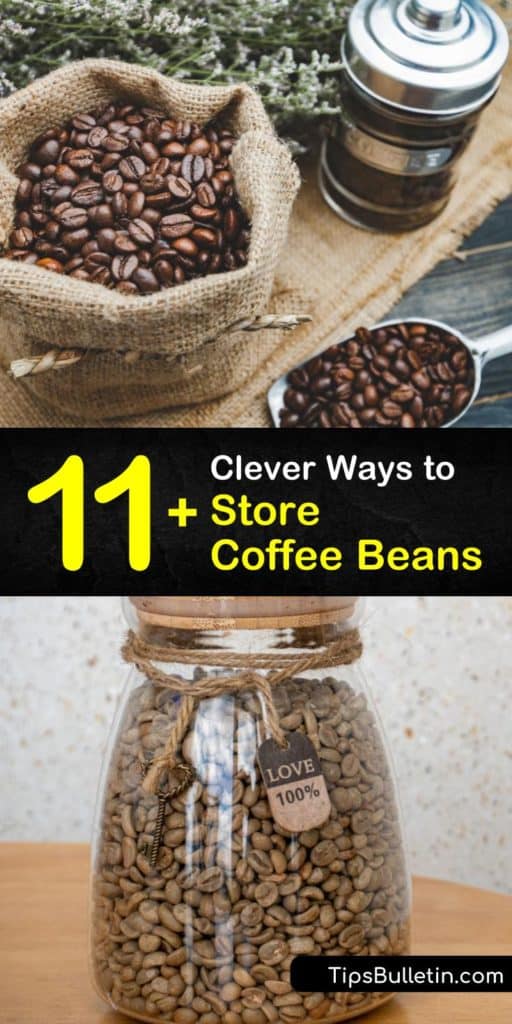 If you found that learning how to store coffee beans made your morning drink more flavorful, share these tips about storing coffee on Facebook and Pinterest.