It's easy to sweeten up our desserts and drinks when we have a can of condensed milk or evaporated milk on hand. Canned milk is cow's milk with the water removed. Because this product doesn't typically get used daily, knowing how to store condensed milk is an essential piece of knowledge.
Storing condensed milk properly could keep you and your loved ones from getting sick. Food safety is crucial because harmful bacteria grow when the environment isn't right or when canned food is damaged.
Botulism is one of the most dangerous bacteria types and causes extreme illness and sometimes even death. Finding the best way to store condensed milk is easy as long as you follow some basic rules.
Whether using unsweetened condensed milk, sweetened condensed milk, or evaporated milk, there are several safe locations for open cans and unopened cans.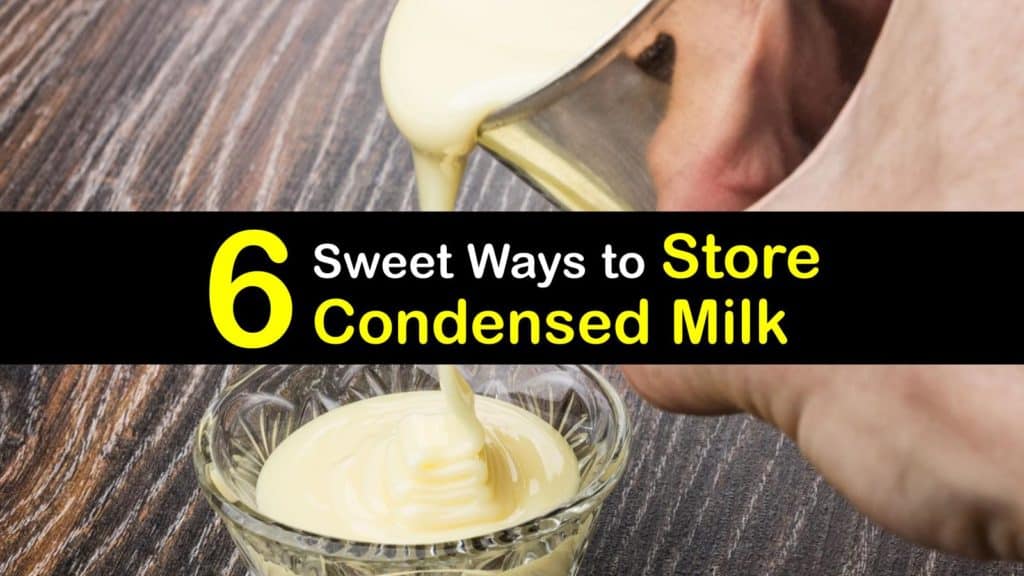 Selecting Condensed Milk and Other Canned Food
Choosing a brand of condensed milk is all about preference. Borden and Eagle brands are some of the most popular brands for these dairy products, but there are dozens of other labels to choose from.
There are several purchasing practices to understand before you learn how to store condensed milk, which are different from the shelf life of powdered milk and some other varieties. Cans and containers that are swollen or punctured must be avoided at all costs.
Swollen cans indicate that gases are releasing from spoiled milk inside and are building up in the can. Dented cans are another thing to dodge.
While a small dent might seem minor, botulism poisoning is common from dents and broken seams. This rule doesn't only go for dairy products and canned coconut milk. Use these guides for all canned foods you buy from the grocery store.
Storing Condensed Milk
How long does condensed milk last? How long is powdered milk good for? Proper storage techniques allow all types of milk to have an increased storage life.
Making condensed milk last as long as possible is something that most people try to do. Condensed milk is a thick, sticky milk concentrate. Additional sugar is required to make it taste sweet.
Although a high sugar content isn't ideal for health, many desserts benefit from this creamy liquid.
Ice cream, cheesecake, fudge, and Vietnamese coffee are only some of the delicious treats made from leftover condensed milk. Keep reading if you're ready to learn where to store condensed milk to make it last.
How to Store Condensed Milk
Finding the best way to store condensed milk isn't too challenging because there are only so many places that safe food storage allows you to put it.
As long as cans aren't damaged, storing the cans at room temperature or in a cool and dry place is safe. Keep the preserved milk cans away from heat, sunlight, and areas with high moisture.
How long can milk stay out of the fridge? If the milk can or carton is unopened, it can last for several months. Check the "best by" date.
The Best Way to Store Condensed Milk that is Already Open
Depending on the size of the can, you might have some leftover condensed milk that you're not ready to part with. If this is the case, store condensed milk in the fridge.
Pour the remaining liquid into an airtight container or resealable jar and keep it in the refrigerator for three to four days before using it.
Don't refrigerate open cans without some sort of lid, or the milk soaks up nearby odors. If you don't have a plastic container to store it in, place plastic wrap or aluminum foil over the opening of the can to extend the shelf life.
Can You Freeze Condensed Milk?
The one downside to freezing dairy products is that they tend to separate. If you don't plan to use the condensed milk before it goes bad, the freezer might be your best option. How long can you freeze milk that is condensed? Put the milk in an airtight container and store it in the freezer for up to three months.
You can also store fresh coconut milk in the freezer, as well as almond and soy milk. Be sure to use airtight containers for the best and longest-lasting freshness.
How to Tell if Condensed Milk Went Bad
Does sweetened condensed milk go bad? Almost all foods aren't safe to eat after a certain period. Always double-check the expiration date or best before date printed on the can before using it.
If the can is already opened, the color, smell, and texture are factors to look at to determine freshness. Condensed milk is creamy yellow and has the consistency of chocolate syrup.
If the color, smell, or texture seems a little off, it's best to throw the milk out and start with a fresh can.
How to Make Homemade Condensed Milk
Purchasing condensed milk by the can may seem easier to some people, but it's possible to make some at home with minimal tools and ingredients. This recipe adds sugar for sweetness, but omit the sugar if you prefer unsweetened condensed milk.
Add the whole milk and white sugar to a saucepan with a heavy bottom. Stir the ingredients and heat the pan over low heat until the sugar dissolves. Bring the solution to a simmer over medium-low heat so it doesn't burn.
Do not mix the milk while simmering, or it might crystalize. After 35 minutes, the milk turns a darker cream color. Use a regular metal spoon to skim off any foam floating on top of the liquid.
Turn the burner heat off. Pour the condensed milk into a jar and let it cool to room temperature. Store fresh condensed milk in the fridge for a few hours to thicken. Keep your homemade condensed milk in the fridge for up to three days.
DIY Dulce de Leche
Did you know you can turn a single can of condensed milk into dulce de leche? Dulce de leche is a Mexican treat that tastes like caramel and butterscotch combined.
It is the perfect topping to nearly all desserts, but our favorite is serving it over vanilla ice cream. Grab a 14 ounce can of sweetened condensed milk and remove the label from the tin.
Put the can in a large pot and cover it with water so that there are two inches over the top. Bring the water pot to a boil over high heat and then reduce the heat to low and simmer for two hours.
Check the pot every 30 minutes to ensure that enough water remains to keep the tin covered.
Use tongs to remove the hot tin from the water and let it cool to room temperature before opening it, or let the can sit at room temperature for up to three months unopened.
Condensed milk might not be the first ingredient that comes to mind when you think of delectable desserts, but this product is responsible for some of the most mouthwatering dishes we know and love.
As long as you keep your condensed milk cans free from damage and check the expiration dates, you'll be able to turn them into something that all your friends and family will devour.
If learning how to store condensed milk prevented you from wasting food, share tips for storing condensed milk on Facebook and Pinterest.