Onions are versatile and delicious additions to any meal; the distinctive flavor of onions adds life to our casseroles, stews, soups, and more. But when we cook with onion, we often find ourselves with leftover pieces that require storage. Knowing how to store cut onions saves you money and ensures you always have onions ready to use.
When you have a reliable option for storing chopped onions, you'll never have to endure a bland meal again. This guide shows you how to preserve onions after cutting them open.
We give you tips on how to store half an onion and the best ways of keeping chopped onions fresh with both short and long-term storage choices. We close by letting you in on one of our favorite recipes that include stored cut onions. With our assistance, you'll save money and enjoy tastier meals.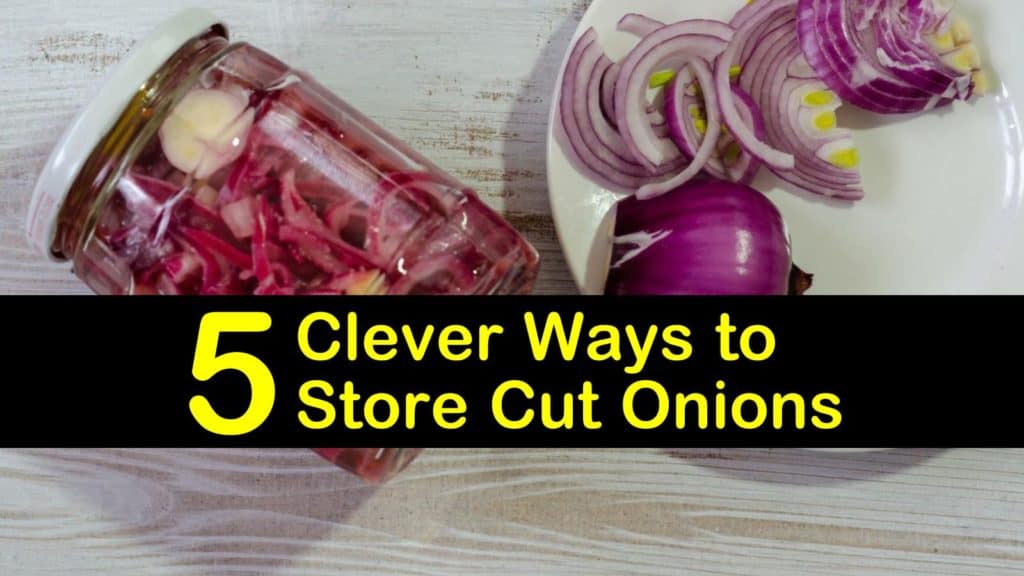 How to Preserve Onions
Most of the time, when you have cut onion pieces that require storage, you want them ready for whenever you crave a little onion flavor in a meal. You have several options for where to store onions so they are ready for easy use.
Your refrigerator is your best bet for these situations. Refrigerating cut onions keeps them at temperatures that inhibit bacteria growth and ensures they'll still be crisp and delicious when you want to use them.
Refrigerating Cut Onions
This section looks at how to store cut onions in the refrigerator. You'll get tips for preserving half onions and chopped fresh onions, so they remain as tasty as when you first cut into them.
According to the National Onion Association, sliced raw onions last for days in the fridge and stay fresh (..). We take advantage of this fact and help you find a quick-storage option that works for you.
How to Store Half an Onion in Plastic Wrap
We've all had the experience of taking yellow or red onions and slicing the whole onions in half on a cutting board and using part of them. What do you do with the other half? Sweet onions and other onion varieties are too yummy and valuable to discard, so find an option that maximizes their storage life and gives you time to use them.
That's where plastic wrap comes in. Once cut, onions require a lack of air to stay fresh, and plastic wrap is perfect for that need. Take the half an onion, and make sure it is healthy and unspoiled.
Wrap the onion well; make sure to cover every bit of it and not just the cut side so that air doesn't get to the interior of the onion. Store the onion in a darker area of your fridge to prevent sprouting.
When you pull the half onion out to use it, check the outer layers for dark spots and evidence of bacteria or mold before cutting into it. A plastic bag can substitute for plastic wrap, but make sure it's airtight, and never store sliced onions in mesh bags. Use this method to store cut shallots and scallions, too.
Put Chopped Onions in an Airtight Container
When you prepare a meal and chop onions, it's easy to cut too many of them. It's essential to get them out of room temperature and store them safely in the fridge as soon as possible to keep them fresh.
Cut onions are more vulnerable to contamination than half or whole onions, and they require care to keep them fresh and healthy. Airtight and sealed containers such as plastic bags are perfect for storing chopped onions and ensuring that they come out happy and delicious.
Place the chopped onion pieces in an airtight container, and remove the air from the container before sealing it. The less air you leave in the container, the longer the leftover onions last, so it's worth getting out as much air as possible.
Label the container with that day's date. How long do onions last when prepared this way? Your onion pieces should have a shelf life of seven to ten days, but always inspect the refrigerated onion for contamination and discoloration before you use it to ensure optimum freshness.
If you have an abundance of green onions rather than cut ones, you can also keep green onions fresh in the fridge. Add the green onions, bulb-side down, to a jar with a little water in the bottom and you'll have fresh green onions for several days.
Follow the same procedure as the best way to store cilantro in the refrigerator, too.
How to Store Cut Onions
Sometimes, you won't be able to use your cut onions within the next week. In those situations, the refrigerator isn't going to be a good option.
Have some ideas ready to go for long-term storage to ensure you don't wind up tossing your leftovers. Fortunately, you have a few ways to store onions that don't involve the fridge.
Long-Term Storage and Use
This section shows you how to keep your cut onions healthy when you don't use them immediately. You'll find instructions for freezing your cut onions as well as a fantastic choice for quick pickling your chopped onions that lets you enjoy them months after you first cut into them.
And, we show you how to use your preserved onions with a tried-and-true recipe to delight your family. You'll be flush with onions all year long with our help.
Freeze Your Cut Onions
If you have onions that require long-term storage, one of the easiest storage processes you'll encounter is to pack them well and put them in the freezer.
Freezing your onion pieces alters their texture and makes them less crisp than when fresh, but they stay as nutritious and tasty as ever, and you can use them in all kinds of dishes.
To freeze onions, dry off the onions pieces with a paper towel, and then place them in a freezer bag or container. Get out as much air from the container as possible to reduce the risk of freezer burn, and label the bags with the date.
Store the containers in the corner of the freezer. To use your frozen onions, place them in the fridge about a day before you plan on using them to let them thaw slowly. Sometimes you can even add the frozen onions directly to a dish and they will turn out fine, too.
Can the Onions
Canning is a time-honored method of food storage, and it'll help you keep your cut onions from going bad.
Get as fancy with your pickling herbs and flavors as you wish, but it just takes a few ingredients and some Mason jars to get the job done. Canning your cut onions keeps them fresh and delicious for months on end.
Put the onion pieces in a colander, and sprinkle canning salt over them. Wait an hour, and then rinse the onions. Boil the vinegar and sugar in a large pot and then add the onions.
After the mixture boils again, simmer for ten minutes, then turn off the heat. Ladle the onion mixture into Mason jars. Leave ½-inch headspace. Use a blunt stirrer to press the onions and remove any air bubbles gently.
Screw on and tighten the lids and rings. Use a jar lifter to place the jars in a pressure canner. Processing time is about ten minutes at 1,000 feet; consult a canning chart to adjust processing time for your altitude (..). Let the jars cool for a day, and then store them in a dark, cool place.
Turn Your Stored Onions into a Delicious Meal
Now that you've got a freezer or cellar full of preserved cut onions, what do you do with them? Your stored onions always work in soups, stews, and other meals, and we have a favorite use for them in vegetarian omelets. The onions add bite and depth of flavor to the omelet and send it out of this world.
Add olive oil to a nonstick pan over medium heat, and sauté the onion for about three minutes. Add the bell pepper and sauté for another minute or two. Remove from heat.
Use a slotted spoon to add the peppers and onion to the eggs and beat well. Clean the pan, and place it over medium heat. Melt the margarine or butter in the pan, making sure it coats the entire surface. Add the egg mixture.
Sprinkle pepper, garlic powder, and salt over the eggs. Let the egg mixture cook evenly until the bottom is cooked but not brown. Fold the omelet in half and serve.
We hope you liked investigating our recommendations on how to store half an onion or onion pieces. Onions are delicious parts of our meals, but when we cut into one, it's necessary to preserve it for future use.
Our guide shows you how to preserve onions and ensures that you'll never go without the delightful flavor of onion in your dinner again.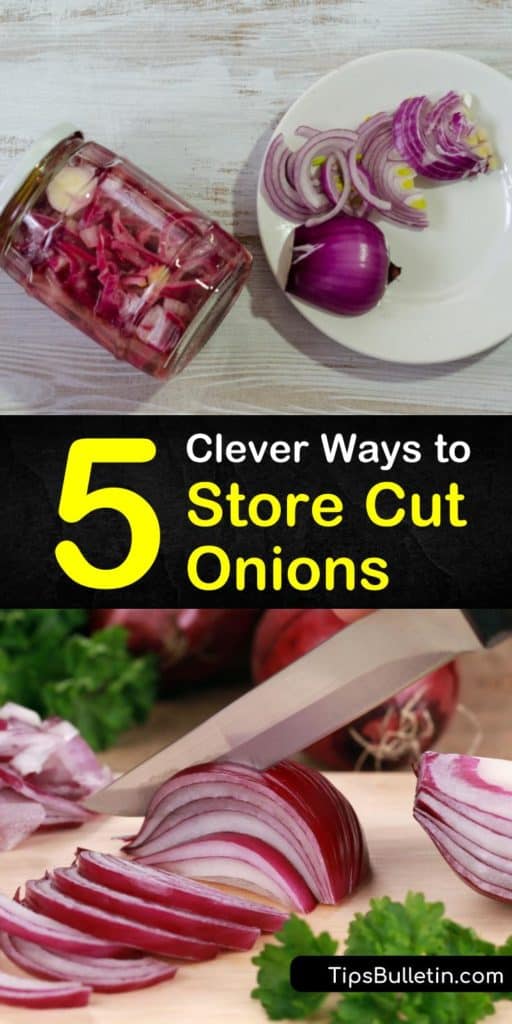 Thanks for reviewing our onion storage suggestions. Pinterest and Facebook are excellent places to share how to store cut onions since you might wish to let others find out about our onion preservation tips as you did.