Daikon is often difficult to find in the grocery store, and discovering them at your farmers market is a treat. This Japanese radish is an essential element in Asian dishes, and knowing how to store daikon properly is key to making delicious food with fresh ingredients.
Daikon, also called the white radish, resembles a white, plump carrot and is a generic name for radish in Japanese.
There are different varieties, including the Chinese radish or watermelon radish with an oval or round shape, light green flesh and pink interior, the Korean variety that is round and short, and the Cantonese lobak that is spicier than the white daikon radish.
The sweet and mildly spicy flavor of daikon radishes is popularly eaten raw in daikon salads, cooked in savory cuisines, preserved as pickles, added to kimchi, or peeled as a garnish.
Grated daikon is juicy and crunchy when raw, and tender and mellow after cooking, and braises well with stock and soy sauce. Daikon has a lighter taste than red radishes, but they are just as easy to store.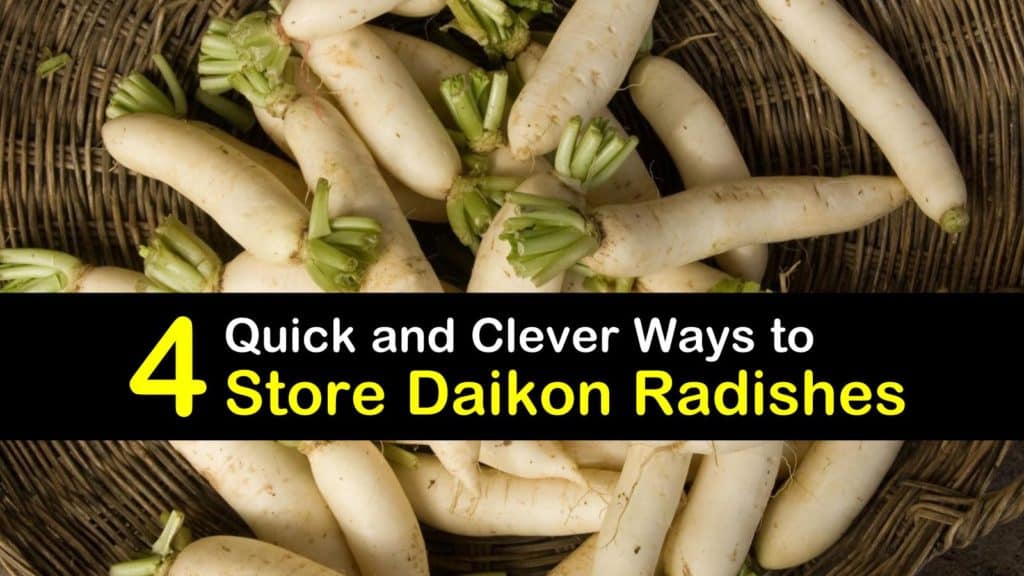 Storing Daikon Short and Long Term
There are a few ways to store daikon, and it all depends on whether you decide to eat them sooner or later. We'll show you a few simple techniques for keeping these tasty delights for storing radishes long term as well as for short periods.
Storing Daikon in the Root Cellar or Basement
This cool-weather root vegetable is one of the easiest to store in the cellar or basement, and storing daikon in this manner keeps it fresh for three months.
Do not wash the daikon and cut away the greens just above where the root meets the stem. Pour damp sand into a box and place the daikon in layers of the sand, making sure none of them touch each other.
Set the box in the root cellar or basement, between 34 and 42°F, and check them periodically for rot.
Best Way to Store Daikon in the Refrigerator
If you don't have a root cellar, the best way to store daikon short term is in the refrigerator. There are a few methods, and they last a week or more in the fridge.
The easiest way to store fresh daikon in the fridge is to clean them, remove the roots and leaves, and cut them into quarter-inch slices.
Place a damp paper towel in a plastic bag and layer the white radish slices between the damp towels until the bag is full, and place it in the fridge. If you do not have a plastic bag, try using dampened paper towels and plastic wrap.
Another method is to pour cold water into a bowl and place the daikon into the water to partially submerge them, leaving the greens out of the liquid. Place the container on the refrigerator shelf and use them as needed, much like you would when you store baby carrots or cut celery.
If you prefer the cold canning jar method, wash and prepare the daikon by removing the leaves and roots, and place them in a clean glass jar. Fill the jar with cold water to submerge them, put the lid in place, and set it in the fridge. Follow the same procedure to preserve cucumber slices until you are ready to eat them, as well.
How to Store Daikon in the Freezer
If you're wondering where to store daikon long term, the freezer is the best choice. However, it's important to blanch the radish first to help it retain color and flavor.
Prepare the daikon by cleaning and trimming the roots and leaves and slicing them into desired sizes. Pour water into a medium or large pot, bring it to a boil, and add the radishes for two to three minutes.
Pour cold water into a container or bowl and add ice cubes. Transfer the blanched radishes to the ice bath for three minutes. Remove and dry them with paper toweling before placing them in a freezer bag.
Making and Storing Pickled Daikon
Pickling daikon is another excellent way to store daikon in the fridge. This condiment is versatile, easy to make, and tasty with a Korean barbecue.
Pour the cider vinegar, water, sugar, and salt into a pot and bring it to a boil for about four minutes before removing it from the heat. Julienne the carrots and daikon and place them into a jar.
Submerge the veggies in the hot brine, close the lid, and let them sit at room temperature for about three hours before transferring them to the refrigerator.
Use this simple recipe as the best way to store shredded cabbage or zucchini, too. Experiment with different vegetables to find the ones your family loves.
Like turnips, the daikon radish is an excellent source of nutrients, high in vitamin C, and delicious served fresh or cooked.
These veggies are easy to store in the root cellar, fridge, or freezer, and pickled daikon radishes are popular condiments for everything from banh mi to steamed rice.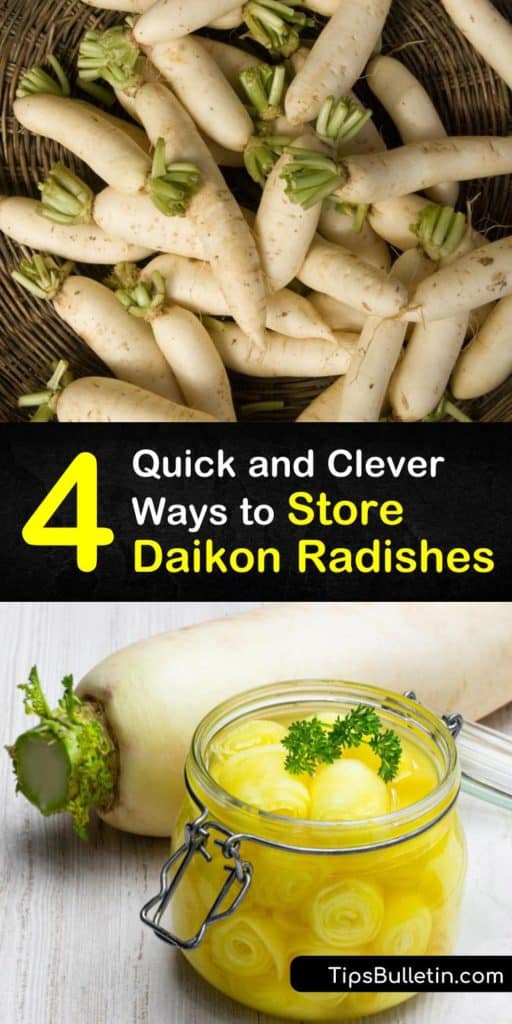 We all love a good root vegetable, and knowing how to store daikon properly keeps them fresh for your favorite cookbook recipes, so why not share our daikon storage tips with your friends and family on Pinterest and Facebook?