Is there anything better than strong-flavored cheese in an otherwise lacking dish? Feta is a tangy Greek cheese that is often served by itself, crumbled over salads, or melted onto a sandwich. This cheese isn't like other cheeses that you toss in the fridge and forget, which often leaves us wondering how to store feta cheese properly.
There are several different routes to take when storing feta cheese. While some work better than others, it's ultimately up to you to decide which path you want to venture down.
If you're interested in preserving feta cheese, there are ways to make it last longer without sacrificing the salty flavor. Like cow's milk products, feta must be stored in a cool place so that it doesn't go rancid.
There is no safe way to keep it at room temperature, but there are some tactics that even professional cheese makers use to keep it fresh. Utilize as many of these store-feta-cheese tips and see which one your tastebuds enjoy the most.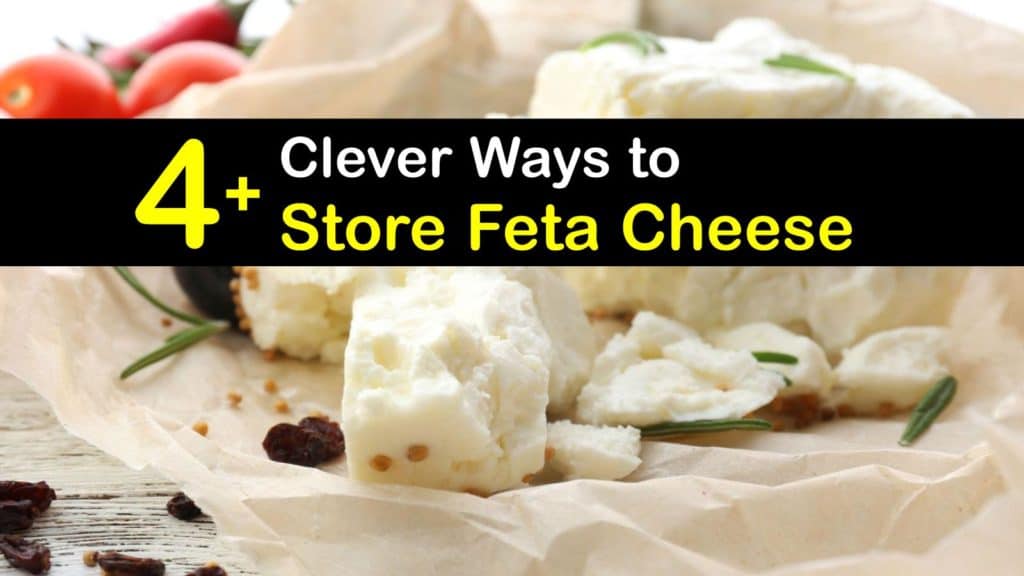 What is Feta?
Unlike when you wonder how long is aged cheese good for, feta is a little different. Feta is a soft white cheese traditionally made out of sheep's milk. However, feta does not have to be made only from sheep's milk. It is sometimes created from goat's milk and cow's milk as well.
Feta cheese has a soft yet crumbly and slightly grainy texture. Soft cheese is very spreadable, and other famous examples of this type of cheese are mozzarella, goat cheese, and blue cheese.
Most people don't know that feta cheese is a product with a protected designation of origin. According to the European Union, this protection means that feta has to be made in a traditional way and only in specific areas of Greece to be considered authentic feta.
Some places make feta-style cheeses, but they don't have the same bite as one made in Greece. French feta is usually milder, American feta is more crumbly, and Bulgarian feta has less saltiness.
Whenever you're shopping for crumbled feta or marinated feta at your local grocery store, trying to seek out the brands that come from Greece, so you know you're getting the real deal.
Like when you freeze grated cheese, storing feta cheese the right way ensures that you get to keep this product in your kitchen for as long as the shelf life allows you.
How to Store Feta Cheese
It's hard to say precisely how long your feta cheese is going to last. Always check the sell-by or expiration dates posted on the packaging that you bought it in. If you're unsure how long the cheese will last, preserving feta cheese is your best option.
You may wonder, "Can you freeze feta cheese crumbles?" Yes, but the texture will be compromised. Frozen feta is best in recipes rather than eating on a cracker.
Like when you wonder can cottage cheese sit out, feta and other cheeses can only remain at room temperature for so long before they start to gather unhealthy bacteria. Proper storage is the key to flavor and safe eating.
Storing Feta Cheese Unopened
How long does mozzarella last unopened in the fridge? Like mozzarella, most feta cheese blocks last two to four weeks in the refrigerator if left unopened. The same is true for the best way to store ricotta cheese or store cream cheese that hasn't been opened yet.
Unfortunately, most people can't resist opening the package of feta once at home to get a taste of its strong bite.
While some brands may put a preservative in the feta, most cheeses won't last past a week if they are already opened.
Even if you set it in an airtight container or plastic container, you'll find that after a few days, you are left with a hard clump of something inedible. This moment is when preserving feta cheese is a valuable skill.
Preserving Feta Cheese in Water
Feta cheese is meant to be eaten within a few days after opening. This timeline isn't always possible, and we can't always eat all of the food in our fridge within a few days.
Instead of wrapping your feta in plastic wrap or a plastic bag, it's best to put it in a sealed container with some plain water. The water keeps the block from drying out and will last up to one week after you opened it.
Making Brine to Preserve Feta
Figuring out how to store feta cheese may be a challenge. Making your own brine solution is a great way to ensure that the cheese doesn't lose its salty flavor, like what sometimes happens with plain water.
To make your brine, create a solution of salt and cold water. Use two teaspoons of salt for every one cup of water. Put the feta in a sealed container and dump the brine over the cheese. This preservation method keeps the cheese fresh for up to ten days.
The Best Way to Store Feta Cheese
Despite the other ways to store feta cheese, the most flavorful and longest-lasting way is to marinate it in olive oil. Olive oil doesn't remove any salt from the cheese, keeps it moist, and adds extra flavor.
Add herbs to the olive oil to marinate your cheese and give it a unique flavor profile. Feta cheese stored in olive oil sometimes lasts up to two weeks and is easy to turn into a weeknight dinner for your friends and family.
Feta-Based Dinners
One of our favorite meals to make is a cheese pie from Greece called spanakopita to celebrate feta cheese's history and origin.
Spanakopita incorporates feta and spinach and is baked in phyllo dough to create a creamy and crisp meal. Try using this recipe for a holiday or as a delicious way to make your children enjoy their leafy greens.
Warm-up your oven to 325°F. In a medium-sized mixing bowl, add the spinach, parsley, onion, garlic, eggs, feta cheese, dill, and two tablespoons of olive oil. Set the filling aside and start to work on the phyllo sheets.
Pour the one cup of olive oil into a small bowl. Dunk a pastry brush in the extra-virgin olive oil and brush the bottom and sides of a large baking dish. Fill the container with two sheets of dough and brush the entire thing with olive oil.
Add another two sheets and brush them again with olive oil. Repeat this process until just over half of the dough gets used. Spread the spinach and cheese mix over the dough in an even layer. Grab two more sheets of phyllo dough and brush them with olive oil.
Continue this layering process with the dough until all of the sheets are gone. Place the baking dish in the oven and cook it at 325°F for one hour or until the crust is crispy and golden brown.
Remove the hot spanakopita from the oven and let it cool before cutting in the squares and serving it.
There's nothing worse than letting delicious food and groceries go to waste. Storing feta cheese in water, olive oil, and brine are some of the easiest ways to ensure that your cheese stays moist and full of flavor without having to toss it in the trash.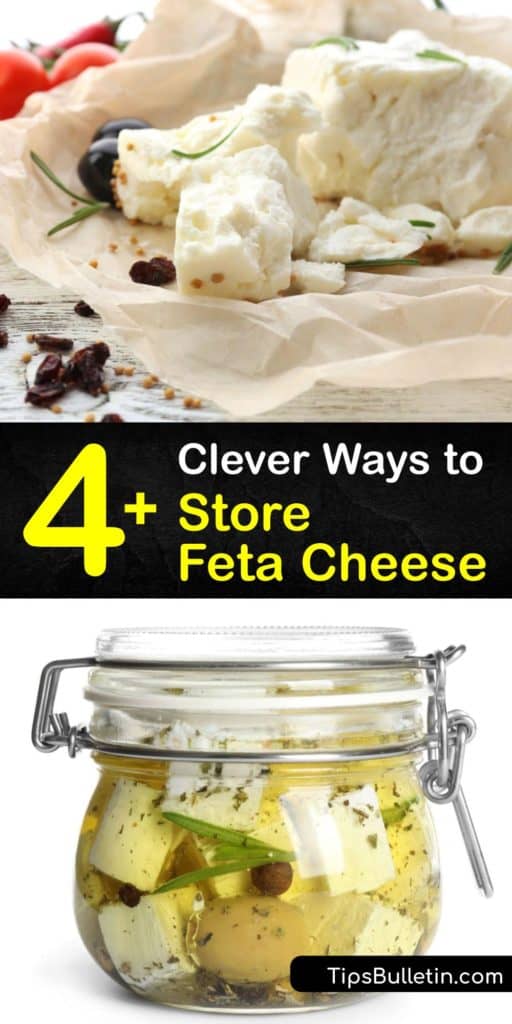 If learning how to store feta cheese has helped you reduce food waste, share these methods for preserving feta cheese on Facebook and Pinterest.