Ginger is a delicious way to spice up some of your favorite dishes, including your stir-fry, rice wine, or even warm ginger-flavored ice cream. In addition to its tasty benefits, it has the added value of lasting much longer than most fruits and vegetables do in the pantry. Knowing how to store ginger properly, however, means you get to enjoy all your favorite ways to partake in this spice even longer.
On its own, ginger lasts about a week at room temperature, though, depending on what method you choose when storing fresh ginger, you might increase that time frame by up to several months.
Whether you want to learn how to store your latest haul from the farmer's market on a short-term or long-term basis, there are many ways to keep your knobby little root fresh and healthy until you're prepared to use it.
If you're ready to uncover the very best way to store a fresh ginger root, then we have all the information you will ever need right here and more.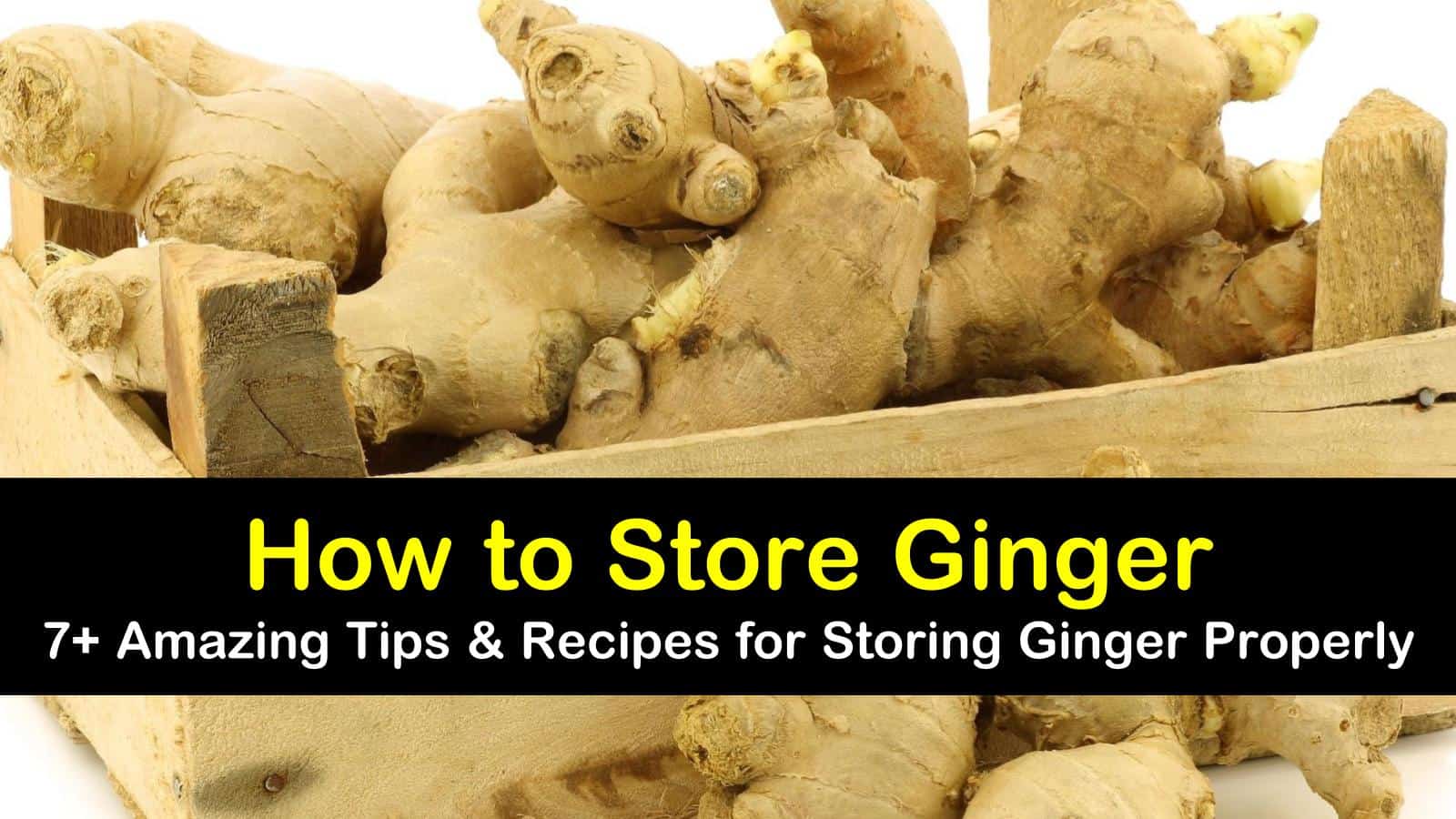 Incredible Tips for Storing Fresh Ginger
While most consumers refer to ginger as a type of root, it is actually a rhizome, also known as a plant stem. This stem provides many incredible health benefits, including reducing inflammation, lessening muscle pain, and relieving nausea. These useful qualities are just some of the many reasons to keep your home stocked with ginger all year long.
Choose Your Ginger Carefully
One of the first ginger storage steps to take before you begin preserving your fresh ginger root is to select the right knobby stem for your home. There is little difference between turmeric and ginger regarding storage. Of course, if you grow ginger root yourself, choosing the perfect one is easy, especially if you know the way to grow ginger in pots indoors.
When you harvest ginger or buy it at the store, the right piece of ginger consists of smooth skin on the surface with a dense, firm interior. If the ginger root feels hollow or soft when you pick it up, it is not a fresh piece.
Equally, if any discoloration appears on the surface of the ginger, it's a good indication not to choose that particular specimen, just like how to tell when celery is gone bad. Ginger is light brown, so any dark spots, bruising, or white, moldy areas mean you shouldn't be taking that piece home with you.
If you can't find the best ginger specimens, learn the substitute for fresh ginger so your favorite recipes are not lacking. Powdered ginger often works in a pinch.
The Best Way to Store a Fresh Ginger Root
Now that you have your fresh ginger, one of the easiest ways to store it safely is by placing it in the fridge, specifically in the crisper drawer. You can even toss the ginger root in a paper bag and set it in the refrigerator this way, keeping it fresh for at least one week.
Otherwise, store your unpeeled ginger root in the crisper in a resealable plastic bag just like you take care of storing asparagus in the fridge for your favorite side dish recipe.
Make sure you eliminate all pockets of air from out of the zip-top bag before sealing it. Completing this step will boost the longevity of your ginger from about one week to approximately one month. Remove small pieces from the rhizome at a time as you need them, rather than peeling all of it at once to keep the rest fresher longer.
Do this using a paring knife or even a grater to take away small shreds during each use. If you've already peeled ginger, or after cutting off any part of the root, soak up excess juice and moisture from the surface using a paper towel to allow for better preservation.
When storing cilantro in the fridge, you can put a bunch, stem side down, in some water in a jar. Cover the top of the herb and the top of the jar with plastic and secure it with a rubber band to the container.
The refrigerator is where to store basil, too, if you will be using it within a few days. Follow the tip for preserving cilantro and you can enjoy fresh herbs in your favorite recipes.
The refrigerator is also the perfect way for how to store fresh eggs from the grocery store. If you buy farm-fresh eggs from an individual, these eggs can be stored on the counter at room temperature for a while.
Store Ginger in the Freezer
Another excellent location to store ginger or to store cooked beets and other types of fruits and vegetables is in your freezer. Similar to preparing your ginger for the refrigerator, place the rhizome in a sealable freezer bag or airtight plastic wrap. The ginger should be placed in the freezer without being peeled and should only be used when necessary.
Freezing allows you to preserve your root for up to six months and maintains that ginger-fresh taste even better than refrigerating, just like when you want to keep ground coffee fresh. To add some frozen ginger to your smoothie, there isn't a need to defrost it ahead of time.
Ginger peels even easier when frozen, so use a vegetable peeler to remove part of the skin before adding to your meal. Next, microplane a few clean shreds of ginger into your blender or whatever culinary dish you plan on making.
How to Store Ginger at Room Temperature
Sometimes the short-term solution is all you need to know to keep your ginger root safe until it's time to use it. You may not be planning on using it instantly, but you know you'll use it in the next day or so. Finding the perfect spot to place your ginger on temporary hold becomes as necessary as increasing its shelf life.
If this is the storage route you want to take, all you need to do is place your ginger root, completely unaltered, in a fruit bowl in your kitchen. Doing this means leaving the skin on, not cutting the root into smaller pieces, and leaving it exactly the way you found it until it's time to use it. Keep it away from moist, humid areas and out of direct sunlight, as well.
Storing Fresh Ginger with Alcohol
When dealing with peeled ginger, one excellent option to increase its shelf life is by adding it to dry sherry or vodka. Even an acidic liquid like lime or lemon juice works well at preserving your ginger root for anywhere from several weeks to three months at a time.
This method will alter the taste of the ginger, but will also provide you with a delicious new way to avoid those natural health benefits the root provides.
Start by cutting your ginger root into smaller pieces, about two to three inches in size. Place the pieces and the sherry in a glass jar for best preservation.
When the alcohol starts to look cloudy, this is an indication that it's time to throw out the ginger. This mixture also works well on its own or blended with other spices and ingredients to form a mouthwatering marinade.
How to Store Ginger Spices
Ginger root isn't the only thing you need to know how to store when it comes to this delicious tasting food. Finely ground ginger spice is another excellent way to add that ginger flavor to almost any creation and lasts for years when stored properly. So, where to store ginger spices, and are they stored in the same way as the ginger root?
The critical thing to remember when storing your ginger spices is to keep them dry. Storing them in a cool, humid-free location like your pantry is ideal. One way to check if your ginger spice is still acceptable to use is to test the aroma. If that pungent ginger scent has faded, more than likely, the savory taste has, too.
Store Ginger as a Tasty Tea
A less conventional way to store your ginger, similar to placing it in alcohol, is to make ginger tea. Ginger tea works wonderfully for soothing gastrointestinal issues like nausea and indigestion. When using the following recipe, your drink will last approximately one month in the fridge.
Peel the leaves from the cilantro stems and chop them up into tiny pieces before mixing them with the ginger in a large pot. Your ginger slices can either have the skin still on or off. It doesn't matter. Add the cups of water and boil for a couple of minutes.
Afterward, allow the tea to cool before serving. This recipe makes approximately two servings of healthy, cleansing ginger tea. So if you want to store more in your fridge for a longer term, then add to the measurements as necessary.
Plant Ginger in a Container for Regular Access
An unconventional option for ginger root storage is to keep your own supply in a container plant. Growing your ginger root indoors means you have continual living storage in your home that doesn't need refrigeration, freezing, or plastic bags.
Instead, the ginger grows in the container, allowing you to cut off a small piece whenever you need it. Purchase a living ginger root from your local garden center or nursery, and plant it in a small pot inside your home.
When growing ginger indoors, soak the root in warm water the night before planting, then nestle it in approximately one to two inches deep of soil. It takes from two to three weeks for your ginger root to produce its first shoots, but it will be worth it in the long run.
Learn How to Pickle Ginger
Another fantastic way to preserve this delicious spice is to pickle ginger. There are many different recipes available. The hardest part is just choosing one!
After reading this article, you should have plenty of ideas about how to store your ginger safely and effectively. No matter which way you choose, make a selection that works best for your lifestyle and situation.
You don't want to sacrifice flavor or convenience if you don't plan on storing your ginger root long term. Even when storing your ginger for a few short days in between uses, you want to ensure it remains fresh and flavorful.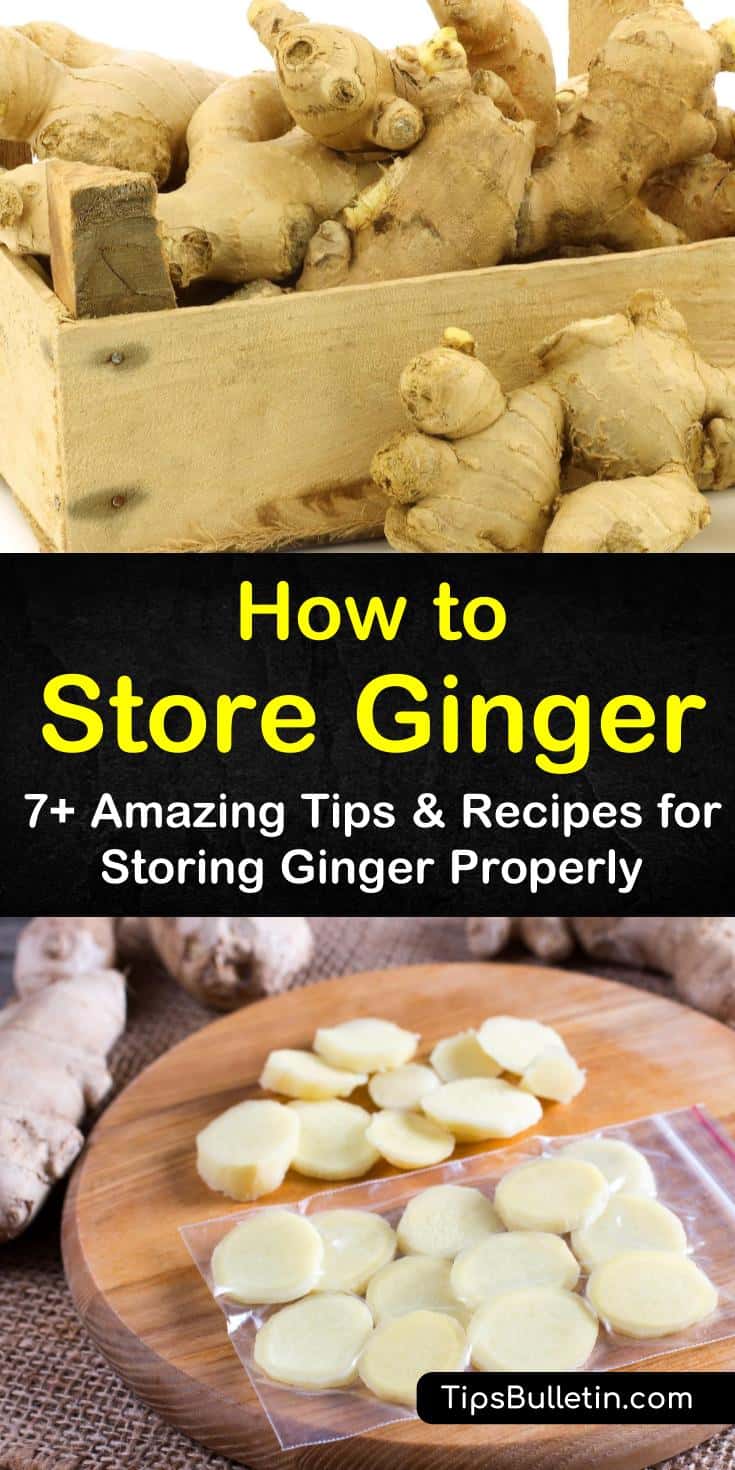 If you enjoyed learning these amazing benefits and methods for ginger root storage, don't forget to share how to store ginger with everyone you know on Facebook and Pinterest.