If you're like us, then you look forward to the time of year when you harvest your veggies such as green beans, zucchini, and tomatoes, or take a trip to the farmer's market. It's essential to store your vegetables properly to maintain their freshness. We'll show you step by step how to store green beans using several different techniques to keep your veggies fresh.
There are different types of green beans, including wax beans, string beans, and pole beans, and there are many ways to enjoy their goodness. Fresh beans taste great in stir fry, stew, casseroles, or as a snack fresh from the garden.
Not only are beans tasty, but they are rich in vitamins C and K if you store them properly. Produce, such as green beans, lose more than a quarter of their nutrients days after harvesting, and using the right storage techniques is essential for preserving their health benefits.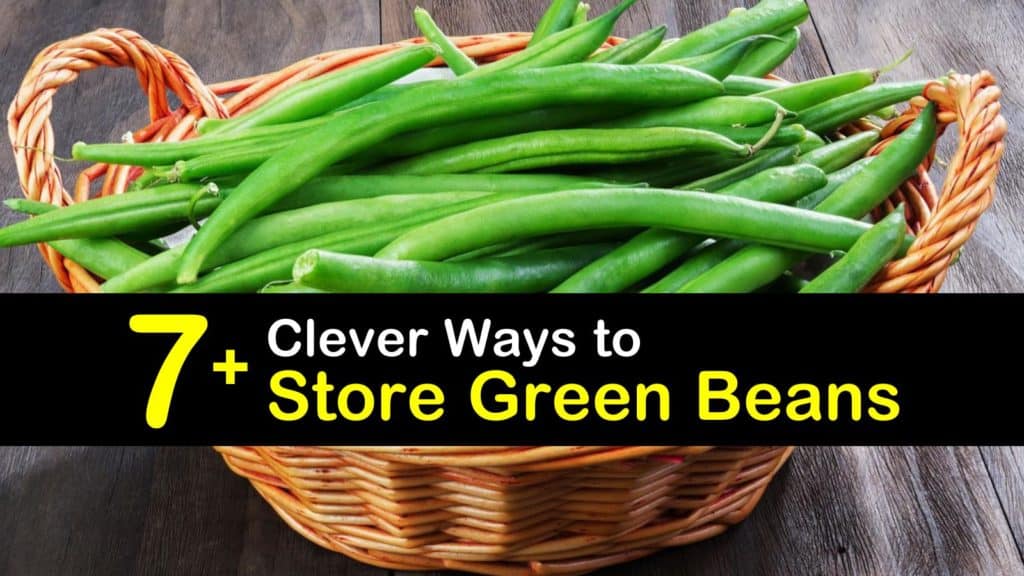 Preparing and Storing Fresh Green Beans
Planting pole beans from seed or other green bean varieties is a fun project but what happens after you harvest them? Vegetable storage is easy if you have a few basic tools and ingredients. Whether you plan to preserve carrots or green beans, you need to start with the freshest produce to end up with a delicious product.
There are several ways to store green beans to keep their vibrant green color, firm texture, and fresh flavor. Save them in the refrigerator if you plan on eating your veggies within a week, or freeze green beans for a few months.
These veggies are also easy to pickle and can for extended shelf life. But first, it's essential to choose the best beans for storage.
How to Choose and Prepare Perfect Green Beans for Storage
Whether you are planting bush beans or buying them, before deciding where to store green beans, it's essential to pick ripe and healthy veggies. Spoiled or damaged green bean pods do not save well, no matter which type of storing process you choose. It's also essential to prepare your favorite veggies properly before storing cabbages, green beans, or tomatoes.
When choosing beans, look for bright green whole beans that easily snap when bent. Choose beans that are relatively the same shape and size for uniform cooking. Avoid beans that are stiff or have blemishes, brown spots, and visible seeds.
There are two ways to store fresh green beans, either whole or cut. If you plan on using them in bean dishes, consider leaving them whole. To add them to stews and soups, remove the knobby ends of the beans and cut them into one to two-inch pieces.
Ways to Store Fresh Green Beans in the Refrigerator
How long are green beans good for in the fridge? While there are many ways to store green beans, the best way to save unwashed fresh beans is in the refrigerator if you plan on eating them within a week. The crisper drawer keeps the beans fresh until you are ready to cook them.
Do not wash the green beans before storing them in the refrigerator, as the moisture causes them to mold. Dry clean them with your hands and wrap them in a paper towel.
Lay the beans flat in a resealable plastic bag, and store unwashed green beans in the refrigerator crisper and refrigerate for up to one week. Make sure to wash the beans before preparing them for a meal.
Can you store onions in the fridge along with your green beans? Yes, but it's not the best place unless your onions are already sliced. Freezing or using a root cellar is best for this special veggie.
When storing vegetables in the refrigerator, it's important to use them before they spoil. Sometimes, we can forget about them hiding in the crisper drawer. Never use a cucumber gone bad or green beans that are discolored or slimy. Toss them.
Storing Green Beans in the Freezer
Storing green beans in the freezer is the best way to keep them fresh for a more extended period than refrigeration, and they last eight to ten months. Here is how to freeze fresh green beans by blanching them to keep them crunchy.
Set a pot of hot water on the stovetop and bring it to a boil. Put the beans into the boiling water and blanch them for two to four minutes, depending on the size. Remove the beans and drop them into a bowl of ice water and cool them for the same amount of time.
Lay the beans in a layer on a baking sheet and freeze them for a couple of hours. Slide the frozen beans into a freezer bag to prevent freezer burn and store them in the freezer for up to ten months.
Freezing is also the best way to store green peppers and a variety of other types of produce. It's easy, fast, and gives you the veggies you need just by opening the freezer.
How to Can Green Beans with a Pressure Cooker
Preserving your veggies by canning them is a great way to keep the pantry stocked with healthy food year round. Canning green beans with pressure cooker is an easy task and only requires a few tools and ingredients.
Wash the beans and snap them into two-inch pieces. Pack them tightly into the Mason jars, add one teaspoon of canning salt to each jar, and set them aside. Bring a large pot of water to boil and pour the hot water over the veggies, leaving one inch of headspace.
Use a knife to remove the air bubbles and screw the lids in place until they are finger tight. Place the canning jars into the pressure canner and follow the instructions for your model.
Process the beans for 25 minutes at ten pounds of pressure. Remove the Mason jars from the canner and allow them to cool for 24 hours before storing them in the pantry.
Making Refrigerator Pickles out of Green Beans
Pickling is an easy way to preserve most vegetables, including green beans. They are sweet and tangy, and this recipe is a quick way to store the pickles in the fridge. Use a mixture of yellow and green beans for extra color.
Wash the beans under running water and trim off the stem ends. Cut them into a size that allows them to fit inside the jar while leaving a half-inch of headspace.
Divide the cumin seeds, mustard seeds, bay leaves, dill, and garlic between the jars and pack them full with green beans. It's easier to pack the jars if you lay them on their sides.
Fill a medium pan with water, vinegar, salt, and honey and bring the mixture to a boil while stirring. Ladle the brine over the veggies and seasoning, secure the jars with lids, and place them in the refrigerator.
The pickled beans are ready to eat in 24 hours and keep in the fridge for up to six months.
Canning and Pickling Green Beans
Having a pantry shelf full of canned vegetables is excellent, but storing pickled veggies along with them brings a little pizzazz to your diet. This pickling recipe is quick and easy and uses a water bath canner to preserve your beans.
Place two sprigs of dill and a quarter teaspoon of pepper flakes into each jar and pack them with the fresh green beans so that they stand on their ends. Pour the vinegar and water into a medium-sized pot and add the garlic clove, and salt.
Bring the vinegar liquid to a boil and remove it from the heat. Pour the brine liquid over the veggies to cover them, leaving a half-inch of headspace. Seal the canning jars with their lids and place them into a hot water bath canner, covered by an inch of water.
Simmer the jars for ten minutes before removing them from the heat. Allow them to cool completely before storing them in the pantry. Enjoy the pickled beans two to three weeks after they ferment.
How to Store Green Beans with a Dehydrator
The fridge and freezer are great ways to store green beans, but a food dehydrator is a handy gadget for drying your veggies for easy storage. Dried green beans last for years if you store them properly, and are easy to add to soups and stews.
Wash the beans in cold water and cut off the ends. Fill a pot with water and bring it to a boil before adding the beans. Blanch the veggies for five minutes and then quickly transfer them to a bowl of ice water to stop the cooking process.
Lay the green beans single layer on the food dehydrator trays. Follow the instructions of your dehydrator and dry them at 125°F until they are crispy.
Check the beans every couple hours and stir them around to speed up the process. Place the dried green beans in an airtight container and store them for two to three years.
Making Canned Vegetable Soup
Rather than storing cans of green beans alone, consider making a batch of healthy vegetable soup to store those tasty veggies. Our recipe includes basic ingredients, but it's easy to switch it up by using different veggies and spices.
Add all ingredients to a stockpot and bring it to a boil over medium heat. Lower the temperature and simmer the soup for 15 minutes. Remove the stockpot from the heat, take out the bay leaf, and add salt and pepper to taste.
Ladle the soup into each jar, leaving one inch of headspace. Secure the lids in place and set the jars in a pressure canner. Follow the instructions for your canner and process the jars of soup for 85 minutes.
There's nothing better than cooking meals from a cookbook using fresh vegetables from the grocery store, farmer's market, or garden. The bright color and fresh flavor of ripe green beans are not only delicious but healthy as well.
Storing these veggies is easy, whether you decide to keep them in the fridge, freeze them, or make a batch of canned pickles.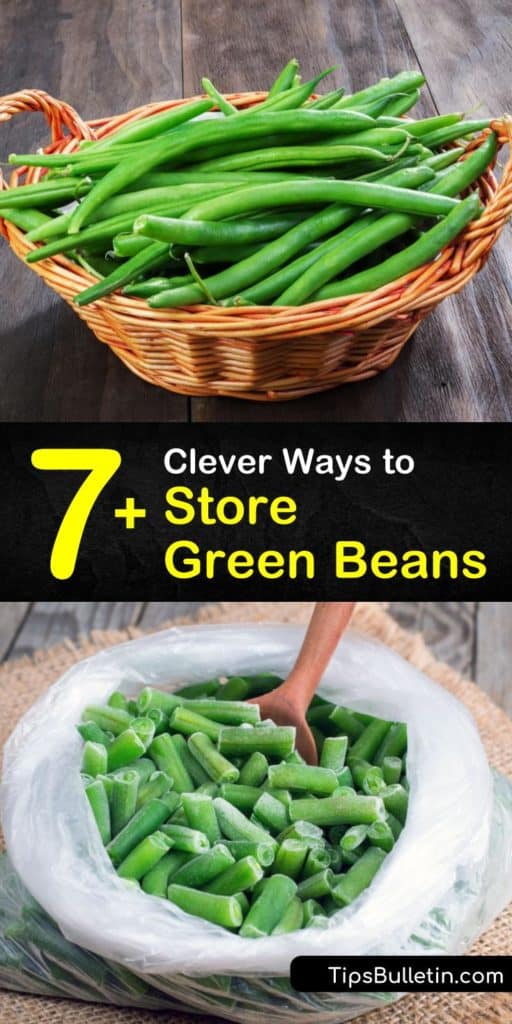 Now that you know how to store green beans to make tasty meals such as stir fry and summer salads, why not share our green bean storage tips and recipes with your friends and family on Pinterest and Facebook?