The only thing more enjoyable than the aroma of fresh-baked bread is a warm slice with crusty edges, slathered with melting butter and jam. From white, wheat, and rye to French, banana, and sourdough bread, home-baked is the tastiest. We'll show you how to store homemade bread of all types and tips for using it after it gets stale.
While homemade bread tastes better by far than any store-bought bread, they do not contain preservatives and have a short shelf life. A loaf of bread from the store lasts well over a week, while fresh-baked bread only lasts a couple of days at room temperature.
The type of storage you choose depends on the kind of bread, whether you have a standard, crusty, or sweet loaf. Keeping bread on the counter too long dries it out, and wrapping others in plastic wrap retains too much moisture, leading to mold growth.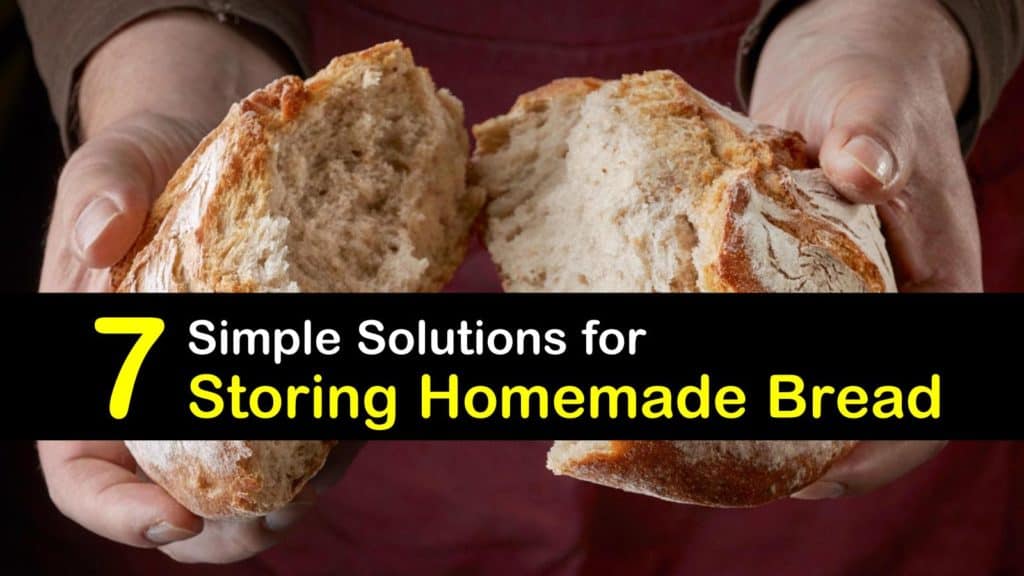 Storing Homemade Bread and Ways to Keep it Fresh
Homemade bread is best eaten on the first day, but this isn't always possible. A loaf of bread loses its texture after a few days and is no longer desirable for eating.
However, there are a few ways to store loaves of bread longer if you cannot eat them right away. Use these tips to keep bread from molding in summer and for enjoying it later.
Best Way to Store Homemade Bread at Room Temperature
The best way to store homemade bread if you plan on eating it within a couple of days is at room temperature, as is storing salami that is cured and uncut. However, there are a few steps to take to ensure your fresh bread maintains its quality.
To store bread at room temperature, do not wrap it in plastic, especially crusty bread like a baguette. Instead, place linen around the loaf and slide it into a paper bag. A bread box is ideal for keeping bread fresh with a small amount of air circulation.
Consider purchasing reusable bread bags to keep your baked goods fresh. These bags are made of breathable material and are an excellent tool for storage.
Never place your bread on top of the fridge or near the dishwasher. These appliances put out heat, drying the bread, or causing it to mold. Re-crisp crusty bread by placing it cut side down on a sheet of foil in an oven preheated to 325°F for around seven minutes.
Store garlic cloves in a dark corner on the counter or put them in the pantry to use whenever you need them.
Storing Homemade Bread in the Refrigerator
While storing eggs in the fridge is commonly accepted as the best place for this food, storing homemade bread in the fridge is not the greatest way to keep it fresh. However, there are times when it is convenient.
Refrigerated bread often appears stale, but this is the result of starch retrogradation and is fine if you plan on making garlic bread or toast.
Refrigerating Bread
Wrap the loaf of bread in a sheet of aluminum foil and place it on the refrigerator shelf. Only slice it as needed and consider using the outside dry pieces to make breadcrumbs or place buttered slices in the oven and lightly broil them.
How to Store Homemade Bread in the Freezer
The most reliable way to store fresh homemade bread for the most extended shelf life is in the freezer. The temperature stops the starch from recrystallizing, and bread lasts for up to six months in this manner.
To keep bread fresh by freezing, let the baked bread cool completely and then cut it into slices. Wrap the whole sliced bread in plastic wrap and aluminum foil, place it in the freezer, and remove the slices as needed.
If you prefer individual servings, place a couple of slices into a freezer bag and stack them in the freezer for three months.
Making and Storing Breadcrumbs from Homemade Bread
Breadcrumbs are a great ingredient to keep on hand for meatloaf and fried chicken, and homemade is always the best. Deciding where to store homemade bread crumbs depends on when you plan on using them.
Cut the bread slices into cubes, place them into a food processor, and blend them until they reach the desired consistency. Pour the crumbs into a container, keep them in the fridge or place them in a freezer bag, and freeze them for no more than three months.
Storing Homemade Banana Bread
Homemade banana bread is a mildly sweet and delicious bread that usually doesn't last long because it's devoured quickly. However, storing banana bread is simple on the counter, in the fridge, and freezer after making more than one loaf.
For storing bread in the freezer, line the bottom of a container, large enough to accommodate the bread, with a sheet of paper towel. Set the cooled bread, flat side down, in the container, and cover it with another sheet. Set the lid in place and keep it at room temperature for up to four days.
To freeze it, wrap the bread three times with a long sheet of plastic wrap and then wrap it once more in a sheet of foil. Place the foil package in a freezer bag and set it in the freezer for up to three months.
How to Defrost Frozen Bread Slices
Your freezer shelf is stacked with bags of bread slices, but now what? There are many ways to thaw frozen bread, depending on how you enjoy eating it, whether you like it toasted with butter and jam or soft for a deli sandwich.
Remove the frozen slices from the freezer and thaw them in the fridge overnight like you do when thawing cream cheese, or wrap them in paper toweling and microwave them using the defrost setting.
If you plan on toasting them, set the slices in the toaster and use a low setting to thaw and brown them.
What to do When Bread is Stale
We often use stale bread to feed hungry critters, but there are many other ways to utilize these dry and crusty slices for your own benefit, and some of them may surprise you.
Stale bread is still edible for making toast, but there are many other ways to use those hardening slices. Consider making croutons by cutting the bread into chunks.
Spread the diced bread on a parchment-lined baking sheet and drizzle with olive oil and spices of choice. Set them in an oven preheated to 375°F for 15 minutes, turning them frequently.
Another great way to use stale bread is to make French toast. Crack an egg in a container and add a small bit of milk.
Beat the mixture until blended and dunk a slice of bread to coat both sides. Lay the slice into a preheated pan, lightly coated with butter, and cook on both sides until evenly brown.
Mix up the right ingredients, knead the dough with gusto, and bake the bread using one of your favorite bread recipes.
Keeping it fresh using the right storage techniques, whether you keep it on the counter or pop it in the freezer, means that all of your efforts don't go to waste.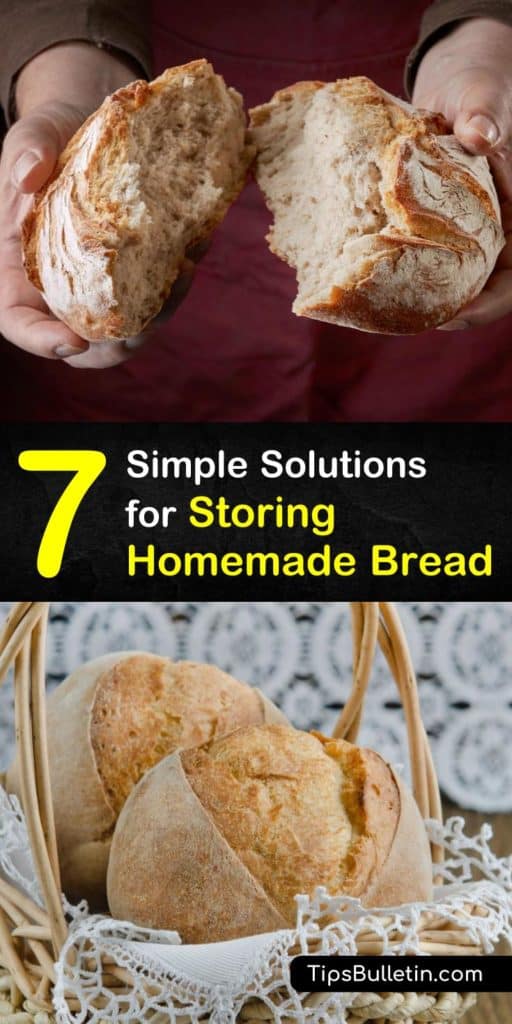 Making your own bread is fun, but it's essential to know how to store homemade bread to keep it fresh, so why not share our fresh-baked bread storage methods with your friends and family on Facebook and Pinterest?