Jalapeno peppers are the perfect topping for Mexican foods like tacos, nachos, and more. While fresh jalapenos are always best, sometimes your harvest might be more significant than you can handle, or your eyes might be bigger than your stomach when you're at the grocery store. That's why learning how to store jalapenos is crucial.
With this knowledge, not only can you eat delicious jalapenos year-round, but you'll also save money and cut back on food waste. Preserve jalapenos in a variety of ways to ensure you have them on hand whenever you want them.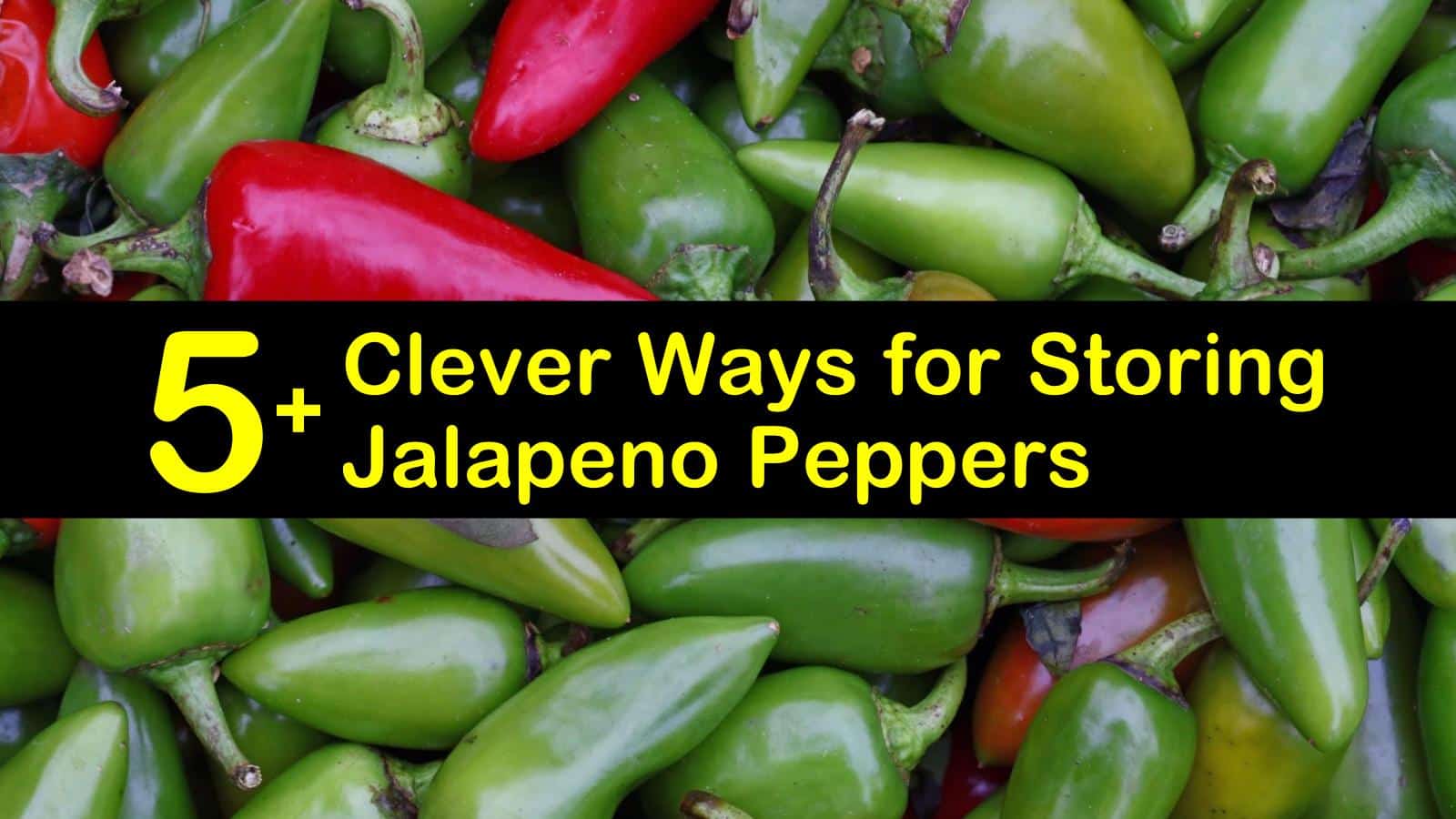 Storing Jalapenos Properly
Jalapenos are a great way to spice up any dish. Not to be confused with red, yellow, or green bell peppers, this hot pepper gets its heat from capsaicin, the ingredient that gives many chili peppers their kick. Jalapenos can be used in vegetarian and vegan dishes to add some fiery flavor.
However, before you start cooking up your jalapeno recipes, you need to know how to preserve jalapenos so they don't go bad before you can use them all. Choose one or more of our recommendations depending on how you plan to use them later.
We recommend that you always wear gloves when handling jalapenos, as the juice and seeds from the hot peppers can irritate the skin.
The Best Way to Store Jalapenos for Quality
The most important thing to remember when storing jalapenos or any other veggies is that you need to store them at the right time. That means you have to ensure the peppers aren't under or over-ripe. You don't want any moldy or squishy peppers, as they do not taste fresh or crisp when you're ready to use them.
If you have a bunch of jalapenos and are about to do some cooking and can't use them all, the first step is sorting through which peppers you're going to use. Choose ones that look perfectly ripe and fresh, with a smooth exterior.
Storing Jalapenos Short Term
One thing to think about before you settle on the right method for storing your jalapenos is when you intend to use them. Different storage methods require different preparation and last for varying amounts of time if you want them to taste good. Another question to answer is whether or not you care about the condition of the jalapenos.
For instance, if you know that you want to use whole peppers, whether it's because that's what your favorite recipes call for or simply because you prefer them that way, then your best option for preserving freshness and flavor is storing them short term.
If you're wondering where to store fresh jalapenos for the short term, the first thing to do is put them in a plastic bag. For best results, use a plastic bag with a ziplock or other method for sealing.
How long do jalapenos last in the fridge? The peppers sealed in a zipper bag last for about a week in the refrigerator before they go bad. The most telling signs that a jalapeno pepper is going bad is wrinkled skin and a soft, mushy texture.
Another method for storing jalapenos short term is to use a paper bag. Place your freshly picked peppers in a plastic bag and put them in your refrigerator's crisper drawer. Once refrigerated, they should keep for at least a week, and in some cases, stay fresh and ready to eat for up to two weeks.
If you have your own jalapeno plant, then it is best to wait to pick them until you're ready to use them. This way, you can guarantee they won't get overripe.
How to Store Jalapenos by Drying
If you want your peppers to last a long time, then drying them might be the best way to store jalapenos or store bell peppers, as well. There are a few options for doing so, but the easiest way is to hang whole jalapenos and let them dry. To do this, grab a needle and thread.
String the needle and push it through the jalapenos, just below the stem. Push the pepper to the end of the string and continue until you have as many jalapenos as you want or can fit. Let them hang in a dry area, like by a window in the kitchen, at room temperature.
It takes about three to four weeks for jalapenos to dry, and then they will be useful indefinitely. Leave them hanging as long as you wish, or you can store them in a dry location.
To speed up the process of drying your jalapenos or bell peppers, you can use a dehydrator. Place the peppers in your dehydrator and leave them overnight on soft heat.
In the morning, place the dried peppers in a jar and store them away from sunlight. Once dried, you can grind up your jalapenos using a spice grinder. Take the powder and store it in an airtight container for up to a year.
Freezing Jalapenos
Freezing is another excellent way of storing jalapenos and preserving bell peppers to use in your favorite Mexican or other dishes. However, if you want to retain the peppers' nutrients, there is an extra step involved before putting the peppers in the freezer. First, blanch the peppers.
Blanching jalapenos before freezing not only helps them retain their nutrients but also helps them keep their texture. Place the peppers in boiling water for three minutes and then put them into a bowl of ice water. Stir for about one minute.
Take the peppers out of the ice water. Put them into an airtight container and place them into the freezer, or, if you want to decrease volume, cut them up.
Removing the seeds and chopping, cutting, or dicing the peppers before freezing can save you time later and take up less space in your freezer. You can leave the jalapenos in your freezer for ten to 12 months, and while the defrosted peppers aren't as crispy as they were before freezing, they are still great in stir-fries and other meals.
Can Jalapenos for the Long Term
Canning jalepenos is one of the most popular solutions for how to store jalapenos. The best way to do this is by pickling jalapenos. This method allows you to store your jalapenos at room temperature for extended periods and also results in a delicious garnish to use on nachos, hot dogs, fajitas, hamburgers, and more.
The process is similar to canning pickles, but the required ingredients vary slightly.
Start by washing lids in soapy water. Rinse them and let them dry. Put the jars in the hot water canner, leaving the lids off. If you don't have a canner, a large pot will work. Fill the pot or canner with water so that the jars are just covered.
Heat the water to a boil, then turn off the heat and let the jars sit for ten minutes. Lift them out using oven mitts and set them on a towel.Put the jalapeno rings into the hot jars. Combine the vinegar, water, garlic, salt, and sugar in a saucepan and bring it to a boil.
Lower the heat and let the brine simmer for about ten minutes. Strain the pickling brine and then pour it into the jars with the peppers, leaving about half an inch of space at the top. Use a fork to gently press the jalapenos into the can to release air bubbles.
Wipe the rims and screw on the lids. Jalapenos can also be canned whole, but you must puncture holes into the peppers to prevent them from bursting.
Put the jars of jalapenos into your pressure canner or boiling water canner. The amount of time you need to leave them in the canner varies according to elevation and jar size. To find a suitable amount of time, visit the Nation Center for Home Food Preservation (..).
Remove the canned jalapenos and allow them to sit for a day. Store them in a dry area like a pantry or cabinet.
Prepare a Jalapeno Recipe
While storing jalapenos in the short and long term is essential to understand, it's also good to know how to prepare a delicious dish with fresh jalapenos. One of our favorite jalapenos recipes from our cookbook is jalapeno poppers.
To start, preheat your oven to 425°F. Cut your peppers lengthwise, taking off about one-third of each pepper. Scoop out the jalapeno seeds and place the peppers on a baking sheet. In a bowl, mix the feta, cream cheese, and cheddar cheese and stuff the peppers.
Place the baking sheet in the oven and bake for 15 to 18 minutes. The cheese should look brown with bubbles around the edge. Let the poppers cool and then serve. Meat-lovers can also wrap the stuffed jalapeno poppers in bacon before baking.
Learning how to store jalapenos and other vegetables is a great way to cut down on food waste and make sure your peppers last. You don't want to bite into a bad bell pepper or jalapeno when you're eating your favorite dish. Once you store your jalapeno pepper and other peppers correctly, enjoy their deliciousness all year long.
Remember, the first step of storing or cooking jalapeno peppers is making sure they're clean. Always wash your peppers in cold water to remove dirt and other impurities from the skin.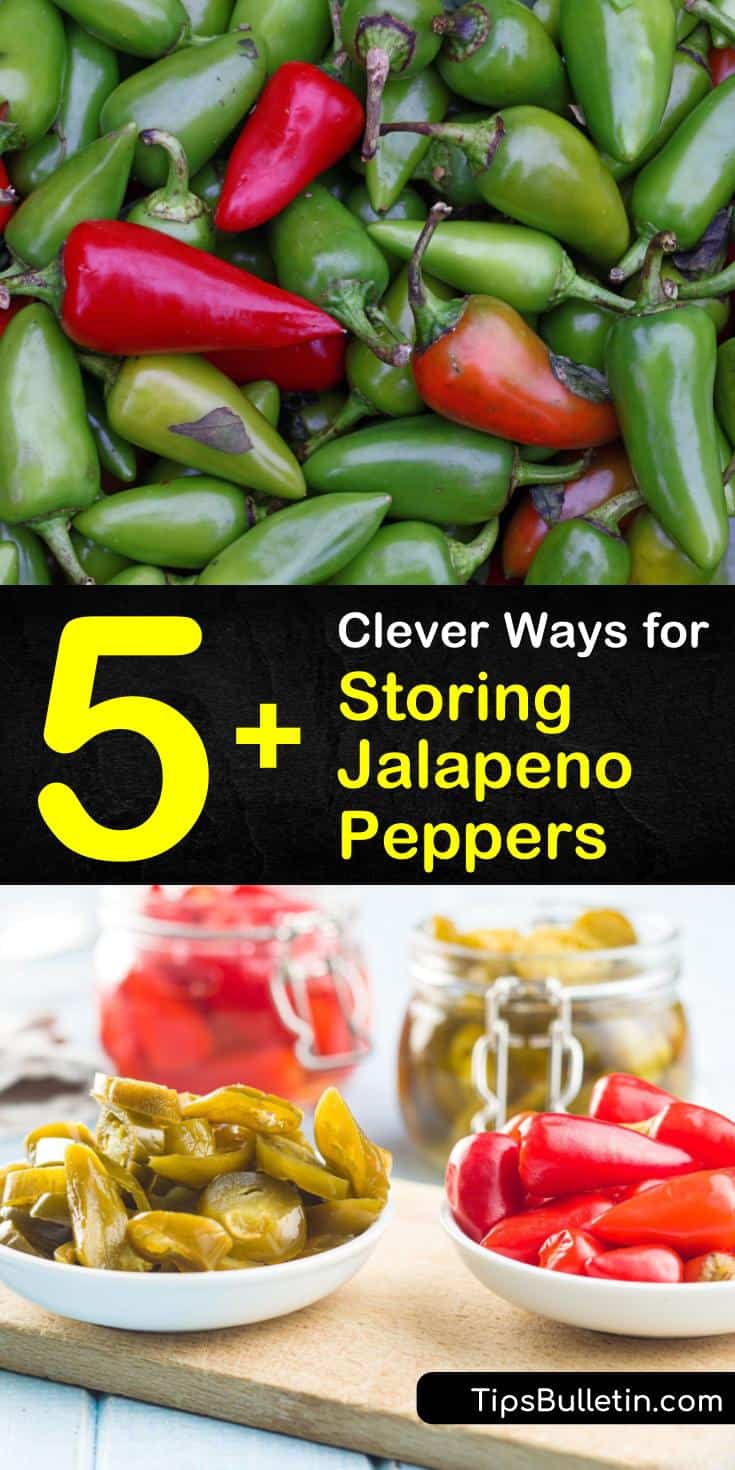 If you learned how to store jalapenos from our article, then share our pepper canning and storage tips with your friends and family on Facebook.