No matter what region of the Earth you live in, you probably eat lettuce on a semi-consistent basis. This consumption means that knowing how to store lettuce in ways that make it last longer is essential to eating crisp, leafy greens.
Storing lettuce in the right place and under the right conditions makes the difference between keeping lettuce fresh for a few days instead of a few weeks. Finding the best way to store lettuce also depends on how often you eat it, whether you prefer to store the entire head or keep the leaves separated so they're easier to grab.
Moisture and air are the two most significant factors that make veggies go bad when you store fresh lettuce in your house. Unlike a lot of other veggies, heads of lettuce enjoy free-flowing air. They aren't like avocados, where if you remove all the air from the fruit, then it'll stay green. The air is your friend when it comes to storing lettuce for as long as possible.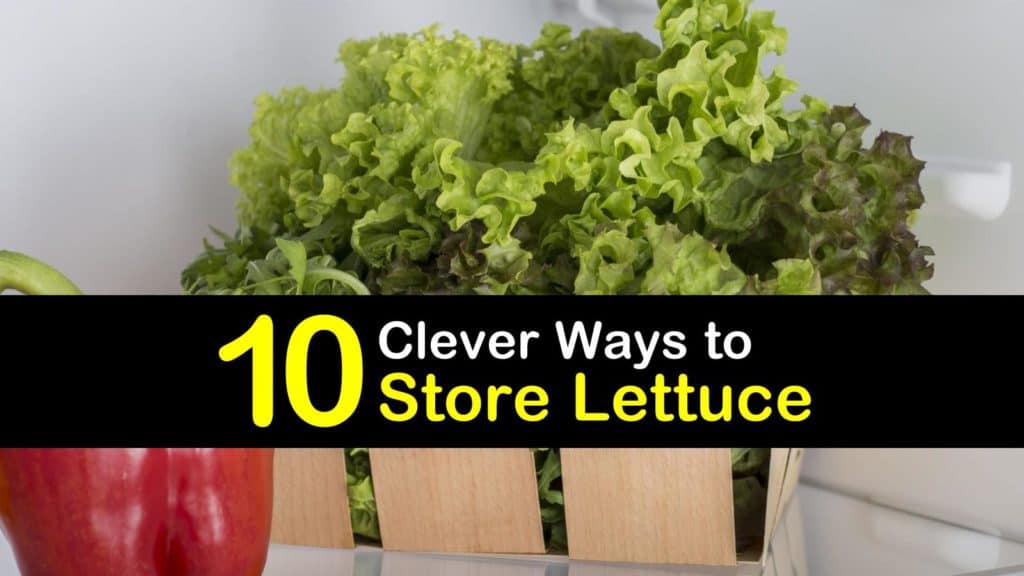 Benefits of Leafy Greens
Leaf lettuce and other greens include a wide range of veggies. Whether you are growing lettuce yourself or are buying it, these tips that help you store fresh lettuce apply to kale, romaine lettuce, butter lettuce, iceberg lettuce, arugula, and other salad greens.
All of these lettuce leaves are practically calorie, carb, and sugar-free. These greens are also high in essential vitamins and minerals, including vitamins C, A, and K, as well as calcium, phosphorus, and potassium.
If you have a family filled with picky eaters, greens are also easy to sneak into meals. Fresh lettuce has little flavor, and adding a few loose leaves to a pot of food isn't going to throw off the overall taste, so your family won't even know that healthy veggies are hiding inside.
Storing Lettuce
Storing lettuce is essential because nobody wants to eat wilting, soggy, or brown produce. Knowing how to store lettuce the right way after harvesting lettuce or buying it will make your salad recipes taste better and reduce the amount of money you spend to keep lettuce crisp in your home.
Buy Fresh Lettuce
Before you start looking for where to store lettuce, think about signs to look for at the store. The only way to keep a whole head of lettuce crunchy is to bring home the freshest, most recently picked vegetables.
If you're shopping from your local grocery store or farmer's market, know that the entire head should be free from brown spots or bruising. It should also feel heavy for its size.
If you're still unable to tell, give the head lettuce a sniff to make sure it doesn't have an unpleasant, rotting aroma. Also, be sure to look for bugs in lettuce and avoid them if you see any aphids or small black bugs.
How to Store Lettuce in the Fridge
Most people's go-to way to store lettuce or for storing sliced cucumbers or onions is in the fridge. Knowing where to keep lettuce is common knowledge, but knowing how to store it makes the most notable flavor difference.
Once you bring home your head of lettuce, remove the plastic wrapping that most come in. Wrap the entire head in a damp paper towel and put the wrapped head in a plastic bag with perforated holes in it or leave the top of the bag open.
Keeping the bag open eliminates excess moisture and keeps the outer leaves from going bad or bruising. Refrigerate the head of lettuce for up to three weeks.
Best Way to Store Lettuce
We think keeping loose leaf lettuce in the fridge is the best way to store lettuce because it's easy to grab on the go or quickly toss into a homemade salad. To store loose-leaf lettuce, trim the bottom stem and separate all the lettuce leaves.
Fill a large container with ice water and place the leaves under the cold water. Another strategy for doing this is to put the leaves in a colander and run cold water over them so they are clean and so that the cold water helps keep them firm.
Put the leaves of the greens into a salad spinner and remove the excess water. Store the dried leaves in a storage container or bag in the crisper drawer of your fridge.
Reviving Old Lettuce
If your lettuce is slimy, it's already rotten, and you shouldn't eat it. However, if the leaves are a little flimsy and brown, there is a simple way to revive them.
Soak the lettuce leaves in a large bowl of ice water to help the lettuce crisp back up. Dry the leaves on paper towels before making a veggie-packed lunch.
Make-Ahead Salads
One of our favorite ways to store lettuce is to pre-make salads for lunch or dinner. This way, all you have left to do is grab a jar out of the fridge and dump it into a bowl for a quick meal.
Squeeze a few tablespoons of your favorite salad dressing or vinaigrette into the bottom of the Mason jar. Put the tomato, as well as whatever other vegetables you desire, into the jar.
Add a layer of your favorite cheese and top the final layer with clean lettuce leaves. Screw the lid back onto the jar and store in the fridge for up the three days. When ready to eat, remove the top from the glass jar and dump the contents into a large bowl or plate.
Keeping the lettuce as the jar's final layer allows it to stay separated from the dressing and turning the leaves soggy before you get a chance to eat it. It also allows your veggies to marinate in the dressing for added flavor.
How to Vacuum Seal Lettuce
Some people are lucky enough to have vacuum sealers at their houses, and these are great tools if you want to keep lettuce fresh and crisp.
Vacuum sealing a whole head or lettuce leaves keeps it good for up to two weeks in the fridge. More tender varieties, like butter lettuce, don't usually store as well as iceberg or romaine.
Storing cut bell peppers or other veggies by vacuum sealing helps them retain freshness longer. You may want to invest in this worthy kitchen appliance.
How to Freeze Lettuce
Many people turn to the freezer to keep vegetables fresh longer. Freezing lettuce isn't the best way to store this veggie because it changes the veggie's texture, but that doesn't mean it can't be done.
Your safest bet is to throw the greens into smoothies or soups for added nutrition with this storage method.
Remove the outer leaves of the whole head. Trim the stem from the lettuce and wash the remaining leaves under cold water. Dry the leaves on paper towels and then store them in freezer bags for up to six months.
Lettuce Puree
Another smart method for storing lettuce or leafy greens is to turn them into a puree. Blend clean greens with a little water to make a green juice.
Pour the liquid into ice cube trays and freeze them for up to six months. Add the cubes to smoothies or stews when desired.
Turn it into Pesto
The tastiest recipe for how to store lettuce and other greens is to turn it into a condiment. This pesto is fantastic because it has a bright, arugula flavor that pairs well with the cheese and oil.
Chop the garlic cloves in a food processor with a steel blade. Scrape the garlic down from the sides of the bowl and add the walnuts. Turn the machine on until everything gets finely ground. Scrape the side of the bowl again, and then add the arugula and the salt.
Pulse the processor until everything becomes finely chopped. Run the machine on low and slowly drizzle in the olive oil.
You may not use all the oil if you reach the desired consistency. Once the pesto mix is smooth, stir in the grated Parmesan. Store the homemade pesto in an airtight jar and keep in the fridge for up to one week.
Purchase Storage Bags
Like most kitchen tools, there are many products for you to purchase that help when storing lettuce for as long as possible. Some of the best products for storing greens include organic cotton bags, cloth mesh bags, terry cloth bags, and even a kitchen towel.
Wrapping the lettuce in these products helps absorb some excess moisture while still allowing it to breathe in the crisper drawer and stay crunchy.
Although there aren't endless strategies for storing lettuce, there are undoubtedly various options and tactics to choose from.
Deciding the best way to store lettuce for yourself depends on how long you want the lettuce to last and how easy and accessible you want the lettuce. We guarantee that you're sure to find one that fits you and your cooking needs.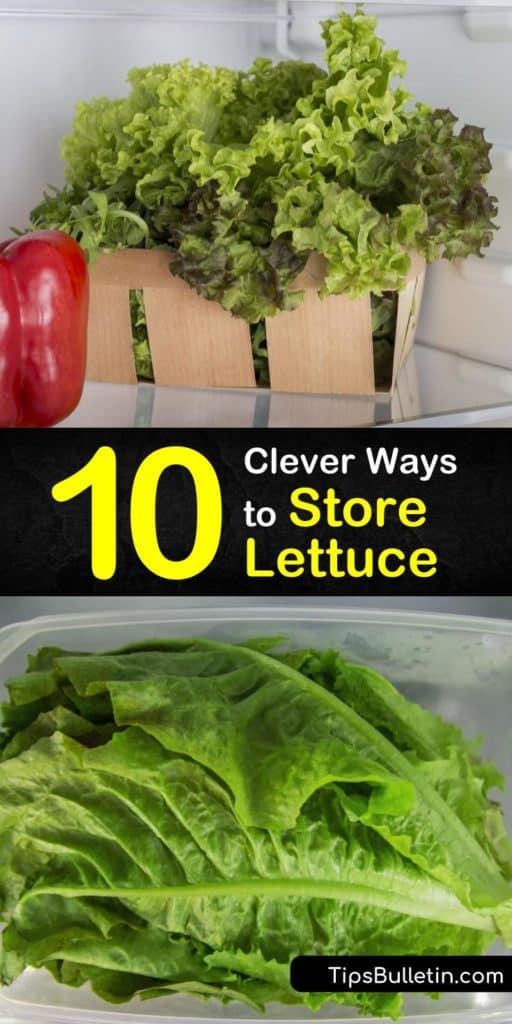 If this article telling you how to store lettuce helps keep your greens crisp, share these tips for storing lettuce on Facebook and Pinterest.