Fresh mushrooms are the perfect addition to almost any meal, whether you pick them up at your local farmers market and grocery store or enjoy picking wild mushrooms. However, they absorb moisture and spoil quickly if they aren't stored properly. We'll show you how to store mushrooms in the fridge and freezer using various methods and recipes.
Edible mushrooms are the fruiting body of a fungus, and you either love them or hate them. There are many types, from white button and portobello to shitake and oyster, and each one has a unique flavor, color, and texture.
Some are white and mild or brown, rich, dense, and others are orange and meaty. Mushrooms are incredibly versatile, and there are so many ways to use them. Toss them in a salad, sprinkle them on pizza, add them to stir fry, or simmer them in a hearty soup.
On the downside, these tasty morsels have a short shelf life. However, there are several ways to store them to keep them fresh as long as possible.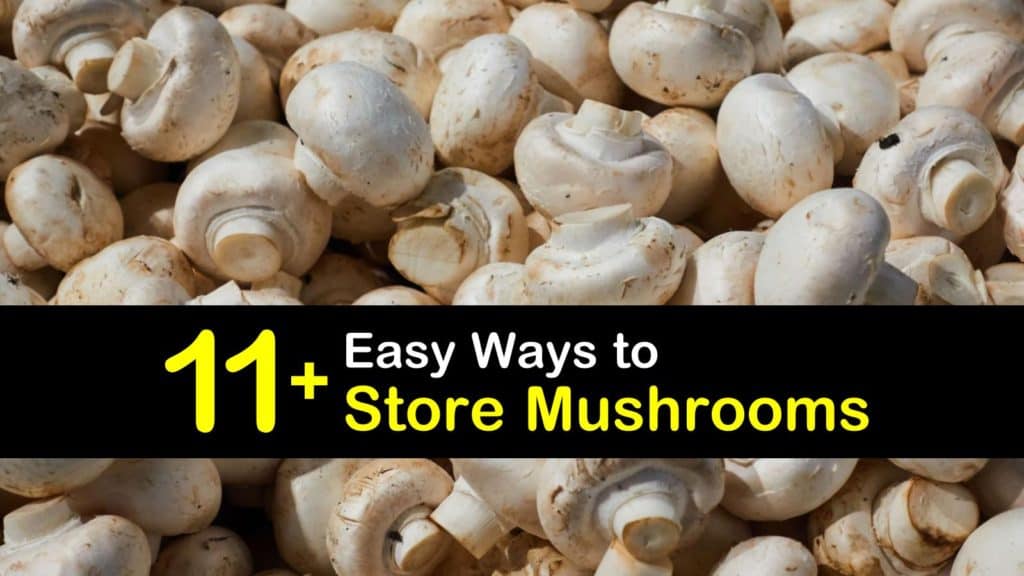 Selecting and Storing Mushrooms
With so many varieties of mushrooms, it's hard to know which ones are the freshest and the tastiest for using in your favorite recipes. Learn the differences between them and how to store them in a variety of ways.
Choosing Fresh Mushrooms for Storage
With so many mushrooms to pick from, how do you know which ones are good? We'll help you choose the best mushrooms for your next meal and separate the good from the bad.
Fresh Mushrooms
Healthy mushrooms are dry but not dried out. Look for mushrooms with a smooth and fresh appearance and avoid them if they are slimy or have a foul odor. For a delicate flavor, choose mushrooms with a closed veil under the cap.
If you prefer a deep and meaty tasting mushroom, pick ones with open veils and exposed gills. White button mushrooms are mild tasting, are most popular in the kitchen, and the easiest to find in the grocery store.
Portobellos are rich in taste with a dense texture, and oysters have a sweet and delicate flavor, while shiitakes are meaty with a woodsy aroma.
Do mushrooms go bad? Yes, like any produce, mushrooms can spoil. Don't buy or use mushrooms that are wrinkly, smell "off," or have brown spots.
Storing Mushrooms in the Refrigerator
Where to store mushrooms from the grocery store? Storing mushrooms in the refrigerator is an ideal way to keep them fresh if you plan on eating them in about a week. While there are many options, the easiest is to keep them in plastic.
It's perfectly acceptable to store fresh mushrooms in the fridge in their original packaging. If you open the package to retrieve some mushrooms, wrap the open area with a sheet of plastic wrap or plastic bag.
The best way to store carrots in the fridge is to cut them up and keep them in a covered bowl of water. They remain crisp and fresh for a week or more.
Best Way to Store Mushrooms in the Fridge
While storing foods in the original packaging is the quickest way to keep them refrigerated, the best way to store mushrooms is to transfer them to a paper bag to prevent the build-up of excess moisture.
If you prefer to discard the packaging, place the mushrooms in a paper bag and wrap them in a damp paper towel.
Do not close the top of the bag to keep the moisture balanced and set it in the fridge's crisper drawer. Whole mushrooms last up to ten days stored in this manner.
Store cabbage in the crisper, too. Most fruits and veggies like the humid environment in this specialty drawer of the refrigerator.
How to Store Mushrooms after Cooking Them
Cooking an entire package of mushrooms is a great way to ensure they don't go to waste, but they require proper storage if you cannot eat them right away.
Do not leave the mushrooms sitting at room temperature after cooking them. Scoop them into a storage container and place them in the fridge for three to five days.
If you cannot eat them within this time, consider freezing them. Place the cooked mushrooms into a freezer bag and store them in the freezer for up to a year.
Sauteing and Freezing Mushrooms
Button mushrooms and portobellos are good candidates for freezing mushrooms raw, but not all of them hold well during the process. Sauteed mushrooms are simple to freeze and last ten to twelve months in the freezer.
When freezing portobello mushrooms or another variety, place the mushrooms into a colander and clean them under running water. Pat them dry with paper towels and slice them into desired pieces. Heat a pan with olive oil over medium heat and add the mushrooms and salt and pepper to taste.
Cook them for eight to ten minutes, while stirring, and then remove them from the heat to cool. Scoop the sauteed mushrooms into a freezer bag, press out the air, and label them accordingly before placing them in the freezer.
How to Steam and Freeze Mushrooms
Steaming is a great alternative to sauteing, and the mushrooms maintain their natural flavor for use in all types of recipes. Steamed mushrooms last up to one year in the freezer.
Rinse the mushrooms under water and place them into a bowl filled with two cups of cold water and one teaspoon of lemon juice for ten minutes to prevent discoloration. Fill another bowl with cold water and ice and set it to the side.
Pour water into the bottom of a pot, set a steamer basket over the water, and bring it to a boil. Set the mushrooms into the basket and steam them for about five minutes before removing them from the heat.
Transfer the mushrooms to the ice bath and strain them after five minutes. Place the cooled mushrooms into a freezer bag and press all of the air out before sealing it. Label it accordingly and set it in the freezer.
Drying Mushrooms for Easy Storage
Dried mushrooms incorporate an earthy flavor into your favorite recipes, and they have a longer shelf life than fresh mushrooms. They take up less space, and a smaller amount is needed to get the desired results.
Begin by cleaning the mushrooms. Avoid getting them wet and use a paper towel to clean away dirt. Cut them into eighth-inch slices and spread them in a single layer on a cookie sheet. Set the pan in an oven preheated to 150°F for one hour.
Remove the pan from the oven and flip the mushrooms over. Use paper toweling to blot up any moisture and return the pan to the oven for an additional hour. At this point, the mushrooms are dry. However, if they are still moist, repeat the step once more.
Storing Dried Mushrooms at Room Temperature
There are a couple of ways to store mushrooms after drying them, and room temperature is ideal if you store them in the right place. The mushrooms last six months or more in the pantry, depending on your home's temperature and humidity.
Make sure the mushrooms cool completely before transferring them to storage. Set them in an airtight container such as a Mason jar with a tight-fitting lid.
Consider placing an oxygen absorbing packet in with the mushrooms before closing the lid if you live in a humid climate. Set the container in a dark area of the kitchen away from heat sources.
Store Dried Mushrooms in the Refrigerator and Freezer
If you live in an area with high temperatures and humidity, place the dried mushrooms in your fridge or freezer for the longest shelf life. Cold storage keeps them fresh for up to one year.
To refrigerate the dried mushrooms, place them in a storage container and set it on the refrigerator shelf. Make sure to write the date on it as a reminder of freshness.
If you'd rather freeze them, set the dried mushrooms in a freezer bag and press out all of the air. Set it on the freezer shelf in an easily accessible area.
Making and Freezing Creamy Mushroom Sauce
Creamy mushroom sauce tastes delicious poured over mashed potatoes and meat or used as a soup base. It's very easy to prepare and simple to freeze for meal prepping.
Combine the milk, cream, and broth in a saucepan, heat it over medium heat until hot, and then set it aside. Pour oil into a skillet and add the mushrooms and onions. Cook them over medium heat, stirring often, until they release their liquid and brown.
Remove the skillet from the stove and replace it with a medium pot. Melt the butter over medium heat and whisk in the flour for two minutes as it foams. Transfer the hot milk mixture slowly from the other pan to the butter and flour while whisking.
Cook the sauce for about six minutes while stirring, add the sauteed mushrooms, and salt and pepper to taste. Take the pan off the stove and ladle the soup into freezer-safe containers.
Let it sit at room temperature until it cools and then place it in the freezer for up to six months.
Preparing and Storing Mushroom Paste
Mushroom Duxelles is a paste that combines the intense flavors of mushrooms, shallots, and herbs. This mushroom condiment is a savory spread for toasts and crackers, a filler for ravioli and omelets, or an additive for sauces and soups.
Place the mushrooms into a food processor to finely chop them. Set a clean cotton towel over a bowl and pour the mushrooms in the center. Wrap the cloth around them and squeeze the liquid into the bowl.
Melt the butter in a skillet on medium-high heat and add the mushrooms, shallots, and spices. Heat the mushrooms until they release their moisture and then continue browning them for five minutes after the liquid disappears. Add the vermouth and simmer until it evaporates.
Remove the pan from the heat and transfer the mushroom Duxelles to a storage container to cool at room temperature. Secure the lid in place and set it in the freezer.
How to Use Frozen Mushrooms
Now that you have a freezer shelf stacked with bags of frozen mushrooms, it's time to get cooking. But what is a good way to use them?
Frozen mushrooms
Having a bag of frozen mushrooms in the freezer is not only a convenient way to extend their shelf life, but they are easy to use in just about anything. Grab a handful and sprinkle them on a frozen pizza to give it a boost or add them to a simmering stew.
If you prefer using them thawed, take them out of the freezer and defrost them in the fridge overnight or place them on the kitchen counter for a couple of hours. Thawed mushrooms are delicious in an omelet or over your favorite cut of steak.
There's nothing better than having fresh mushrooms on hand for tossing on a cheese pizza or adding to a hearty spaghetti sauce.
But, reaching into the container to discover those mushrooms are now slimy is the quickest way to ruin your appetite. Luckily, there are ways to keep them fresh in the fridge, and freezing mushrooms keeps them even longer.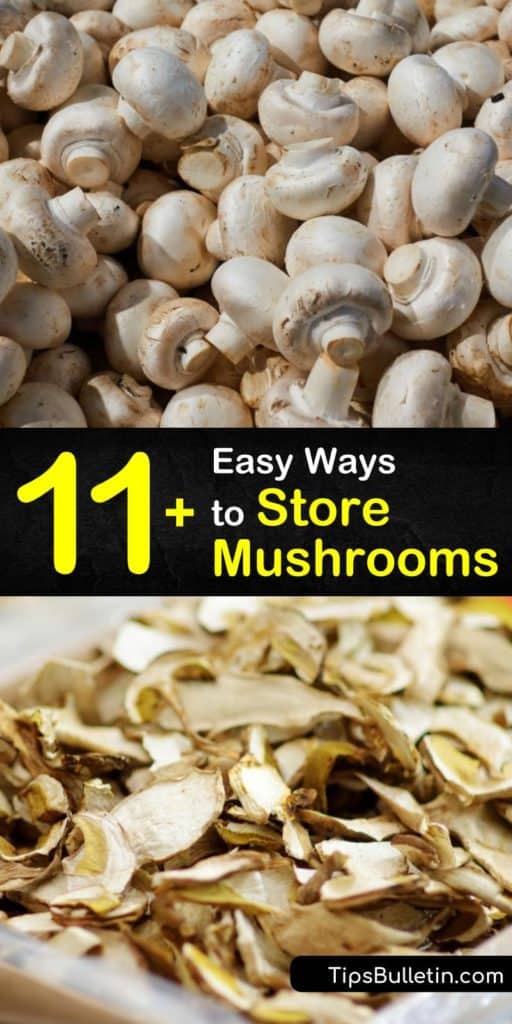 Now that you know how to store mushrooms in various ways, why not share our mushroom storage recipes with your family and friends on Pinterest and Facebook?