There's nothing quite like biting down into a sweet, juicy peach. These summer fruits are a favorite for many people across the United States, making knowing how to store peaches a vital skill.
Storing peaches may seem straightforward, but many tricks help you determine when they are perfectly ripe and show you how to make them last as long as possible.
Finding the best way to store fresh peaches depends on several factors, like freshness and the amount of time you'd like them to last.
There are dozens of ways to store fresh peaches, and we're willing to bet that there are some delicious recipes you've never heard of before.
If you love to eat peaches and are looking to extend their shelf life, one of the following tips is guaranteed to make you and your tummy happy.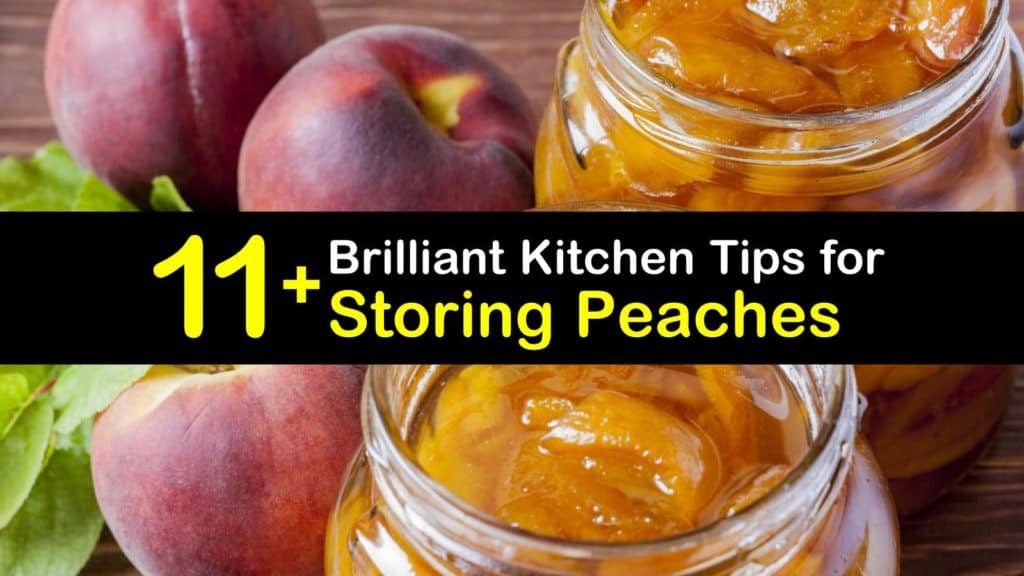 All About Peaches
Although peaches are popular fruits in the United States, they are native to China's northwest region. Peaches are stone fruit family members, meaning that they have inner flesh surrounding a large seed in the middle.
Stone fruits include other fruits like plums and cherries. Peaches range from orange to yellow to white and have a fuzzy skin that protects the flesh.
Most peach trees produce fruit for about 12 years, and a single tree creates about 66 pounds per year. The peach season typically lasts from June through the end of August.
Fresh peaches are packed with ascorbic acid, otherwise known as vitamin C. They also have high levels of potassium, iron, and fiber.
Some of the biggest benefits of eating peaches are helping reduce cancer risk, preserving skin health, and aiding in a healthy digestive system. Better yet, one cup of peaches has as little as 65 calories and under half a gram of fat.
Tips on Storing Peaches
Finding the perfect peach is critical for those who crave perfectly ripe fruit.
If you're on the lookout for the best way to store fresh peaches, make sure to skim through some of our tips that not only tell you what to look for at the local grocery store or farmers market but what to do with them after you bring them home.
The Best Way to Find Ripe Peaches
You already have an anatomical detector for finding ripe peaches. Your nose and sense of smell should be your go-to way of finding fresh peaches and is the best way to know if a peach is ripe. Freshly picked peaches have a pleasant aroma.
Peaches are known to absorb the odors around them. Smell each peach to make sure that each one you buy has a clean, sweet smell. If you think there is something off about the scent, it's best to skip it and find a new one.
Look at the Color
Although peach skin isn't always the best way to determine freshness, it can help you out when necessary. The most visually important characteristic to look out for is skin free from brown spots and bruising.
The color of the fruit itself isn't always an indicator of ripeness, however. For example, a peach that is yellowish-green could be a perfectly good fruit, but it's usually best to stay clear if it is brown.
Peach Size Matters
Although this isn't always the case with fruit, size is a major indicator of sweetness when it comes to peaches.
The bigger the peach, the more likely it is sweet. Although size isn't the only feature you should look for, medium to large size peaches are often the best tasting ones.
When to Purchase Unripe Peaches
Even though ripeness is important, it's often better to purchase unripe peaches if you don't plan to use them right away. Ripe peaches tend to be a little softer, while under-ripe ones are harder to the touch.
All it takes is a gentle squeeze to determine the level of ripeness you're looking for. Be cautious not to squeeze them too hard to prevent them from bruising.
How to Ripen Peaches
You'll likely find yourself in an instance where you're ready for your peaches to be ripe, but they're taking far too long to get there. Putting your peaches into a brown paper bag with either an apple or banana is a simple way to quicken the ripening process.
The ethylene gas from the other fruit causes them to ripen, so putting them close to the under-ripe peaches makes them perfect after only a day or two.
When are Unripe Peaches Okay to Eat?
Although you wouldn't want to bite into an unripe peach, there are some instances where using them is fine. If you plan to bake your peaches into a peach cobbler or pie, it's okay to use them if they're not quite ready.
The oven softens the hardness of the peaches and brings out the sugars to help make them sweeter. Other than that, it's best not to bite into one.
Storing Peaches at Room Temperature
Knowing where to store peaches is often the trickiest part of the process. Underripe peaches are best stored on your kitchen counter at room temperature, like how you store fresh bananas.
This location allows the fruit to continue ripening and is also useful for functionality purposes because you won't forget about them and can quickly grab them on the go.
How to Store Peaches in the Fridge
Once your peaches are ripe, it's time to refrigerate them. Although ripe peaches are best when eaten right away, it's safe to refrigerate them to slow the ripening process.
The refrigerator's cold temperatures also prevent them from spoiling but keep in mind that it does tend to dehydrate them. The texture may become less appealing, but that doesn't mean they aren't still delicious to eat.
Storing Cut Peaches
If you already cut your peaches and don't intend to eat them right away, there is a simple trick that helps them last a day or two longer. Brush your sliced peaches with a little lemon juice or citric acid.
The acid from the lemon prevents oxidation. Store the peach slices in an airtight container and refrigerate them for a maximum of two days before using them to keep peaches as fresh as possible.
The Best Way to Store Fresh Peaches
When in doubt, the freezer is your best friend when it comes to long-term storage. Many people wonder, can you freeze whole peaches? Although this isn't usually the best way to do so, it's entirely possible.
To freeze peaches whole, wash the skins with cold running water and air dry on paper towels. Once dry, place the whole peaches in the freezer until completely frozen.
Remove the fruit from the freezer and put them into freezer bags. Store the bags in the freezer for up to a year. When you're ready to eat them, allow them to thaw on the kitchen counter.
It's often easier to freeze peach slices so that you can grab them as needed. Wash and slice your peaches.
To keep peaches fresh, lay the fruit pieces in a single layer on a baking sheet and put them in the freezer. Put the frozen peaches into a plastic bag or freezer bags and store them there for up to a year.
The Best Peach Recipe
Finding fresh peaches while they're out of season is practically impossible. Canning peaches is one of the easiest methods for storing peaches and is easy to use when making peach pies, cakes, or to throw into your favorite ice cream.
Bring a large pot of fresh tap water to a boil and fill a large bowl with ice water. While you wait for the water to simmer, cut a small "X" shape into the bottom of each peach. Put the whole peaches into the boiling water for three minutes.
Remove the peaches from the boiling water and put them directly into the ice bath to stop the cooking process. Remove the outer skin and slice them into your desired size. Discard the pits.
Add the peach slices to sterilized canning jars and leave an inch of headspace at the top. In a medium pot, bring the eight cups of water and sugar to a simmer. Pour the sugar water over the peaches so that they're covered.
Make sure the canning jars have no bubbles and place the seals and rings on. Process the peach jars in a boiling water bath for 15 minutes.
Remove the hot jars from the pot and allow them to cool at room temperature for 24 hours. Check to make sure they are adequately sealed and store them in a cool, dry place for up to two years.
Know Where Fruit Comes From
For your own interest purposes, always make sure you know where your fruit is coming from. Some fruits carry dangerous bacteria like salmonella, which poses a severe health risk to you and your family.
Your consent preferences depend on knowing where your produce comes from. If you're unable to identify the location of your fruit, ask your local grocer to ensure you're getting the safest produce possible.
When it comes down to it, there isn't a fruit that is juicier or sweeter than a freshly picked peach while they're in season.
Knowing how to store peaches is a skill that benefits you and your loved ones. You'll be able to make mouth-watering peach cobbler year-round without having to worry about it being bitter and lacking flavor.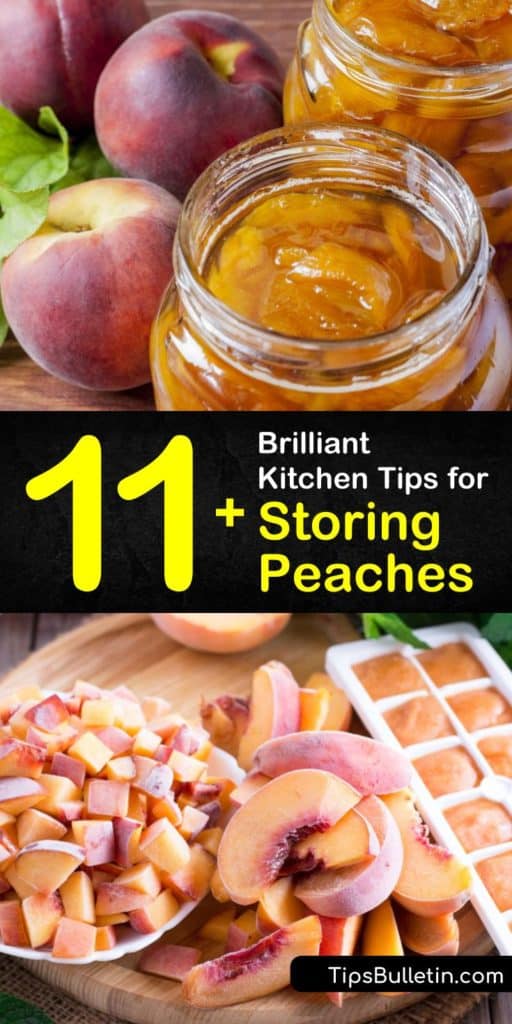 If this article teaching you how to store peaches helped you find the perfect peaches to bring home, share these tips on storing peaches on Facebook and Pinterest.