Harvesting potatoes can bring an abundance of food to your table, from mashed potatoes and roasted fingerlings to potato salad. The good news is, potatoes last a lot longer when appropriately stored than many other fruits and vegetables. We'll show you how to store potatoes the right way, whether it is on the shelf for quick use or in a root cellar for long-term storage.
The potato is a starchy root vegetable that has been cultivated by people for over 7,000 years.
These popular tubers come in varying sizes and colors, including gold, red, russet, and roughly four-thousand other varieties! While they do have a rather long shelf life, they still need some attention when it comes to storage.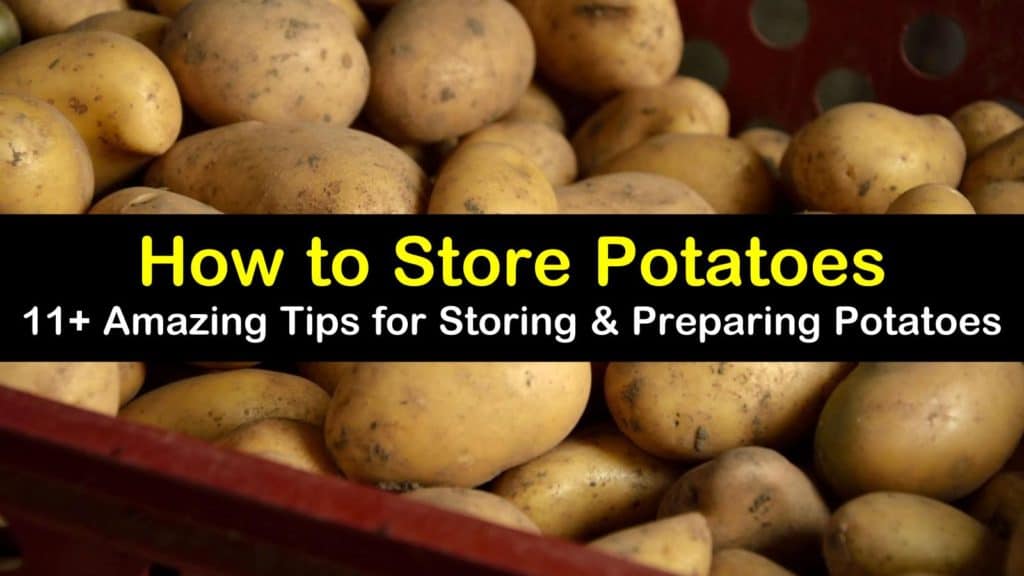 Store Potatoes Effectively
Preparation is key, whether you are preparing potatoes for planting or preserving them for later use. If you bought potatoes from the store when they were on sale or you experimented with growing potatoes from potatoes, it's important to preserve them the right way.
Do potatoes go bad? You bet they do and the smell is awful! Raw potatoes need to be stored in a dry place to prevent sprouting and spoilage.
Ideally, the best way to keep potatoes fresh is to store potatoes in a dark place that does not have high humidity to prevent them from sprouting and going bad. Many methods can be used for storing potatoes, whether you have harvested potatoes from your garden or purchased a large bag from the grocery store or farmers market.
What to Know When Storing Potatoes
Here are a few handy tips to know when it comes to potato storage, no matter what type of storing method you choose. You may even use two or three different options, depending on how you will use the potatoes or when you will eat the bread.
Potato Storage Tips
Green discoloration on the potatoes is something to look out for when getting potatoes from the store or after you grow potatoes and dig them out of the garden. Potatoes exposed to a light source will react by converting its skin to solanine, which is a toxic reaction created to protect the potato.
Ingesting this compound through green potatoes can be toxic in large amounts. Potato skins that contain solanine also have a bitter taste. Washing potatoes with water before storing them is a bad idea.
Washing leaves moisture on the potato skins, which can shorten their storage life. Clean potatoes by brushing off loose soil or dirt with a paper towel. Wash potatoes with water only if you plan on cooking them right away.
When storing potatoes, keep them away from other produce to prevent the exchange of flavors. Don't store potatoes and onions together. They both release moisture and ethylene gas, which can cause them to spoil faster.
Which Types of Potatoes Store the Best
With the thousands of potato varieties out there, it's good to know which ones are best for specific storage methods and which ones have the most extended shelf life.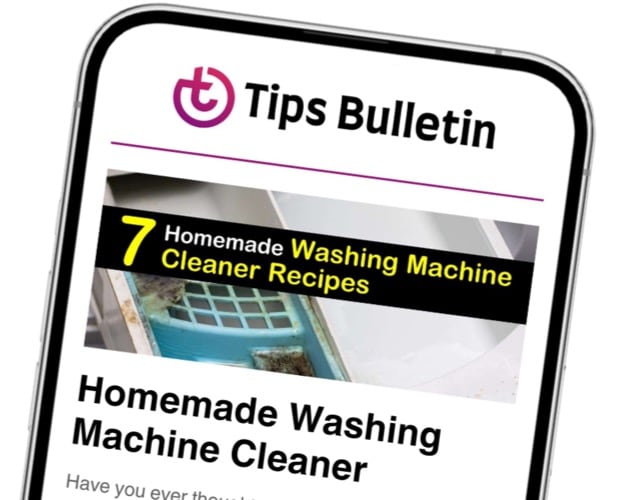 Finally, an email that Transforms Your Home.
Get the latest home and garden tips from our experts, delivered straight to your inbox.
Best Storage Potatoes
Late potato varieties that have a longer harvest time tend to be better storage potatoes, as well as potatoes with thick skins. Potatoes harvested before maturity should be eaten right away instead of being stored.
Some of the most common types of potatoes that can handle long-term storage well are the Russet, Kennebec, Red Pontiac, Yellowfin, Katahdin, and Yukon gold.
Storing Peeled Potatoes in the Refrigerator
If you are prepping ahead of time for a meal or have peeled too many potatoes and don't want to waste them, you can easily store them in the fridge.
Storing Potatoes in the Fridge
Cut the peeled potatoes into cubes or chunks and place them into a large bowl of cold water. Add a tablespoon of lemon juice to the water to prevent discoloration of the potatoes. Storing peeled potatoes is easy, but those potatoes will only last about 24 hours in the fridge before eating.
Best Way to Store Potatoes for Everyday Use
Potatoes shouldn't be stored directly on the kitchen countertop unless you plan on eating them right away. The following is the best way to store potatoes with a longer shelf-life.
Potato Pantry Storage
Begin by inspecting the potatoes for discoloration, sprouts, soft spots, and mold, and remove any damaged potatoes. Place the potatoes into a breathable container or bag, such as a cardboard box, paper bag, or mesh bags. Avoid using plastic bags to store your potatoes.
Place the potatoes in a cool, dark area of the kitchen with some humidity. The ideal room temperature range is between 45-50°F. The potatoes should last from three to five weeks under the right storage conditions. This is also the best way to store tomatoes that you will be eating within a week or so.
How long do sweet potatoes last in the pantry? Sweet potatoes and yams last about the same amount of time as white potatoes. You can also make sweet potatoes last longer by freezing them for later use.
How to Store Leftover Potatoes
If you're wondering where to store potatoes leftover from dinner, you have a couple of options. It all depends on the type of leftover potato and when you plan on eating it. You can use these methods for storing baked potatoes, mashed potatoes, and any other potato dish.
Storing Leftover Potatoes
Store leftover potatoes in cold temperatures either in the refrigerator or freezer. If you plan to eat the leftovers within a few days, place them in a sealed container in the fridge. Cooked potato dishes that contain dairy products or meat can be refrigerated for up to five days but taste best if eaten within two days.
Learn how to tell when potato salad is gone bad, as well as your other potato dishes so no one has to worry about food poisoning.
For meal prepping of potato dishes that will be eaten a week or so later, put them into freezer bags or sealed storage containers. Label the bag or storage container with the date and place in the freezer for up to four weeks.
Storing Potatoes in a Root Cellar
If you have garden-fresh potatoes, storing them in a root cellar is the way to go. There are only a few steps needed before storage.
Root Cellar Storage
Once the plants have died back, dig up your potatoes and cure them. To cure potatoes, place them in an area of high relative humidity with a temperature of about 45-60°F for up to two weeks. During the curing process, the potato skins will thicken, and minor cuts will heal.
Sort through the potatoes after curing to discard any undesirable ones. Place the cured potatoes in a root cellar kept at a temperature of 40-45°F. Anything warmer will cause the potatoes to sprout, and anything colder gives them an overly sweet flavor.
Blanch Potatoes for Storage
Blanching is a necessary step if you plan on freezing, canning, or dehydrating potatoes. Doing this stops enzyme actions, which may reduce the flavor and texture.
Blanched Potatoes
Prepare the potatoes for blanching by peeling and washing them. Bring a pot of water to a boil and lower the potatoes into the boiling water with a blanching basket.
After the water boils again, let the potatoes blanch for three to five minutes. Place in ice water for five to ten minutes and then drain.
Ways to Freeze Potatoes
If you find yourself stuck with too many potatoes and do not have a root cellar, you can always freeze them for future meals.
Freezing Potatoes
To freeze potatoes, you'll first need to blanch them. Place the blanched potatoes into freezer bags and squeeze as much air out as possible before sealing. Label the storage containers with the date and freeze for up to 12 months for the best taste.
What if you make some delicious potato salad with your potatoes? Can potato salad be frozen? Yes, you can freeze your potato salad. Freezing this dish is best if it does not contain dairy. German potato salad freezes quite well.
How to Dehydrate and Store Potatoes
If you don't have a root cellar but an abundance of potatoes, dehydrate them for a variety of uses.
Dehydrated taters can be used as slices in a scalloped potato dish, shredded for hash browns, or even turned into flakes for mashed potatoes. Dehydrating also works for sweet potatoes.
Dehydrating Potatoes
Wash the potatoes and remove any blemishes. Slice the potatoes into eighth-inch slices, or use a food processor. You can also shred them using the coarse side of a shredder.
Place the potatoes into a bowl of cold water while preparing them to prevent oxidization. It's important to blanch the potatoes for four to six minutes before dehydrating to prevent them from turning gray. Drain the potatoes and put them in a food dehydrator.
Keep and use the drained water to make your own potato starch. Whether to use potato starch vs cornstarch or flour as a thickener is an important kitchen consideration.
Slices need to be in a single layer, while shredded potatoes can overlap. Dry them at 135°F for approximately eight to ten hours. Allow the potatoes to cool and then store in a sealed container.
Canning and Storing Potatoes
Do you know how to can potatoes? Canning is an excellent way to extend the life of potatoes. Not only does it make storage easy, but you have ready-to-go taters for just about any meal, from mashed potatoes to potato salad.
To implement this easy potato canning recipe, squeeze the lemon juice into a large container and fill it with cold water. Wash, peel, and cut the potatoes into half-inch cubes and place them into the lemon water to prevent them from browning. Once they are prepared, drain them from the lemon water and blanch them for two minutes.
Place one teaspoon of salt in the bottom of each canning jar. Drain and rinse the potatoes and place them into the jars, leaving one inch of headspace.
Bring a pan of water to a boil and then pour the boiling water into each jar until the potatoes are covered. Place the lids and rims onto each jar and then place them into a pressure canner for 40 minutes at 11 pounds of pressure.
Remove from the pressure canner onto a towel on the counter. Let the canned potatoes cool completely and store in the pantry until you are ready to eat them.
Turning Dried Potatoes into Scalloped Potatoes
Now that you have all of those dried potato slices, you have to know how to cook them into meals. Scalloped potatoes are a great way to utilize those slices into a creamy side dish for any meal.
Heat the oven to 350°F and put the potato slices into a large casserole dish. Mix all ingredients except for the butter into a large bowl. Whisk the mixture until there are no lumps.
Pour the mixture onto the potato slices and cut the butter over the top. Bake in the oven for 45 minutes and allow to cool for five minutes before serving.
Make Hash Browns From Dehydrated Potatoes
Another way to utilize those dehydrated potatoes is to make a tasty version of hash browns.
Hash Browns
Put the desired amount of dried, shredded potatoes into a dish and pour boiling water over them until they are covered. Allow the potatoes to sit for about 15 minutes to rehydrate. Place a couple of teaspoons of butter into a skillet over medium heat.
Drain the potatoes, and season to taste with salt and pepper. Pour the potatoes into the skillet and cook until a brown crust forms beneath them. Turn the potatoes and continue cooking until all areas brown.
Grow from Old Potatoes
If potatoes sprout are they bad? They are definitely not great for eating. Planting potatoes with sprouts is the best idea, but many experts recommend not growing seed potatoes from grocery store potatoes because they may be treated. However, you can plant organic potatoes in a few easy steps.
Growing Potatoes
Once your potatoes begin sprouting from the eyes, you can prepare them for planting. Inspect the potatoes for areas that have the most sprouts. Cut the part of the potato off that does not have sprouts, making sure to keep a section with one to two sprouts.
You may be able to get four or more seed potatoes off of one potato. Set the potato seeds on a tray with a lot of ventilation and store in a cool, dark area until they have dried and scabbed up.
After the seed potatoes have dried, plant them in healthy soil at a depth of three to four inches, making sure that the eyes are facing upwards. The potatoes should be ready for harvest approximately 70 to 120 days after planting.
Knowing proper food storage can go a long way in providing your family with healthy, tasty food. When it comes to potatoes, using the right storage temperature and storing techniques can provide you with fresh, canned, frozen, and dried spuds that you can enjoy all year round.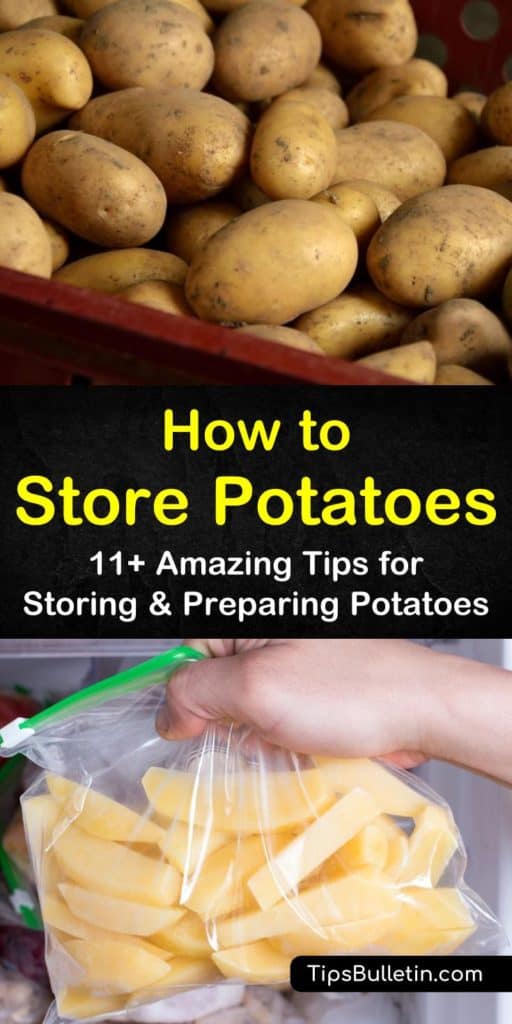 Now that you've learned how to store potatoes after buying them in bulk or harvesting, we'd love it if you shared our potato storage tips with your family and friends on Facebook and Pinterest.