You're making tacos for dinner, and as you're pulling out all the toppings, you realize that your romaine lettuce has started wilting and turning brown. Knowing how to store romaine lettuce isn't something that you were born with.
In a moment of panic, you search the internet for tips to make it crisp again and wonder what you did wrong in the first place. Keeping lettuce crisp for a more extended period is possible with a little bit of research.
Understanding where to store romaine lettuce and some tricks to make it stay crisp are two pieces of knowledge you need to search on your own.
This article is filled with tips for storing romaine lettuce so you never have to open your refrigerator to see sad leafy greens again. Use these methods for arugula, endive, butterhead, and iceberg lettuce as well.
Finding the best way to store romaine lettuce takes only a few minutes of reading, and all the salad greens and veggies you purchase in the future will remain crisp for weeks.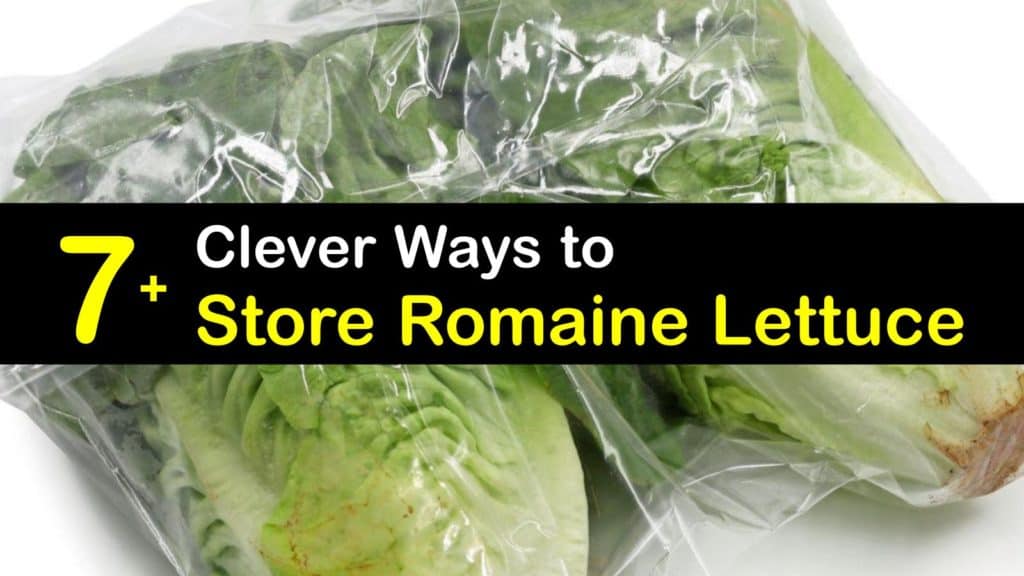 Benefits of Romaine Lettuce
Romaine lettuce is a sturdy and crunchy leafy green full of nutrition. It makes an excellent topping for tacos and sandwiches and is the main ingredient for some of the most delicious salad recipes.
Not only are these greens low in calories, carbs, and sugars, but they also have vitamins and minerals that benefit our health. Romaine lettuce is low in fiber but makes up for it with its high levels of calcium, phosphorus, potassium, and magnesium.
It's packed with vitamins A, C, K, and folate, too. As with all produce, fresh lettuce leaves are best. The outer leaves are more nutrient-dense than the inner leaves.
Whether you buy heads of lettuce, loose leaves, or even learn the way to regrow romaine lettuce from scraps, use this article to find the best ways to store fresh romaine lettuce.
How to Store Romaine Lettuce
When storing romaine lettuce or other kinds of lettuce, know that all lettuce belongs in the fridge. Some storage methods are better than others, but as long as you keep your greens in this cold environment, it stops microorganisms and other bacteria from growing and further damaging your produce.
Depending on the type of lettuce you buy or after harvesting romaine lettuce you have grown yourself, find the best way to store romaine lettuce in the fridge, either as a head or as a bag of pre-washed leaves.
Storing Romaine Lettuce Heads
When searching for the best way to store romaine lettuce, purchase the entire head if possible. Heads of lettuce are readily available at your local grocery store. Lettuce storage is easier because keeping the head whole makes the lettuce last longer than if you chop it up or pull apart individual leaves.
If you decide to buy a head of lettuce, your best bet for keeping it fresh is to wrap it in a dry paper towel and place it in an opened plastic bag. Store lettuce in the crisper drawer of your refrigerator until you are ready to use it.
Storing Loose Leaf Lettuce
Loose-leaf lettuce is different than a head of lettuce. They often come in plastic bags or boxes and are usually pre-washed. It is always a smart idea to re-wash your lettuce leaves before eating them so you don't accidentally consume harmful bacteria.
Unlike some other vegetables, lettuce requires good air circulation. Cut the top of the plastic bag that the leaves come in and leave it open while you refrigerate it, or line a large storage container with a damp paper towel and scatter your greens on top.
The paper towels absorb excess moisture while still allowing air to flow to the veggies to keep them from drying out.
The Best Way to Store Romaine Lettuce
The best place to keep a whole lettuce head or loose leaves is always the crisper drawer of your refrigerator. The crisper drawer doesn't allow excess water or moisture to get near your vegetables and the cold temperatures keep the leaves crisp.
When utilizing your crisper drawer, make sure to store romaine far away from fruits. Fruits that you keep in the fridge, like apples, emit ethylene gas. Ethylene gas causes other fruits and vegetables to ripen and spoil much faster.
Washing Lettuce
Many people rush home from the store and pre-wash all of their fruits and veggies before refrigerating them. This is a huge no-no when it comes to learning how to keep lettuce fresh longer.
Unwashed lettuce lasts longer because it doesn't have excess moisture. Always wait to wash your greens until right before you use them.
Once you're ready to wash your lettuce, place the leaves in a colander and rinse them under cold water. Place the rinsed leaves in a salad spinner to remove excess water so they don't turn soggy.
Wrapping Leftover Lettuce Leaves
Most of us throw our leftover lettuce from dinner into a glass jar or container and put it in the fridge. However, there is a better way to keep these pre-cut greens from spoiling too quickly.
The best way to preserve lettuce leaves is to spread your freshly chopped or shredded greens over a clean and dry kitchen towel. Roll up the kitchen towel and secure each end of it with rubber bands or hair ties.
Place the rolled kitchen towel in the crisper drawer of your fridge and use the preserved leaves up within two to three days.
Bringing Lettuce Back to Life
Sometimes we open our fridge to discover that the lettuce we thought was fresh has started browning, and the leaves are starting to wilt. There is a way to revive these greens.
Find a medium or large bowl and fill it with ice water. Right before you're ready to prepare your meal, submerge the lettuce leaves in the bowl of ice water and let it soak for several minutes.
The colder temperatures revive the wilting leaves and make them bright green and crispy once again. This hack is one of our favorite lettuce-fresh DIY tips because most people often give up and throw their lettuce away without having any idea that they can bring it back to life.
How to Freeze Lettuce
Using the freezer isn't the best way to store romaine lettuce, but there are some ways to keep lettuce fresh longer if you decide to put lettuce in the freezer.
Don't freeze lettuce leaves if you plan to make a tossed salad in the future, but there are ways to freeze lettuce if you plan to cook it down or use it for flavoring purposes.
You can't usually freeze lettuce leaves because ice crystals form within the plant cells and rupture the cell walls. When you thaw the frozen leaves, they turn into a mushy, watery mess. This doesn't mean that there aren't other ways to freeze lettuce, though.
Romaine lettuce is more freezer-friendly than other types because it has thicker leaves. Remember before freezing them that they won't be any good if you thaw them, but they do add flavor and nutrition to hot meals like soups and stews.
To freeze romaine lettuce, separate the leaves and wash them well. After you dry them thoroughly on paper towels, place the leaves in a freezer bag and squeeze out as much leftover air from the bag as possible before you seal it and put it back in the freezer.
When ready to add the lettuce into a hot dish, remove them from the freezer bag and drop them into your pot.
If this doesn't appeal to you, there is one other way to freeze lettuce. If you purée lettuce leaves with a little water, you may freeze them into ice cubes and store them in freezer bags.
Lettuce cubes are perfect for adding nutrition to smoothies, stocks, soups, and rice or other grains.
Unique Romaine Lettuce Recipe
Grilling romaine lettuce seems counterintuitive. After all, wouldn't the heat make the leaves less crisp? If you've never grilled lettuce before, you are missing out.
The char from the grill gives the lettuce extra flavor, And when you add other tasty ingredients, you get one of the best salads you've ever had.
Warm-up your grill to medium-high heat. Slice each of the romaine hearts in half so you have four parts. Dip a pastry brush in olive oil and brush each half of your romaine hearts. Sprinkle the coarse salt and cracked pepper over the tops of the lettuce.
Put the cut side down on the grill for 3 to 4 minutes until the lettuce is charred. Flip to the other side for another 3 to 4 minutes. Remove the romaine hearts from the heat and drizzle the cut sides with balsamic vinegar and fresh parmesan cheese before serving.
Lettuce is a staple item in kitchens around the world. It isn't always easy to use up all of the lettuce in a timely manner and requires some creativity when storing it.
We hope these quick tips helped you realize how easy it is to store and preserve lettuce so that you can benefit from its amazing textures and flavors.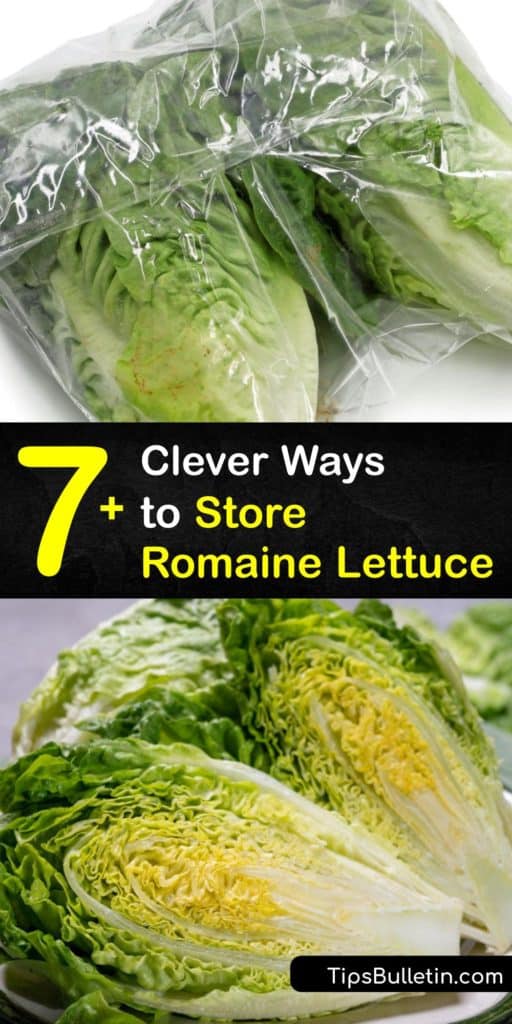 If learning how to store romaine lettuce has helped you prolong the life of your leafy greens, share these methods on storing romaine lettuce on Facebook and Pinterest.