Salads are a terrific and delicious way to get your daily intake of leafy greens and veggies. Because fresh veggies make up a salad, specific steps help preserve the leftover salad greens and help extend shelf life. Learning how to store salad is not challenging; however, you must understand how to keep your lettuce fresh to avoid premature spoilage.
Whether you purchase a bagged salad from the grocery store or make homemade salad, it is vital to store lettuce properly. Learn how simple storing salad is when you have the proper tools and preparation.
Keeping salad greens fresh is a breeze with the straightforward tricks we provide and allows you to always have a fresh salad on hand.
In addition to helpful food storage tips, discover how to identify a salad that has spoiled, so you do not have to worry about eating rotten veggies. Find an amazing Greek salad recipe that is easy to make.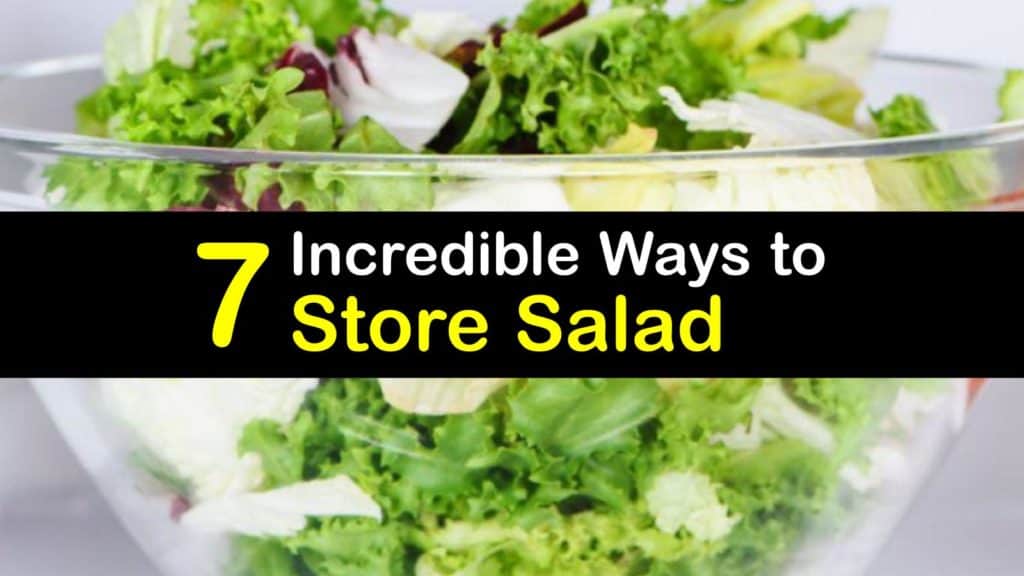 The Importance of Storing Salad the Right Way
The most popular salad types are premixed salads at grocery stores, salad from a restaurant, and homemade salad. Store each salad variety in ideal conditions to avoid dangerous bacteria.
Common bacterial diseases that make their way onto romaine leaves and fresh herbs include E. coli, Listeria, and Salmonella.
Eating spoiled salad leads to unfortunate food poisoning symptoms like an upset stomach and high fever. To protect yourself from food poisoning, continue reading to find the best way to store salad.
How to Store Salad in a Plastic Bag
Resealable plastic bags are a great way to block excess air and keep your salad fresh as long as possible no matter what lettuce varieties you use. A plastic bag is also a terrific solution for storing a leftover head of lettuce.
To eliminate all the excess moisture, place your salad in a salad spinner. Too much water leads to soggy lettuce. To store fresh salad in plastic bags, you need only a few tools.
After running your salad through the salad spinner, place one or two paper towel sheets inside your lettuce storage bag to absorb any excess water.
Transfer your fresh salad in the plastic bag and squeeze as much air out as possible as you seal it closed. Place the bag of salad in the crisper drawer of the fridge.
Storing Salad in Plastic Containers
For salads that have salad dressing on them already, a plastic storage container is the best way to store salad. Plastic containers, like the clamshell containers salad mixes are sold in, prevent bacteria from reaching the contents inside.
Because the functionality of plastic storage containers is so diverse, it is a good idea to keep a few containers around your house for meal prep and storage.
Line your plastic storage container with sheets of paper towel to absorb excess moisture on the romaine and arugula leaves. Dump your leftover salad inside the container and seal the lid.
Before eating the salad in the plastic container, shake the contents to mix the salad dressing that may have settled at the container's bottom. You can keep salad fresh for a week this way.
The Best Way to Store Salad Dressing
Whether you have leftover salad dressing from a salad at a restaurant or make your own salad dressing, it is crucial to store the product correctly.
Just like salads, the dressing eventually spoils. When stored in the incorrect environment, salad dressing degrades even faster, so it is essential to understand how to keep the dressing fresh.
The most effective way to store leftover salad dressing is in a small plastic container. After transferring the contents into a plastic container, make sure the lid seals completely to block excess air from entering.
Set the container on one of the shelves in your fridge, not in the door, as the shelves provide cooler temperatures.
You can also freeze salad dressing. Be sure it is in an airtight container.
Identifying Spoiled Salad
Although learning how to store salad the right way is essential, it is equally important to identify when your salad has reached its expiration date. Fortunately, identifying spoiled salad is simple.
Salad recipes spoil more quickly than other foods due to the ethylene gas that romaine leaves give off. Ethylene gas speeds the ripening process and causes lettuce to brown.
If you have any doubts about your salad's freshness, it is best to toss it to prevent the risk of food poisoning.
How to Tell When Leftover Salad Dressing is Spoiled
Because homemade salad dressings do not come with expiration dates, it is important to learn how to identify spoiled salad dressing. The best way to check the quality of salad dressing is similar to identifying a sour salad.
If your salad dressing gives off a foul odor, looks slightly discolored, or has grown mold, the product is expired and is unsafe to eat.
Compared to homemade dressings, bottled salad dressings last much longer, up to three months. Homemade vinaigrette dressing usually lasts longer than mayo or cream-based dressings.
Why does a Crisper Drawer Keep Food Fresh?
Whether storing salad or you store fresh romaine lettuce in a bag or a plastic container, keep it fresh in the refrigerator's crisper drawer.
The crisper drawer extends your salad shelf life by controlling the airflow with a system of vents. Lettuce and other vegetables thrive on excess moisture, which your crisper drawer provides.
Store salad in the fridge for the longest shelf life. Keeping salad and other veggies at room temperature promotes fast mold and bacterial growth.
Because of the risk of food poisoning, learning where to store salad is required to keep salads fresh.
Making a Delicious Homemade Greek Salad
Now that you know how simple storing salad is, it is time to learn how to make a delicious Greek salad. Salads are an easy way to get the daily intake of vegetables that a dietitian suggests.
Mix the ingredients in a large bowl. The best dressing to pair with a Greek salad is a vinaigrette to complement the veggies. Season your salad with a few mint leaves and enjoy with a glass of cold water.
If you struggle to eat enough vegetables in a day, adding a salad to your diet is a perfect solution. Salads are entirely customizable, so add whatever ingredients suit your preferences.
Because salad ingredients are perishable, it is essential to understand the best way to store salad for longer shelf life. Plastic bags and plastic storage containers are two inexpensive tools to assist you in keeping your salad fresh.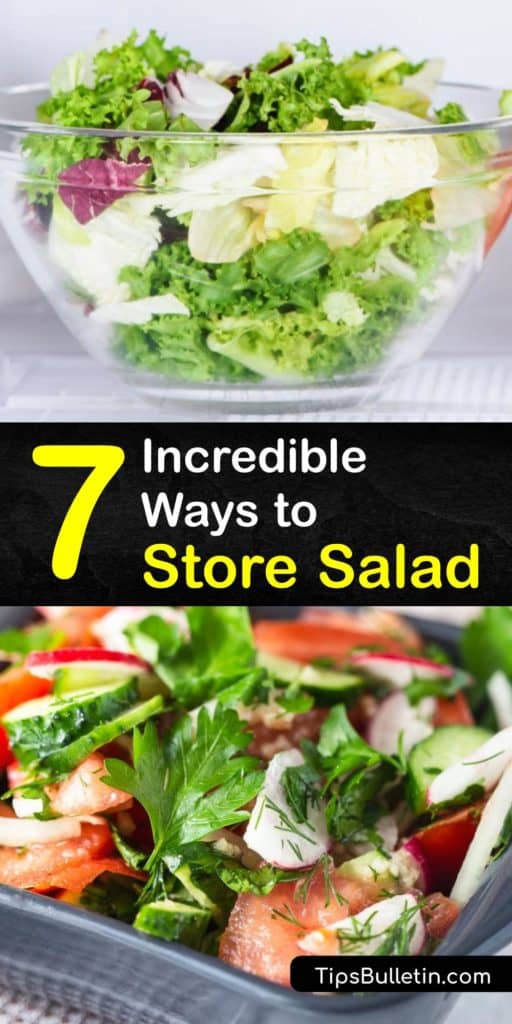 If you discovered how to store salad, share these tricks for storing salad with your family members and best friends on Pinterest and Facebook.