A charcuterie board is not complete without displaying an array of sliced salami, cheese, and crackers. There are so many types of these cured meats, from red wine Genoa salami, pepperoni, and chorizo to Italian salami, that they are now an everyday staple in the home. Learn how to store salami on the counter and in the fridge or freezer and how to tell when deli meat is bad.
Hard salami has been around for 2,000 years, and for a good reason. It was traditionally made from pork, but now it is made from beef and lamb to venison.
While salumi is the craft of salting cured meat, salami is a cured sausage air-dried and fermented and seasoned with spices and herbs.
Salami is a versatile meat useful in a wide range of dishes and recipes. It's delicious in everything from sandwiches and mac and cheese to carbonara and pasta bake. No matter how you enjoy eating your favorite salami, storing it properly to prolong the shelf life is essential.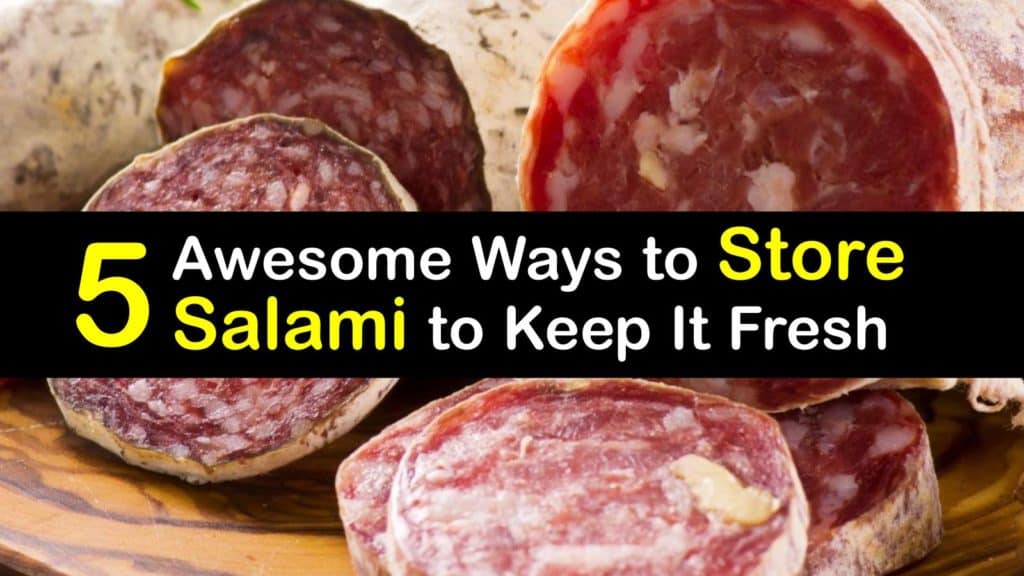 Ways to Store Salami
While salami is shelf-stable food, it does have an expiration date and dries out, especially if you don't store it correctly. We explain the different ways to keep your deli meat fresh and how to tell when it's spoiled.
What to Know before Storing Salami
Salami is unique from other deli meats. It is cured before ending up on the store shelf, and this process helps it last longer. Here are a few crucial things to understand before storing salami to simplify the storage process.
Salami Storage
Sliced salami from the grocery store is not suitable for sitting out on the counter. If you're wondering where to store salami to keep it the freshest, the fridge is your answer.
The USDA requires refrigeration of most meat types, and salami is usually not an exception. However, if the salami packaging states that it is shelf-stable, it is safe to keep at room temperature. Unfortunately, the longer it sits out, the drier it becomes.
How to Store Salami at Room Temperature
While it's best to store salami in the fridge, it is safe to keep dry salami at room temperature for a short time. Here is how to store sliced and whole salami at room temperature before and after opening the package.
Room Temperature Salami
Dry salami is only safe to store outside of the refrigerator if the original packaging is not opened. Dry salami lasts up to one month when you store it properly in a cool and dark area.
Always store fresh salami in the fridge after opening and slicing to prevent spoilage and food poisoning. If you are serving a platter of appetizers with salami, only let the meat sit out for about two hours.
When taking salami with you on a picnic or outing, keep it in a plastic cooler filled with ice to keep it fresh.
Best Way to Store Salami in the Fridge
The best way to store salami is in the refrigerator, where the cold temperatures keep it fresh and prevent premature drying and spoilage. Here are a few ways to refrigerate leftover whole salami and salami slices.
After slicing into the salami, wrap the cut end in plastic wrap or wax paper. Place it in a plastic bag to prevent the cut surface from attracting moisture and contaminants and keep the meat from mingling with other odors in the fridge.
How long does salami stay fresh in the fridge? Opened salami lasts five to seven days, while unopened dry salami lasts up to six months in the refrigerator.
Freezing Salami to Extend Its Shelf Life
When storing salami, you're probably wondering if it's possible to freeze the leftover meat. Can you freeze sliced salami? Fortunately, the freezer is a great place to keep salami and extend its shelf life to enjoy at a later date.
Cover the original package tightly with heavy duty aluminum foil and set it in the freezer.
To freeze slices of salami, place them individually between pieces of parchment paper and put them in a freezer-safe bag or airtight container before placing them in the freezer. Follow the same process to stop bread from molding.
Don't forget to write the name and date on the bags before freezing. Frozen salami is good for up to two months.
To thaw the salami, transfer the meat from the freezer to the fridge and let it sit overnight. Do not keep the frozen salami at room temperature to prevent bacterial growth.
How to Tell if Salami is Bad
It's easy to toss a package of salami into the refrigerator and forget about it for a while. This happens quite often if you have an overstuffed fridge, and it gets lost in the shuffle. Knowing the best way to store salami goes a long way, but how can you tell if it's spoiled?
Bad Salami
If you are unsure how long the salami was sitting in the fridge or freezer, use your senses to learn if it is still edible. If the salami has a hardened exterior or develops air pockets, it's no longer good.
It's also spoiled and ready for the trash if the edges of the meat are brown or gray. However, if you notice white powder or white mold on the outside of your cured salami, this is nothing to worry about. This is a natural and edible mold similar to that on aged cheeses.
Even though salami is shelf-stable, that doesn't mean it won't eventually go bad, and storing it the wrong way causes it to spoil even faster. Fortunately, there are easy ways to keep this deli meat fresh longer by refrigerating and freezing.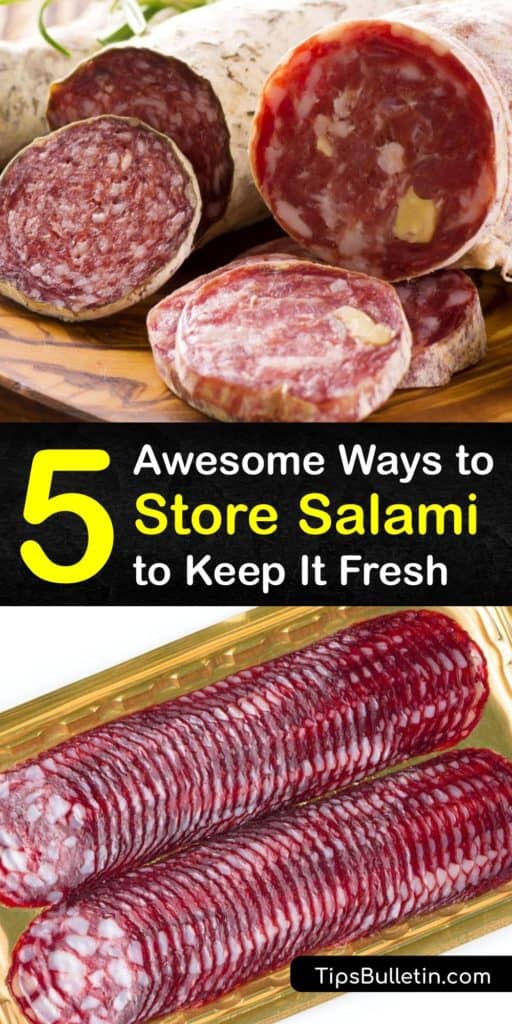 Knowing how to store salami the right way ensures that you get the chance to enjoy every last bit of your favorite deli meat, so why not share our salami storage guide and tips with your circle of friends and family on Facebook and Pinterest?