When you purchase sweet potatoes at the grocery store or dig up a few from your garden, you want to get your money's worth out of them. Understanding how to grow sweet potatoes is a valuable skill, but they can go bad quickly if you don't take some steps to ensure that they last for a while. Knowing how to store sweet potatoes helps you enjoy their fantastic flavor and health benefits all year long.
When you have a reliable home preservation method for storing sweet potatoes, you save effort and money in the long run. This article covers the best way to store sweet potatoes and helps you find the perfect option for your needs.
We provide sweet potato storage tips that you can use to extend your food's lifespan, and you'll learn where to store sweet potatoes to make sure they stay good for a long time. We even include a few of our favorite sweet potato recipes so that you can put your preserved tubers to good use. Our guide will make you a sweet potato preservation expert in no time.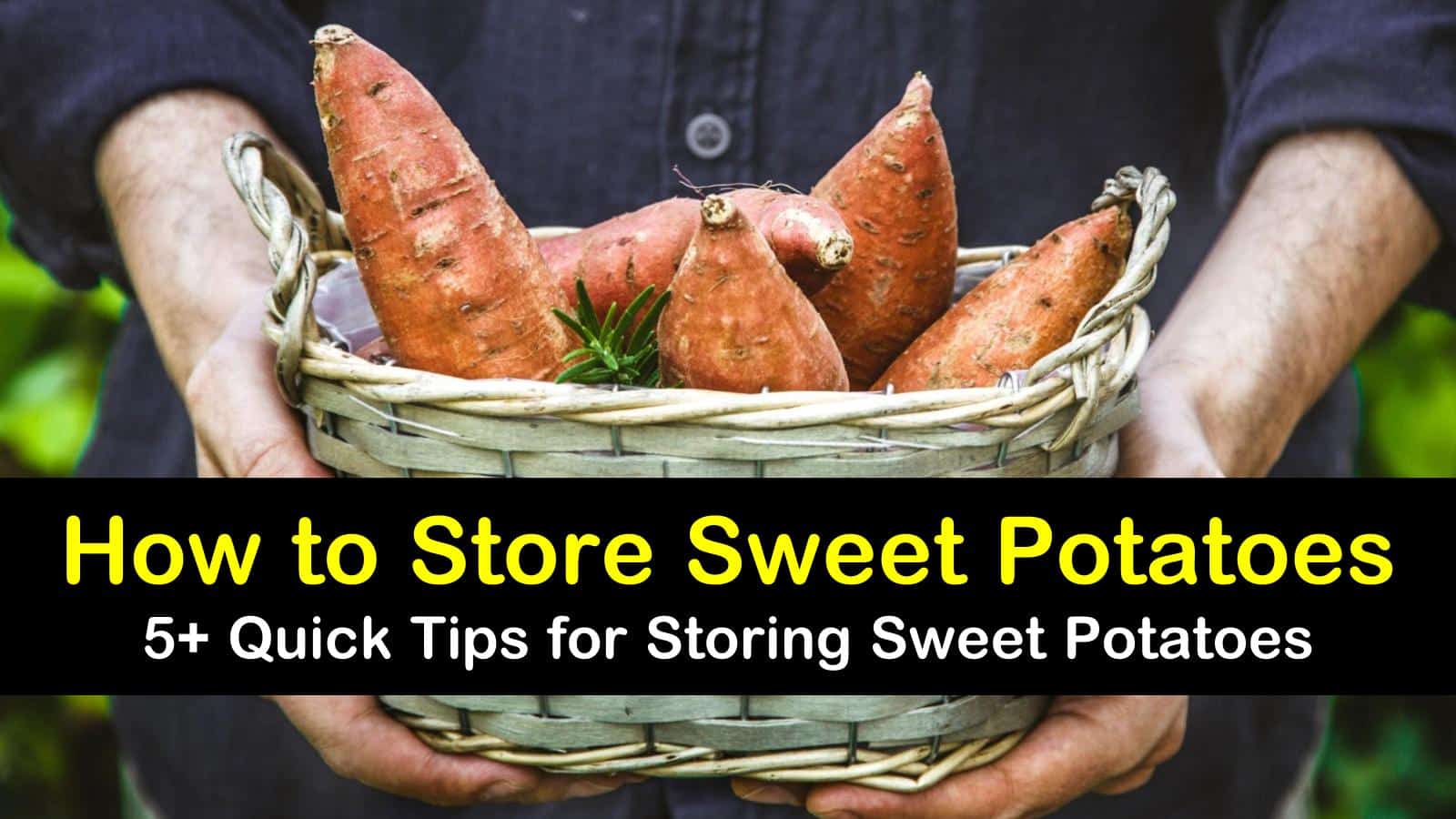 Storing Sweet Potatoes Properly
What is the best way to store potatoes at home? The key to quality preserved goods is laying the proper groundwork. Much of the result of your labor depends on whether you have a reliable DIY method for finding and preserving only the best specimens.
Once you've identified and prepared your veggies for their long rest in whatever storage option you choose, make sure that you're using the best and most effective method for storing sweet potatoes.
The Best Way to Store Sweet Potatoes
If you are growing yams or sweet potatoes, you definitely need to know how to preserve them to make your harvest last all winter. Learn the best way to grow sweet potatoes so you have a large crop for the cold months.
It's easy to harvest sweet potatoes and save them for later as long as you follow certain guidelines. This section covers the process of finding, preparing, and storing sweet potatoes.
We give you essential tips on cleaning and getting your sweet potatoes ready for their long sleep. Discover detailed instructions on storing your sweet potatoes in either the freezer or a cool cellar shelf. You're sure to find the best way to save sweet potatoes for your needs.
Cellar Storage
You might think that cellar-stored root vegetables won't keep for long, but that's not always the case. After you discover the best way to grow sweet potato slips, you need to learn the ideal way to store them. Sweet potatoes last for as long as six months in the cellar without loss of flavor or change of texture. If you want to preserve sweet potatoes but leave them in near-fresh condition, consider storing them in your cellar.
When you buy or harvest sweet potatoes, select only the plumpest, most recently picked ones for preservation. Try to find raw sweet potatoes that still have the root attached. Brush away and shake off any dirt, but don't wash the sweet potatoes.
It's important how to know if potatoes are bad so you don't try to save those. Spoiled potatoes have discolorations, mold, deep holes, an unpleasant smell and are wrinkled or squishy. Never choose these types of potatoes for storing.
After you've selected the ideal sweet potatoes for preservation, it's time to let them cure, which prepares them for long-term storage in a cool, dark place. Place the sweet potatoes in a room that stays between 75° and 80°F and maintains a relative humidity of 90 to 95%.
The high humidity and temperature trigger the curing, which heals nicks and increases the tuber's sugar content ahead of preservation. Install a small fan to keep the air circulating, and make sure that each sweet potato has airflow and isn't touching another potato.
The sweet potato curing process can take up to two weeks but might change based on the types of sweet potatoes you use. Once the potatoes cure, discard any sweet potatoes that show signs of bruising or mold.
Then, wrap each sweet potato individually in newspaper or paper bags. Put the wrapped veggies in a cardboard container, and add an unwrapped apple to the box to help reduce the chances of sprouting.
Store the container in a dark location such as a root cellar that has temperatures between 55° and 60°F. The storage temperature is critical, as storing a whole sweet potato at temperatures below 55° can create a hard center in the potato. Alternatively, storing the sweet potatoes at warmer temperatures decreases their shelf life and causes them to spoil faster.
Freezing and Thawing
Don't despair if you don't own a cellar and still wish to preserve your sweet potatoes. Sweet potatoes and yams do very well in the freezer and last a long time after preparation.
If you want to put in a little extra prep time, your freezer-preserved sweet potatoes will do you proud and will last for a more extended period than cellar-stored yams.
Select the freshest and best-looking sweet potatoes you can find. Wash the sweet potatoes under cold water, and peel the skin with a peeler or paring knife. Place the sweet potatoes in a pot of boiling water and cook for about 20 minutes.
When the sweet potatoes are soft, drain the pot and either mash the tubers or run them through an electric mixer. Add one teaspoon of lemon juice per potato, and mix until every bit of sweet potato has a covering of lemon juice. Then, spoon the mashed sweet potatoes into freezer containers such as plastic bags.
Label each airtight container with the freezing date, remove as much air as possible, and place them in the corner of the freezer. To thaw, remove a container about a day before you intend to use it, and put it in the refrigerator to thaw slowly.
When you're ready to use the sweet potatoes, pull them out of the fridge and let them come to room temperature. This method reduces potential damage to the veggie.
While you can freeze hard boiled eggs, the best way to store hard boiled eggs is in the refrigerator. These cooked eggs keep for up to a week if you don't eat them all before that time.
Storing Sweet Potatoes
You'll be spending some effort and time to get your sweet potatoes prepared and preserved, and it's essential to understand why they're worth the bother. There are lots of veggies out there, so what's so special about sweet potatoes? Why do these humble tubers deserve such TLC and attention?
Why Store Sweet Potatoes?
This section provides you with ironclad reasons as to why sweet potatoes are worthy of preservation. You'll get a rundown of the many health benefits that sweet potatoes provide.
And, we give you the best reasons of all to hold onto your sweet potatoes with our delicious and healthy recipes. You'll appreciate everything sweet potatoes can do for you after you read this section.
Health Benefits
The North Carolina Sweet Potato Commission calls sweet potatoes one of the more nutritious foods you'll find. A cup of sweet potatoes contains 180 calories and about 40 grams of carbs. It also includes four grams of protein, almost seven grams of fiber, and nearly eight times the required daily intake of vitamin A.
And, a cup of sweet potatoes has at least half your recommended daily vitamin C and manganese intake. Sweet potatoes also have tons of antioxidants that can help reduce the presence of free radicals.
Thanks to high fiber content, sweet potatoes are a vital part of a diet to improve gut health. Not only that, but studies indicate that sweet potatoes might have a role in fighting cancer. They're a smart and healthy choice for storage.
Roasted Sweet Potatoes
You can always go for baked sweet potatoes, but this roasting option is an excellent recipe for cellar-stored sweet potatoes. You could also use the potatoes from jars when you took care of canning sweet potatoes, as well.
The sweetness of these delightful veggies works wonderfully with the seasoning to produce a delicious and flavorful side dish or main course. Your family will love it.
Peel and cube the sweet potatoes while you preheat the oven to 425°F. Add the seasonings to the olive oil, and coat the sweet potatoes in the mixture.
Arrange them in a single layer on the pan, and try to keep the pieces from touching each other. Bake the sweet potato pieces for 30 minutes, flipping the pieces every ten minutes or so.
Sweet Potato Casserole
You can use either cellar or freezer-stored sweet potatoes in this recipe. The blend of sweet and savory in this dish is unforgettable and adds zing to any meal all year long. You'll adore the way the flavors in this recipe explode off the tongue.
If using cellar-stored sweet potatoes, peel, cube, and boil the potatoes for about 20 minutes. Then, drain and mash them. Heat the oven to 350°F and use a little extra butter to grease up a baking dish.
Whisk together four tbsp butter, sweet potatoes, ¼ cup brown sugar, milk, ½ tsp salt, vanilla, and eggs. Pour into the baking dish.
Mix the flour, ½ cup brown sugar, four tbsp butter, and ¼ tsp salt. Add the pecans, and spread the resulting mixture over the sweet potatoes. Bake for 25 to 30 minutes. The top should be golden, and the center should be set.
Sweet Potato Pie
If you've spent any time in the southern United States, you're probably familiar with the rich flavor and texture of sweet potato pie. Sweet potato pie is delicious and will make you look at sweet potatoes in a whole new light. If you have preserved sweet potatoes that need a place to go, you can't go wrong with this family-pleaser.
If using cellar-stored sweet potatoes, boil them whole and in the skin for about 40 to 50 minutes. Immerse the cooked tubers in cold water, peel away the skin, and mash them. Mold your unbaked pie crust in a pie tin.
Add the butter, and stir until combined. Then, add sugar, eggs, milk, vanilla, nutmeg, and cinnamon. Beat at medium speed until smooth. Pour your sweet potato mixture into the pie crust and bake for 55 minutes to an hour. The pie is ready when a knife pushed into the center remains clean.
We hope you had a fantastic experience checking out our tips on storing sweet potatoes. Finding the best way to store sweet potatoes ensures that you and your family can enjoy their spectacular flavor and fantastic health benefits across all seasons. Our guide gives you the tools and turns you into a preservation machine.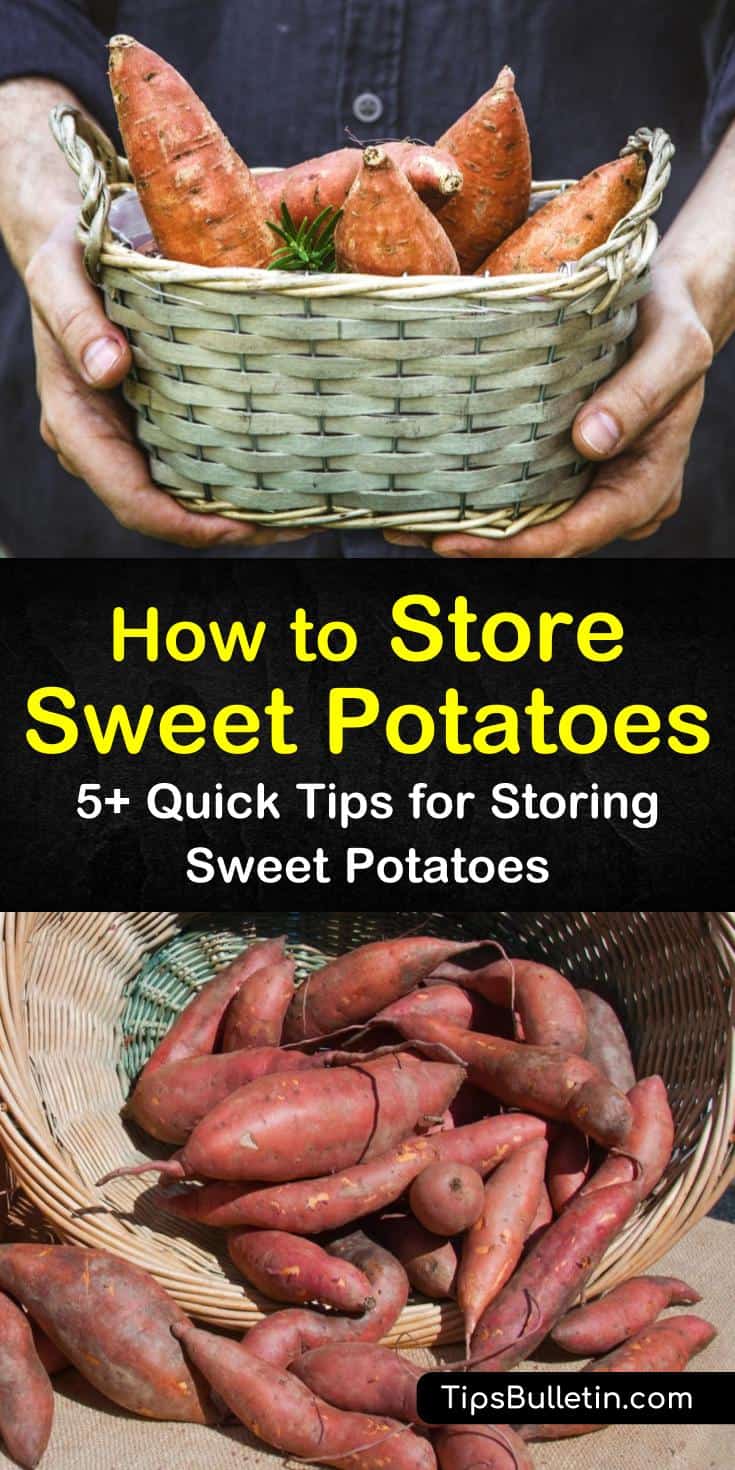 Thanks for reading these sweet potato storage tips. If you liked learning how to store sweet potatoes, please give others the chance to learn as well by sharing our sweet potato storage guide with your family and friends on social media sites like Pinterest and Facebook.