If you grow your tomatoes, you recognize the importance of making those yummy red bulbs last throughout the summer. After summertime has passed, you long for a way to extend the delicious goodness of fresh tomatoes throughout the year. Extending the shelf life of these fruits requires knowing how to store tomatoes in the first place.
Whether you grow your own or want to keep the juicy freshness of these foods going all year long, storing tomatoes is an excellent way for you to get the most out of your purchase. When it comes down to the best way to store tomatoes, determine how long you plan on keeping them first.
There are numerous short term options available that keep your foods fresh for several days while you plan your meals for the near future. If you don't intend to make that fresh tomato and avocado salad anytime soon, there are also longer-term food storage procedures available that allow you to salvage your food now for later. The choice is yours!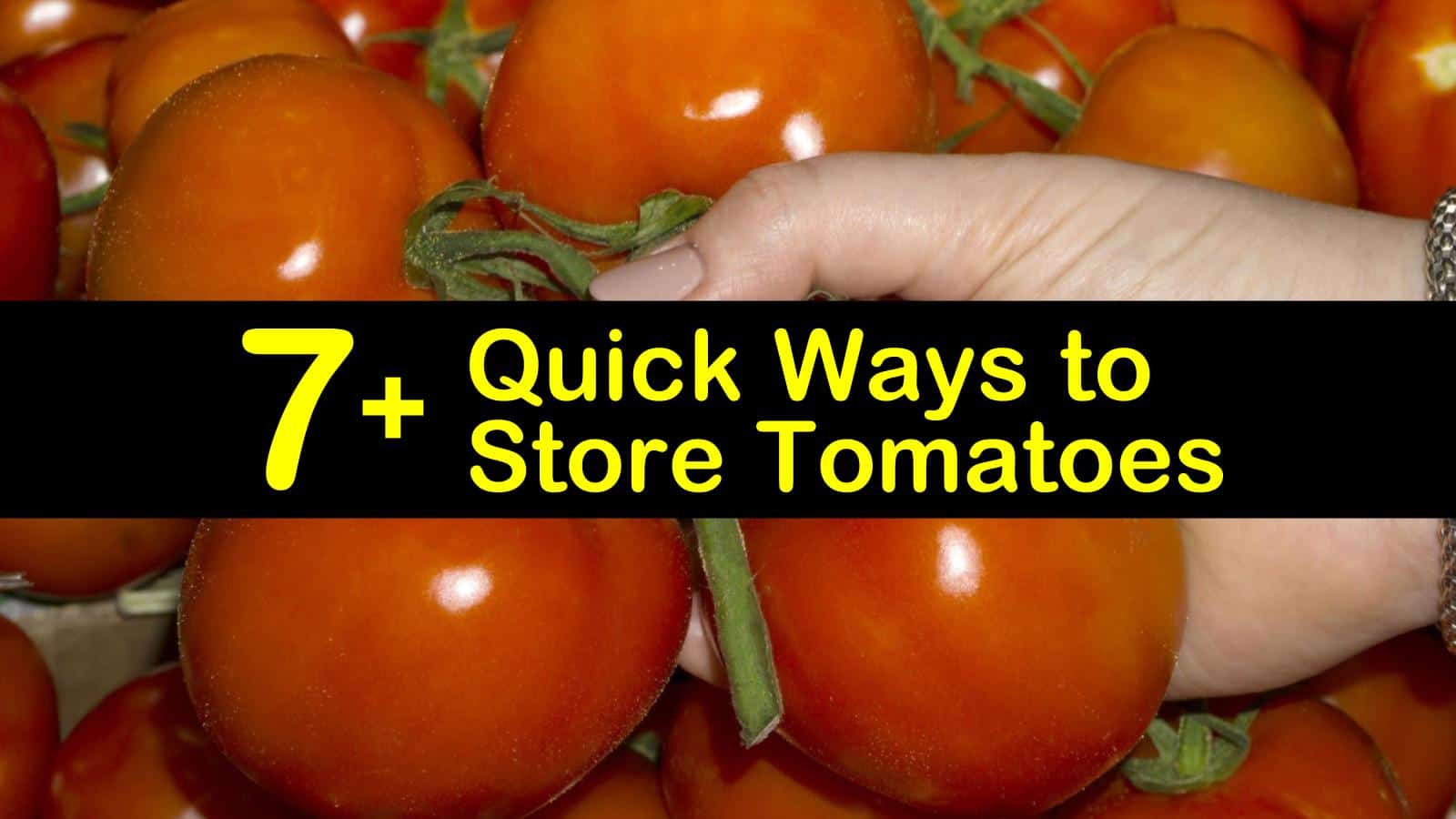 Find the Best Way to Store Tomatoes
Tomatoes provide plenty of health benefits, not to mention make up some of the best meals and appetizers. From homegrown cherry tomatoes in salads to crispy beefsteaks on hamburgers, and chopped tomatoes in salsa, there are plenty of reasons to store your food for eating throughout the year.
Choose the Best Tomatoes
When it comes to storing tomatoes, the first thing on your list is to select the right kind. While the common misconception is that only ripe tomatoes are salvageable, that's not entirely true. The ripeness of the tomato determines how it is stored.
An overripe tomato does not mean it's ready for the trash can, though. How long are tomatoes good for? It really depends on what you plan to do with them.
Unripe tomatoes are just as beneficial to someone who doesn't intend to use them right away. So what qualifies as a good tomato and what are the best storage options?
Regardless of its current condition, choose a tomato that's plump with smooth skin. Selecting ones without blemishes or bruises also contribute to the quality of the tomato and make them last much longer when storing.
Choosing types of tomatoes that do well in long-term storage are also ideal. Heirloom tomatoes, for example, are too delicate to use and don't last very long in storage.
Keep Unripe Tomatoes until They Ripen
Where to store tomatoes often depends on the condition that they are in when you get them. One way to prolong the use of tomatoes is to buy unripe ones. By doing this, the plants mature while they wait for you to use them, giving you additional time to decide what meal to make out of them.
Green tomatoes continue to ripen even after taken off the vine. Some gardeners also do this as a way to protect the fruit from pests or sun damage.To store tomatoes at room temperature, place them in a paper bag with the tomatoes upside down. Make sure to put them on a single layer along the bottom of the bag, with their stem side facing downward.
Do not put them inside a plastic bag, unless you poke holes in it for proper ventilation. Otherwise, the natural ethylene gas released by the tomato when ripening builds up within the bag and causes the tomatoes to ripen too quickly. The ripening process may take up to a couple of weeks to complete, so store them in a nice, cool place until they reach the perfect level of ripeness.
Storing Tomatoes at Room Temperature
Even when storing ripe tomatoes for a short period, keeping them on the countertop is the best way. Refrigerating tomatoes slows down the enzyme activity of the fruit, reducing the flavor and increasing the output of sugars.
This process, in turn, gives the fruit a mealy texture. Mealy means the tomato takes on a dry, powdery texture, making it almost inedible.
When storing on the countertop, keep fresh tomatoes out of direct sunlight. Place them in a single layer, this time with the stem side facing upward. After a few days, use them or move them to the refrigerator.
How to Store a Cut Tomato in the Fridge
How long do tomatoes last in the fridge? Uncut tomatoes get mealy when they have been in the refrigerator so that storage method is not recommended.
The only time refrigerating tomatoes is acceptable is when they are overripe or already cut or cooked. Overripe tomatoes may start to get mushy and soft, but are still salvageable for up to a couple of days when placed in the fridge. Equally, if you have cut tomatoes, the only option to spare them from being overcome by bacteria is to keep them in the refrigerator.
For tomato halves, wrap them in a paper towel to absorb as much moisture as possible from the fruit before placing it inside a storage container. For cooked or smaller cut pieces, put them directly inside the storage container. Once the tomatoes are cut, using them as soon as possible is necessary. Otherwise, they need freezing.
A refrigerator is also an excellent option for storing cut onions until you are ready to use them in a couple of days. For longer storage, use the freezer instead.
Store bell peppers in the fridge whether they are whole or cut, in the crisper drawer. Don't wash them first and put them in a plastic bag. Use them within a week for the best flavor and optimum freshness.
Store Tomatoes Long-Term in the Freezer
The simplest option for long-term tomato storage is freezing. Start by washing the tomatoes and cut them into quarters. Place them in a single layer along the bottom of a plastic Ziploc bag and set them in the freezer.
Once the tomatoes freeze completely, break them apart to ensure none of the pieces are stuck together. Seal them back up in an airtight container or Ziploc freezer bag that is free from air.
If wanting to preserve tomato sauce or puree for an extended length of time, this is also a great way to do it. Pour the freshly-made puree into an ice cube tray, then freeze, and save for future use. Otherwise, use a tomato sauce canning procedure. Both processes allow you to use the tomatoes for up to a year after freezing.
Storing Cherry Tomatoes by Pickling
While many people imagine pickling to belong to the realm of veggies, tomatoes are a unique food that straddles the line of both fruit and veggies. Labeled a fruit, but nutritionally a veggie, they are just as delicious when pickled as other vegetables.
This process works when using most tomatoes, though it's one of the best techniques for how to store cherry tomatoes.
Add the seasoning and tomatoes to the jars first, separating them evenly, then fill the jars with boiling water. Pour out the water into another pot and add in peppercorns. Add salt and vinegar to the boiling water, then fill the jars once again.
Close the jars, ensuring the lids seal tightly over the top. Flip the sealed jars upside down and leave them that way for two to three days.
Store tomatoes at room temperature for two weeks before eating, though occasionally sampling them is advised to test the taste — these last up to six weeks in the fridge when opened.
How to Store Tomatoes by Canning
Canning tomatoes is another excellent way to extend the shelf life of these plants. When you can tomatoes, the traditional option is a Roma, though most varieties work, too. To effectively store them this way, use a water bath canning method.
While a hot water bath is the best avenue to take, especially when you've added acidic liquids like vinegar to the jar, it's not the only viable method. Because tomatoes cross into both the fruit and vegetable realms, pressure canning them is also acceptable. By canning fresh tomatoes, these yummy fruits last for up to three years in the pantry.
How to Dehydrate Tomatoes
Another great way to store these fruit veggies is by using a dehydrator. Drying out the food allows you to preserve them for up to six months. Start by washing and halving the tomatoes, then removing all of the seeds from inside.
Line the bottom of the dehydrating tray with a single layer of the vegetables. Make sure the cut side of the tomatoes is facing upward. You can also layer them over on a baking sheet in the oven if you don't have a dehydrator.
Place the tray in the dehydrator and leave them in the machine for approximately four hours. If using the oven, set the temperature to 150℉. After four hours pass, flip the tomatoes over.
Continue to flip them every hour until they form a leathery texture on the surface. Remove tomatoes as needed and store them in a jar with olive oil. Most tomatoes finish after six hours, though it varies depending on size.
Classic Red Sauce Tomato Recipe
Now that you have all your tomatoes carefully tucked away, you may still be struggling with the right menu item to bring them back out of storage. One recipe that never goes out of style is a classic tomato sauce for pasta and bread. These delicious ingredients make about five cups worth of sauce and take only about 40 minutes of total cooking time.
Start the recipe by combining garlic and oil in a saucepan. Stir in some red pepper flakes and let them cook for about three minutes. Next, add the oregano and tomato paste until they blend evenly with the oil. This step should only take a couple of minutes.
Add the canned tomatoes, along with their juices, and raise the level of heat. Use a blender to smooth out the tomatoes until the ingredients are all perfectly blended.Stir in the basil, then lower the heat and leave the sauce to simmer for approximately 30 minutes.
Check the mixture and occasionally stir. Remove the basil, then add in the salt and butter as needed. After that, enjoy your newest creation with some pasta or fluffy bread. If you're looking for more mouthwatering tomato recipes, Serious Eats has some of the best out there.
By now, you have all the information you need about the best way to store tomatoes at home, whether for long-term or short-term purposes. There's no reason to feel guilty about that colossal score from the farmers market.
And, there's undoubtedly nothing holding you back from taking advantage of the fantastic deal at the grocery store. You have all the information for keeping your tomatoes ripe and delicious for as long as you need them.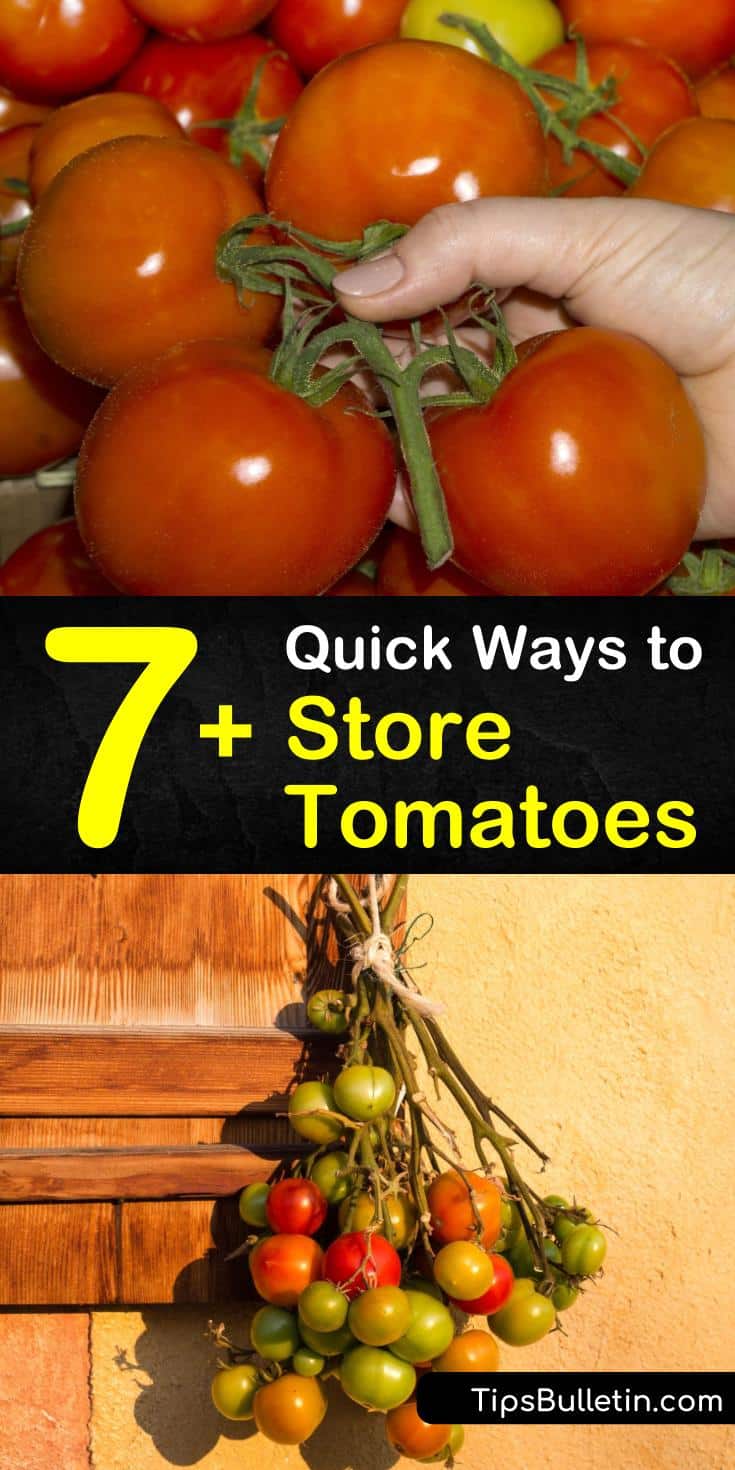 If you found these tips for storing tomatoes enlightening, then don't forget to share everything you know about how to store tomatoes with friends and family on Facebook and Pinterest.