You wait all year with anticipation for your garden watermelons to ripen, and now they are ready to harvest. You lug them, one by one, into the house, but now what? We'll show you how to store watermelon in a variety of ways, as well as some tasty watermelon recipes.
There are 1200 different varieties of watermelons, ranging in size, color, and taste. Some have seeds while others are seedless, and with a water content of 92%, it's obvious how they got their name. While we all focus on these fruits' flesh, the entire melon is edible, including the rind and seeds.
You don't even have to have a veggie garden to end up with too much watermelon in your kitchen. Watermelon is inexpensive at the end of the growing season, and it's easy to buy two rather than one. Fortunately, there are many ways of storing these juicy fruits, so they don't go to waste.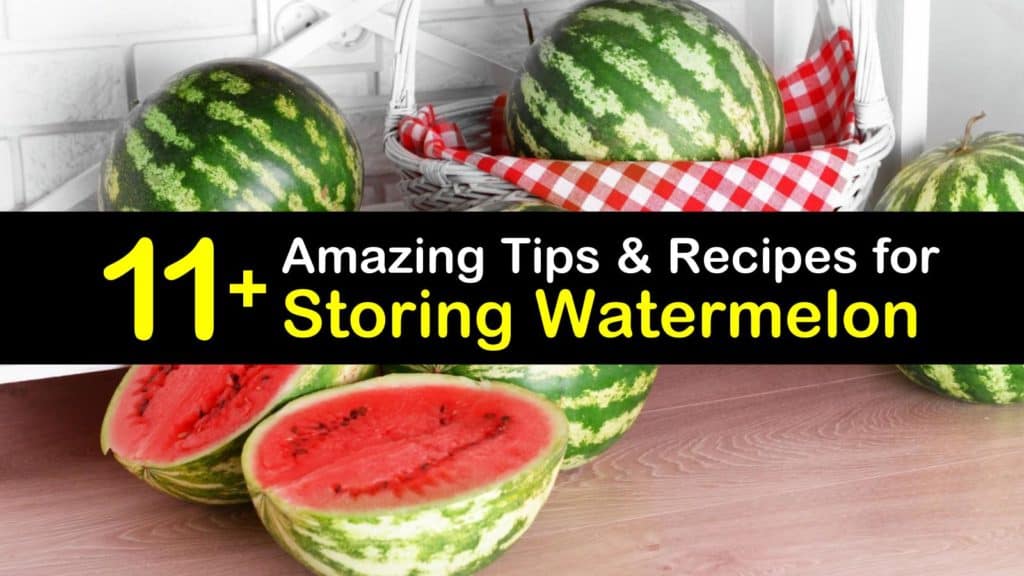 Selecting and Storing Watermelon
Do you thump on your watermelons, waiting to hear the perfect sound to know which ones are the tastiest, or do you just toss one into the shopping cart and head on your way? Do you weigh the merits of cantaloupe vs watermelon and decide on the juicy red flesh or get both fruits from the store?
Or, are you growing watermelons yourself and wonder when they are ripe? After you learn about sowing seeds, how far apart to plant watermelon, and all about how to grow watermelon in containers, harvesting your crop is the best part. Learning how to harvest watermelon is simple if you know what to look for.
Planting cantaloupe or watermelon is actually pretty easy. Here, we'll help you choose the perfect watermelon whether you bought it or grew it, and show you how to store it.
Knowing Which Watermelons to Choose Before Storing
The peak for a watermelon harvest is generally from mid-June to late-August, and it's during this period you see large bins overflowing with them.
When looking at watermelon compared to muskmelon and cantaloupe, it's good to know about storage. Before you store fresh watermelons from the grocery store, it's smart to know how to choose the healthiest fruit with the perfect ripeness.
Fresh Watermelons
While browsing the melons at the store, check the skin and look for those that have a dull and slightly waxy appearance. Avoid any with cuts or dents, and check that the stem is intact, dry, and brownish.
Pick up the watermelon to check the weight and firmness. Do not pick it if it has a flat side or yields more than slightly with pressure. Store the uncut watermelon on the counter at room temperature or in the fridge for up to a week.
Storing Watermelon in the Fridge after Cutting
If you're anything like us, you probably slice the big, bad boy open as soon as you bring it home.
Unless you have a family of five or more, it's nearly impossible to eat all of that watermelon right away.
Storing watermelon in the fridge is simple and keeps it fresh until the next craving hits, just like when you store tomatoes in the fridge after slicing.
Storing Watermelon Halves
Use a large sheet of plastic wrap to cover the cut portion of the melon. Seal it tightly to prevent it from picking up other food odors and place the wrapped, cut watermelon in the refrigerator for three to four days.
Best Way to Store Watermelons in Chunks
Family picnics are great, especially when those large hollowed watermelons overflow with easy-to-eat chunks. But, what to do if you have a bunch leftover? The best way to store watermelons if you plan on eating them right away is in the fridge.
Slice the watermelon in two and remove the rind from the fruit by laying the melon on its flat side and running the knife along the rind curve.
Cut the fruit into chunks and place them into an airtight container. Store watermelon in the fridge for no more than four days.
How to Store Watermelon by Freezing
Where to store watermelon if you cannot eat it right away? The freezer is the next best alternative, and frozen watermelon tastes yummy as a cold and healthy snack.
Cut the melon in half and slice the rind from the fruit by following the melon's curve. Cut the melon into slices or cubes and spread them in a single layer on a baking sheet. Flash freeze them until they are solid.
Transfer the cut melon pieces from the sheet to freezer bags and press as much air out as possible. Write the date on the top and set them in the freezer for up to six months.
Follow the same process for storing red peppers or other pepper varieties in the freezer.
Freezing Sweet-Packed Watermelon for Desserts and Cocktails
Sweetening your watermelon pieces before freezing them is an option if you plan on adding them to desserts or party drinks. The sweetened chunks are flavorful and keep the spirit of summer alive during the off-months.
Use a knife to remove the rind carefully from the fruit, slice the watermelon into chunks, and place them in a bowl. Remove all of the seeds and add a half a cup of sugar for each pound of watermelon.
Place the sweet watermelon into a storage container, leaving a half-inch of space to allow for expansion during the freezing process. Freeze them for up to six months.
Storing Watermelon in the Freezer for Smoothies
Who doesn't love a good smoothie? They are all the rage, and there are so many ways to prepare them, from veggie and fruit smoothies to protein smoothies.
It's convenient to freeze up a batch of watermelon cubes and add them to your favorite frozen drink whenever you fancy.
Remove the rind from the watermelon with a sharp knife and cut the fruit into large pieces. Put the fruit pieces into a blender or food processor and add a small amount of sweetener to taste such as sugar, juice, or simple syrup.
Blend the watermelon until smooth and pour the puree into an ice cube tray. Freeze the watermelon cubes and then transfer them to a freezer bag.
With cucumbers, add the pieces to each portion of the ice cube tray. Add water to store cucumbers in water in the freezer, ready to pop in a smoothie.
Make and Store Watermelon Lemonade
This recipe brings the two icons of summer-time together, watermelon and lemonade. Not only is this refreshing drink simple to make, but it also lasts up to a week in the fridge.
Put the melon pieces into a blender or food processor and blend until smooth. Strain the puree through a fine-mesh strainer over a pitcher, while using a spoon to work the liquid through it.
Slice the lemons in halves and juice them through the strainer placed over the pitcher to prevent the pulp and seeds from slipping into the drink.
Add a cup of sugar and stir until dissolved. Give the watermelon lemonade a quick taste and add more sugar if necessary. Refrigerate and serve over ice.
How to Make Delicious Watermelon Popsicles
If you have little ones always asking for another popsicle, it's easy to hand them out guilt-free if you make them solely from fresh fruit, not to mention that we adults love them as well.
Slice the watermelon half into one-inch-thick slices, remove the rind, and cut each piece into four triangles. Place the melon slices on a cookie sheet and insert a popsicle stick into the wide end of each one.
Set the sheet into the freezer for about four hours. Serve them immediately or wrap them in plastic wrap and pop them back in the freezer for up to a week.
You can follow the same process to preserve bananas as popsicles. Dip them in chocolate for an even tastier frozen treat.
Making Watermelon Infused Ice for Tasty Beverages
Jazz up any drink with watermelon ice, whether it's seltzer water, juice, or an adult beverage. These frozen cubes last up to a year in the freezer, which means you enjoy them during the summer or winter.
Slice a watermelon in half and lay each side flat on a cutting board. Cut the melon into chunks after removing the rind from each section. Pour the melon pieces into a blender or food processor and blend until smooth.
Pour the pureed melon into ice cube trays and freeze until solid before transferring them to freezer bags. Toss the frozen melon cubes into your favorite beverage as desired.
How to Make Watermelon Ice Cream
Ice cream is an all-time favorite for most, and there are so many ways to make it. There are the traditional vanilla and chocolate flavors, but what about making watermelon ice cream for something a little different?
Combine the ingredients in a blender or processor and puree until smooth. Pour the mixture into a loaf pan and place it in the freezer for about three hours.
Remove the ice cream from the pan and mix it in the blender once more. Pour it back into the pan and freeze for one more hour before serving up a bowl with your favorite toppings.
Making Watermelon Sherbet with Frozen Watermelon Cubes
It almost seems like watermelon and frozen treats go hand in hand. Sherbet is a frozen dessert that combines fruit with milk or cream, so why not use watermelon? This sherbet only uses three ingredients and is quick and straightforward to make.
Combine the frozen watermelon, sweetened condensed milk, and salt in a food processor or blender and process for three to five minutes until the mixture is smooth.
Pour the blend into a storage container and freeze for about two hours. Scoop the sherbet into bowls and dig in.
Prepare a Fruity Smoothie with Frozen Watermelon
Now that you have the freezer fully prepped with frozen watermelon, why not try your hand at making a smoothie? This vegan, gluten-free recipe is refreshingly cold, slightly tart, and naturally sweet, and only takes five minutes to prepare.
Blend all the ingredients in a processor or blender until the mixture is smooth and creamy, adding more milk, fruit, or ice if needed for the desired consistency. Pour the smoothie into two large glasses, top with optional Chia seeds and serve.
How to Pickle and Store Watermelon Rinds
A watermelon storage guide isn't complete without a recipe for pickling watermelon rind. These quick pickles are an excellent way to use up rinds without them going to waste and taste great with a summer barbecue.
Remove the rind from the whole watermelon and store the fruit in the fridge. Slice the green skins off the rind and cut the light green or white pieces into two-inch sizes. Pack the rinds into each jar, along with one and a half teaspoons of pickling spice, and set them aside.
Combine the water, vinegar, sugar, and salt in a pot and bring it to a boil for about three minutes. Turn off the burner, remove the pot from the stove, and pour the brine in each jar, leaving a half-inch headspace.
Cool them at room temperature, secure the lids in place, and store them in the fridge for several weeks. Allow them to rest in the brine for at least 24 hours for a better-tasting pickle.
Everyone has special techniques for picking ripe fruits and vegetables that they swear by, but knowing what to look for is vital when selecting the best watermelon.
After that, all that is required is a couple of storage containers, a few good recipes, and a little time.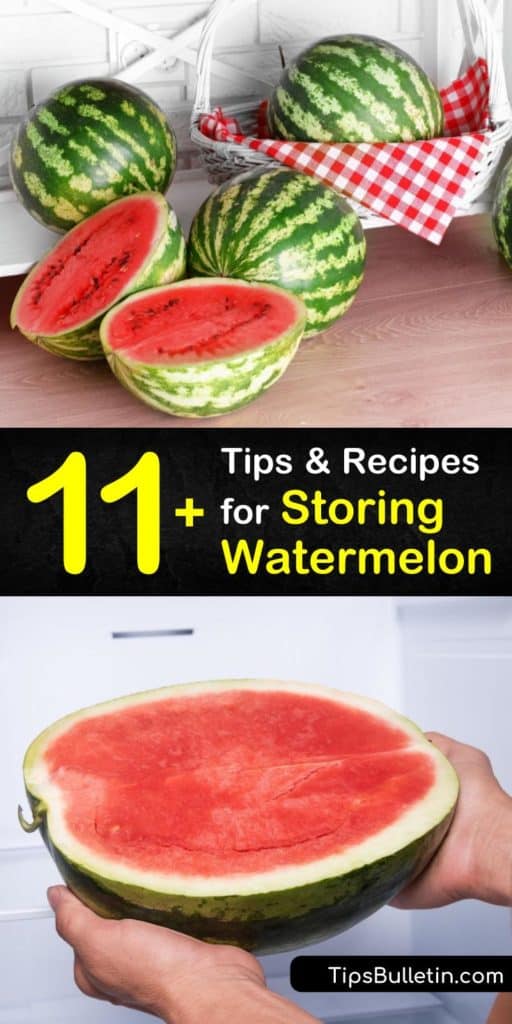 The treats are endless once you know how to store watermelon in the fridge and freezer, so why not share our watermelon storage tips and recipes with your family and friends on Facebook and Pinterest?