We've all been there: your eyes were larger than your stomach at the grocery store. All that zucchini looks innocent sitting in your fridge's crisper drawer, but you know that it won't be long before it starts going mushy. You find yourself wondering how to store zucchini to stop it from going bad.
Properly storing this summer squash allows you to savor it in delicious zucchini recipes like zucchini fritters, zucchini lasagna, and zucchini bread.
Perhaps the best zucchini quality is the way that it absorbs flavors and textures. You can enjoy it in a stir-fry, cook it on the grill, or coat it in a hearty tomato sauce.
Like most veggies, zucchini is highly nutritious, rich in potassium, fiber, beta-carotene, and vitamins A, B6, and C. It aids digestion and promotes good eye health. Eating zucchini fries occasionally is nothing to worry about!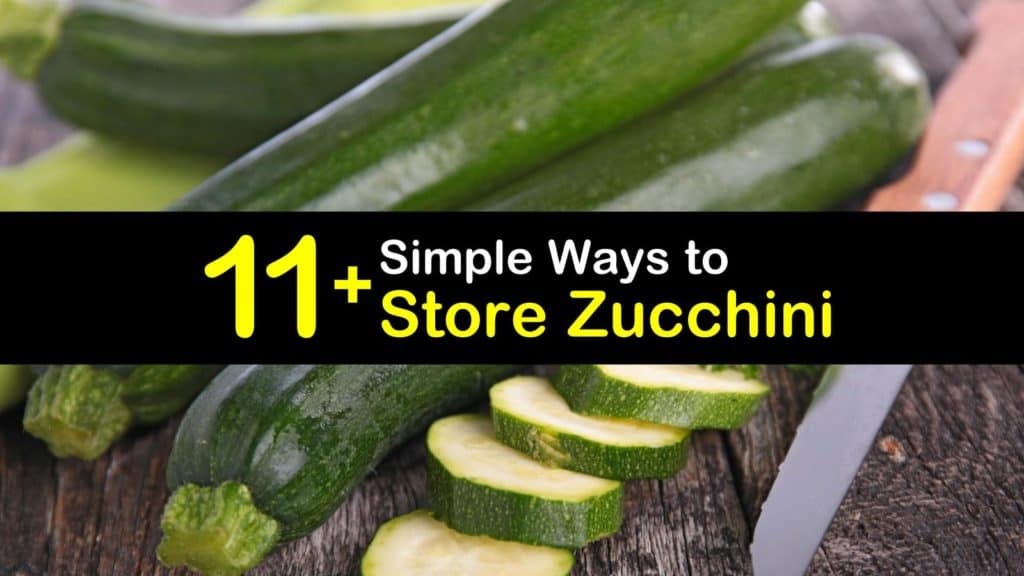 How to Choose Zucchini
Pick a small to medium zucchini—at most about six inches long and one to two inches in diameter. Specimens of this size have thinner skin and are sweeter and more tender than their larger counterparts.
The skin should be vibrant green or yellow and free of wrinkles, cuts, bruises, and blemishes. Look for zucchinis with a little bit of stem still attached. The vegetable should feel heavy for its size and firm but not hard.
How to Tell When Zucchini has Gone Bad
There are several signs zucchini going bad. If a zucchini has a few black spots or soft patches, cut them off and use it as soon as possible. If the vegetable's skin has turned dull and wrinkly, cut it open. Throw out the zucchini if the majority is soft.
If the vegetable is moldy or rotten, smells bad, or is leaking a thick, white liquid, it's time to toss it. You also don't want to eat an overripe zucchini with large seeds and a dry, rough interior.
How to Store Zucchini at Room Temperature
Although it's typical to store fresh zucchini in the fridge, you may keep it at room temperature if you're using it soon. A whole zucchini lasts for two to three days at room temperature.
This method for storing zucchini works best if you keep it somewhere cool and dry. A cabinet or pantry is ideal.
The Best Way to Store Zucchini in the Fridge
If you intend to use a zucchini soon but not immediately, the fridge is perfect to preserve squash. This vegetable lasts for one to two weeks in the crisper, although its skin may start to shrivel.
For best results, refrigerate a whole, unwashed zucchini. Cutting and moisture make a zucchini go bad faster. Drying the vegetable with paper towel before putting it in the fridge helps.
Keep it in a plastic or paper bag with the end open for air circulation. Alternatively, punch ventilation holes in a plastic bag.
The fridge is also best for cucumber storage, whether whole or cut.
How to Store Zucchini that's Sliced
Chopping vegetables ahead of time is a great timesaver and simplifies putting a meal together. Zucchini slices survive for one hour at room temperature.
Otherwise, store them in the fridge in an airtight container or resealable plastic bag, as you would store peppers that have been cut. Cover the zucchini with a damp paper towel to keep it fresh.
Storing Zucchini that's Cooked
Maybe you steamed too much zucchini or were doing meal prep. Whatever the situation, you might find yourself wondering what the best way to store zucchini squash is to stop it from going mushy.
Cooked zucchini can sit for one hour at room temperature. After it cools, pop it into a container or resealable plastic bag. Keep cooked zucchini in the fridge for two to three days.
How to Freeze Zucchini: The Basics
Slice a washed zucchini into rounds, then bring a large pot of unsalted water to a boil. Blanching halts the enzymes that cause color, texture, and nutrient loss.
Cook the zucchini slices in boiling water for one to two minutes until they're brightly colored and slightly tender. Drain them in a colander before transferring them to an ice water bath. After about two minutes, drain the zucchini.
Spread the slices on a parchment paper-lined baking sheet or sheet pan. Flash freeze the rounds for one to two hours, then transfer them to airtight containers or freezer storage bags.
Label with the date and quantity whenever you're freezing zucchini. Frozen zucchini lasts about three months in the freezer before developing freezer burn.
How to Freeze Grated Zucchini
For baked goods, you'll likely want shredded zucchini. Wash your zucchini and slice off its ends. Shred it using a grater or food processor.
Add the zucchini to a large pot of boiling water in batches of four to five cups. Blanch for one to two minutes until the pieces are vibrant green but not yet cooked. Immediately submerge the grated zucchini in an ice bath.
Drain off the water but do not squeeze since the zucchini needs a little moisture. Fill freezer bags three-quarters full with shredded zucchini. Squish out all air before sealing the bags. Freeze them for up to one year.
How to Freeze Grated Zucchini without Blanching It
The good news is that it's possible to freeze shredded zucchini without blanching it. The resulting texture suits baked goods and soup.
Separate the grated zucchini into freezer bags in one or two cup portions for use in recipes. Stick the bags in the freezer for up to one year.
Making and Storing Zucchini Noodles
Zoodles make an ideal gluten-free pasta. Turn zucchini into noodles using a spiralizer, julienne peeler, or mandoline, being careful with the latter's sharp blade.
Eat your zoodles raw, microwave them for approximately one minute, sauté them, or boil them for one minute. If you aren't eating the noodles right away, refrigerate them for two to three days in a covered plastic or glass container lined with paper towel.
Storing Zucchini Noodles in the Freezer
Although zoodles taste best fresh, freezing may be more convenient. Add one tablespoon of kosher salt for every two cups of zoodles as a preservative. Turn the zoodles over in the bowl to spread the salt, adding more if necessary to coat them.
As you continue kneading, a bubbly liquid should appear, and the zoodles should start to become firmer. Continue for about two to three minutes until the zoodles feel tough. Dump them in a colander lined with a thin cloth.
Form a bag from the fabric, pinning it closed. Squeeze to remove excess moisture, then let the zoodles dry inside the cloth for one hour. Divide the zoodles among small freezer bags. Eat them before one year is up.
Dehydrating: The Best Way to Store Zucchini Long-Term?
Dehydrating zucchini allows you to enjoy it well after zucchini season is over without worrying about mushiness. Slice a washed zucchini thinly. Blanching it preserves the best color and texture.
Arrange the slices in a single layer on the dehydrator tray, leaving space around each piece. Cook the zucchini at 135℉ until it's crispy—approximately six hours. Let the slices cool for about ten minutes.
Transfer the cooled zucchini to an airtight container, storing it in a cool, dark location. To rehydrate, pour boiling water over the slices and let them soak for 15 minutes. Once they're plump, drain off the water.
How to Store Zucchini: The Pickling Method
Pickling is another unconventional zucchini storage solution.
Cut the zucchinis into rounds or strips. Divide the seasonings, zucchini pieces, and dill sprigs between three pint-sized Mason jars.
Bring the water, vinegar, sugar, and salt to a boil in a medium saucepan over medium-high heat. Carefully pour the brine liquid into the jars, leaving space at the top. Screw the lids on tightly before shaking the jars.
Let them cool for 30 minutes before placing them in the fridge for at least 24 hours before serving. Zucchini pickles last two to three weeks in the refrigerator.
The Best Way to Store Zucchini Flowers
You may find zucchini blossoms at a farmers market. Choose bright yellow-orange flowers that are not wilting.
Since they don't store well, it's best to eat them the same day you buy them—fry them or toss them with pasta. However, if necessary, leave them in an open plastic bag in the crisper for one to two days, wrapping them in damp paper towel.
How to Thaw Zucchini
The best way to defrost zucchini depends on how you froze it. Let slices thaw in a colander in the sink or place the freezer bag in a bowl of water for about ten minutes until the slices are soft.
Place grated zucchini in a large bowl in the fridge overnight, draining off extra liquid. You may also heat it for two minutes in the microwave. Afterward, transfer it to a sieve and squish out the water.
Zucchini that's thawed in the fridge lasts for three to four days. Eat zucchini thawed in the microwave or cold water immediately. Boil frozen zoodles for one minute.
In late summer, when zucchini plants are prolific, it's easy to get carried away. Imagine all the delicious zucchini recipes you'll make and forget that it's only possible to eat so much zucchini at once. Thankfully, you now know where to store zucchini to prevent it from going soft.
You've learned how to store zucchini that's whole, sliced, grated, or turned into noodles. Ultimately, the best way to store zucchini depends on how you intend to use it.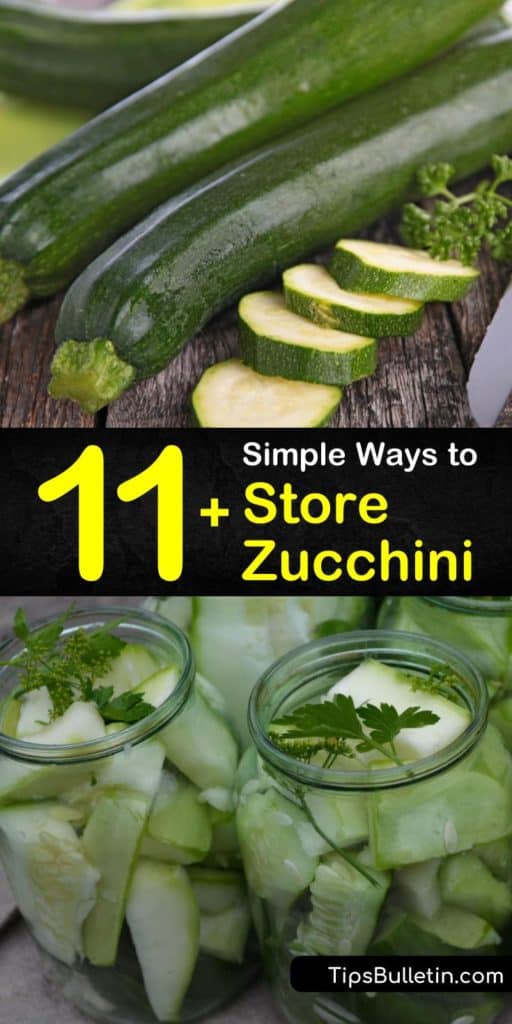 If you found this food storage advice helpful, please share these zucchini tips with your friends on Pinterest and Facebook.