You go to slide on your favorite pair of denim jeans only to discover that you can no longer button them. Wearing jeans that are too snug is an uncomfortable experience and a challenging one. We'll show you how to stretch jeans as a temporary fix and a better fit.
Jeans are a fickle type of clothing. Different manufacturers cut their cloth using varying styles. While one brand of jeans fits you perfectly, another brand is too tight. Not only that, but everyday washing and drying tend to shrink the material, and your once comfy jeans no longer fit you properly.
We've all been there. You are jumping up and down while struggling to get the waistband of your jeans over your hips. Don't pack away your too-tight jeans just yet. There are several reliable fixes for stretching out the jean material for a perfect fit.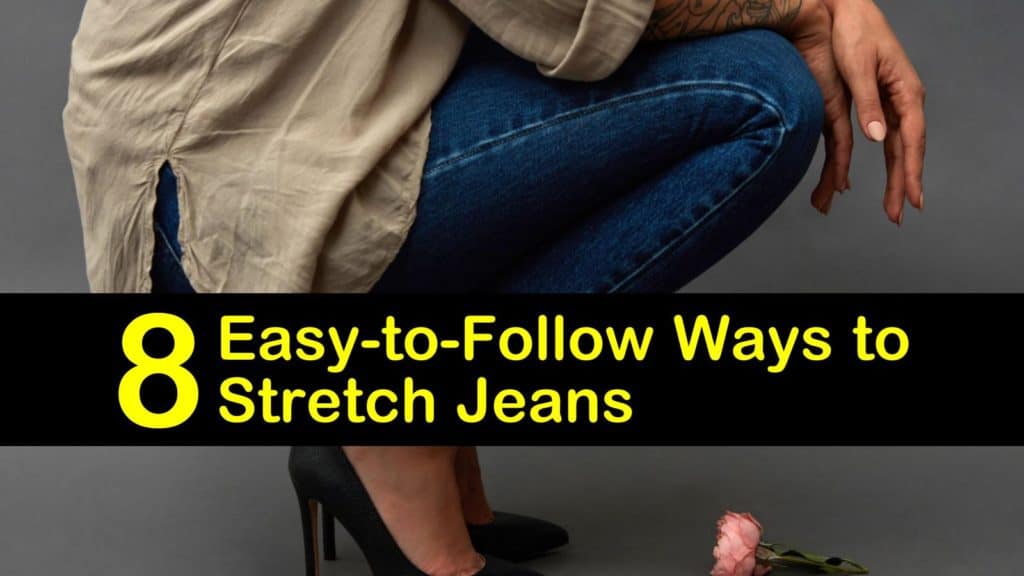 Ways to Stretch Jeans
You may think that removing dried paint from jeans is easier than stretching jeans but neither issue is a real problem. The denim fibers extend when you apply force and heat to them. We'll show you how to use these tools to stretch jeans for slight, moderate, and heavy stretching.
How to Stretch Jeans by Squatting
One of the best ways to stretch jeans when they are a bit too tight is to do squats while wearing them. This technique not only stretches out the raw denim material to your body but provides you a good workout as well. Doing squats stretches jeans in the hip, waist, butt, crotch, and thigh region.
Minimal Jean Stretching
Wiggle into the pair of jeans and button them. As one of the easiest ways to stretch pants, place your feet hip-width apart, with your back straight. Lower your hips and bottom by bending at the knees as if you are sitting in a chair.
Lower yourself close to the ground, while keeping your toes in line with your knees. Push through the heels of your feet and rise back up to the standing position.
Repeat these steps for one to five minutes. Follow this by walking around and sitting to test for comfort. If the jeans are still too tight, try stretching them further by performing lunges or using the heat technique.
How to Make Jeans Bigger with a Hair Dryer
Heat is a great tool to stretch denim because it makes the material soft and pliable. Here is how to make jeans bigger using heat.
Lay the jeans out evenly on a large flat surface located near an electric outlet. Aim the hairdryer approximately six inches away from the cotton jeans, and move in steady and continuous movements to heat all areas of the pants. Flip the jeans over and repeat the process on the backside.
Use your hands to pull the denim from opposite sides. Pull in opposing directions from side to side and top to bottom. Place your arms inside the jeans and extend them outward to expand different areas of the denim.
If the pants start to cool down while you are stretching them, repeat the heating process with the hairdryer. Slip the pair jeans on and test them out by walking and sitting. If they are still tight, try using the hot steam method.
You can also try this remedy for how to stretch a sweater or other clothing that becomes too small to wear comfortably.
Using Hot Steam to Stretch Jeans
Heat makes denim more elastic and easier to stretch. This technique uses steam and heat in combination to provide optimal denim stretching.
Fill a bottle sprayer with lukewarm water and spritz the entire surface of the jeans. Lay the damp pants on an ironing board and steam iron the jeans slowly.
Iron all areas of the denim until it is nearly dry. While the pants are still warm and damp, slip them on and stretch them out by walking, sitting, and squatting.
Stretching Jean Length with Water
Warm water works wonders for pulling denim. The fibers are more pliable when wet, making it easier to use your hands for stretching. Use this method to make your jeans longer.
Fill a bottle sprayer with warm water and spray the pants in sections. Make each area damp but not soaked as you move from the top of the jeans to the bottom. Lay the damp jeans on a clean floor.
Place your feet on the hip section of the pants, and grab the leg portions and pull them upward. Do the reverse by placing your feet on each pant leg and pull the waistband towards you. Flip the pants over and repeat stretching on the backside.
How to Stretch Jeans in a Warm Bath
While this seems unconventional, try using a bath to stretch out jeans. The warm bath water helps loosen the denim while your body stretches the material to your fit.
Fill the bathtub with warm water, and do not add any soap. Avoid using hot water to prevent further shrinkage. Slip your jeans on and climb into the tub carefully. We recommend not wearing underwear beneath your pants to make the task of removing wet pants easier.
Rest in the warm bath for about 15 minutes. Make sure to submerge the waistband under the water. If possible, change positions to stretch different areas of the material.
Remove the pants and shake as much water out as possible. Do not place them in the clothes dryer, or you risk shrinking them. Lay them out on a flat surface to dry or hang them on a hanger.
How to Unshrink Jeans with Fabric Softener
While unshrinking clothes is technically not possible, there are ways to reverse shrinking temporarily. Here is how to unshrink standard and spandex jeans with fabric softener to soften the fabric for easier stretching.
Fill a bottle sprayer with lukewarm water and add the liquid fabric softener. Shake the container to mix well. Lay the denim jeans on a clean, flat surface and spray the softening solution over the entire surface. Make sure to get the fabric damp but not soaking wet.
Grab the waistline of the wet jeans and pull outward to stretch the material. Work your way down to the thigh and leg area of the pants while pulling and stretching the denim. Put the jeans on and extend them further by bending, squatting, and sitting.
Of course, if you are looking for ways to shrink a stretch jeans, wash them in hot water and dry them in a hot dryer to make them fit you more closely.
Adding an Extension to Jeans
If you've tried everything and nothing stretches out your jeans to fit around the waist, try adding an extension to the waistline to expand them. Jean extension takes a little more time and effort, but it is well worth it to save your favorite jeans.
Cut a two to three-inch slit along one of the side seams in the waistband. Cut a piece of sturdy fabric more than twice the length of the cut section. Fold it in half and place it folded side up on the inside of the waist.
Stretch the cut section of the waist out and use sewing pins to tack the folded fabric to the waistline to hold the material in place. Set your sewing machine to a low stitch number with a wide stitch width to provide a high-density stitch.
Run the needle and thread along the outer edge of the cut sections, forming a V. Finish up by cutting away the excess fabric from inside the jeans.
How to Prevent Jeans from Shrinking
Once you get your jeans to fit you perfectly, there are things to do to prevent further shrinkage in the future. Here is how to care for your new jeans, skinny jeans, stretch jeans, or high rise jeans for the perfect fit.
The first tip in maintaining a new pair of jeans is not to wash them often. However, if you want to make clothes smaller, one of the ways to shrink leggings, jeans, or other garments is by washing and drying them on high heat.
While we all like clean clothes, denim pants require less cleaning than you think. The heat and agitation cause them to fade and shrink.
The general rule of thumb is that if your jean leggings or pants do not look dirty or stink, you don't have to wash them. When washing your jeans, make sure you are washing jeans inside out to prevent color bleeding onto other fabrics in the load.
This also helps to keep the jeans from fading prematurely. What temperature to wash dark clothes like jeans? Set the washer to a low speed, short wash cycle using cold water rather than warm or hot water to avoid shrinking, especially when washing ripped jeans.
It's best to avoid drying jeans in the dryer to prevent them from shrinking too much. If you do decide to dry them in that manner, make sure to use a low heat setting for a half cycle. Otherwise, hang them to air-dry.
Slipping on your favorite elastane jeans and finding that they no longer fit is disheartening. Tight jeans are incredibly uncomfortable to wear, no matter if they are Levi's, Mom Jeans, or other brand-name jeans. Stretching out those jeans for the perfect fit is easy once you know the right technique, whether they require minimal or heavy-duty stretching.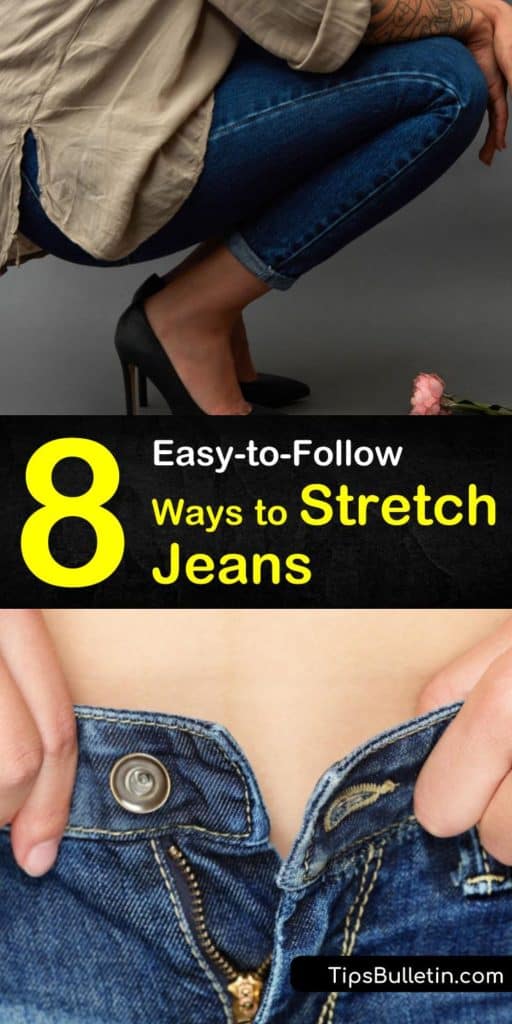 Now that you know how to stretch jeans for a comfortable fit, why not share our jean stretching tips with your family and friends on Facebook and Pinterest?