Now and again, you find the perfect shoe that isn't necessarily the ideal fit. This situation is especially true with boots that may be your size but require a little time to adjust to your foot before achieving optimum comfort. Understanding how to stretch leather boots without having to wear them on your own saves you time, discomfort, and, most of all, bunions.
So if the shoe doesn't fit, why not just get a bigger size? In a world where we have so many options to choose from, finding the most comfortable fit seems like the most natural solution. However, this is not always the case. Buying shoes that are too big for the wearer often results in more discomfort than wearing something too tight.
Once you finally break in the boot, feet may slide around in place, causing complications when walking and eventually blisters. Instead, it's better to purchase shoes that form to your feet snugly, yet comfortably. For some of the best ways to stretch leather boots, follow these helpful shoe tips!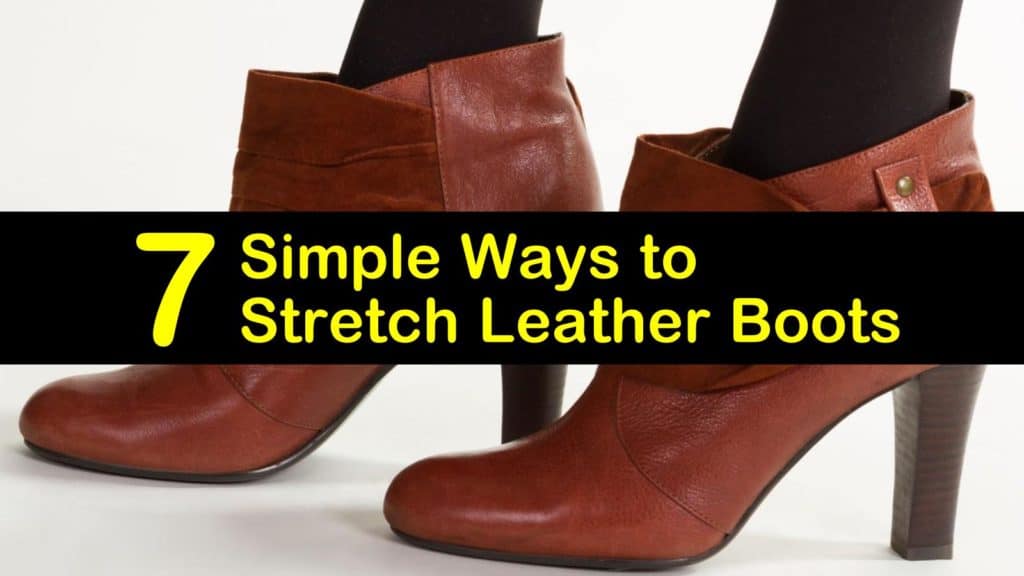 Easy-to-Follow Ways to Stretch Leather Boots
There are several different ways to make your shoes bigger, just as you can stretch your boots to fit more comfortably. Learning how to stretch cowboy boots is relatively simple, but you may not be quite sure where to start.
Maybe you have a stylish new pair of winter boots you intend on wearing with a thick pair of socks or your feet swell easily. Either way, it's essential to know just how far the shoes need to extend before you get started.
While stretching them out until they fit is undoubtedly an option, make sure they accommodate the intended purpose. In other words, if you'll wear them with thick socks, account for that when giving yourself plenty of toe-wiggling room.
It's also important to know that while you can make your nice leather boots a little larger to fit your feet better, you can also shrink leather shoes and boots, too. So, if you have a pair that are just a little too big, there are some simple methods you can employ to make them smaller, as well.
Stretching Boots Wider with Socks
The first approach to use is also one of the most agonizing. However, it's incredibly useful, especially when combined with other strategies. All that is necessary to complete the task is a few pairs of socks and a little patience to get you started.
If you have shoes that require just a little extra space, putting on a couple of pairs of thick socks for a few minutes a day does the trick. In moderate cases, you may only have to wear one pair, and you should only ever add as many as the shoe allows.
While stretching out the width far enough to make it wearable is the ideal target, stuffing them too tightly may cause the zippers to break. Do this for approximately 30 minutes at a time, at home, for about four days for the best results.
Add a Little Heat
One way to speed up the stretching process and still expand the toe area of your new boots is to use a hairdryer to soften the leather. This tactic is typically done along with the first step while wearing a pair of thick socks. It's especially helpful if expanding the pair of boots is too painful to wear for an extended period.
Instead of wearing the shoes for 30 minutes at a time, only about five minutes or less is necessary. Apply a little heat evenly over the surface of the leather using the blow dryer, being careful not to add too much since this can damage the material. Repeat this process as needed for a couple more days until attaining the desired fit.
Use a Boot Stretcher
If the desired effect is increasing your shoe size between a half-size width to one full size, then using a boot stretcher may be your best option. These devices cost anywhere from $20-$40 and typically sell in your local shoe department store or online.
While this seems a little pricey to widen shoes, in many cases, it's cheaper than a trip to the cobbler and much less expensive than a replacement pair of leather boots. Plus, you have it handy for any future purchases with similar issues. It's also quite handy to help remove creases from sneakers and other footwear that you wear a lot.
The way this mechanism works is by inserting the shoe stretcher inside of the boot and adjusting the device until it expands the shoe to the desired width or length. However, the power of these objects doesn't stop there.
There's even a calf stretcher that alleviates the construction around the top part of the leather boots. There are even expanders that adjust the instep within a pair of shoes to cover all avenues of comfort possible.
More Ways to Stretch Leather Boots
Another option to widen shoes like cowboy boots is to use a leather stretching spray. You may also find that it works for removing creases from leather boots. Similar to boot stretchers, these types of spritzers appear in shoe stores and are designed specifically for enhancing the comfort of your new purchase. Though some products recommend spraying the outside of the shoe, when it comes to leather, it's crucial only to spray the inside.
Spraying the outside often causes discoloration of the leather, so it is best to work with the interior alone. When using stretch spray to widen your new shoes, coat the inside and slip on the boots while still damp. The spray will also prevent boots from squeaking, whether they are new or suddenly develop noises when you walk.
Again, attempting this with thick socks is the best way to stretch boots effectively. After the solution dries, decide whether the shoes suit your intended level of comfort. It may take an additional attempt or two until reaching the perfect amount of foot space.
When your shoes or boots fit the way you want and feel good enough to wear for long periods, use a little DIY shoe shine spray or compound to enhance the look of the leather. A quick way to shine boots if you don't have a spray is using a little petroleum jelly and a soft cloth.
Spray Rubbing Alcohol on the Inside
A typical solution for making leather stretch, specifically when it comes to the calf area, is using a combination of water and rubbing alcohol. Similar to the leather stretching spray, it's important not to coat the outside of the boot, only the inside to keep from damaging the leather. Adding the ingredients to a spray bottle also makes application even easier.
Create the mixture by blending the two ingredients in a small spray bottle, then soaking the interior of the boot. Put on the shoes while wearing a couple of pairs of socks until the interior is devoid of all lingering moisture.
The boots or shoes should stretch a little to accommodate your feet and feel more comfortable to wear. Variations of this recipe also work to loosen jeans and any denim or leather clothes.
How to Stretch Cowboy Boots
When treating leather boots, one vital thing to keep in mind is the external condition of the shoe. Using a leather conditioner during the stretching process allows you to maintain the integrity of the material while also shaping your footwear to your foot. Natural ingredients like olive oil on leather boots work wonderfully, though there are plenty of commercial options to choose from as well.
The first step is to submerge the entire boot in water for approximately 5 minutes. Place the shoes on your feet and allow them to dry. This part of the process generally takes about 30 minutes. Massage the conditioner into the leather to nourish and restore the quality of the material afterward.
How to Stretch Leather Boots with Ice
Another common way to break in heeled boots is by placing them in the freezer with a bag of water inside them. To use this method, start by filling a gallon-sized Ziploc bag only about halfway. Seal and place the container inside the shoe, then place both the shoe and the bag still inside it into the freezer.
Leave the two overnight, propping the heel upward as necessary to ensure the water moves into the toe area. As the water freezes, the ice pack expands and stretches out the shoe.
Remove the shoes in the morning, and let the ice thaw before withdrawing the bag from the boots. Ice is also useful for removing stains from leather caused by adhesives like gum or glue.
Alternate Ways to Stretch Shoes
These helpful tips allow you to stretch leather boots with ease, but what about the other shoes in your closet? No, we're not talking about those half booties or faux leather shoes. Find out which steps listed above work best for your everyday gear.
Can you use these techniques to stretch out non-leather shoes?
Absolutely! Sometimes your favorite pair of shoes aren't made of leather. Sometimes, they aren't even boots. Luckily, these strategies work on most materials and shoe types, including sneakers and high heels.
Softer materials often loosen up much faster and more easily than genuine leather, suede, and faux leather boots. Some of the better strategies to use in these types of cases include wearing thick socks and adding ice cubes in the toes. Learn more about stretching suede shoes. This easy solution can help you slip into your favorite pair of shoes.
When you want to stretch canvas shoes wider, applying heat to canvas material isn't as effective as leather since it doesn't soften the material to shape it to your foot. Equally, using a device like a boot stretcher is unnecessary, since sneaker material is much softer and gives way much easier during the stretching process than leather.
We hope you enjoyed learning how to stretch cowboy boots and leather shoes. Finding the perfect fit takes a little time and ingenuity, but it is worth it for shoes that look and feel amazing.
With so many different ways to stretch leather boots, you already have all the necessary tools and tips to get you there. Choose your preferred approach and start there.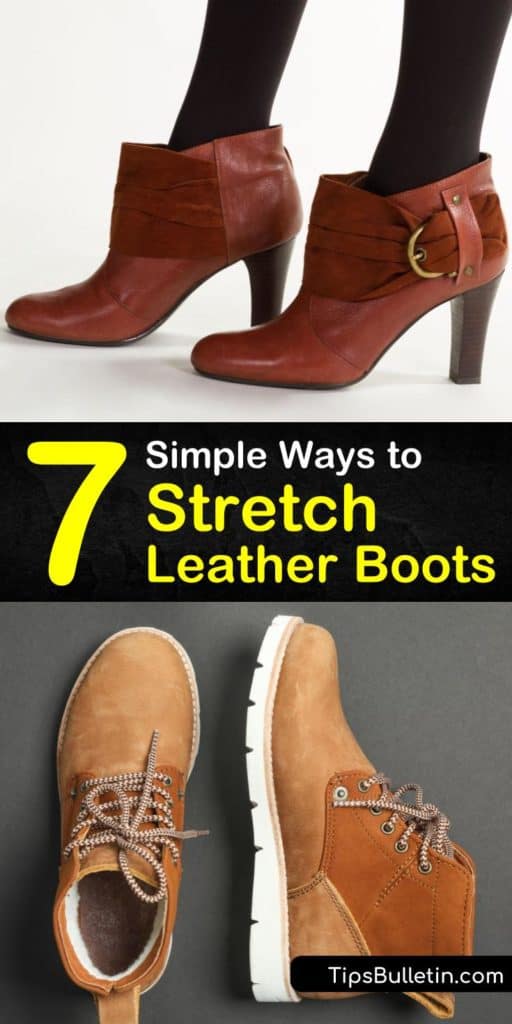 If you enjoyed these tips on shoe stretching, please remember to share how to stretch leather boots with all your favorite shoe lovers on Facebook and Pinterest!