It doesn't get much better than sliding on a new styling pair of shoes. Unfortunately, leather shoes tend to be tight and uncomfortable until you break them in. We'll show you how to stretch leather shoes so that you can comfortably enjoy your new shoes.
Perhaps you bought a flashy pair of shoes online, and once they arrived at your doorstep, you discovered they are a tad too small. Maybe those shoes seemed to fit you perfectly at the shoe store, but if you state, "My feet are hurting," after a few hours of wearing them, you have a problem.
Whatever the cause for discomfort, walking around in shoes that do not fit properly is literal torture. The great news is, you don't have to return your favorite leather shoes to the store. There are several ways to stretch leather shoes to conform to your size and fit.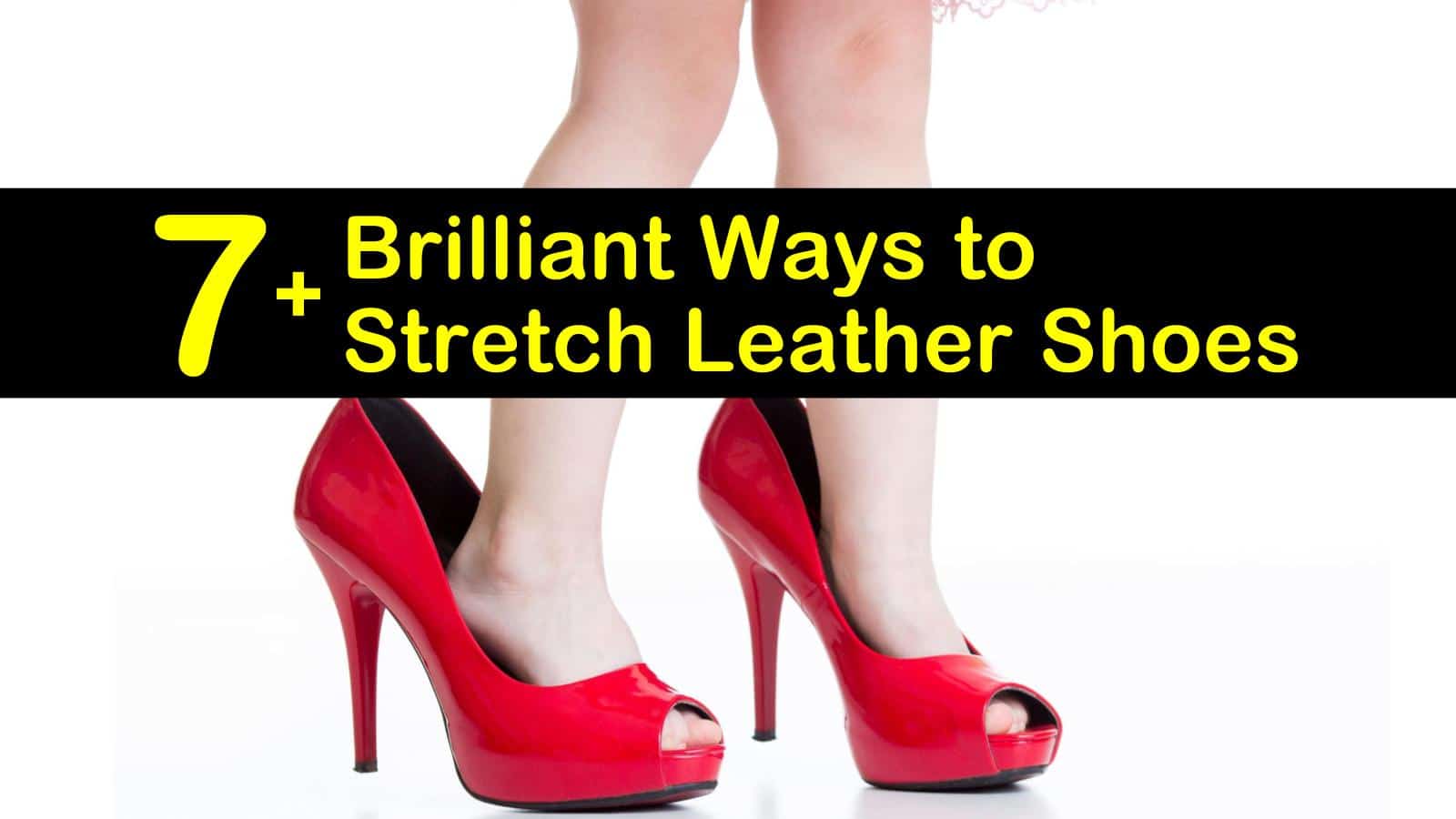 Ways to Stretch Leather Shoes
In the old days, you'd go through the stretching process of fitting your shoes at the shoe cobbler. These days, we take our shoes to professional shoe repair shops or stretch tight shoes ourselves. We'll show you several DIY methods to stretch leather boots, tight shoes, and high heels.
Breaking in Leather Shoes
If your new leather shoes are just a bit too small, sometimes breaking them in slowly by fitting shoes to your feet size does the trick. All that's needed is a pair of thick socks and a little bit of time.
Breaking in Shoes
Place a thick pair of socks on your feet and slip into the shoes. Walk as you normally would around the house for about half an hour. Take them off, slip on the second pair of socks, and repeat the walking process for an additional half-hour.
Many times, doing this is sufficient enough to stretch out new shoes. This process may need to be repeated over several days to get the perfect fit.
Use a Pair of Socks to Stretch Leather Shoes
If your leather shoes are still too tight after you try breaking them in, try rolled-up socks for a gentle stretch. The bulky socks do all of the work and require no effort on your part.
DIY Shoe Stretching
Roll socks into tight balls and place them into the toe area of each shoe. Continue rolling socks and inserting them into the empty spaces of the shoe until you reach the heel. To expand the width of a shoe, let the shoes sit overnight while the socks slowly expand the leather.
Simple Ways to Stretch Leather Shoes
Sometimes, leather needs a little help stretching to a comfortable size for your feet. Here is one of the simple ways to stretch leather shoes in a few easy steps.
Combine equal portions of rubbing alcohol and water into a bottle sprayer and shake well to mix. Spritz the insides of your leather shoes lightly with the alcohol solution so that they are damp but not soaked. Always test new solutions on an inconspicuous area of leather first.
Crumple up a bunch of newspapers into tight balls and tuck them into your shoes, beginning with the toe box and ending with the heel. Try and pack them as tightly as possible.
Place your shoes in a warm and dry location and let them sit for about 12 hours. Do not set the leather shoes in the sun. Remove the crumpled newspapers, and test the shoes on your feet.
If they slip on easily and feel comfy, then your job is complete. If not, repeat the process. Consider leaving the newspaper in the shoes or use shoe trees when you are not wearing them to help them keep their shape.
Alcohol can also be helpful for getting stains out of leather shoes, purses, or furniture. Apply carefully to avoid damaging the leather surface.
How to Stretch Leather Shoes with a Shoe Stretcher
A shoe stretcher is a convenient tool sold in many shoe stores. It wedges down into the shoe, and gradually widens and lengthens it until it is the right size. Here is how to stretch out shoes using a shoe stretcher.
Begin by inserting stretching plugs into your shoes at problem areas to prevent corns and bunions. Insert the Footfitter or other brand shoe stretcher into your shoe and crank the handle until you reach the desired stretch.
Wait eight hours and then turn the handle one full turn. Repeat this process until the footwear is the right size and then let it sit for two days to ensure that it holds a new shape. Finish up by giving those shoes a good shine with an olive oil shoe polish and be sure to get scuffs off patent leather shoes before wearing. Polishes and oils are also an excellent way to get shoes to stop squeaking if they have developed that annoying trait.
Stretching Out Leather Shoes with Heat
Heat works wonders when you need to stretch leather shoes wider to fit your feet perfectly. This method stretches shoes up to a half-size. Do not use this technique on vintage leather shoes to prevent damage and cracking.
Begin by sliding one or two pairs of thick socks onto your feet. Wool socks work best for the job at hand, but several layers of thin socks work as well. Sit comfortably in a chair and aim a blow dryer set at medium heat on each shoe for 30 seconds at a time while you move and wiggle your feet around.
Do this for a total of two minutes on each shoe. Leave the shoes on your feet until they are cooled. Remove the shoes and socks, slip on socks that you would typically wear, and replace the shoes.
Test them out by walking around. If your feet are comfortable, then you're done. If they are too snug, repeat the process once more. Apply shoe conditioner to the leather to restore moisture depleted from the heat. This is also what cleans leather to prevent cracking.
Using Steam to Stretch Shoes
Use steam to stretch tight shoes and leather booties in only a few minutes. Garment steamers work wonders at making leather supple enough to stretch. If you don't have a garment steamer, use a tea kettle as a substitute.
Heat a garment steamer to a low temperature and aim the nozzle directly into the shoe. If using a tea kettle, fill it with water and heat it to a boil on the stove. While wearing cloth gloves to protect your hands from burning, position the shoe over the kettle to collect the steam.
Steam each shoe for 30-second intervals, testing between sessions for suppleness. Repeat for a total of three minutes if necessary. Slip your socked feet into the supple shoes and walk around to stretch the leather.
Finish by applying a leather balm or conditioner to prevent cracking that results from heat. If the leather has an unpleasant odor, use a shoe deodorizing spray to freshen the leather.
Use Cold to Expand Leather Shoes
As we all know, when water freezes, it expands. Therefore, it's an excellent tool for stretching leather shoes up to one full size. This technique is not only easy to do, but you're using the power of ice rather than your feet to stretch the leather.
Fill freezer bags one-third of the way with water and secure them shut. Double bag each one to ensure that no water gets on the leather. Slide the bags of water into each shoe, making sure to get into every corner to ensure that the ice stretches out the full size of the shoe.
Use as many bags as needed to fill the shoes. Place the water-filled shoes into the freezer and leave until frozen. Remove the shoes and let them thaw before removing the water bags.
Test the shoes by slipping in your feet and walking around. If they are still tight, then repeat the process. Canvas shoes will stretch easily with this tip. Try it on new running shoes that haven't been broken in yet.
How to Stretch Out Shoes with a Shoe Stretching Spray
Shoe stretching spray is a liquid that is designed to soften and stretch leather shoes and boots. It's a useful tool that works while you wear the shoes to gradually form them to your foot width and length, providing optimal comfort to the soles, instep, and foot.
Shoe Stretch Spray
Slip-on both of your shoes and follow the directions of the shoe stretch spray by spritzing the leather. Wear your shoes as you typically would while the spray dries.
Doing this allows the leather fibers to stretch to the shape of your foot. For cleaning leather boots and shoes, try a homemade vinegar spray.
By using a newspaper, extra layers of socks, a shoe stretcher, heat, or cold, leather and suede shoes are easy to stretch. All that is needed is a little bit of time and patience.
Takes those flashy leather shoes and boots and wear them like you mean it, without pain. Say goodbye to bunions and blisters, sore toes and aching feet.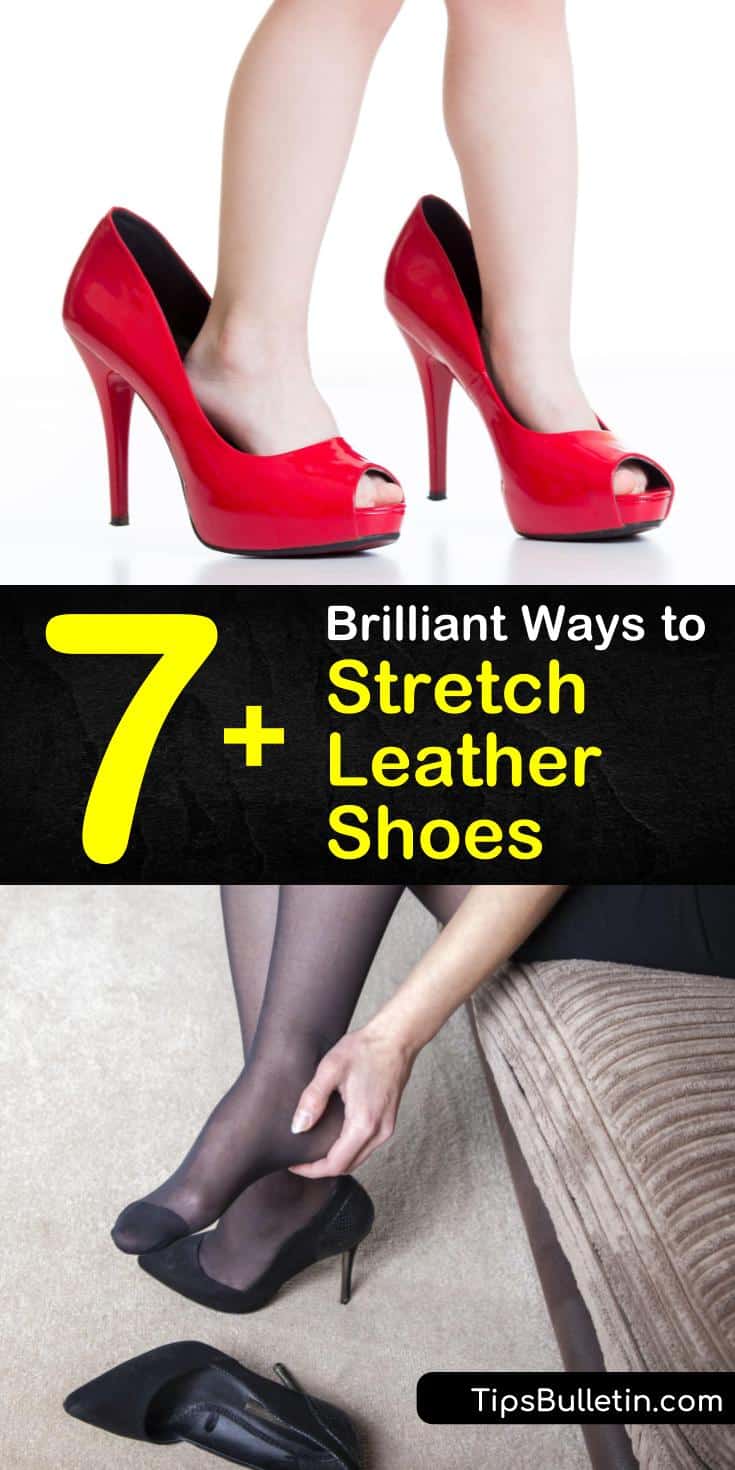 Now that you know how to stretch leather shoes so that you can walk comfortably in style, why not share these leather shoe stretching tips with your friends and family on Facebook and Pinterest?