Comfortable shoes are staples to any wardrobe or lifestyle, and each pair is unique to the activity that takes place. Whether you're climbing a mountain, running a marathon, or walking around the mall, sneakers are a shoe staple that require a perfect fit. Knowing how to stretch sneakers is a skill that gives you maximum comfort, regardless of what brand they are or where you bought them from.
All footwear is not created equal. Even if you know your exact size, one brand's sizing varies from another brand's. This article helps guide you through shopping in-store for the proper sneaker size, the different ways to stretch sneakers, and avoiding blisters in the process.
Some people insist on buying their shoes in-store while others are content with purchasing online. A key to avoiding purchasing tight shoes is to learn how your footwear should fit. Purchasing your footwear in the store is recommended because you'll get an impression of how each pair moves with your foot while walking.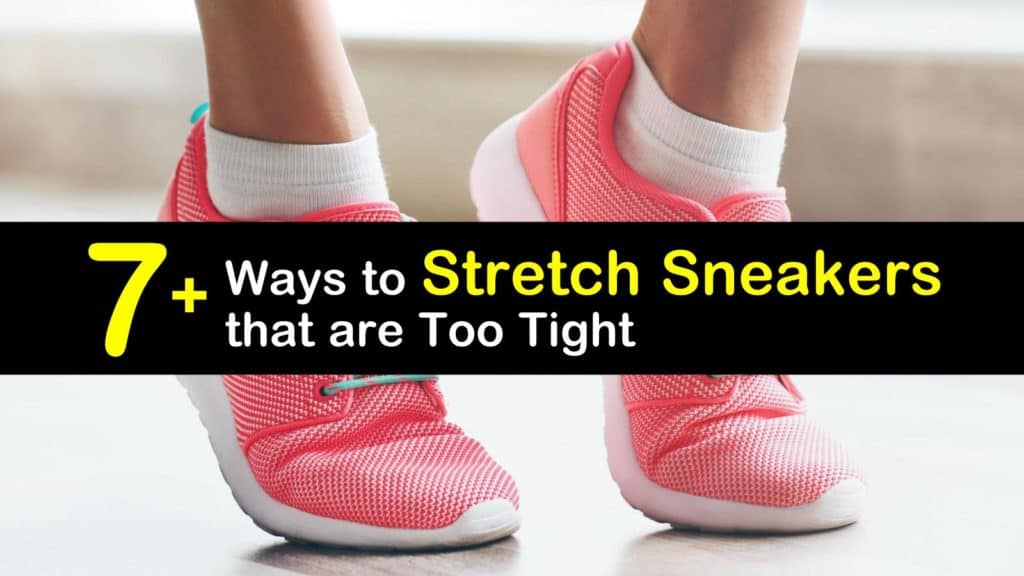 Shopping for Properly Fitting Shoes
Knowing the right fit for shoes is applicable for every future shoe purchase. It doesn't matter if you're shopping for running shoes, high heels, booties, or tennis shoes; each pair of new shoes should pass a few tests.
First, shoes should have one centimeter of space in front of the longest toe. Second, try to shoe shop at the end of your day. Feet are typically larger at the end of the day, and any amount of swelling guarantees that your shoes are never too tight.
Third, pay attention to how your toes feel. Each toe should have some space between it, and if they overlap or don't face straight ahead, you're probably trying on shoes that are too small.
If there is any uncomfortable stress when you're walking in them, it doesn't hurt to go up a size. Trying on shoes in-store may be beneficial, but not everyone has time to visit the store. If you prefer to purchase your shoes online, you'll discover that tightness isn't always avoidable.
Going up a half size is beneficial if you're worried about a pair not fitting. Try reading reviews to see what other customers say about the fit. If you don't enjoy purchasing shoes online, these next tips teach you how to make your sneakers bigger with only a few items.
Easy Ways to Stretch Sneakers
Making sneakers wider and longer sounds a lot harder than it is. There is no need for fancy equipment or machinery. A few household items provide you with everything required when learning how to stretch sneakers.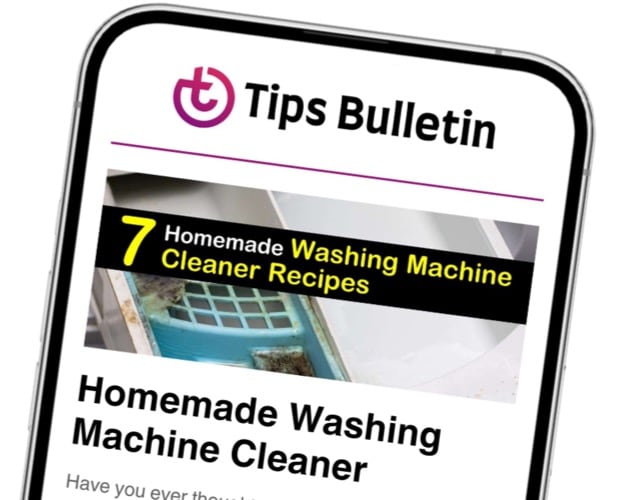 Finally, an email that Transforms Your Home.
Get the latest home and garden tips from our experts, delivered straight to your inbox.
Before you begin to stretch shoes you have had for awhile, it might be a good idea to wash them or at least deodorize them. Putting baby powder in shoes overnight helps eliminate unpleasant foot odor.
Basic Shoe Stretch
The most common ways to stretch sneakers include wearing them. However, don't throw them on and run out the door; try walking around the house on a rug or carpeted area. Walking on carpet reduces the chance of scuff marks or scratches that could prevent you from returning them.
Be cautious of the return policy on the sneakers. If you take too long trying to break them in before deciding to return them, they'll end up buried in your closet, never to see the light of day again.
How to Stretch Sneakers with Socks
Find a wool pair of socks and power up your hairdryer. This is another super simple way to stretch out your sneakers. Put on some thick socks that still allow your feet to slide into the shoes. The fit will be very tight.
Place your blowdryer on medium heat and blow dry your shoes for 30 seconds, keeping the dryer in constant motion so it doesn't dry out the material. After 30 seconds, walk around in the sneakers to stretch the shoe. Repeat several times or until the shoes begin to feel more comfortable.
This strategy works exceptionally well on leather shoes, but it is safe to use any footwear. Add leather conditioner or shoe moisturizer when finished to protect the material from the heat application.
Stretching Sneakers with Ice
Water expands when it freezes. How is this information useful for learning how to make your sneakers bigger? Use this common knowledge to create a shoe-stretching life hack.
Stretch tennis shoes by filling a plastic Ziploc or resealable bag until almost full of water. Put the bag of water inside the toe of the shoe or near any tight spots. Adjust the water level in the bag, depending on how much stretch you want.
Place the shoe in the freezer overnight. When the water freezes, it expands and provides you with a custom stretch for your footwear. This trick works best on non-leather shoes.
How to Make Your Sneakers Bigger with a Potato
This next technique sounds a little unorthodox but works great for when your feet are in a pinch. Peel a potato and try to mold it into the shape of the toe of your shoe. Dry the potato with a towel and wrap it in plastic wrap.
Stuff it inside of the shoe and leave overnight for making shoes bigger. It takes under 24 hours for you to have a comfortable shoe and a new homemade shoe stretcher.
Stretching Sneakers with Adjustable Shoe Trees
An adjustable shoe tree is a pro at making sneakers wider. This product assists in stretching the width of a shoe as well as the length. Make sure you buy an adjustable shoe tree to get the maximum stretch.
Place the tree inside your shoe and adjust the length and width to your desired size. Turn the adjustment handle every 12 hours until you've reached a size that feels comfortable while you walk.
These trees are especially useful for people with wide feet or bunions who prefer extra space in their footwear. Shoe trees are also available for both men's and women's shoes.
Using Oats and Grains to Stretch Sneakers
You'd never expect to stretch sneakers with oats and grains, but these ingredients expand when combined with water. Add oats or grains to a resealable plastic bag. Fill with water until the oats or grains are just covered.
Place the container inside your shoe and leave overnight. The water absorbs into the oats or grains and gradually stretches your sneakers. This technique isn't as effective as the ice-stretching method but is perfect for shoes that require small adjustments.
Ways to Stretch Sneakers with Homemade Sprays
There are many shoe-stretching sprays on the market, but it's unnecessary to spend extra money on products that other people make. Making your own shoe stretch spray is easy, affordable, and equally effective. Try stretching canvas shoes with this simple home remedy.
In a spray bottle, combine equal parts water and alcohol. Shake to combine. Spray solution inside a shoe, focusing on areas that require more stretching.
Slip on some socks with the sprayed shoes and walk around in them for half an hour. The alcohol in the solution assists in stretching your sneakers without damaging the more delicate fabrics like suede.
There is a bonus to this homemade shoe spray. Crisp, white shoes from companies like Vans and Nike are becoming increasingly popular.
If you enjoy your white shoes looking flawless, this recipe is the best way to clean white Vans. Add a little baking soda and apply this solution to make your white shoes sparkle.
Hiring a Cobbler to Stretch Your Sneakers
Although many of us don't feel like we have the time to dedicate to stretching our shoes, we believe that a properly fitting pair of sneakers has a profound impact on your health and wellness. The best shoe repair shops are usually found in your nearest major city.
If anyone can stretch a shoe to your liking, it's a cobbler. Cobblers have the proper training in footwear as well as access to special machinery that gets the job done quicker than working by hand.
Drop by your local shoe repair shop to see how they help repair shoe fit, damage to the outsole of your shoes or replace parts with regular wear and tear.
Problems Caused by Ill-fitting Shoes
It doesn't matter if your shoes are too small or too big, ill-fitting footwear is extremely painful and causes more severe problems down the road. They lead you to be unstable on your feet, tripping over yourself, or limping to your destination.
Improperly fitting shoes also cause deformities in your toes, cause cartilage loss, aggravate any bone structure issues in the foot, irritate bunions, and give you feelings of numbness and inflammation.
One of the most common concerns with poor-fitting shoes is the production of painful blisters.
Blister Prevention and Treatment
The most common side-effect of wearing shoes that don't fit properly is the formation of blisters. Blisters are typically caused by repeated rubbing or irritation in one area and become extremely painful, making it hard to walk.
To prevent blisters, put on two pairs of socks when wearing a new pair of shoes. The cushioning of the socks reduces any potential irritation. These work similarly to cushioning pads. Place them in pressure areas like the back of the heel or sides of a toe.
If you're like most humans, you've already experienced getting a blister from new shoes. When you discover a blister, wash the area with soap and water. Let the area air dry. Gently place a small dab antibacterial ointment like Neosporin on the blister.
Place an adhesive bandage over the blistered area. Repeat this process until fully healed. The blister should heal after about seven days. To reduce the chances of a blister becoming infected, properly clean your shoes every few months.
You can clean sneakers with baking soda, vinegar, and water, or remove the laces and padding and put them in the washer. Clean shoes mean less dirt and bacteria around your wound.
Properly fitting shoes make a world of difference in your overall well-being. Learning how to stretch sneakers eases the stress of online ordering and returns. You won't have to worry about what shoes to wear because you're capable of customizing each pair to your unique foot shape.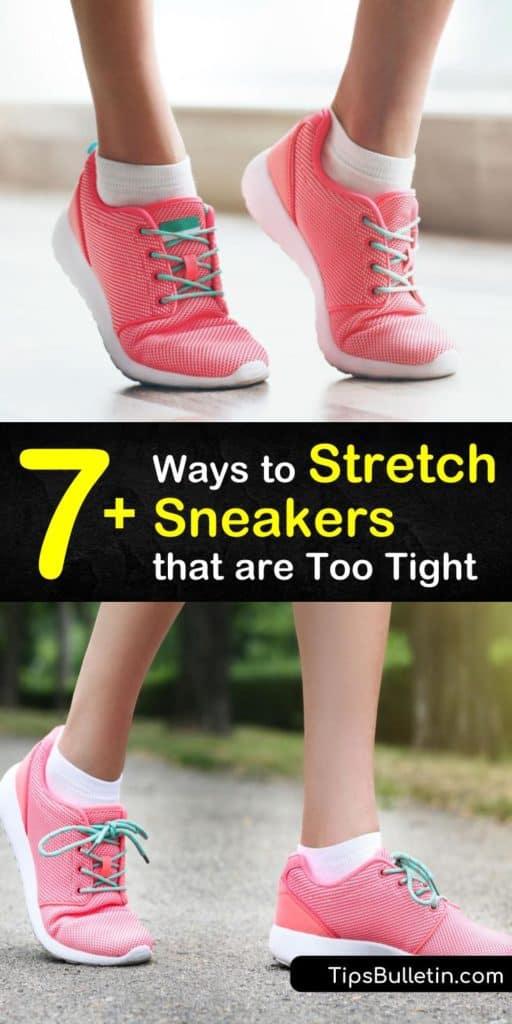 There may be many ways to stretch sneakers, but knowing even a few shoe-stretching techniques will leave you walking the streets with comfort and confidence. If you learned the importance of knowing how to stretch sneakers, share one of these sneaker stretching techniques with your friends on Facebook or Pinterest.