Do your jeans shrink in the washing machine? Are you gaining weight, or perhaps buying jeans a size too small? Don't worry, learning how to stretch the waist on jeans is a quick fix for ill-fitting bottoms.
Don't give up on your pants. Instead of buying new jeans, why not try stretching the pants that don't fit? Use various ways to feel comfortable whether you grew out of a pair of jeans you adore or your jeans simply come out of the wash feeling a bit snug.
With many techniques, the cure for making your jeans the right shape may depend on a few things. Consider the type of fabric before stretching jeans, for example. We'll cover all the ways to stretch the waist of jeans, so you can fit back into your skinny jeans time and again.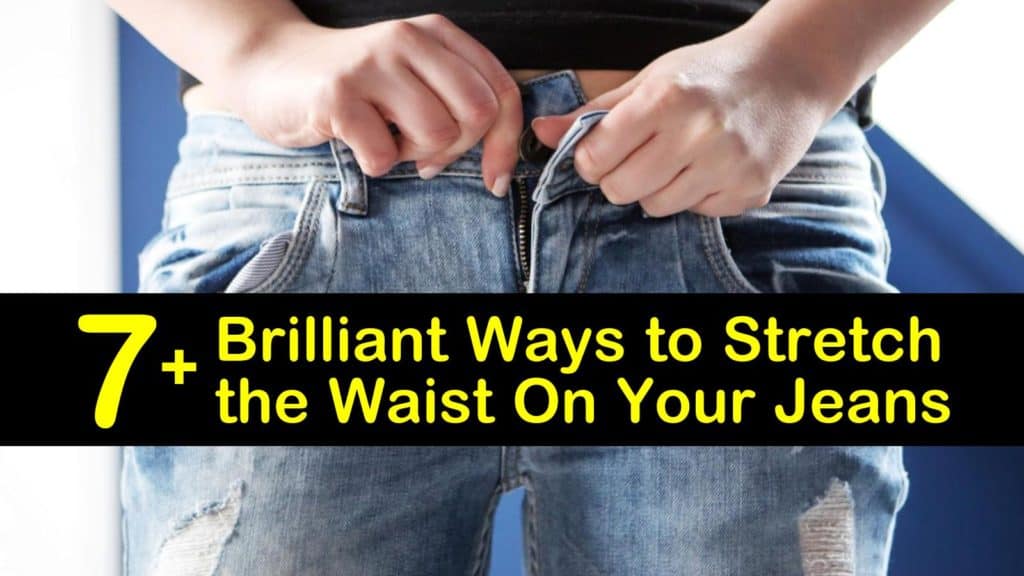 How to Make the Jeans Waist Bigger
Tight jeans are uncomfortable and sometimes impossible to wear without ripping a hole or digging into your stomach. But, that's no reason to buy new jeans.
Here's how to make the jeans waist bigger and how to stretch out jeans, no matter how much space you add to your waistline or why your jeans no longer fit. It only takes a little time and effort and your jeans will fit you again.
Before stretching, ensure your jeans are clean. The way to wash ripped jeans and how to wash intact denim are basically the same. Spot cleaning is best with only periodic cleaning in the machine to maintain the integrity and longevity of the fabric.
Try Ways to Stretch the Waist of Jeans Naturally
Also known as "jean aerobics," try this method to naturally stretch your jeans that nearly fit. It's one of the easiest ways to stretch the waist of jeans.
Anyone who has ever worn skinny jeans before probably already uses a similar technique to get into their tight pants daily.
Put on your jeans. If you don't quite fit, use your arms to stretch the band and pull the pants on as much as possible. Try to zip and button up the jeans. Laying down on a bed helps.
You may also try using a single foot to push the waistband toward the ground as you grasp it with both hands, pulling upward. Once the jeans are on, stretch.
Do a series of movements, like squats and lunges. Hug your knees into your chest, walk around, or do anything to move your body (and the denim).
Use Lukewarm Water and a Spray Bottle
If stretching doesn't work, move on to using a spray bottle. This step is if the previous option didn't work. Lukewarm water is the best way to stretch your pants when you're in a pinch, and a spray bottle makes the process fast.
Put on your jeans. If you're having trouble getting the pants to button or zip, try lying on the bed. Next, directly spray the waistband with lukewarm water until it feels damp.
Move around like the last technique, doing squats, lunges, and other movements to stretch the wet waistline until the pair of jeans fits.
Grab a Wooden Hanger
Did you know a wooden hanger makes a perfect waistband stretcher? Use the wooden hanger method if you can't zip or button up the pants all the way. The hanger must be no smaller than half of the waist size.
For this method, combine the previous two steps. Start by putting on your pants and dampening the waistband with a spray bottle of warm water. Thoroughly wet the pants and pull the jeans over both ends of a wooden hanger.
Allow the jeans to dry on the wooden hanger and try on your pants when they're dry. If the waistband doesn't stretch tightly across the rod or you still have trouble buttoning your jeans after drying them, repeat the process with a bigger hanger.
Turn On the Iron
Steam is excellent for stretching your jeans at the waist. For this technique, grab your iron. Turn it to the steam-setting or the highest temperature available. Use an ironing board or a wooden chair covered with a towel if you don't own one.
Slide the jeans over your ironing board, stretching the waistline as much as you can before buttoning them into place. People without an ironing board can stretch the jeans over a wooden chair with a towel to protect the wood or a wooden cutting board.
Pull at the waist to extend it. Steam the waistline until the jeans feel damp. Then, stretch the waist as hard as you can with one hand while ironing the jeans with the other.
Continue the process until the jeans are dry. Move around the length of the waist continually. Never iron below the band, or your jeans may appear distorted.
This method works well for how to stretch rayon, too. Be careful not to pull too hard. Rayon is more delicate than denim.
Head to the Bathtub
If your goal is to stretch your entire pair of jeans, waistband and legs alike, take a warm bath. You may feel silly, but for this technique to work, fill the bathtub with warm water and get in wearing the jeans.
Pull the pants on as much as you can for the best stretch. Allow the pants to soak through the fabric before you get out of the tub.
When you get out, dry off the excess water and keep wearing the wet jeans until they're nearly dry or around a half hour. Try doing squats and lunges as they dry for more stretching.
Heat the Jeans with a Hairdryer
Heat provides a moderate stretch. Use this option when stretching the thighs and waistband of your jeans.
Lay the jeans on a flat surface, like your bed, spreading them out front-side up. Plugin the hairdryer and evenly heat the waist jeans region on a medium setting.
Keep the hairdryer at least six inches away from the jeans and move it continuously. Pull the fabric with your hands, moving them in opposite directions.
Turn your pants over and repeat the process on the backside. Heat both sides of denim; they may stretch more if you do. You may also spray the jeans with water from a spray bottle before heating the denim.
Stretch Your Jeans after the Washing Machine
Because wetting your jeans provides the best stretch, a secure method is to stretch the waistband of any jeans immediately after removing them from the washing machine. No spray bottle is required.
Try laying your jeans on the floor after washing. Unbutton the pants and stretch the waistband, standing on the jeans as you pull them.
Wet denim dye may stain, so set down a plastic bag or towel for safety. Air-dry the jeans by hanging them on a clothesline or draping them on a chair overnight.
Avoid Running the Dryer on Hot
Unless your denim is 100% cotton, which becomes stretched out or baggy between wearings, running the dryer on hot only makes jeans feel tighter. Use the cool setting after washing them for a better fit. Avoid heat, or the problem may get worse.
Of course, if you need a surefire way to shrink jeans, put them in the dryer on a hot setting after washing. The material should draw up and be more form-fitting.
Remove the Waistband to Extend Jeans
Here is the most advanced of our ways to stretch the waist of jeans. Removing the waistband altogether allows you to resize or reuse an old pair of jeans. Only attempt this technique if you're not afraid to get crafty and can handle the permanent change.
Start by trying on your jeans to measure how many inches to add. Head to your local fabric store for the perfect sized scrap. You can use denim or any other fabric type.
Cut the side seams about two to four inches down, then cut near the same area on the waistband to align with the seam rip. Cut either denim or leather material to match and pin it into place. Sew a section of fabric to fill the gap, and you have easily expanded the waist.
The filled gap should look like a triangle. To finish, fold the new fabric in half to match the waistband. Iron the extra fabric flat to align with the old jeans and topstitch the band closed.
Are there Other Ways to Stretch the Waist of Jeans?
Some jeans come stretchier than others. If you tried all the techniques above and still can't figure out how to make the jeans waist bigger, you might try replacing your waistband with elastic altogether.
You can also invest in a device called a pant or waistband stretcher and follow a technique similar to that of using a wooden hanger.
Why Learn How to Stretch the Waist on Jeans?
Clothing is fickle. When each brand has a different size guide, it's also tough to stick with a set jean size. However, there are many other reasons to learn how to make the jeans waist bigger.
The most common reason you won't fit into your new jeans, even if you always buy the same size, is because the cut and wash of each pair of jeans alter the sizing. The same brand has sizing changes between various styles.
Many people don't care about their jeans. If you don't follow the correct washing and drying requirements for your clothing, you may face misshapen or shrunk clothes when you try to put them on.
Are you supposed to wash jeans? Yes, but always check the material your jeans are made from for the correct care before washing.
Proper care isn't just vital for prolonging the life of your favorite jeans. It protects the environment too. You'll save money by buying fewer pairs of jeans over your lifetime, which keeps more fabrics from attempting to break down in nature.
How to Care for Different Types of Jeans
Because jeans are all cut differently, how you wash your jeans varies. For the best results, always check your jeans' care label or use these care guidelines.
Denim: Real denim, like Levi's, is close to 100% cotton. For these types of jeans, wash with hot water, avoid fabric softener, and dry on the hot setting.
Wide Leg: This jean type makes a bold statement with wide legs, often with a belt at the waist. Wash and dry in warm or hot temperatures.
Straight Leg: A jean style with a retro look, straight leg jeans can come high waisted or in different washes. It's better to wash this tighter fit on warm or cold and air dry.
Skinny Jeans: These pants are figure-hugging jeans with a snug fit, and stretch easily. High-rise skinny jeans are typically smaller around the waistline. Spot wash these jeans between wear and wash on warm or cold. Always air dry.
Stretch Jeans: Commonly made from elastane, this category includes any type of stretching jeans, leggings, yoga pants, athletic wear, or a similar blend of denim mixed with spandex material. Elastane is best washed on warm or cold and air-dried.
Stretch the Waist: Jeans that Last a Lifetime
Now that you know how to make the jeans waist bigger, you won't throw away your ill-fitting jeans. No matter why your jeans no longer fit at the waist, there's an easy fix to save you from buying a new pair. Knowledge like this also helps the environment and ocean animals.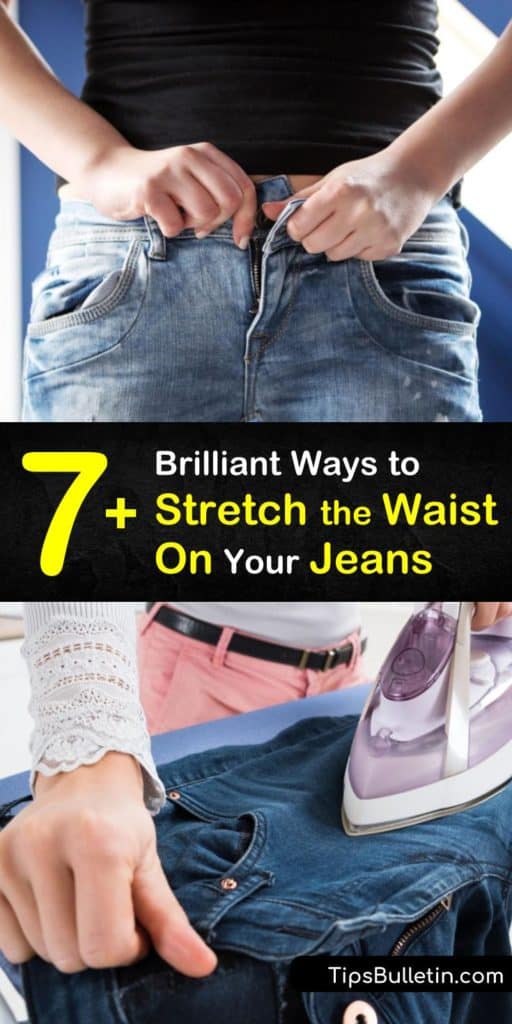 Did you learn how to make the jeans waist bigger in a way that worked for you? If you enjoyed learning how to stretch the waist on jeans, follow us on Pinterest and Facebook for more reliable DIY tips or share our ways to make jeans fit better with your friends.