If you are a pool owner, then a regular pool service routine is essential to ensure clean water for you and your family members to enjoy. Pool maintenance may seem like a hassle at first. However, with the correct information, learning how to take care of a swimming pool is simple.
When taking care of pool water, you will find more success if you keep a regular pool care routine. There are several elements to above ground pool care.
Some of the main things pool owners must pay attention to are pH levels, pool chemistry, proper pool chlorine levels, and applying an algaecide. This article teaches you how to take care of your pool water and keep a clean swimming pool.
Whether you have a freshwater or salt water pool in your backyard, we show you how to clean debris build-up and how to fix a cloudy pool. With these tips and tricks, keeping a clean pool is simple.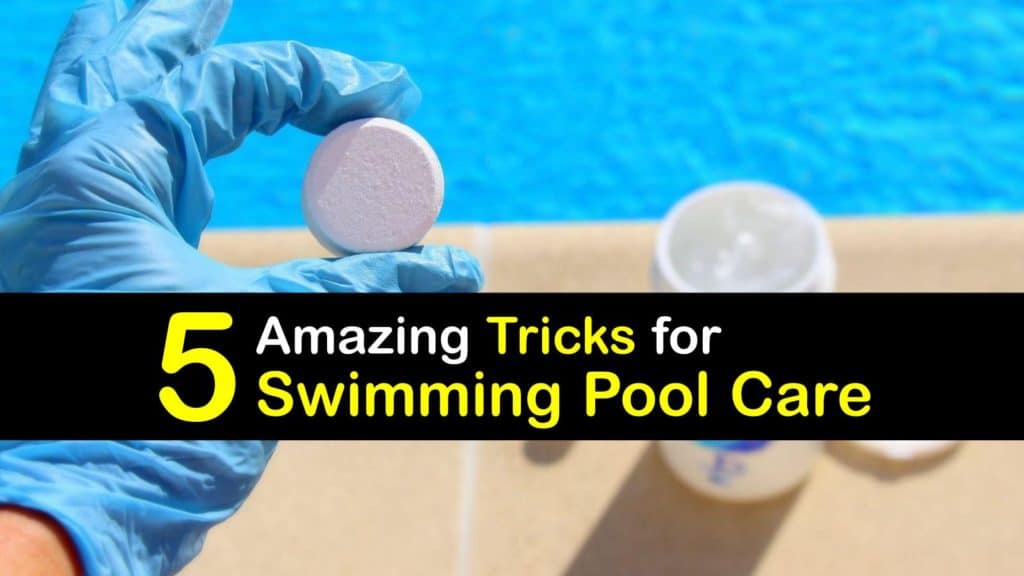 Dangers of Dirty Pool Water
There are many reasons pool care is a must for pool owners. Whether you own an above or inground pool, keeping up with pool care is necessary. If you do not treat the pool water with pool chemicals, your water becomes dangerous to swim in.
Swimming in unclean pool water can lead to infections of the ear, nose, or throat. Additionally, dirty pool water may cause itchy skin and red eyes.
One of the most threatening things about dirty water is that it may cause an infection if bacteria comes in contact with an open wound. Learn the proper way to maintain an inground pool or an above-ground model for safety and a fun swimming environment.
How to Take Care of a Swimming Pool with the Correct pH Levels
If your pool has cloudy water, it is most likely a result of an improper pH level. Never swim in your pool if there is cloudy water, as it may result in infections. The reason a pool becomes cloudy is due to incorrect alkalinity.
To take care of pool water that is cloudy, all you need is baking soda and a testing kit to record the pool's pH level. The ideal pH level for your swimming pool is between 7.4 and 7.6.
If your test kit reveals that the pH level falls below 7.2, add between three and four pounds of baking soda to the water.
To increase your pool's alkalinity by ten parts per million, or ppm, include one and a half pounds of baking soda for every 10,000 gallons of water.
Removing Debris and Taking Care of Pool Water
The easiest part of above ground pool care is removing debris from the pool water. The right landscaping and the best trees around pools keep leaves and branches from getting into the water.
Do you know what causes green algae in the pool? If you do not stay on top of getting rid of debris, the contaminants lead to an algae problem. It is faster to clean debris regularly than to treat a severe algae problem.
Your pool's skimmer baskets suck in the top water level and run it through the pool filter. Once every three days, clean out your skimmer basket to prevent blockages.
Another way to prevent debris build-up is to brush pool walls with a brush to break off stuck-on algae and then vacuum it up. How does a pool vacuum work? Much like your house vacuum, a pool vac sucks up algae and debris. Ensure you are regularly vacuuming your pool to remove any debris that collects at the bottom of your pool, as well as to clean stains on bottom of pool.
Learning how to take care of a swimming pool is simpler when managing the filter system and keeping up with debris in the water.
Managing Chlorine Levels is Critical for Above Ground Pool Care
No matter what kind of filter system your pool has, keeping the right chlorine level and regularly cleaning pool filters ensures your water is safe to swim in. Many products are used to boost chlorine levels.
In warmer weather, Bromine is the most effective product. Pool water chlorine levels should stay between 1.0 and 3.0 ppm for clear water. Test your pool water before adding a chlorinator to the water.
The easiest product that balances chlorine levels is chlorine tablets and dispensers. This hands-free process is more efficient than dumping liquid chlorine in your water.
After you test the water, follow the directions on the tablets' packaging and place the correct amount of tablets in the dispenser for above ground pool care.
How to Use a Pool Clarifier
Some of the bacteria that float in your pool water are too small for your pool's sand filter to catch.
Using a pool clarifier helps balance the water chemistry and eliminate tiny particles by catching them in the filtration system. There are certain times to use a stabilizer like diatomaceous earth to eliminate small particles from the water.
When adding a pool clarifier to your water, follow the directions on the packaging very carefully, as it is possible to add too much.
After adding the clarifier, run your pool pump for a day or until the water appears crystal clear. Taking care of pool water demands a clarifier to get rid of calcium build-up and tiny debris.
Treating an Algae Problem
Even when you use a sanitizer or pool cleaner, there is still a chance algae accumulates on fiberglass, pool walls, and in the pool filter.
To get rid of algae, using an algaecide is the best option. Does vinegar kill algae in your pool or hot tub? Along with the best way to clean hot tub jets with vinegar, you can use vinegar on the sides of the pool but be sure to test the pool chemicals afterward.
It is important not to backwash or shock your pool while an algaecide is in effect, as the chemicals become ineffective and do not work.
Shock your pool before adding an algaecide to the water to treat algae in pool. Follow the step-by-step directions on your algaecide product. When taking care of pool water with algae in it, wait at least 30 minutes before swimming in the pool, so the product works best.
Understanding how to take care of a swimming pool is essential for every pool owner. Ensure that your friends and family swim in clear and clean water by balancing chlorine levels, eliminating debris, and preventing algae growth.
With the correct above ground pool care, you will feel confident in your pool water's health and be able to enjoy the sunshine.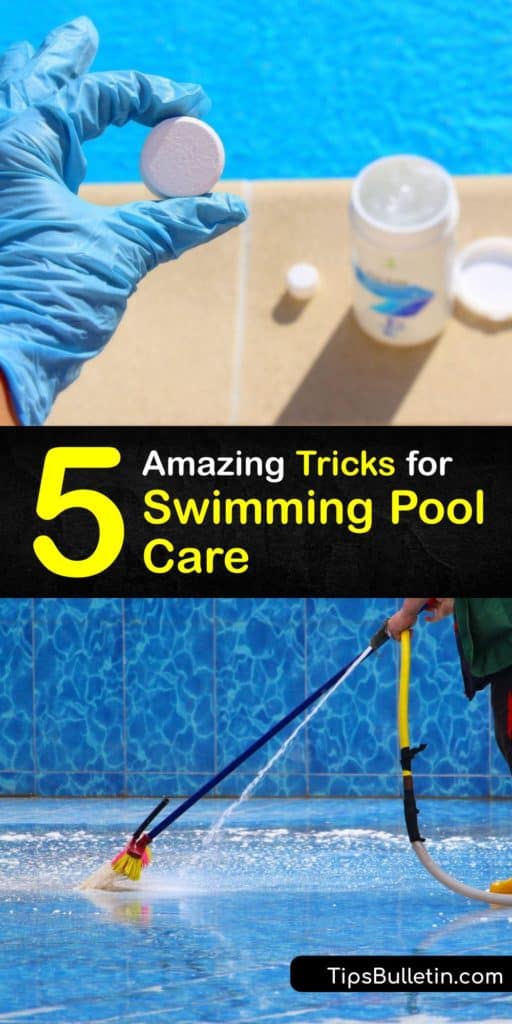 If you discovered how to take care of a swimming pool, share this article about above ground pool care with your neighbors and pool owners on Facebook and Pinterest.