Eating cucumbers fresh from the garden or made into a cucumber salad is a favorite summer past-time of many. These crunchy garden veggies are versatile and used in many recipes in the kitchen. Knowing how to tell if a cucumber is bad or good, however, can be the difference between homemade pickles or the compost pile.
Cucumbers have many health benefits, are great for weight loss because they are low in calories, and are high in nutrients and vitamins such as vitamin K and vitamin C. Cukes are even thought to have anti-inflammatory benefits.
There are many varieties of cucumbers, including pickling cucumbers, Persian cucumbers, which are a variety of Burpless cucumber with very few seeds, and English cucumbers often found in grocery stores.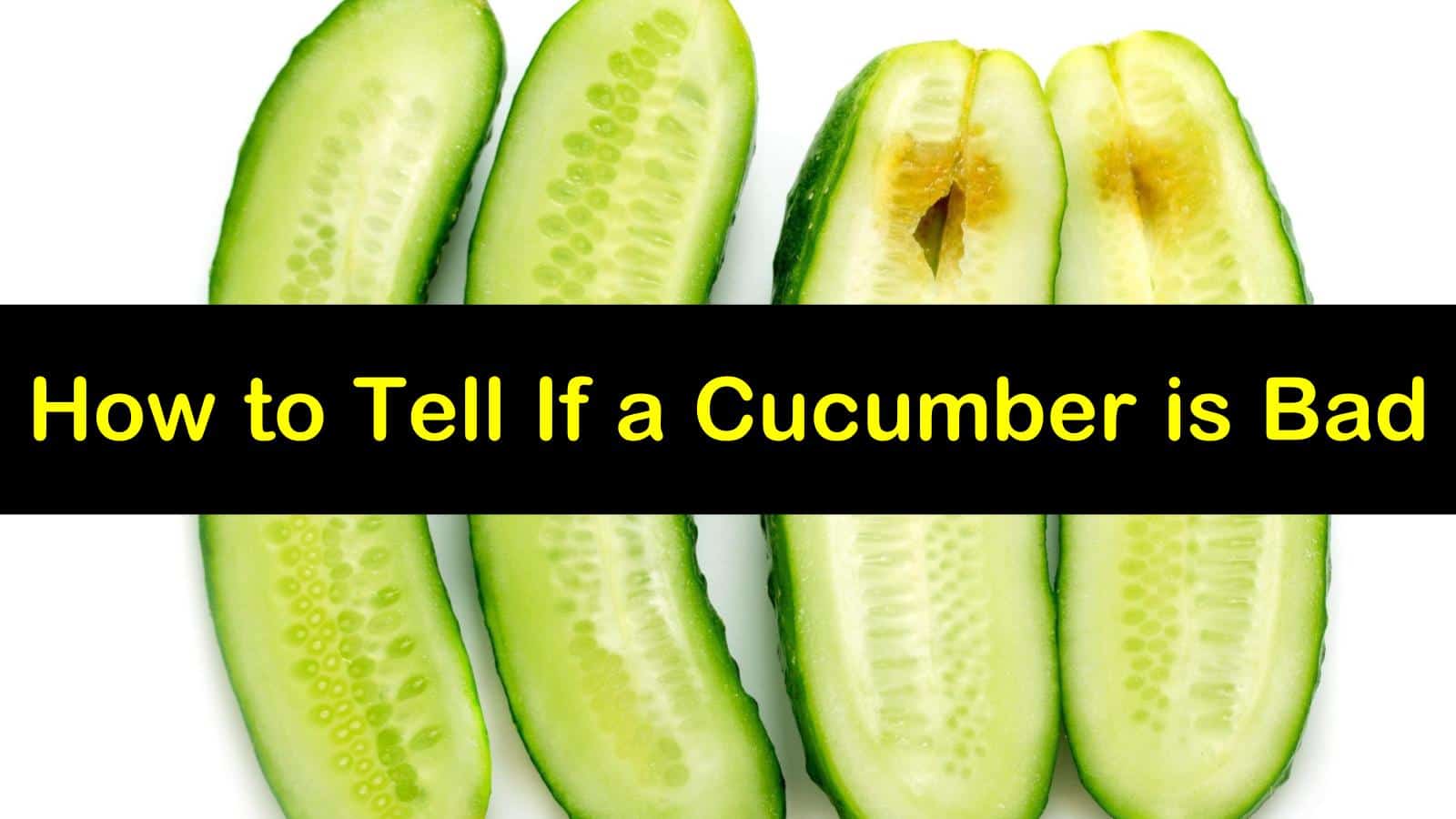 How to Tell If a Cucumber is Bad
The answer to how long are cucumbers good for depends on many factors. Many of the same scenarios apply for how long are bell peppers good for, as well as other fruits and vegetables. Are they fresh from the farmers markets or store-bought? Are they whole, or have they been peeled and sliced?
If you've ever cut into a cucumber only to discover that the inside is not crispy and white but mushy with a slimy texture, then you have already seen what happens when a cucumber spoils.
When do cucumbers go bad? Cucumbers have high water content, and this gives them a considerably shorter shelf life than other vegetables.
While the skin protects them from spoiling too fast, they still need proper storage for optimal freshness. We'll show you how to tell if cucumber has begun to rot, whether they are fresh from the garden, refrigerated, or peeled and sliced.
There are a variety of ways to store cukes so that you have them when you want them. The best way to pickle cucumbers leads to yummy and crispy pickles, whether they are dill-flavored, bread and butter, or spicy garlic.
When Do Cucumbers Go Bad from the Garden?
The best way for how to tell when a cucumber is ripe in the garden and ready for picking is to inspect their skins. Most varieties are dark green in appearance and should be firm to the touch. Cukes that have soft spots or blemishes are on the verge of going bad, and you should avoid using them.
Harvesting Garden Cucumbers
When picking fresh cucumbers, avoid keeping ones that have a bitter taste. This bitterness comes from cucurbitacins, a compound that causes bitterness in gourds, which is a result of improper gardening techniques.
Pickling cucumbers can be two to six inches long when they are ripe for pickling, while slicing cukes can be harvested when they are about seven inches in length. Be careful when picking Burpless cucumbers because they have thin skins that bruise quite easily.
To harvest cucumbers, cut the cucumber off of the vine using garden shears. Remove the cucumber from the vine, leaving about one inch of the stem attached to the cucumber. Keeping part of the stem intact prevents the end of the cucumber from spoiling too soon.
How Long are Cucumbers Good for in the Fridge?
Refrigeration is the best method of storage for fresh cucumbers if you do not plan on pickling them. Store fresh cucumbers in the refrigerator for approximately one week. Once refrigerated cucumbers spoil, they will have soft spots or wrinkles on their skins.
When preserving cucumbers to eat at a later date, do not store cucumbers on the counter at room temperature unless you plan on eating them right away. They spoil quickly at room temperature.
Instead, wrap whole cucumbers in plastic wrap or wrap them in paper towels and place them in a plastic bag. Store the cukes in the crisper drawer of the fridge for up to five days to enjoy their optimal freshness and delicious crisp texture.
How Long Do Sliced Cucumbers Stay Fresh?
How to keep cucumbers fresh in the fridge involves proper technique and using them within a certain amount of time. Cucumbers have a higher water content, so they do not last as long after they have been peeled or sliced.
After slicing cucumbers, you can store them in the fridge for up to three days. How long do cut onions last in the refrigerator? You can tell if sliced cucumbers or cut onions have spoiled when they get translucent in color and have a soft, slimy, or mushy texture.
Sliced and Stored Cucumbers
Wrap the sliced cucumbers in a sheet of paper towel and place them in a plastic bag before refrigerating. Leave the storage bag open when placing it in the fridge to prevent moisture build-up inside the storage bag.
Do not store cut and uncut cucumbers together. If you have too many cut cucumbers in the fridge, you can use them as pickling cucumbers to prolong their shelf life.
Harvest season can provide an abundance of fresh cucumbers to be eaten in many different ways, from sandwiches and salads to pickles and relish. This brings to question, how long do cucumbers last?
Unfortunately, there is only so much time left after they ripen before cucumbers go bad. Taking the proper storage steps ensures that you get the most time possible out of those cucumbers.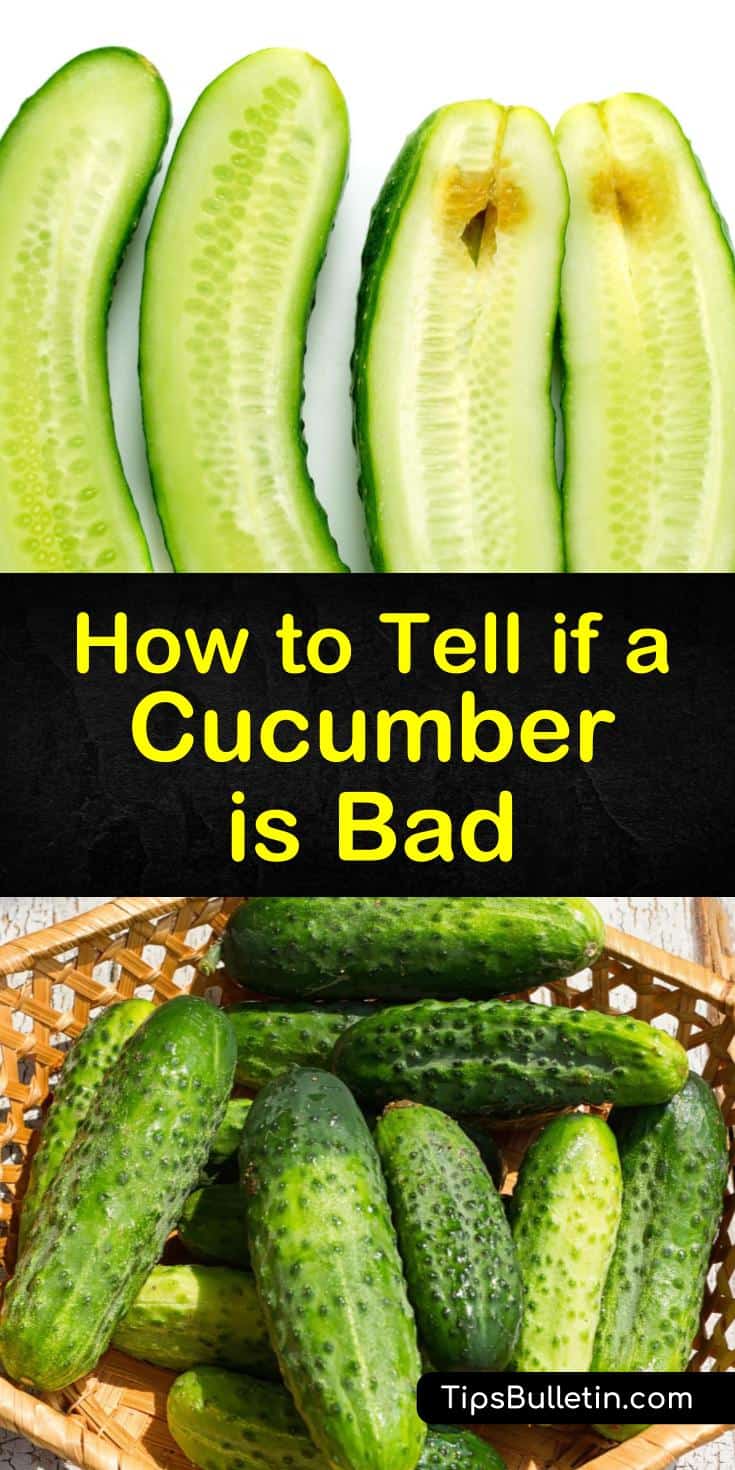 Now that you know how to tell if a cucumber is bad by testing for firmness and texture, we hope that you'll share these cucumber storage tips with your friends and family on Pinterest and Facebook.