Onions are a popular and versatile vegetable; think about how many different recipes call for using an onion. Most of us find onions to be one of the most common items on our weekly grocery list, so it's essential to know how to tell if an onion is bad.
The last thing we want when grocery shopping is to bring home an already rotting onion or one on the verge of spoiling. Like other fresh produce, there is no sell-by date or expiration date for onions, so when determining how old your onions are, use the purchase dates. The actual shelf life of onions varies based on the type of onion, how it is stored, and whether it's cut or whole.
Whole onions generally last up to six weeks when stored on the counter, but can last up to two months when stored inside the fridge. Once you cut into an onion, the shelf life reduces drastically, no matter how you save it. Sliced onions only last another week and require refrigeration. Before you use that onion from your pantry, you need to learn more about how long do onions last.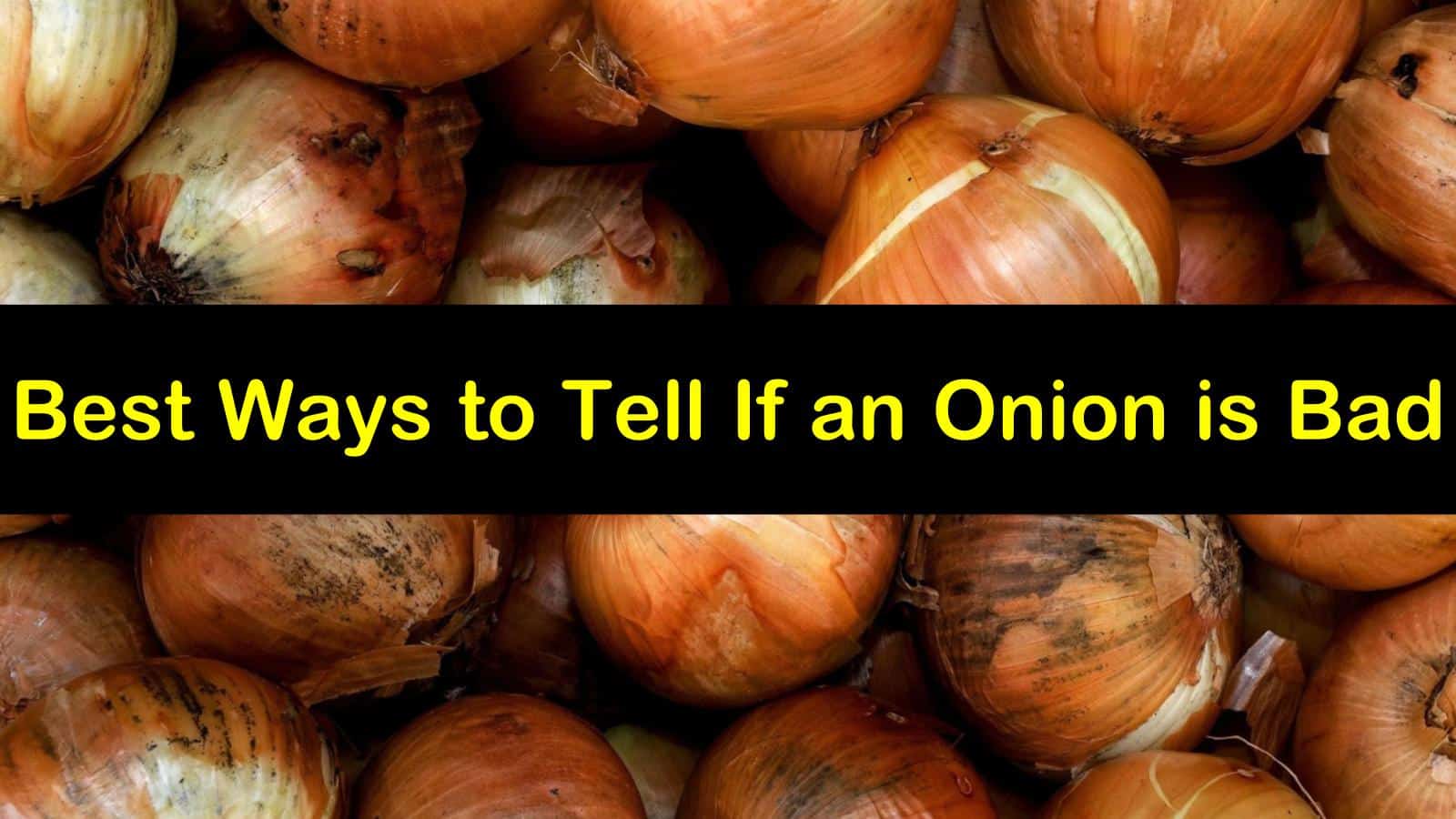 What You Need to Know Before Using an Onion
Onions are one of those items that we tend to buy in bulk because of how frequently they are used. We always want to have onions on hand, as we never know when they need them. The problem is we don't always go through that five-pound bag of onions like we thought we would, so it's essential to learn how to tell if an onion is rotten before we use it.
The same situation applies to potatoes, as they are a staple in virtually all households. It's important to know when are potatoes bad, just like onions, so that we don't consume spoiled vegetables.
How Long are Onions Good for?
Knowing how long onions are suitable for is vital in figuring out if an onion is on the verge of spoiling. How long onions stay fresh varies based on several factors, such as peeled or unpeeled, whole or cut, raw or cooked, etc. Whole, unpeeled onions generally keep for up to two months as long as they are stored properly.
Whole, peeled onions only last for two weeks. Cut onions have an even shorter lifespan, as they only keep for seven days. To store half an onion, be sure that the cut side is wrapped well before putting it in the refrigerator. Cooked onions keep for up to five days in the fridge if they are wrapped properly.
Freezing onions does help them last longer and is a great way to preserve them for your favorite cooked dishes. Frozen raw onions last six months in the freezer, while frozen cooked onions keep for up to three months.
Best Way to Tell If an Onion is Bad
To get the most extended storage life out of your onion, pick the best and freshest ones at the time of purchase. The best veggies feel firm and heavy and don't have any soft or dark spots. The skin of a fresh onion is dry and papery feeling. Avoid onions that show any sign of damage, including cuts and bruises. Never pick out onions that appear moldy or discolored.
To determine if your onion is bad or for the best way to tell if a bell pepper is gone bad, look at it, feel it, and smell it. Look for mold, dark or brown spots, or green sprouts on onions. Mold appears as thin white hairs on the cut edge of sliced onions. Fresh onions are firm and smooth.
If your onion or other vegetable feels soft, squishy, or slimy, it is beginning to turn. Finally, fresh onions emit an onion smell, while bad onions emit a foul or rotten odor.
Green onions, scallions, and leeks are firm and almost crispy feeling when fresh. When following proper food storage guidelines, these fresh vegetables keep for up to two weeks inside the crisper drawer of the fridge.
As they go bad, they become soft and flimsy; they also smell bad and may feel slimy to the touch. These types of onions even begin to appear discolored as they start to turn.
Tips about How to Store Onions
To keep onions fresh, they require proper storage. How long are onions good for? It depends on the storage method. How to store the onions varies based on if the onion is raw, cooked, peeled, unpeeled, cut, or whole.
Ideally, save fresh, unpeeled onions between 40° and 50°F. The problem is finding an area in that temperature range, as it's colder than room temperature and warmer than the fridge.
Ideal storage locations for raw, unpeeled onions include basements, cellars, garages, or another dark place. Never store raw, unpeeled onions in the fridge, as the temperature is too cold, and the environment is too humid. Refrigerators increase the spoiling process, as it allows the onion's dry skin to absorb moisture.
The absorption of moisture enables bacteria and mold to grow. Store fresh, unpeeled onions in a netted or mesh bag or a wire hanging basket to allow for proper air circulation. Avoid pantries, and other closed areas as onions require adequate ventilation and a dry place.
The best way to store onions that are cooked, peeled, or are cut onions is by refrigerating them. Peeled and cut onions need storage in a Ziploc plastic bag or an airtight container. Freezing peeled, sliced, or chopped onions is also possible and further extends their life.
When freezing onions, remove all air possible from the freezer bag or try vacuum sealing. Cooked onions require the same storage process as peeled or cut onions. When storing onions, make sure you are following food safety guidelines.
Never store onions near fresh fruits, including watermelon. Fruit produces ethylene gas that speeds up the spoiling process of vegetables. Never wash onions before storing, as dampness encourages mold and bacteria growth. Also, wash your hands after handling.
How Long do Cut Onions Last?
Once you cut an onion, you must refrigerate or freeze it, as chopped onions begin to spoil rapidly. For an onion cut in half, store it in a plastic storage bag, an airtight container, or wrap it in plastic wrap. Place it cut side down inside the fridge when saving.
Sliced, chopped, or other cut onions require storage in sealed containers or plastic bags; do not cover in plastic wrap. Using airtight containers prevents the onion from drying out or absorbing extra moisture.
We recommend using the cut onion in cooked dishes only; refrain from using it in salads or eating it raw. Use all cut onions within six to ten days of refrigeration, unless you decide to try a recipe for pickling onions. Pickled onions can last for a couple of months in the refrigerator. Frozen onions keep up to six months.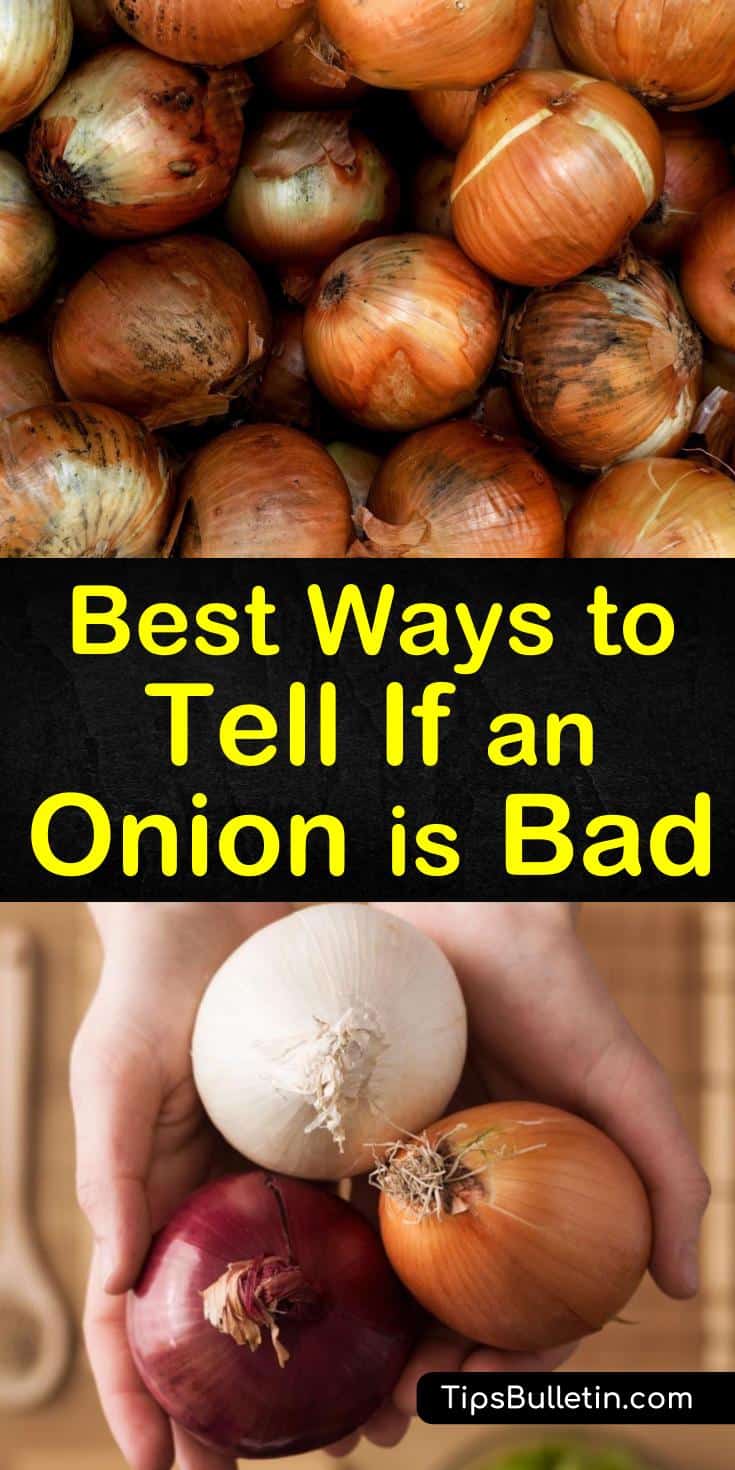 Thank you for reading our post on how long are onions good for. If you found our tips on how long do cut onions last or if an onion is rotting, please share this post on how to tell if an onion is bad with others on Facebook and Pinterest.