When does cabbage go bad? How long is cabbage good for if you already preserved the vegetable by canning for freezing? Learning how to tell if cabbage is bad might save you from accidentally ingesting food past its prime. No one wants to experience spoiled food.
Cabbage is full of vitamin C, as well as other beneficial minerals. You often see green cabbage, but the variety called red cabbage is purple. Both types are sturdy, long-lasting vegetables.
They preserve well, particularly if you select a heavy option for its size. Bigger cabbages have more tightly compacted leaves between the outer leaves and the head. However, savoy cabbage is another story.
How long a cabbage is good for may also depend on how you store it. Cut or whole, fresh cabbage varies in storage requirements than if you preserve it by making sauerkraut.
Keep reading to discover how to tell if your cabbage has turned using a few options. In this article, we cover your cabbage-related shelf life questions.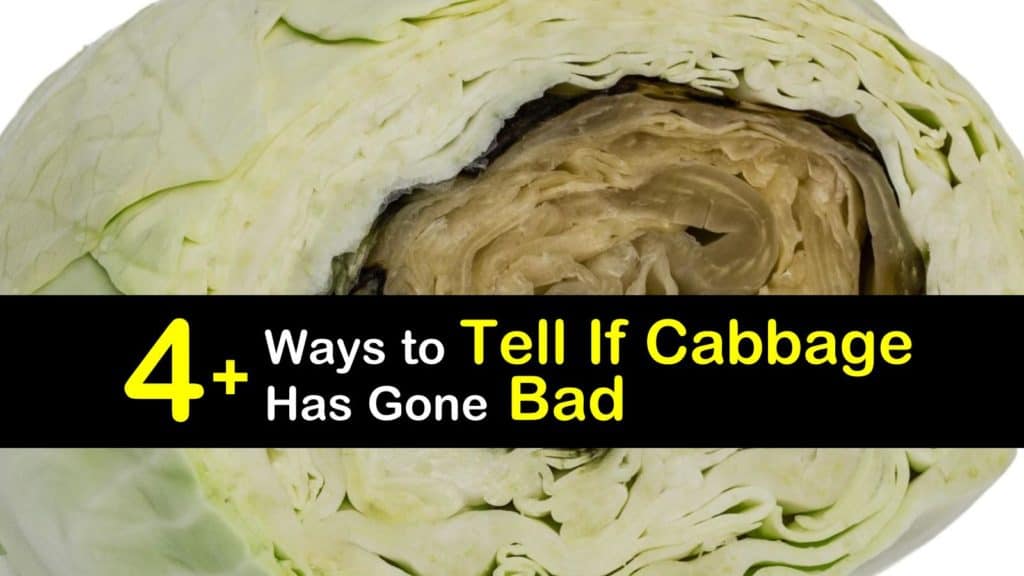 When Does Cabbage Go Bad?
One of the longest-lasting vegetables available, cabbage shelf life varies based on when you harvest it and how you store it. Preservation differs. If your cabbage comes from the store with an eat-by date, follow it as a guideline. The date is usually reliable.
Most store-bought fresh vegetables do not offer a use-by or expiration date. You may need to guess when it was picked or use the time you purchase the veggies to make sure they're safe.
Not unlike how you know if an onion is bad, the first signs of decay are discoloration, odor, and softness.
Storing Whole Cabbage vs. Freshly Cut Cabbage
Cabbage thrives when you store it in a cool location. It prefers a plastic bag in the vegetable crisper drawer in your refrigerator. A whole cabbage remains fresh for four to five weeks in the fridge, but only a day or two on the countertop.
Some people claim raw cabbage keeps fresh in the crisper drawer for a few months. If you refrain from washing the cabbage head before you are ready to use it, the veggie stores even longer. There are also long-term storage options to extend preservation.
Cooking the cabbage first allows you to store it in a container in the fridge for around four days. However, cutting increases the time it takes to turn.
According to the United States Food and Drug Administration (FDA), cut cabbage on the counter lasts for up to three hours. Cut the head in half if you do not plan to use it all at once, placing half in a plastic bag with a little water.
Place the bag in the fridge for a few days. If you store cut cabbage in the refrigerator properly, it lasts from seven to ten days. Cutaway any crummy parts to continue using the greenish-white cabbage leaves.
Some varieties of cabbage may not last as long, however. The loose-leaf savoy type of cabbage remains fresh for only a few days.
Freezing Raw Cabbage
To store cabbage longer, blanch either cut or whole cabbage before placing it in the freezer. Blanching is popular among food preservation techniques, particularly when freezing vegetables.
It involves boiling the cabbage in water for two minutes, then draining the water out, and plunging the cabbage into a bowl of ice water immediately. The food makes its way to the freezer in airtight containers after cooling.
Older cabbage is stronger in scent and flavor. Many people also say the best method is to cut it into a small, coarse shred before blanching. Cabbage lasts around nine to 12 months in the freezer with an airtight freezer-safe container or a plastic bag.
When you are ready to thaw, the previously frozen cabbage is perfect for meals like stir-fry. Improper storage shortens the time the food takes to spoil, though.
How to Tell if Cabbage is Bad
Following proper food safety and hygiene prevents foodborne illnesses. Health risks come with eating spoiled foods, so it is crucial to eat them before they expire.
Spoiled cabbage could cause death, depending on the severity of the situation and how long ago it turned. Read on to learn all the ways to check your veggies.
We explain more about shelf life and show you the tell-tale signs. Discover how to tell if cabbage is bad using multiple techniques and based on how you choose to store your food.
Use Your Nose
The easiest way to tell if cabbage is bad is to give it a sniff. Old, rotten cabbage smells like decay or ammonia.
Look the Cabbage Over
Like when a cucumber is bad, the first sign is discoloration and a mushy texture. Looking over the veggie before eating shows common traits. A whole rotten cabbage, for example, may demonstrate shrinking and shriveling outer leaves.
Cut cabbage turns grayish-black along the edges. The entire top few layers wilt. Whether you shred or wedge your chopped cabbage, it starts to change color along the edges. You may cut off a slice of discoloration to discard if the rest of the head is intact.
Feel the Cabbage
Before canning red cabbage or any other variety, check it well to ensure you have the freshest specimen. When cabbage spoils, it takes on a slimy feeling. The texture is more squishy and wet.
Usually, the feeling combines with a strong stink. If there is no smell, try washing the cabbage and tasting it.
Check for Mold or Fungus
Some veggies turn watery or moldy over time, and cabbage is one of them. If you leave it in the fridge for more than four weeks, expect to see mold or fungus growing.
Taste the Food
If the top portion is all that's wilted, but the cabbage looks and smells satisfactory, give it a taste. Like lettuce, start by peeling back the top few layers.
Wash the cabbage, especially if it is shredded. Taste the raw leaves. If it tastes healthy, mix it into coleslaw to preserve or quickly cook it in a stir-fry.
How Long is Cabbage Good for Based on Preservation?
As with other veggies, cabbage lasts in the fridge much longer with preservation. The most straightforward recipe to extend your cabbage is to turn it into sauerkraut.
Sauerkraut is tasty, fermented cabbage. Canning cabbage to make sauerkraut is a simple way to extend life by up to six months. Fresh sauerkraut from the supermarket, however, expires after a week.
Begin by weighing your cabbage. Remove the outer leaves and discard any damaged pieces. Cut the core free and rinse the veggie. Drain the water from the leaves and thinly shred the cabbage using a knife or food processor.
Move the shredded cabbage to a large bowl, combining the salt by tossing. Allow it to sit for 15 minutes, then massage the salt into the cabbage for five more minutes. It should start to feel wet.
Pack your cabbage into glass quart jars, pouring the remaining liquid over the top. Weight the cabbage down by cutting a circle of the leaf to fit the diameter of the jar. Close the lid and store them at room temperature to ferment for up to four weeks.
Sauerkraut is an excellent fermented food to add to your meals. Making your own could save you tons of money compared to buying jars from the store as well. Plus, the process is quick.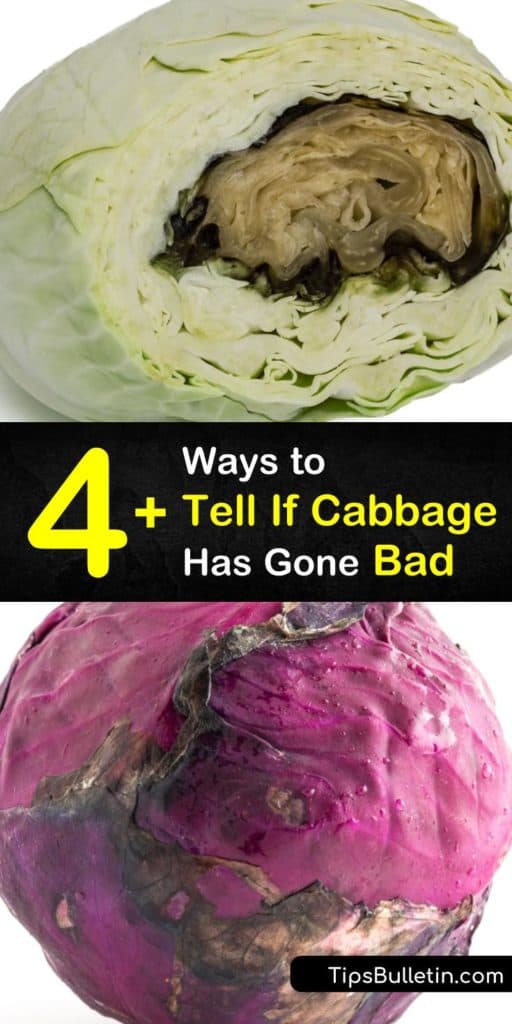 Do you like cabbage or sauerkraut? If you enjoyed learning how to tell if cabbage is bad and how to ferment it, please share our cabbage preservation tips with your friends on Pinterest and Facebook.